Betzest Registration - How to Sign Up?
advantages
A wide selection of sports to bet on

Paypal is supported

User-friendly website

Fantastic customer support
This article was last updated:
Betzest is one of the most popular betting sites in the world. It offers many thrilling gambling options and flashy games for bettors.
Signing up for Betzest is something you'll have to do if you want to play on its website. We have created a guide on how to open an account with Betzest. This article will cover: joining Betzest, initial deposits, account verification and issues you might face.
Creating an account at Betzest is free, so you won't have any issues getting started. Following the steps provided will give you access to all of the platform's robust features.
Step 1: Go to Betzest.com to Open an Account at Betzest on Mobile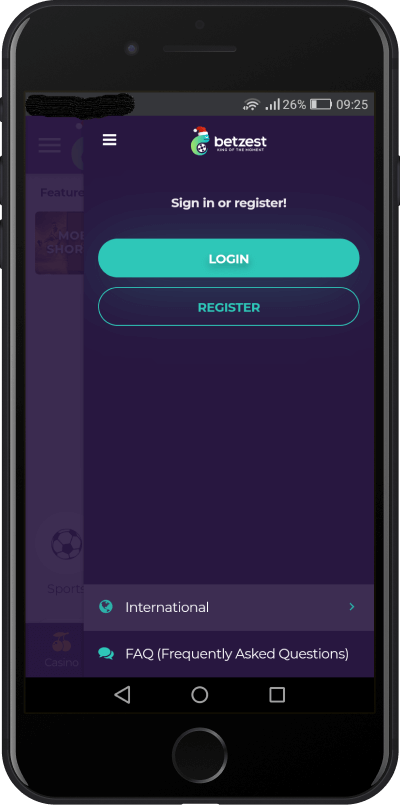 You should begin setting up your first account by registering via Betzest's website, Betzest.com. Going here will take you to the main menu page of the site. The website will greet you with a slick layout and excellent features.
Next, you'll want to find the account creation section. The option appears after clicking on the symbol that looks like three horizontal lines located in the upper right corner. On the desktop version, the icon should look like a silhouette of a person.
Once you click on it, two options will present themselves: "Login" and "Register." You'll want to click on "Register" first since you are setting up a new account. You can now begin registering at Betzest.
Step 2: Enter Your Details
You should then see several boxes where you can enter your information. This part is straightforward, as all you have to do is type in what is required. This information includes your first name, last name and email address.
You also get to create a username and password, so be sure to think of something creative and secure. Remember to follow the guidelines for creating your password. Having solid login credentials for any account will ensure your information's safety.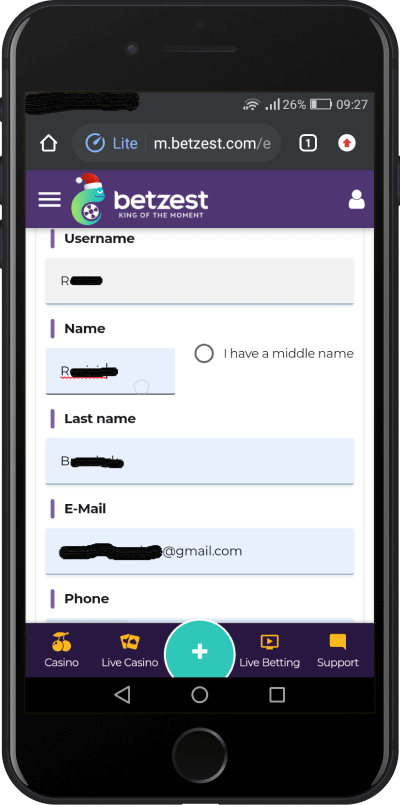 Once you enter everything it asks for, you're good to go.
Step 3: Make Your First Deposit
You'll then want to make your first deposit. Partaking in an initial deposit will help unlock many of the website's strongest features. Like the other steps, this one is also simple to follow.
You'll want to click on 'deposit.' You'll have to choose your preferred method to deposit from the list that pops up—check which one best suits you and then continue.
After you choose your deposit method, you'll have to enter the corresponding information that goes with it. Once you provide all the required information, you'll be good to go.
Step 4: Verify Betzest Account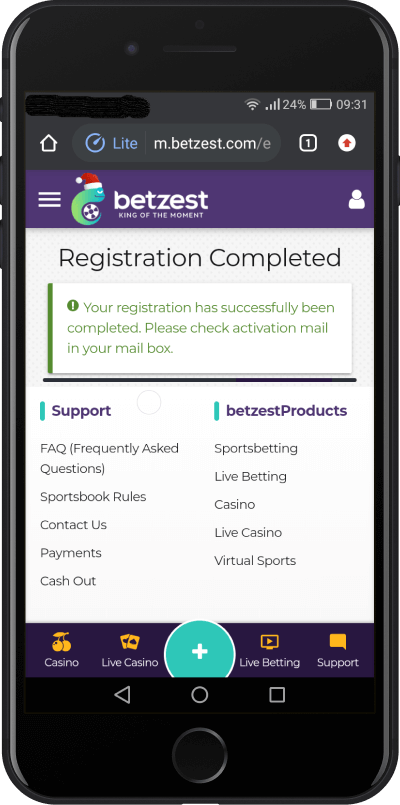 Verifying your account is a significant step that you won't want to skip. Account verification allows you to use the website's greatest amount of exciting features. After signing up, you should receive an email from Betzest.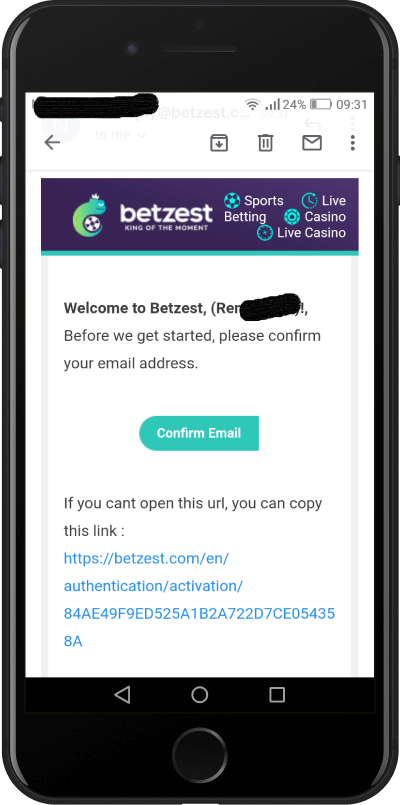 The email should welcome you to Betzest and thank you for signing up. There will be a green link that says "Confirm Email." Clicking on this will take you to Betzest again.
If for some reason the green link isn't showing up or you can't click it, there's an alternative. You can click on the URL located at the bottom of the email. This URL will also confirm your email in the same way as the green button will.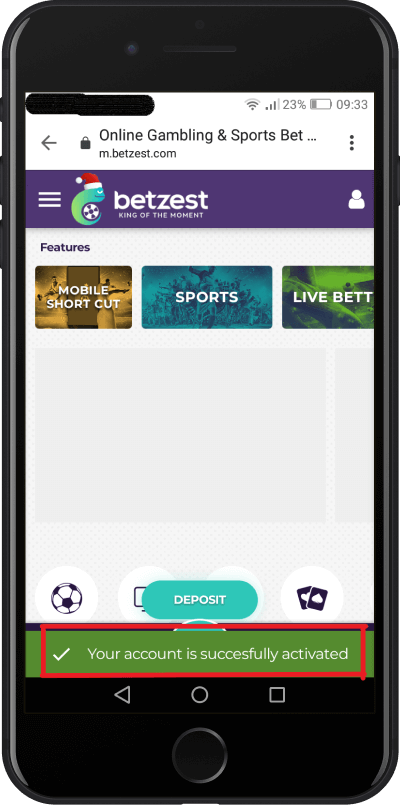 After you click the activation link that takes you back to Betzest, there'll be a green banner at the bottom. The flag will say that you should activate your account. If you see this, then you're all set.
Betzest Sign Up Offer
Betzest offers some very enticing sign-up offers for new bettors. One of the provided bonuses is the option to match your deposit up to 100%. You can deposit up to €100 and get to play with €200. This offer is excellent for new bettors.
Another sign up offer granted by the site is the free $5/€ 5 no deposit bonus. All you have to do for this bonus is to register your mobile number.
You can also check to see if there are more ongoing promotions on Betzest. You can do this by going to the "Promotions" tab on the main menu. When you click on this, all of the active bonuses and related information will appear.
Download Betzest Mobile App to Register
Betzest doesn't offer a dedicated mobile app. However, you can add the browser shortcut icon to your homepage. Adding this will bring you right to the mobile version of Betzset.
Signing up for Betzest this way is similar to how you'd do it on the website. You'll still look for the icon in the top right corner and fill in your information the same way.
This homepage icon is excellent for anyone that prefers to use a mobile device over a computer. Playing on a mobile device adds to the convenience factor and simplicity to betting.
Am I Eligible to Sign Up at Betzest?
There are a few factors you need to check before you sign up. One thing you need to make sure of is that you are old enough to play. Betzest requires the minimum age of 18 years old to register.
You're going to need to have your personal information available and at the ready. It would be best if you made sure that the personal information you give is up-to-date and accurate. This information includes:
First name
Last name
Mobile number
Email
Banking account info
Having all of this information be accurate is vital to creating a successful account.
Betzest Login
Like many of its features, logging in to Betzset is also designed to be very simple for its users. To log in to your account on mobile or the website, all you have to do is find the top right section of the interface. There'll be the login and registration sections once again. Instead of selecting "Register," go to "Log in."
You'll then have to type in your recently-created username and password. Once they're both entered correctly, you're ready to enter the site and to play on Betzest.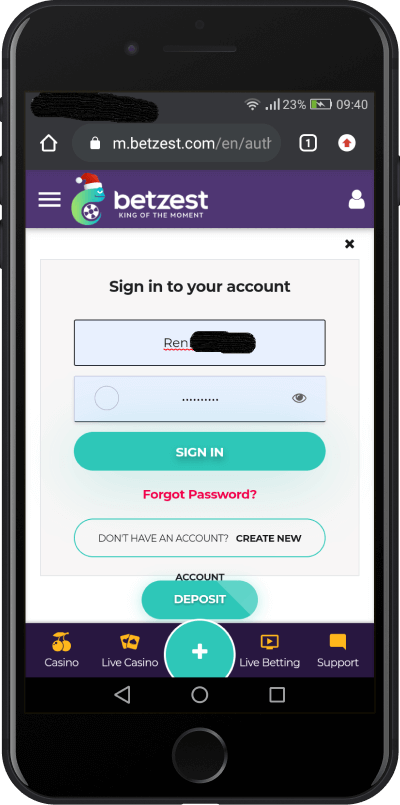 I Forgot My Password. What Should I Do?
Forgetting a password can be frustrating, but Betzest makes password recovery easy. We've provided a step by step guide on what to do if you're stuck.
Find the "Forgot Password" link on Betzest.com. To do this, you have to go to the "Login" tab. Instead of logging in, click on "Forgot Password?"
This will then redirect you to the password recovery section of the website. From here, you can enter the username or email address that's linked to your account. Once you've done this, an email will be sent to you.
Once you get the email, you need to open it. In it, there will be a link that you need to click on. You'll get directed to the password reset page.
Follow the instructions given to create a new password for your account. Now try logging in with your new login information.
Having Betzest Registration or Login Problems?
If you're having trouble registering on Betzest, this section is for you. Following the steps we have given you is quite simple, but mistakes can happen. Having incorrect information could result in losing access to your account.
Making sure that everything is right with your account is good practice. Here are some tips for making registration more straightforward for you.
Write down your username and password somewhere you'll remember, like a journal or a document in your phone If you make your username or password too complex to remember, you'll have a hard time logging in. You want secure login information, but not ones that you'll forget.
If you get a login error, this is because the information you're trying to enter isn't correct. Make sure the username and password you enter are correct. You'll want to check if you have caps lock on too since this information is case sensitive.
Ensure that the bank information you link to Betzest is up-to-date. Doing so will provide a stress-free and straightforward time playing on Betzest.
If you've any other issues that can't get solved here, contact Betzest's helpful customer support team. To get in touch with them, you can go to the bottom of the main page and click on the words "Contact Us" under the Support tab. From there, you can fill out a form stating your issue.
If you don't want to fill out a form, you can send an email to customer service support. The email address is on the same page as the form under the "Contact Us" page.