Best italian betting sites
Excitement for sports betting in Italy continues apace, enticing players by challenging their methods of rational thinking against unpredictable sporting contests, accompanied by a great atmosphere and the desire to win. Sports betting is the least random type of gambling. Unlike a lottery or casino, in this form, the player does not compete with a random number generator or a roulette wheel, but instead competes with the same players – or 'bookmakers'. Italian betting sites allow for engaging with numerous sporting events, offering players odds to weigh up probabilities and decide where best to place their money.
List of betting sites in Italy
Found: 43 Bookmakers
An Italian's guide to betting
Some of the best Italian betting advice right here – we take a thorough look at the betting scene in Italy.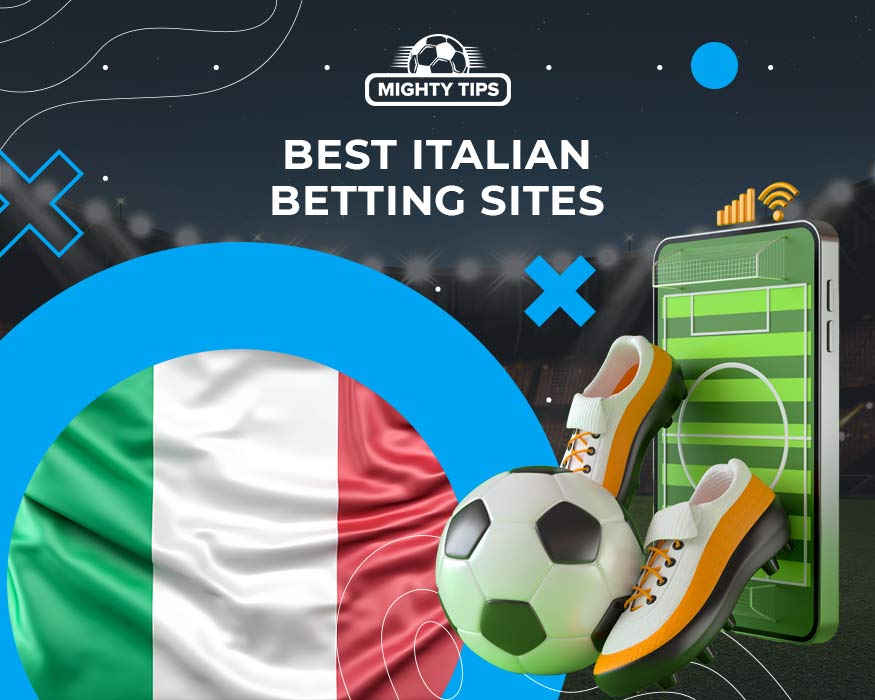 Join us as we take a deeper look into the Italian betting history, details, and much more. The gambling front in Italy has existed for many years now, even going as far back as the Roman Empire.
We'll take you through some of the top bookmaker names within this country, helping you to learn some of the basics and even some of the more advanced aspects to consider. We look at the payment methods available and the limitations, plus taxes and regulations – all are important even for experienced punters.
History of sports betting in Italy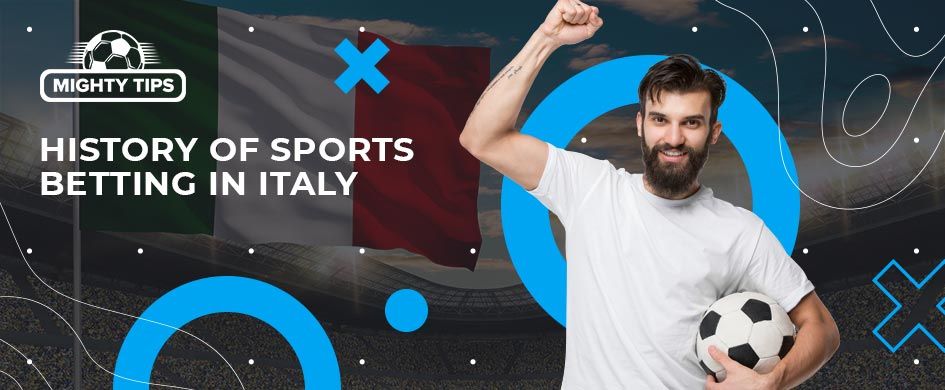 Many people don't know that gambling in Italy also has its roots in the ancient Empire. In fact, a small town in central Italy near the Tiber River, called Ostia, was where the Empire had its roots and is also where a game known as Ludus duodecim scriptorium was often played.
This ancient game is actually the predecessor to what we know as modern backgammon. Plus, it is also said that the origins of bingo can be traced back to 16th-century Italy. Some facts:
Gambling in Italy predates the Vatican
The First Casino in Italy was known as 'The Ridotto'
Online Sports Betting is a Popular Pastime in Italy
Milan Is Considered the Epicenter of Gambling in Italy
Gambling in Italy was taking place before the Vatican was founded in the 4th century, which tells you how long it has been a popular pastime in the region. The game of baccarat (or Ludus duodecim scriptorum) became popular in Rome as a casual evening game before the 5th century and was a favorite of Roman legionnaires when they weren't in battle. The Western Roman Empire fell in 476 AD, but betting in Italy remained a popular pastime.
Originally a private room in the Palazzo Dandolo theater, the Ridotto welcomed theatergoers seeking refreshments during intermissions. One thing led to another, however, and during the annual spring carnival of 1638 the Ridotto was converted into Italy's first legal gambling house.
Although open to the public, the government-owned casino was really available only to the higher class, featuring both a formal dress code and high stakes. Other popular pastimes were biribi – a lottery-like game, and an even more popular game 'basetta,' which was a mixture of gin rummy, poker, and blackjack.
Competing players could possibly win 60 times their bet, hence, making this an extremely popular choice.
Part of a global trend, the world of online betting continues to gain popularity in Italy and this is particularly true when it comes to real money online sports betting. Also, as with any country where gambling is legal, online gambling is officially regulated, with horse racing, soccer, and tennis being among the favorites for online sports betting in Italy.
As anyone who knows Italy well would expect, however, soccer is by far the most popular, easily drawing the highest volume of bets. This love of soccer has often been rewarded as well, with the Italian national team having lifted the World Cup four times – behind only Brazil for historic achievement and last lifting the trophy in 2006.
A wide range of gambling establishments can be accessed in and around Milan.
Table about sports betting in Italy

| | |
| --- | --- |
| 🌍 Country | Italy |
| 👌 Language | Italian |
| 💲 Currency | Euro |
| ⚽ Popular sports | Football, Basketball, Water Polo, Volleyball |
| ⚖️ Is Betting Legal | Yes |
| 🏢 Regulator | Autonomous Administration of State Monopolies |
| 🧾 Gambling taxes | 0.5% |
| 💳 Most popular payment methods | Mastercard, VISA, Skrill, PayPal |
Dozens of reputable online bookmakers offer their services to Italian gamblers. Each of the sites below is easy to use and hits the high notes when it comes to value odds, market depth, banking options, online security, and customer service.
Mobile phone betting has a number of features that you need to become familiar with. For example, one of the advantages of a website's mobile version or application on Android or iOS is the consumption of less traffic, which ensures the quick loading of information on the device screen. Optimized for mobile devices, the bookmakers' websites fit perfectly into the smartphone screen, unlike the website's full version and, thus, simplifies the accessing actions.
The main drawback of the mobile application, however, is that not all bookmakers support registration and making direct deposits in this manner so, for these operations, you will have to use the full version of the site.
The mobile version of the site is a lightweight version. No installation is required and you can access from any mobile device.
Android betting applications: 'Google Play' prohibits gambling applications, so you should allow installation from unknown sources in the settings.
Apps for betting on iOS (iPhone, iPad): installation is possible only via the 'App Store.'
Also, you can always place bets from the full version of the bookmaker's website, though this is not always convenient.
Table about Mobile betting in Italy

| | |
| --- | --- |
| 💯 Available betting features | Accumulator, Bet builder, Live stream, Cashout |
| 🏇 Popular gambling activities | Casino, sports betting, lottery, electronic machines, horse racing |
| 🗝️ Keep in mind | Italy's betting is technically illegal if it isn't approved by the main regulatory body. Organised house betting is not allowed. |
| 🔣 Popular types of odds | Fractional odds |
| 📈 Advantages | Italy's football league brings a lot of great fixtures to bet on with sport-specific offers |
| 📉 Disadvantages | There can be tight restrictions as Italy's betting regulator can be strict with distributing licenses. |
1

2

100% Welcome bonus up to €150

3

100% first deposit bonus up to 150€

4

100% welcome bonus up to 100€

5
Top 5 Italian bookmakers with the greatest bonuses
A vibrant selection of bookmakers are available for sports betting in Italy, featuring extensive streaming options, enticing odds and promotions, and trusted payment methods.
The list below features the best betting sites in Italy has to offer, all of which draw players keen to sample the passion this country has for sporting contests. The best bonuses may depend upon your own personal betting habits and interests, but be sure to keep them all in mind as they continue to compete for your attention.
Betfred
Eurobet
SNAI
Bwin
Sisal Matchpoint
Top 4 legal bookmakers in Italy
It's only recently that online betting in Italy has become legal and, since the law changed in 2006, it's become one of Europe's biggest markets. Below, you'll find a list of the best betting sites in Italy, together with a run-through of all the key laws and legislations that residents need to take on board.
The Italian Customs Service is responsible for regulating the gaming sector, having been created to issue company licenses, to conduct inspections of all online gaming operators, and to work with law enforcement agencies to identify games of a contractual nature.
The regulator issues licenses not only to local operators but also to foreign companies targeting Italian customers. The customs service website contains information on the organization and the conduct of various lotteries, sweepstakes, online games, and procedures for the acceptance of bets. All gaming industry provisions and regulations are clearly set out.
Several times a year, the organization publishes reports on the fight against money laundering taking place within the gambling industry. Companies that have succeeded in obtaining a license to operate should continue to strive to comply with the regulator's standards, therefore, otherwise customs may find a reason to revoke their license after verification.
List of most popular legal companies:
William Hill
Unibet
888Sport
Betfred
The best Italian betting apps provide the punter with the most optimised experiences, allowing for a brilliant usage of the app. Here, we will bring you some of the top bookmakers available in Italy with great apps.
Recommended payment methods for betting in Italy
In this age of high technology, you shouldn't worry about payment methods. It should not be difficult for you to pay the desired rate, with payments made online using your bank card. Other payment options are also available.
Recommended payment methods for betting in Italy
Bookmaker
Mastercard
VISA
Skrill
Bwin
10 Euro – N/A
1–2 minutes
10 Euro – N/A
1–2 minutes
10 Euro – N/A
Instant
888Sport
N/A
10 Euro – N/A
10 minutes
10 Euro – N/A
10 minutes
Unibet
No limit
Instant
No limit
Instant
No limit
Instant