Try these bookmakers instead:
This is a review of the SportingBet mobile betting offers for sportsbook. Also, you might consider reading our in-depth analysis of the SportingBet bookmaker SportingBet provides 3 distinct platforms to bet:
Mobile website
Android application
iOS application
Throughout the article, we are mainly giving screenshots and comments on the Android version because of its higher demand in the region. Still, all platforms are indistinguishable in the functionality range for all players.

Both native apps are available to download freely from the official Sportingbet site or application markets. Below, you can read our step-by-step download instructions.

Go to the main page of the Sportingbet mobile site.

Press "A-Z Menu" in the lower-left corner – the menu shows up.

Now, closer to the top, the "Download Our Apps" sign appears, with two applications: Sportsbook and Casino. Since we are primarily sports punters, click on the left "Sports" logo.
A new website page opens up, with the Android logo to push on to begin the Sportingbet app download.

P.S. Sometimes, the "Sportingbet application" section doesn't appear instantly in the menu, so either reload a page or wait for 10-seconds.
To verify you are downloading the official app, check whether the file's name is "Official_sportingbet_COM.apk".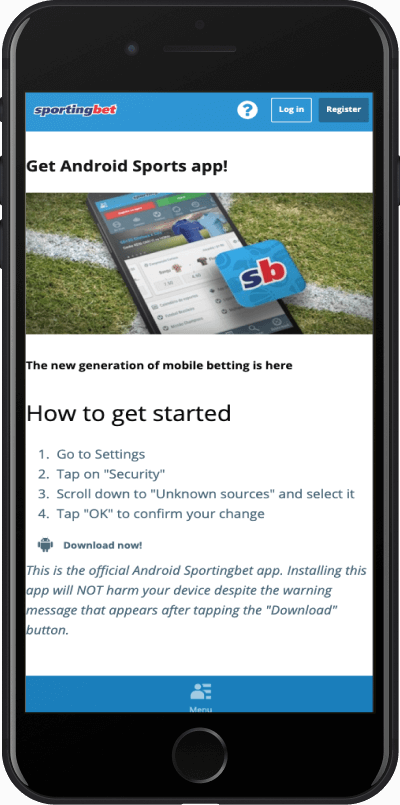 Either repeat the procedure described for Android devices or take the shortcut: visit your App Store application.
Search for an entrance called "Sporting Sports Betting" – word by word.
Click "Download" and approve the installation.
The latest version of the Apple application is compatible with iOS 9.0+ iPhones and iPads.
Being functionally on the same level, there are small differences between the mobile platforms. They might affect your decision.
The mobile app's design is a complete duplicate of the mobile website version 2021. However, we have noted that button names around the application are made disproportionately small, significantly less convenient compared to the mobile site.
At the same time, the mobile app has its advantages: push-notifications and full-screen resolution. If you are a consistent sports bettor, the mobile app will cause less irritation to your eye in the long run.
Another minor discrepancy: the iOS mobile app offers 20 interface languages, while the Android one and the website are just available across 6 languages.
Also, it's unclear why the Android mobile application aimed particularly at Sports includes the Live Casino section. Most likely, those are little development gaps to be fixed soon – still, it creates a precedent for us to be concerned about other shortcomings which we couldn't pinpoint yet.
The iOS app seems considerably less cluttered and adapted to mobile than the Android native app. It looks like a younger brother – elder brother relationship in all aspects. Hopefully, the little brother will nurture with time and some large-scale updates arrive!
As mentioned before, the range of capabilities is completely the same for all mobile and desktop-based bookmaker options. The SportingBet app has successfully passed our comprehensive technological test. Now, we are going through particular stages which might cause trouble for the customers
Making a mobile bet is as simple and intuitive as it is supposed to be.
Right from the home page, highlighted and upcoming bets are shown. As a handy shortcut, a winning team/draw result can be chosen right from the menu.
To view all coefficients for every kind of stake, go directly to the match page. There, mobile bets are divided conveniently into thematic sections. For instance, live football offers include Main, Handicaps, Correct Score, Number of Goals, 15 Minutes, and Team Goals.
The Sportingbet service supports a diverse range of virtual sports bets – a burgeoning field now, amidst the Spring-Summer coronavirus worldwide pandemic.
Also, wagers on lotto games are accepted: something rare on today's bookmaker market. "Build a Bet" exclusive function has just been introduced to the mobile user experience. This allows bettors to add different selections from the same play together into one bet to raise the total potential odds and, thus, cash return.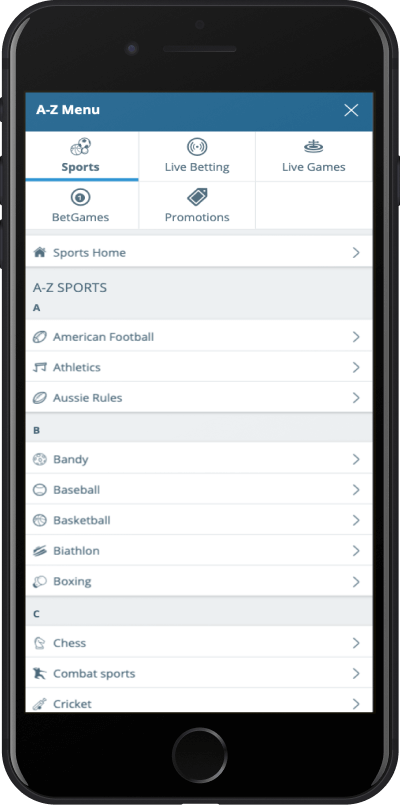 On-air video streaming has worked perfectly for all live events we have encountered. Apart from that, exhaustive visual and text-based statistics – refreshing in a live format – gives a fantastic overall analysis of the whole play or per rounds/sets/halves.
Visual representation performs flawlessly – a noteworthy advantage for those who struggle to watch a live broadcast due to internet connection limitations.
For all platforms, click on the upper-right "Log In" button situated left to the "Register" rectangle. A traditional two-liner to sign in will appear:
Email or User ID
Password
The "Forgot your Password?" function is supported too. In case you're not registered yet, SportingBet calls you to do that with the "Register now!" button at the bottom.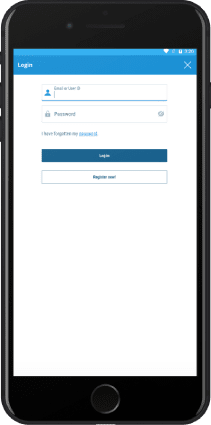 Deposits and withdrawals operations can be conducted via the following payment systems:
Fast Bank Transfer
Visa and Mastercard – limited countries supporting withdrawals
Ozow – only deposit
Skrill, Neteller, i-Pay, and ecoPayz are supported too – however, they are not mentioned in the Sportingbet's terms & conditions. This seemingly unimportant fact raises a major concern: systems not spelled out turn out in the "unregulated" field of financial operations. Just be wary of this certain risk factor in regard to the four aforementioned electronic systems.
To make a deposit to your account, sign in and visit the "Cashier" page and click on "Deposit." Depending on your specific transfer method, you will be redirected to a private page with instructions. To withdraw money, go through the same process, yet tap on the "Withdrawal" option.
The minimum threshold for deposits is 50 Rand – cashed in instantly. For withdrawal operations, a player ordinarily has to wait anywhere from 2 to 5 business days. No fees are charged for any transactions. The deposit cap is not designated.
Additionally, 12-digits promo codes can be used for instantaneous deposits (which is their sole function).
For all mobile platforms, 24 per 7 live chat experts and email support constitute the Sportingbet customer service. There is a general trend to reject Call Centre Support – precisely what the bookmaker has done.
Importantly, it's usually worthwhile to check the Help Centre's General Information before contacting Customer Service. Yet consider the fact that its information and guides might be really incomplete, elusive, or outdated at times.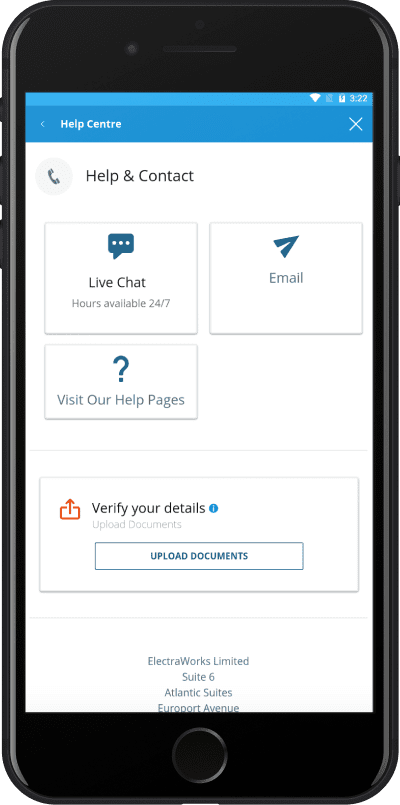 Well, up to this point we have finished our meticulous first-person mobile Sportingbet test. Our team genuinely loved the website and app design: blue & white tones along with a neat and tidy layout is indeed user-friendly.
The existing issues are frankly quite minor. The Mighty Tips team would like to commend the stable performance demonstrated by the Sportingbet apps & site.
Advantages
Sweet and engaging visual style
Intricate live plays' stats
Unique sports betting choice
Limitations
Obsolete terms of service information
No Lite / Full modes division