22bet mobile app
A detailed review on how to install and operate the Android and iOS versions of the 22bet app sportsbook.
Not available in your location
Try these bookmakers instead::
With this guide you'll learn how to download 22bet app for Android and iOS and how to use the mobile version of 22bet sportsbook.
If you are interested in our outlook on the bookmaker, visit the 22bet review page. 22bet provides three options for mobile users:
Mobile version
Android app
iOS app
They are very similar functionally, with dedicated platform apps being understandably more comfortable for everyday use.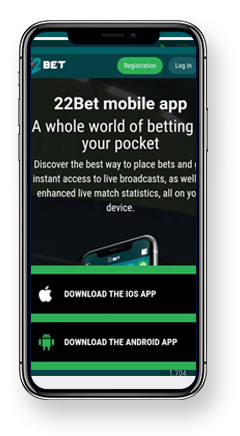 First, you need to register an account. If you don't know how to do it, our registration guide is at your disposal.
When you have an account, you can find native apps for 22bet at the bookmaker's website. The default mobile page offers you links for installation for both Android and iOS versions or .apk file.
Click Install in the upper-right corner of your screen on the mobile page
Choose the Download The Android App on the bottom of the page
Confirm installation
When the installation is finished, find the installed app and launch it to register or log into the system
During steps 2 and 3, your phone can ask you to allow the installation of files from unknown sources. If it does not lead you to the option at once, go to your phone settings, find security options and check the "Unknown sources" field there.
This is an official 22bet guide to the installation. It can be found in the form of pictures on their website. We are simply putting it into words.
Click Install in the upper-right corner of your screen on the mobile page
Choose Download The iOS App in the middle of the page
Find iTunes & App Store under your Settings
Enter the data for your Apple ID
Go to "Country/Region" and change your location to Cyprus
Press Agree when asked to accept Apple Media Service Terms and Conditions
Under Payment Methods, select None
Under Billing Address, enter the following information:
Street: Georgiou
Postcode: 4050
City/Town: Limassol
Phone: 95000111
When this is done, go back to the App Store and find the app for 22bet.
If you get a "Your current payment method is not valid in this Store…" error message, log out of your current account, create a new Apple ID and repeat the step 9. Keep in mind that after installation you can go back to your previous ID – the creation of a new account is required primarily to install the app.
22bet has a quite decent mobile version of the website. It holds the same utility as the dedicated applications without the need to jump through annoying hoops to install a client. In terms of design (which basically means the placement of buttons), the mobile version is similar to iOS one. It holds your login and entered data, including selected bets. The mobile version also supports all the popular browsers and is rather responsive to touches.
The downside is that is not an app and has the same limitations as other webpages compared to dedicated software. It doesn't feel as immersive psychologically, it loses something when it comes to aesthetics (although, it still looks cleaner than the desktop version), and if you run multiple open tabs, it may be harder to find amongst all others. For an experienced player, these downsides can be rather irrelevant, because for them features are likely eclipsing everything else, and there is nothing wrong with the mobile version's features.
So if you need a simple and easy way to access 22bet without the added complexity of dedicated apps or .apk files, the mobile version will be great for you. It gets the job done, and we can hardly ask for more than that.
22bet Mobile Offer
Both through the 22bet application and through the mobile site, you have access to the welcome promo offered by bookie.
Here you receive 100% of your first deposit as a bonus to use on your sportsbook. The minimum deposit is €1 and the maximum amount you can receive with the bonus is €122.
It is important to note that, to receive this offer, you must check the box that confirms your desire to participate in promos.
Also, don't forget to keep an eye on the rules of this promo to be able to receive not only the bonus money but also the profits made with it.
Seeing how the functionality is mostly the same between different platforms, we will not create dedicated descriptions for each one but rather will go over specifics on how to successfully use and navigate different versions of the betting site.
On Android, press the three horizontal lines (also known as 'hamburger button') in the upper left corner, then select the "Log in" option. Enter your data. You can check whether you are logged in by going back to that menu – it should now display your name, ID number and account summary.
On mobile and iOS, go the upper right corner to locate a "Log in" button. Press it to open a new window, and enter the necessary information. If everything goes as it should, you will be redirected back to the main page, with user profile icon replacing the log in button.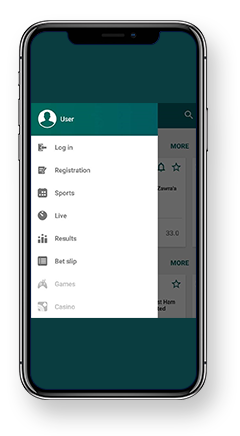 Both the apps and the 22Bet mobile website offer full functionality for sports betting. The process is fairly simple: you go to the sports section, find a match you are interested in (usually in leagues, although the most popular matches are being displayed on the front page), and select the desired outcome. Your selection goes to a betting slip, which you can later formalise as a single bet or turn into an accumulator. In the slip, you can see all selections, total odds and an approximate payout provided that you have entered a bet.
During the processes of match selection and betting, mobile and iOS versions are a bit more user-friendly than the Android version. The latter requires you to jump through some additional hoops to find the desired match and place a bet. It is an easy process, but it requires more clicks, which might get annoying if you are looking to place an accumulator bet with five or so selections.
Live betting
Aside from e-sports, 22bet does not seem to offer live streaming videos, which makes the streaming button almost redundant. It focuses on a wide betting line for popular events providing a lot of options for people who have intimate knowledge of matches.
It also has live updates of events of the match (including a visual representation of actions on the field), and bare-bones statistics, which uses third party services.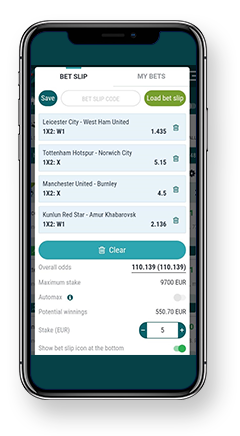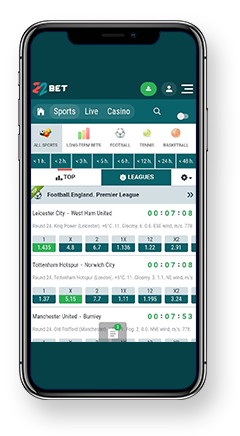 Fortunately, the list of countries that can download the 22bet mobile app is much larger than the list of those that cannot. Some of those who unfortunately don't have access to this bookie are the US and also France.
Aside from the few countries that can't get the 22bet app for Android or iOS, this bookie offers service in many places.
In Europe, countries like the UK, Spain and Germany can download the 22bet apk. In America we have countries like Mexico, Brazil and Argentina on the list.
The list is quite extensive in Africa too, with countries like Uganda, Kenya, Nigeria and many others also having access to the 22Bet app.
You can deposit and/or withdraw money regardless of the mobile version that you use. Both options are readily available through your personal profile (you can access it by pressing on the user picture with a silhouette on your screen). Pressing the appropriate button will redirect you to the page with payment methods available at your location, where you can choose the one that suits you the most. For your own convenience, try to use the same method both for deposits and withdrawals. Choosing different options may lead to additional verification procedures, not to mention an outright denial of the transaction.
Timeframes for mobile transactions are the same as the desktop ones:
deposits have a €1 minimum along with unspecified limits, and are being processed instantly;
withdrawal limits are being decided by the chosen payment system provider; their processing may take from minutes (e-wallets) to days (bank transfers).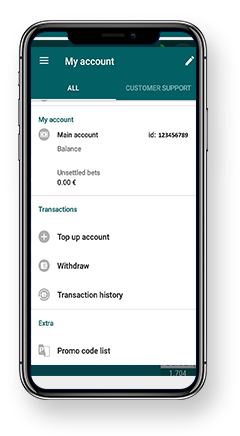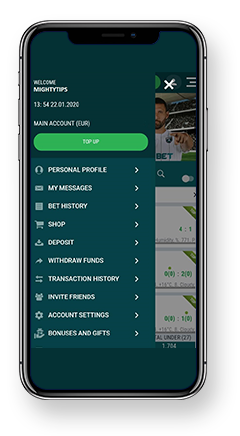 In terms of payment methods, navigation is really straightforward and identical across all platforms. When you get into the payment options window, simply choose the preferred method and enter the required data.
We will provide two examples using Visa as a preferred method:
Deposit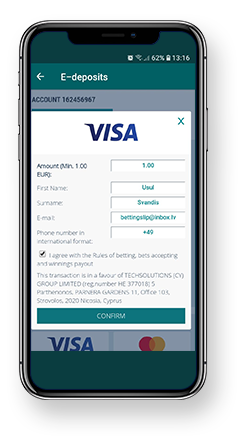 Withdrawal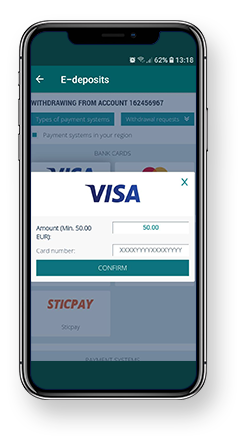 Mobile deposits and withdrawals follow the same verification policies as the rest of the website.
Deposit Methods
| | | | |
| --- | --- | --- | --- |
| Payment Method | Minimum Deposit | Maximum Deposit | Time for Deposit |
| VISA | €1 | No limit | Instant |
| MasterCard | €1 | No limit | Instant |
| Bank Wire | €1 | No limit | 1 – 3 days |
| ecoPayz | €1 | No limit | Instant |
| Cryptocurrencies | €1 | No limit | Instant |
Withdrawal Methods
| | | | |
| --- | --- | --- | --- |
| Payment Method | Minimum Deposit | Maximum Deposit | Time for Deposit |
| VISA | €1 | No limit | Up to 7 days |
| MasterCard | €1 | No limit | Up to 7 days |
| Bank Wire | €1 | No limit | 1 – 5 days |
| ecoPayz | €1 | No limit | 15 minutes |
| Cryptocurrencies | €1 | No limit | 15 minutes |
All versions are working around live chat support. There is no dedicated phone support (although the Android app has a callback), and e-mail support is more of an added function than one of the primary options. So, when in doubt, go to live chat.
If, however, you are more interested in information on the quality of support, you are welcome to read our customer service article.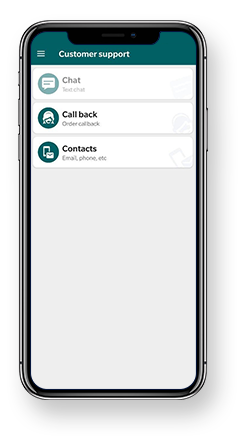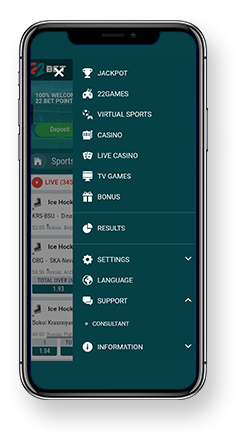 After some use of 22bet apps, we have come to the conclusion that the website offers an adequate mobile experience. It is simple and clean, and it does everything it has to do in terms of functionality. We could use a little bit more comfort, though – especially from the Android version, which at times feels rather clunky to navigate.
Advantages
Simple and clean design
Extensive functionality
Full array of platforms
Ease of deposits/withdrawals
Limitations
Country restrictions influence installation
Android version sometimes feels clunky
Ironically, the biggest obstacle to using mobile version over the desktop might be the installation process, which makes users jump through some hoops – especially the iOS installation. This might focus user attention on the mobile version of the website, which seems only slightly inferior to the app versions, but still is very functional. It supports all the most popular browsers and feels ok to navigate.