Football predictions for tomorrow
Are you looking for the best football tips for tomorrow? We have the best free football predictions on our website. Our predictions cover a wide range of leagues, including the English Premier League, Spanish La Liga, and German Bundesliga. So, let's dive right in!
Tomorrow's football predictions:
Top bookmakers in your country
Why trust our predictions
We know how hard trusting prediction sites can be. Well, we suggest giving us a trial and enjoying the benefits that other users have been getting on our site. Our record precedes us as we've gathered the knowledge to make accurate tomorrow's best football predictions. Also, we have a team of expert tipsters active in sports and sports betting who regularly make honest predictions.
30+

Football predictions daily

10+

Professional football tipsters

5+

Years of successful work

55%+

Average win rate

We have a team of professional tipsters, punters, and sports enthusiasts who make the best predictions on our site. They compare their facts with the best sports prediction sites to give our users the clearest and most objective view of online sports betting.
How we make football predictions
You might be wondering how we make our football predictions. Crucially, we combine data and knowledge of all teams and leagues to create the best football tips tomorrow can boast. Also, we take our time to analyse the data we have to give our players the best possible predictions. Our prediction results are based on both statistics and research.
Find the list of attributes we analyse to create a football prediction you can rely on below:
Type of competition

The first thing we check is the type of competition we're analysing. Are we making predictions for the FIFA World Cup, the UEFA Europa League, or the UEFA Champions League?

Injuries within the team

Then, we look into both teams for players with injuries. Plus, we factor in how valuable these injured players are to the team's success before making our predictions.

Records from both teams

Another factor we consider is the records from both teams. We look at the previous forms of both teams to know which team stands a better chance of winning.

Games they previously played

We also check both teams' performances in previous games. What are the teams' strategies? What are the strengths and weaknesses of both teams?

Strength of defence line

Another important factor we check is the quality of the team's defensive line. We check the record of each player in the defence line before making our prediction for tomorrow football games.
Predictions for all major football leagues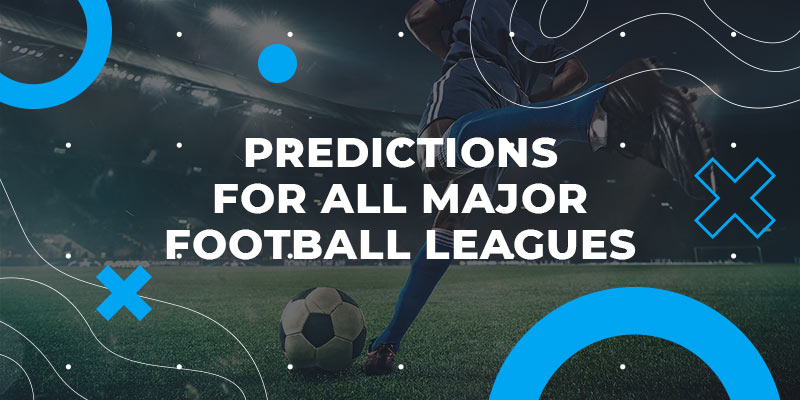 We give you the best predictions from all major football leagues worldwide. Check out some of these popular leagues below.
The English Premier League is the world's most popular league. So you should definitely consider including this league in your betting routine. We release our league predictions in the midweek before the games are played.
The UEFA Champions League is the most popular European club competition. It consists of the biggest European teams competing for the Champions League trophy. We give our users the best possible predictions a few days before Champions League matches are played.
The UEFA Europa League is a European competition that consists of some of the biggest teams not only in Europe but also in the world. We give you the best football tips for tomorrow that will help you to make the best league predictions.
EURO 2024 qualification began in March 2023.
Football betting tips and predictions for tomorrow
We will give you the best football betting tips tomorrow can boast across different markets. You'll get the best odds when you check out our site's football predictions. Also, our tomorrow football tips give you head-to-head statistics about the two teams. Plus, that's not all, as we give you a rundown of previous matches and the team's news.
What time do we publish our football predictions?
Are you wondering how long it takes us to publish our tomorrow sure football prediction tips? We usually post our football tips 1–3 days before the match begins. So, you can check out our site every morning to get fresh updates about your preferred game.