Sports Betting Bonuses & FreeBets Germany
o deposit bonuses and free bets are among the most popular types of betting bonuses that German sites offer. The question of bonuses is no longer up for debate as they have become an integral part of many top betting sites. This is why there are many Freebet Germany offers available to explore.
In this article, we'll cover all about the best sports betting bonuses for German players and where you can claim the biggest no deposit bonus offer in Germany.
We have determined that you are from YOUR COUNTRY, you can also select another country
Bookmaker
Bonus & Terms
Link

20bet Germany bonus

Register and make a first deposit to get a 100% bonus up to 100 EUR

20bet offers its visitors a 100% first deposit bonus of up to 100 EUR. The bonus applies from 10€ onward, and will be automatically credited to your account.

Get bonus

Visit 20bet

Paripesa Germany bonus

Enjoy a 100% deposit bonus up to 100 EUR

Paripesa welcome its German first-time bettors a 100% first deposit bonus of up to 100 EUR.

Get bonus

Visit Paripesa

888sport Germany bonus

Get your bonus money up to €100 at 888sport

You can double your first deposit money up to 100 EUR by using the welcome offer from 888sport. All you need to do is create an account, deposit money and apply for the promotion.

Get bonus

Visit 888sport
Betting sites in Germany offer lots of bonus bet promotions and exciting deals to punters, including a plethora of free bet offers German players can claim. As we already mentioned, there are rarely any betting sites with no bonus offers, which does not come as a surprise.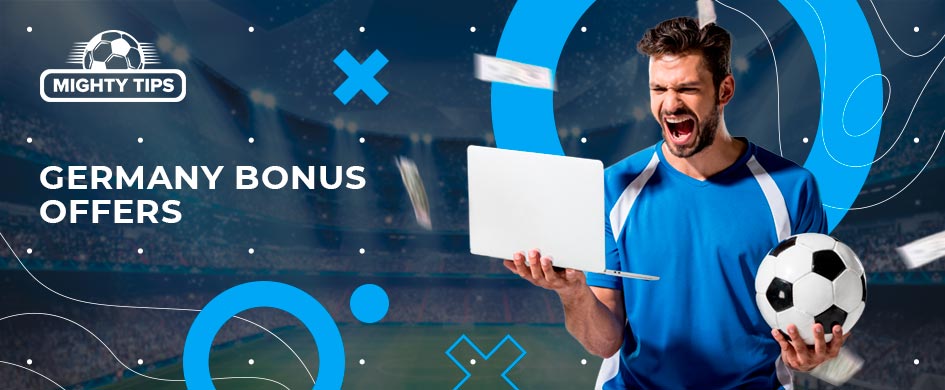 Every site wants to be the top destination for the millions of players in the country. Undoubtedly, however, it takes more than just an enticing website, nice odds and plenty of games to achieve this. Rather, it also takes the best bonus deals, so we'll explore the various types of betting offers that are common among sports betting sites.
Among the most popular German betting site offers, you will find free bets, sign-up bonuses, no deposit bonuses, risk free bets and money-back free bets.
The majority of these offers mostly come as welcome bonuses and sign-up bonuses. However, let's get started with what are surely the best betting bonuses for Germany-based players.
Freebet Germany
How would you like to get bonus bets for wagering without having to use your money? Just as the name implies, a freebet allows you to place bets for free. This is one of the most popular forms of sports betting bonuses for Germans. It usually comes in the form of a sign up bonus, or a welcome bonus for new members hoping that they will continue playing once the free bet expires.
When a freebet is in use, the principle is simple. Players are only allowed to stake on minimum odds using the entire free bet amount at once. If the player wins, the winnings from the freebets can be withdrawn; otherwise, the player has nothing to lose as it was a free bet in the first place.
How to Claim the Best Free Bets in Germany?
At some sports betting sites, freebets are issued based on activity. This means that you have to be on alert to participate. However, some other sites give free bets as a sign-up bonus. So, players can get the free bets available to them by following the instructions, including using the right freebet bonus code.
No Deposit Bonuses for German Players
A no-deposit bonus is a type of sign-up or welcome bonus that is offered to new customers by various betting sites. With this type of offer, the player does not need to make any deposit at all. In most cases, there are rules and they differ from one site to the other.
If you visit betting sites with no deposit bonus, you won't have to pay anything to claim these offers, you just have to create an account.
In the end, the most important part of this offer is that no actual deposit is made before you get the stipulated bonus amount to play for free. However, as always, it does come with specific terms and conditions. In most cases, these terms are usually steeper than the deposit bonus.
As it stands, no deposit bonuses in Germany, as well as in the betting niche as a whole, are a rather rare occurrence, and most of the time such bonuses provide bettors with meager sums to play with. If you are an experienced bettor looking to get the most value for your money, you likely will be better off claiming first deposit bonuses and utilising them to their full extent.
How To Claim A No Deposit Bonus?
The first step is to find an online sports betting site that offers a free bonus no deposit in Germany. Once that is sorted, check out the instructions and follow them accordingly. After you are done, you will receive the stated amount to start playing for free.
The best bonus bets
Just like free bets, a risk free bet is a type of sign-up bonus. Though a risk-free bet is a type of free bet, this time, if you lose, you will get your money back either in the form of a bonus, cash prize, or a free bet. One of the major differences between a free bet and a risk-free bet is that, for the latter, you don't have to deposit to get a free bet. But you must deposit to get a risk-free bet.
Once you place your stake on the selected outcomes as required, if you win, then the money is yours. If you lose, then the amount you staked will be returned to your account in one form or the other.
How to claim a risk-free bet?
Not every sports betting site offers a risk-free bet. However, once you have found one, all you need to do is follow the bonus instructions and use the right bonus code to claim the offer.
Money-Back Free Bets Offers
Money-back free bets are usually not a sign-up bonus. These can come in the form of a promotion, simply offering players their money back up to a certain amount based on the stated outcomes.
For example, if an online sports betting bonus on a website offers a money-back free bet on a basketball game saying that, if a particular team can turn around a deficit of 10 or more points in a game, then all punters who bet will receive a special money-back free bet of up to $200 depending on the amount wagered. This is a typical example of a money-back free bet. The punter gets the chance to win a matched bonus when the bet is lost, providing a specified condition is fulfilled.
How to Claim Money Back Free Bet?
It is pretty straightforward to claim a money-back free bet. Just follow the instructions, which include the minimum wager amount and the type of game, as well as the outcome to be staked upon.
Betting Welcome Bonus
These two bonus types are frequently seen at many sports betting sites. It is a bonus that has a much broader meaning than might be obvious. A sign-up bonus is a welcome bonus, and a welcome bonus is a sign-up bonus. Both can come in the form of free bets, risk-free bets, money-back bets, and no deposit bonuses.
How to Claim the Best Sports Betting Bonuses?
There are many good quality betting sites with free bets, risk-free bets and no deposit bonuses. The first step is to find one that offers what you need. When you manage to find one, sign up and follow the instructions within the best no deposit bonus offer.
Top 5 popular betting sites with Germany bonuses
Germans love football, so it is not strange that football betting is one of the most popular betting options among punters. Likewise, betting sites in Germany are continuously on the rise and making the right choice can be difficult. While punters are always on the lookout for the best, many bookmakers offer free bets and other types of bonuses as a means of attracting players.
The list of betting sites on this page is not just about free bets. These are the most popular betting sites that offer punters the best of everything, including the best odds, payout options, customer support and more.
Top 5 popular betting sites with Germany bonuses

| Bookmaker | Offer | Bonus |
| --- | --- | --- |
| | $30 IN FREE BETS + $10 FOR CASINO | Get Bonus |
| | 100% bonus up to €300 | Get Bonus |
| | Up to €100 in bet credits | Get Bonus |
| | Up to €100 on 1st deposit | Get Bonus |
| | Bonus up to €122 | Get Bonus |
Top 5 new bookmakers with the best Germany bonuses
While there are currently hundreds of betting sites that offer bonus bets in Germany, new ones are being launched daily. As a result, selecting just one becomes a lot more difficult. While the older sites have their advantages, new sites offer a lot more in terms of bonuses, which include free bets and no deposit bonuses.
So, if you're looking to take advantage of the freebies that new bookmakers have to offer, below is a list of our top 5 selections with the best free bet Germany has available.
Germany Bonus tips and strategies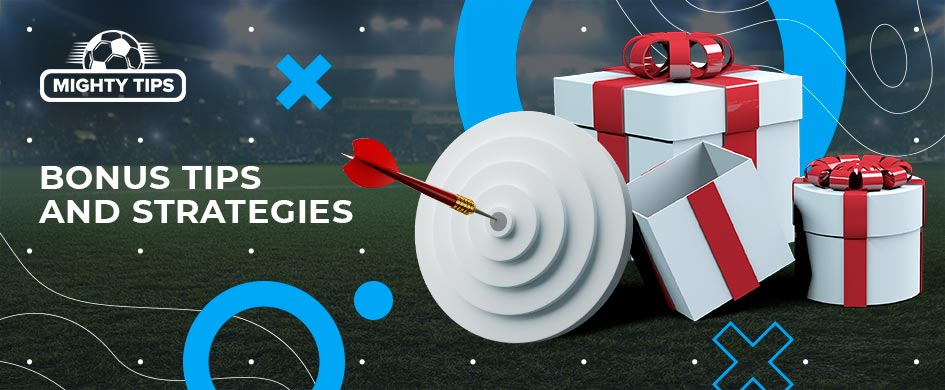 Some punters may find it hard to believe that bookmakers offer free bets. Well, free bets are indeed real, but there is always a catch to every bonus deal.
To qualify for a free bet, you need to do the following:
Create an account with a bookmaker that offers free bets
Make a deposit using the available deposit methods
Place an actual bet following the instructions for the free bet claim
Freebet options will help you to double your bankroll, convert the free bet into money using the matched betting tactic, and you can also use free bets to hedge on a bet. Above all, don't forget the play-through requirements. This is a very common catch that comes with most free bets. Figure out how many times you have to play it, then calculate the returns and decide how many free bets you need.