Best Betting Sites in Cyprus (2023)
If you're looking for the best and most trusted betting sites Cyprus has then you're in the right place. In this thorough review, we'll provide you with all the necessary information concerning the sports betting scene in Cyprus, as well as acquaint you with some of the most popular online betting sites Cyprus has to offer. Where do Cypriot sports fans usually place their bets? Is each one of these websites legit and trustworthy? Which sports bonuses and promotions are available to bettors? Well then, just strap in and let MightyTips answer all of these questions for you.
List of Cyprus betting sites
Found: 3 Bookmakers
Cyprus online sports betting – The ultimate guide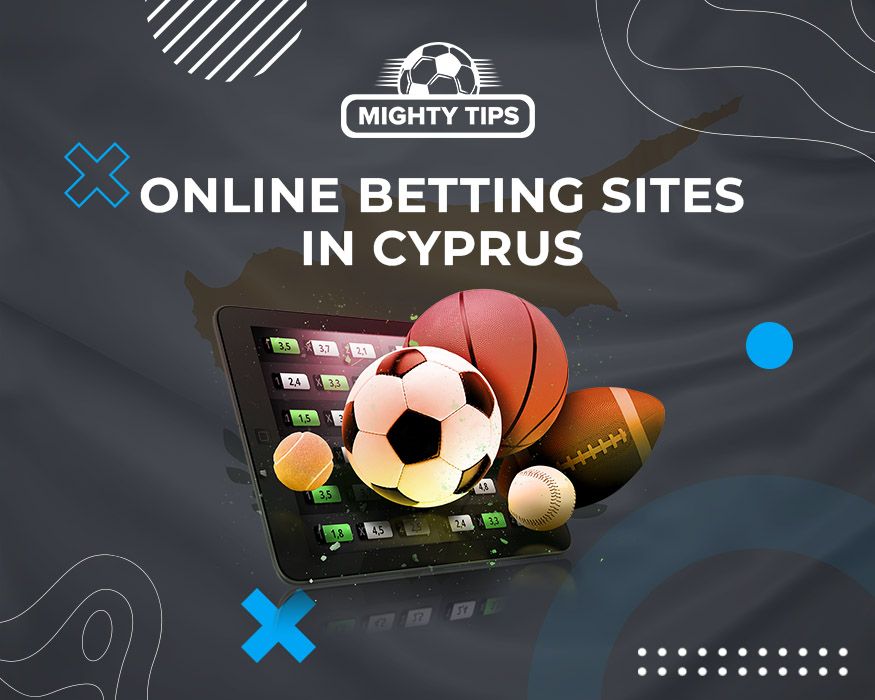 Before we provide you with some of the best Cyprus betting sites, we will also guide you through the brief history of the gambling and betting sports industry in the country and consider matters from a legal perspective. Then, after we've introduced a number of legit and widely used Cyprus bookmakers, we're also going to break down the most popular sports types among Cypriot fans, present the betting markets for each one of them, the payment methods for topping up your betting account and, of course, a variety of bonuses and promotions designed both for new and existing punters. If you want to acquaint yourself with the sports betting environment in Cyprus and its most popular sportsbooks, this is your lucky ticket. Shall we start right away?
History of sports betting in Cyprus
The history of gambling and sports betting in Cyprus dates back to the middle of the 20th century. After Cyprus gained independence from Britain in 1960, the country established its first national lottery. The very first sports betting law, however, saw the light of day only in 2012. The Betting Law of 2012 initiated the establishment of the National Betting Authority (NBA), which supervises all sports wagering activities in the country to this day. However, from a legal point of view, land-based gambling and corporate sports betting are being controlled way more strictly than online agencies. There was also a 2019 amendment to the Betting Law of 2012 that added more detailed points to the legislation and included some minor changes.
Since the 2012 Betting Law was introduced, Cyprus has been providing its sports betting companies with two main types of licenses: Class A and Class B. The main difference between these is that the Class A license is issued to land-based platforms, and the Class B license deals with all types of online betting facilities.
Cyprus is one of the worldwide hotbeds of active sports betting activities as it provides all customers with clear regulations and a relatively safe gambling environment.
We've gathered some facts about gambling and sports wagering in Cyprus that you may find interesting:
Online casino gambling in Cyprus is prohibited on a governmental level.
Horse racing betting is officially illegal in Cyprus.
You can't gamble or place your Cyprus bets on sports using bitcoin or any other virtual currency.
A tax of 13% is imposed on every licensed Cypriot betting site.
Even though the local government strictly regulates all gambling and sports betting activities in the country, online sports betting is still legal in Cyprus and, we must say, brings in quite an impressive income each year. According to the UK Gambling stats for 2021, more than 700,000 people are actively gambling and placing sports bets in Cyprus.
What you need to know about betting in Cyprus

| | |
| --- | --- |
| 🌍 Country | Cyprus |
| 👌 Language | Greek, Turkish |
| 💲 Currency | Euro (EUR) |
| ⚽ Popular Sports | Football, futsal, basketball, tennis |
| ⚖️ Is betting legal | Yes |
| 🏢 Regulator | The National Betting Authority (NBA) |
| 🧾 Gambling Taxes | 13% for bookmakers |
| 💳 Most popular payment methods | MasterCard, Bank Wire, paysafecard, Bitcoin |
Top-2 betting sites in Cyprus
It's time to place your pick among the top betting sites in Cyprus and finally place your first wager on a sports match. In this review, we've gathered some of the most popular and trusted sportsbooks in Cyprus. Look through the brief descriptions of every platform and check out the website layouts before choosing the best bookie for your betting needs.
Website #1 in Cyprus – PariMatch

Established back in 1996, PariMatch went online in 2000. It provides punters with over 25 sports types to bet on, quick withdrawals within one business day, and some of the most competitive odds on the market. Additionally, there are such must-have services as live streaming for selected in-play events, full and partial cashout, and a Quickbet feature for instant bet placement.

Website #2 in Cyprus – MeridianBet

The second entry on our list, MeridianBet is an experienced bookmaker that entered the sports betting arena in 2008. The bookie offers good odds both for popular and secondary events, boosted odds on selected live matches, and a fixture with live schedules and regularly updated scoreboards. Besides, if you wish to place your wagers on sports matches even on the go, you can do so via convenient and user-friendly MeridianBet mobile apps for Android and iOS devices.
How we test & review betting sites in Cyprus
In order to sort out and pick the betting sites in Cyprus for readers, we thoroughly check every platform before adding it to this review. It's only natural that every website has its upsides and downsides and, while we're still concentrating on the good points, we never forget to assess every platform objectively.
Odds

Odds and bookmakers' margins are the most important aspects of any sports betting website. When you're placing your wagers against a sportsbook, you should always look for the most profitable numbers. And as you're betting on live matches, and especially major tournaments, be aware that the odds for such events may change rapidly and sometimes drastically. Hence, we're always looking for bookmakers Cyprus options that can offer some strong odds compared to their competitors.

Mobile compatibility

It's quite fortunate that almost all the best betting sites Cyprus has offer their official mobile applications for customers. Whether you have an iPhone or an Android device, it's good to have your own sports betting account right in your pocket. Besides, mobile betting is a current trend in sports wagering scenes all around the globe. This is why we always check the mobile compatibility of every reviewed sportsbook.

Available payment options

It's rotten luck that punters are prohibited from using bitcoin or any other virtual currencies for their online betting Cyprus activities. Nevertheless, there are still a bunch of other convenient payment methods offered to bettors by bookmakers. Some customers wager on sports only with their credit or debit cards, while others prefer to use e-wallets. One way or another, a decent sportsbook must be ready to provide its users with as many legit payment options as possible.

Bonuses and promotions

While searching for the best bookmakers Cyprus has, we cannot overlook the scope of bonuses and promotions offered by them. There is usually a wide selection of promos at customers' disposal, such as welcome gifts, deposit bonuses, free bets, cashback, and even VIP memberships for the most loyal users. We make sure to check out the conditions of every bonus, as well as its wagering requirements.

Bet types

Usually, you can pick from several markets for your first bet on Cyprus sports wagering sites. The range of betting markets may differ depending on the popularity of your chosen sports type and event. However, it's still a great advantage if a bookie can offer a decent variety of bet types both on popular and niche sports.

Support work quality

The next point on our list is the quality of a bookmaker's customer support team. Channels of communication with users are vital when it comes to any issues connected to the bookie's services or general functioning. A decent sportsbook must offer a 24/7 live chat, an email address, and a phone number. Plus, we give additional points to bookmakers who have their own social media pages where they update customers on all innovations within a platform on a regular basis.

Trustworthiness

When it comes to a bookmaker's legitimacy, everything needs to be pretty obvious. A good and valid sportsbook much obtain a relevant and active license before offering its services to bettors. Another advantage comes when a bookie is licensed by several authorities at the same time. We always double-check not only the bookmaker's license and general policy but also surf through the user reviews on the web.
3 best betting apps in Cyprus
We've already mentioned that mobile betting is extremely popular and widespread all across the world. But can you place your wagers using just your phone in Cyprus? Sure thing! Below, we've made up a list of the best betting apps available to Cypriot sports fans.
#1 Cyprus betting app – Parimatch

There's no need for a special introduction when it comes to Parimatch. It's a widespread and widely trusted bookmaker that has been on the market since 1996 and established its official website in 2000. With such an impressive experience in the sports betting industry, it's no wonder that Parimatch has established its official mobile apps for Android and iOS devices. You can find a range of over 25 sports to bet on, enjoy 30,000 pre-match events monthly, and place your wagers in a matter of seconds with a Quickbet feature.

#2 Cyprus betting app – Bet365

Another experienced bookmaker on our list, Bet365 saw the light of day back in 1974 and went online in 2000. On its official Android and iOS applications, you can find more than 45 sports options to bet on, Bet Builder & Edit Bet features, and partial and auto cashout options.

#3 Cyprus betting app – MeridianBet

MeridianBet is a time-tested and experienced sportsbook that entered the market back in 2008. On a separate 'Mobile Applications' page, you can find and download the bookie's official apps for Android or iOS platforms. After the app is installed on your device, you can start placing your wagers on the full range of sports offered by the bookmaker, keep track of live match schedules and scoreboards via the MeridianBet Fixture, and benefit from the list of sports betting bonuses and promotions.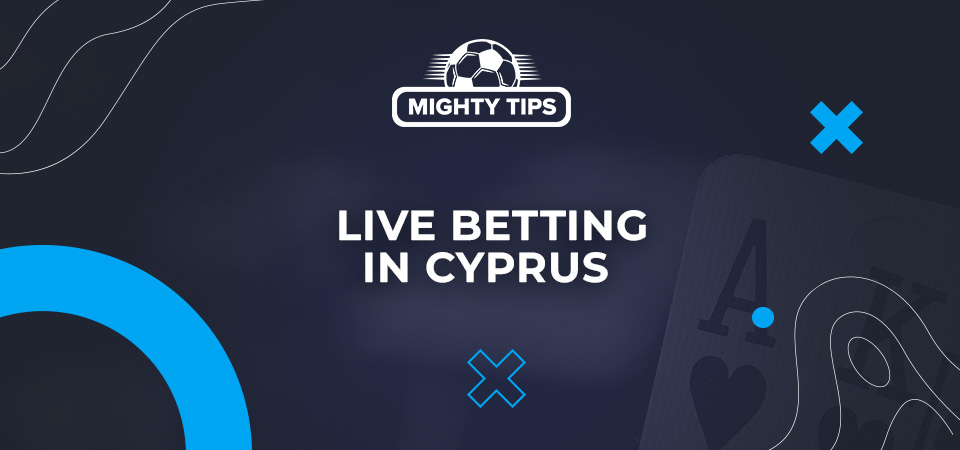 Given that online sports betting is legal and regulated in the country, users of Cyprus sports betting sites can also place their wagers on in-play events. Live betting is not only extremely fun but can also be very lucrative if you know what you're doing. Obviously, live matches are quite unpredictable, especially when it comes to popular sports types or major tournaments and championships. Luckily, most bookmakers Cyprus has usually provide their customers with decent odds on in-play games. As you're placing your bet on an ongoing sports event, make sure to keep track of all changes in the odds and the current overall result of the match first.
The most popular sports types for live betting in Cyprus are:
The Biggest Cyprus bookmaker
Now that we're almost through with our review of the sports wagering scene in Cyprus, it's time for you to take your pick from among the best platforms for sports betting Cyprus activities. In addition to the options we already mentioned above, consider another superb bookmaker for your wagers.
#1 Biggest Cyprus betting site – Bet365

If you're looking for a time-tested bookmaker, already chosen by millions of customers around the globe, then Bet365 is your ultimate pick. The sportsbook has existed since 1974 and developed its official online platform in 2000. The main advantages of using Bet365 as your bookmaker in Cyprus are its fast withdrawals, a list of over 45 sports types, hundreds of extra bets on selected top leagues, and high payouts on the most popular sports among Cypriot punters, including tennis.
Popular sports types on the best betting sites in Cyprus
What to bet on in Cyprus? Given that the country is known for its flourishing sports wagering scene, the options are truly inexhaustible. Also, no matter if you wager on the most popular sports or prefer to settle on niche options, a lot of bookmakers Cyprus has display quite high odds for all events equally. Let's take a look at the most frequently chosen sports types on Cypriot betting platforms.
Football betting in Cyprus
It's a well-known fact that football makes up a large part of wagers on bookmaker platforms all around the world. There is always an abundance of events: both single matches and major tournaments and leagues. Cypriot punters have an immense choice of betting markets when it comes to football, and some bookies can offer as many as 500 and more options. On top of this, the odds for football matches are always slightly higher compared to other sports types, and some sportsbooks even offer boosted odds bonuses on selected games.
Tennis betting in Cyprus
Tennis certainly doesn't take a backseat to football when it comes to the popularity of a sport among punters. Given that tennis is extremely widespread on betting websites across the world, there are already a bunch of info, tips, and statistics for everyone who wishes to try their luck at tennis wagering. The common bet types for tennis include Money-line, Point Spread, Futures, Over/Under, and Player Props.
Futsal betting in Cyprus
Futsal is an intense and dynamic sport that stirs the interest of Cypriot punters on all betting platforms. Played in 5-on-5 teams, it bears a lot of differences compared to football or mini-football. Among the main ones are that in futsal the ball is usually smaller and heavier, and kicks on opponents are allowed. Punters can place their wagers on the final outcome of the match, as well as over/under (totals) bets, handicaps, and point spread bets.
Basketball betting in Cyprus
Sure thing, we cannot overlook basketball when it comes to the most popular sports for betting in Cyprus. The main betting markets used for basketball are point spread and over/under (totals), but a lot of punters frequently place the so-called player props, boosting their winning chances. Basketball is one of the easiest and most demanded sports to bet on, since there are regular major competitions and tournaments with mind-boggling odds and high payouts offered by lots of bookmakers.
How to sign up, verify & place your first bet with bookmakers Cyprus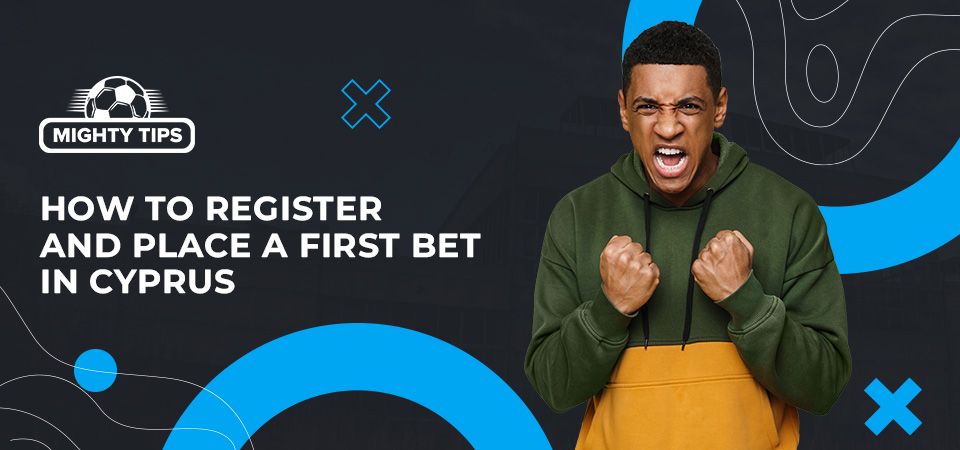 Now that you've already picked a sportsbook for your first wager, it's time to try your luck and start betting on sports! Follow our short tutorial that will help you place your first bet with any sportsbook in Cyprus.
Sign up with a sportsbook of your choice and log into your account
Go to the pre-match or in-play section and find the sport and event to bet on
Pick from the available betting markets and check the odds
Click on the outcome you wish to bet on
Enter your bet amount in the Bet Slip
Confirm your bet and wait for the rewards
Don't forget to verify your betting account before withdrawing any of your wins
Bonuses and Promotions for betting in Cyprus
Betting with an active bonus can give you a lot of advantages. It makes it easier to manage your bankroll and significantly increases the general profitability of your bets. What bonuses can Cypriot punters get for their sports wagers with a bookmaker?
Deposit bonuses
Deposit bonuses are the most widespread promos you can find on a sports betting website. These usually include extra cash offers for your first, second, third, fourth, and sometimes even fifth deposit with the bookmaker. However, the wagering requirements for these promotions are usually quite strict, so don't forget to check them out before claiming the bonus.
Welcome offers
All new users of a sports betting platform are eligible for a welcome package if there is one. Welcome packages usually include extra cash, free bets, or both. But mind the wagering requirements: they usually include a minimum deposit and a rollover of the bonus sum on selected sports events with predefined odds.
Free bets
Free bets are extremely lucrative promotions that allow you to place your wagers on sports without spending any cash. These bonuses are rarer than welcome packages but you can still find them on a bunch of Cypriot betting sites.
Cashback
Cashback offers are a good way to win back a certain amount of money on your lost bets. Some cashback offers include percentages of up to 50%. Moreover, you can often find individual cashback promotions for different sports types, including tennis, basketball, cricket, and even eSports.
VIP offers
VIP membership programs are exclusive promotions for the most loyal users of sports betting platforms. Most of the time, they consist of levels and, as you inch your way through them, placing more sports bets and gaining more wins, the bookie awards you generous exclusive prizes, including extra cash, free bets, cashback, and more.
Bonuses and Promotions for betting in Cyprus
Bookmaker
Bonus offer
Advantages
Find out more
Free Bets €20 +100% on first deposit

Live betting options
Lots of sports to bet on
Live casino and table games

Get Bonus
€25 registration Bonus

5+ ways to instantly deposit cash
Generous welcome bonus
7 languages available

Get Bonus
Free Bets €50

24/7 support
Biggest international brand
User-friendly mobile app

Get Bonus
Popular payment methods for sports betting in Cyprus
Cyprus sports betting sites have a decent range of options when it comes to payment methods. Depending on your tastes and preferences, you can find the most fitting payment method for fast and convenient deposits and withdrawals with a bookmaker. Below, we've broken down the most popular payment options among Cypriot bettors.