La Liga (Spain)
| | Regular Season | P | W | D | L | G-A | GD | Pts |
| --- | --- | --- | --- | --- | --- | --- | --- | --- |
| 1 | Athletic Club | 0 | 0 | 0 | 0 | 0 - 0 | 0 | 0 |
| 2 | Atlético Madrid | 0 | 0 | 0 | 0 | 0 - 0 | 0 | 0 |
| 3 | Barcelona | 0 | 0 | 0 | 0 | 0 - 0 | 0 | 0 |
| 4 | Cádiz | 0 | 0 | 0 | 0 | 0 - 0 | 0 | 0 |
| 5 | Celta de Vigo | 0 | 0 | 0 | 0 | 0 - 0 | 0 | 0 |
| 6 | Deportivo Alavés | 0 | 0 | 0 | 0 | 0 - 0 | 0 | 0 |
| 7 | Elche | 0 | 0 | 0 | 0 | 0 - 0 | 0 | 0 |
| 8 | Espanyol | 0 | 0 | 0 | 0 | 0 - 0 | 0 | 0 |
| 9 | Getafe | 0 | 0 | 0 | 0 | 0 - 0 | 0 | 0 |
| 10 | Granada | 0 | 0 | 0 | 0 | 0 - 0 | 0 | 0 |
| 11 | Levante | 0 | 0 | 0 | 0 | 0 - 0 | 0 | 0 |
| 12 | Mallorca | 0 | 0 | 0 | 0 | 0 - 0 | 0 | 0 |
| 13 | Osasuna | 0 | 0 | 0 | 0 | 0 - 0 | 0 | 0 |
| 14 | Rayo Vallecano | 0 | 0 | 0 | 0 | 0 - 0 | 0 | 0 |
| 15 | Real Betis | 0 | 0 | 0 | 0 | 0 - 0 | 0 | 0 |
| 16 | Real Madrid | 0 | 0 | 0 | 0 | 0 - 0 | 0 | 0 |
| 17 | Real Sociedad | 0 | 0 | 0 | 0 | 0 - 0 | 0 | 0 |
| 18 | Sevilla | 0 | 0 | 0 | 0 | 0 - 0 | 0 | 0 |
| 19 | Valencia | 0 | 0 | 0 | 0 | 0 - 0 | 0 | 0 |
| 20 | Villarreal | 0 | 0 | 0 | 0 | 0 - 0 | 0 | 0 |
UEFA Champions League group stage
Europa League group stage
Europa League qualifiers
Relegation Play - offs
Relegation
Designations:
| | |
| --- | --- |
| P | Points |
| W | Win |
| D | Draw |
| L | Lose |
| | |
| --- | --- |
| G-A | Goals For - Goals Against |
| GD | Goal Difference |
| Pts | Points |
La Liga is, for some, the most exciting league in the world. After all, it attracts many of the world's greatest players, such as Lionel Messi, and also has some massively popular football teams, mainly Barcelona and Real Madrid.
When Do We Publish La Liga Betting Predictions?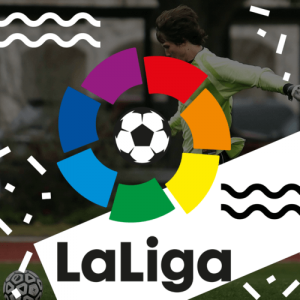 Nearly all La Liga football matches take place on weekends, and we like to get our tips out long before that. For weekend matches, you can expect to see our La Liga betting predictions up by the middle of the week. This gives you time to study through them and then find the best Spanish La Liga betting odds at online sportsbooks.
Of course, sometimes matches don't fall on weekends. But don't worry, as we've got these covered too. You'll generally find previews up and running a couple of days before the match takes place. Our tips are worth reading, as we are the best Spain Primera Division predictions site around!
La Liga Predictions at Mighty Tips
The Spanish La Liga is made up of 20 different teams. As each time plays each other twice, this means that there are 38 matches per season for a team.
The top 4 teams get entry into the Champions League, while the 5th and 6th place teams head into the Europa League. Any team finishing in the bottom three will be relegated and replaced by three teams promoted from the Segunda División.
The two most famous teams in La Liga are undoubtedly Barcelona and Real Madrid – teams that spend millions and millions every year, attempting to bring in the world's best players. Atletico Madrid is often hot on their heels though and is more than capable of winning the league. Sevilla, Valencia, Espanyol and Real Betis are also big names with many supporters. Whatever the match though, you can be pretty sure that there will be many people placing bets on it!
La Liga Betting Tips and Predictions
It doesn't matter what you're looking to bet on, as you can almost certainly find odds for it online. Many people like to get creative with their bets. However, others prefer more tried and tested bets. Below you'll see a couple of La Liga betting options that are commonly used by punters.
La Liga Champions
Predicting the La Liga champions before the season starts is a popular one. The choice is generally between Barcelona and Real Madrid, although Atletico Madrid can also sometimes force themselves into the picture. Many people put huge bets on the team they think will be triumphant at the end of the season, often winning large sums of money when their bets are correct.
El Clásico
The biggest matches of the La Liga season are the two El Clásico matches, which see Barcelona and Real Madrid face off against each other. These matches see a tremendous amount of betting activity, and we'll always provide betting predictions for this famous encounter. All bookmakers cover El Clásico in detail, and you can find some great betting odds if you look around.
Our Spanish Football Experts
We're proud to work with some of the best tipsters in the business – tipsters who know La Liga betting incredibly well and can make some fantastic La Liga soccer predictions:
and many others!
They won't just predict the result though, as they'll also predict what the score will be. Many people turn to our experts for betting inspiration, so why not read their La Liga betting previews for the next round of games in Spain?