Best Betting Sites in Gambia
Betting, an age-old form of entertainment and chance, has become increasingly popular in the West African nation of Gambia. With a vibrant sports culture and a penchant for competitive gaming, Gambia has embraced various betting activities, including sports betting, lotteries, and casino gaming. MightyTips explores the landscape of betting in Gambia, its popularity, legal status, and the precautions necessary for responsible gambling.
List of Gambia betting sites
Found: 17 Bookmakers
Gambia Online Sports Betting – The Guide
In this review, we cover all the key details about the betting market in the Gambia.
You'll find all the essential information regarding Gambia sports betting on this page.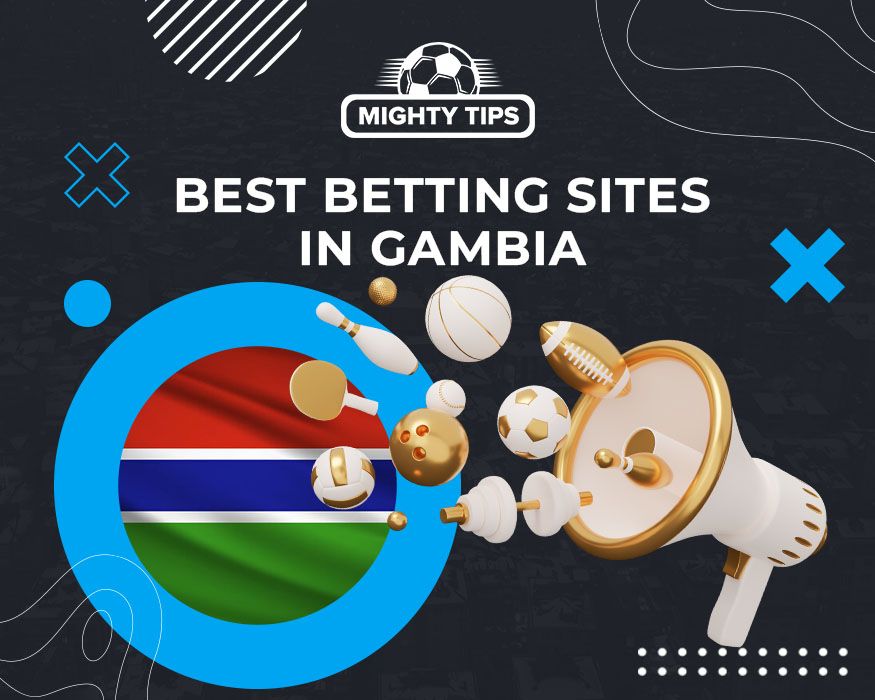 Sports have always held a special place in Gambian culture, with football being the most popular choice. As a result, sports betting has rapidly gained traction among the populace. Numerous local and international betting companies have set up shop in Gambia, offering odds and betting options on various sporting events, from local league matches to international tournaments like the FIFA World Cup.
We have carried out thorough research to provide you with comprehensive information about the betting market in Gambia, including its history, popular sports and rankings of the best and new bookmaker.
History of Sports Betting in Gambia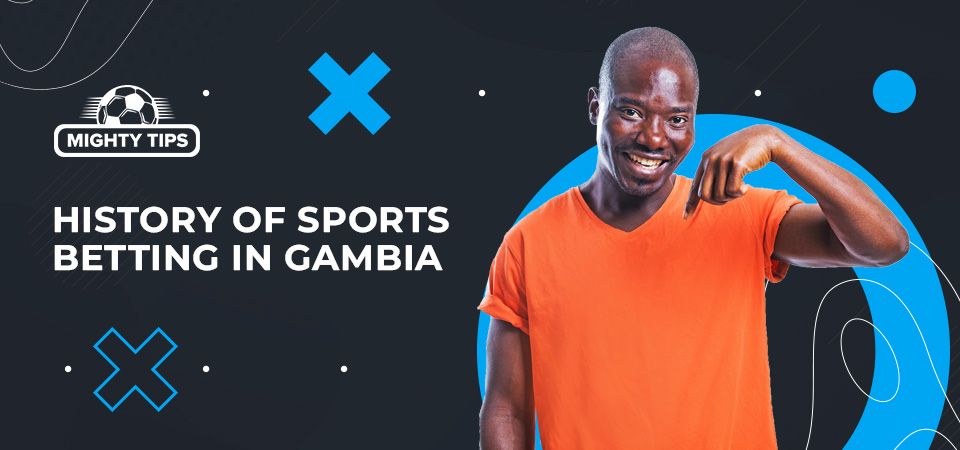 The roots of sports betting in Gambia can be traced back to the early 20th century when British colonial influence first brought sports like football and horse racing to the region. These sports quickly gained popularity and informal betting among friends and community members on the outcomes of matches and races became commonplace.
In the latter half of the 20th century, particularly during the post-independence era in the 1960s and 1970s, sports betting became organised on a more significant scale.
Betting shops and kiosks started popping up in urban centres, offering a variety of sports betting options. Football, being the most beloved sport in Gambia, became the primary focus of these betting activities.
Gambia's government has taken measures to regulate the gambling industry to ensure fairness, consumer protection, and revenue generation. The gambling sector falls under the watchful eye of the Gambia Gambling Board, which is responsible for issuing licenses, setting regulations, and monitoring betting activities within the country.
Some interesting facts:
Football is the most popular sport in Gambia and it holds a central position in the country's betting landscape.
Betting shops and kiosks can be found in various urban centres across the country. These physical establishments serve as social hubs where bettors gather to discuss sports, place bets, and follow the outcomes of matches together.
Gambia's status as a tourist destination has led to the establishment of a few casinos, primarily located in popular tourist areas like Banjul and Senegambia.
With the advancement of technology and the internet's widespread availability, online sports betting platforms began to make their way into Gambia in the 21st century. This digital transformation allowed bettors to place bets conveniently from their smartphones or computers, expanding the reach and popularity of sports betting in the country.
Table about sports betting in Gambia

| | |
| --- | --- |
| 🌍 Country | Gambia |
| 👌 Language | English |
| 💲 Currency | The Gambian dalasi (GMD) |
| ⚽ Popular sports | Football, horse racing, tennis |
| ⚖️ Is betting legal | Yes |
| 🏢 Regulator | Gambia Gambling Board |
| 🧾 Gambling taxes | 10% |
| 💳 Most popular payment methods | Bank Transfer, MasterCard, ecoPayz, PayPal |
Top-3 Betting Sites in Gambia
Based on our in-depth market research conducted in Gambia, we've identified the operators that have earned genuine popularity and trust among local bettors. As a result, we present to you the market leaders who are widely regarded as the most reputable and reliable in the country.
Website #1 in the Gambia – Betwinner

Betwinner is an online betting platform that has quickly gained popularity among gamblers in Gambia, and rightfully so. First and foremost, the website's user interface is sleek, modern, and incredibly easy to navigate. One of the standout features of Betwinner is its extensive selection of betting options. The sportsbook offers punters a vast array of sports, encompassing football, basketball, cricket, and numerous other options. This wide selection ensures endless opportunities for betting on both local and international events, catering to the diverse interests of all users.

Website #2 in the Gambia – 22Bet

One of the standout features of 22Bet is its impressive versatility when it comes to sports betting. The website boasts an extensive range of sports, from popular favourites to rarer interests. Additionally, 22bet's live section is a real treat for adrenaline-seeking punters. Users can enjoy a wide array of in-play betting options, enabling them to place bets while games are in progress.

Website #3 in the Gambia – 20Bet

In addition to sports betting, the platform also caters to casino enthusiasts with an impressive array of casino games, from classic slots to modern live dealer games. This is one of the best sites with jackpot options, as well as offering a wide selection of sports for different types of bets.

When it comes to betting odds, 20Bet consistently presents competitive prices, offering users favourable opportunities to achieve significant wins. Additionally, the platform regularly hosts enticing promotions and bonuses, enriching the overall betting experience and increasing the value of every wager placed.
How We Test & Review Gambia Betting Sites
In a world rife with misleading advertisements and biased promotions, we steer clear of such practices. Our commitment lies in providing authentic and reliable recommendations for betting companies. To achieve this, we meticulously assess various criteria that define the competence and quality of their services. Thanks to thorough evaluations, we can assure you of our dedication to offering trustworthy advice, ensuring that your betting experience is built on a foundation of transparency and integrity.
Odds

When embarking on an assessment of a bookmaker, our initial focus centres on the evaluation of its odds. In the realm of betting, odds pertain to the likelihood of a specific outcome transpiring in a particular event or game. These odds are typically depicted in the form of a ratio, fraction, or decimal and serve as the basis for determining the payout for successful bets. By thoroughly examining these odds, we aim to provide you with valuable insights into the bookmaker's approach and potential profitability, enabling you to make informed betting decisions.

The odds offered by betting companies can fluctuate based on several factors, including the sport, the specific event, and the teams or players involved. Additionally, different sportsbooks may provide varying odds for the same event. As a result, it becomes essential to compare the highest odds across multiple operators to ensure that you secure the best possible value for your bet. By conducting such comparisons, you can maximise your potential returns and make the most informed betting choices.

Mobile compatibility

In the world of iGaming, mobile compatibility has gained paramount significance due to the growing number of individuals using smartphones and tablets for betting purposes. In recognising this evolving trend, leading betting companies have embraced mobile technology, crafting user-friendly mobile apps and optimised websites. This strategic approach ensures seamless access to their platforms, allowing customers to bet conveniently on the move without any hindrance.

With mobile betting apps and websites, users can effortlessly engage in placing bets, making deposits and withdrawals, and accessing all the functionalities available on the platform's desktop version. These applications and sites are meticulously designed to offer user-friendly experiences, ensuring seamless navigation and responsiveness on portable devices. Their layouts are optimised to adapt gracefully to smaller screen resolutions, providing an intuitive interface for smooth betting on the go.

Available payment options

Offering a diverse range of payment options ensures enhanced convenience for customers when it comes to depositing and withdrawing funds. Betting companies commonly accept various payment methods, including credit and debit cards, e-wallets (such as PayPal and Skrill), bank transfers, and prepaid cards. Additionally, some progressive betting companies have embraced the use of cryptocurrency as a payment option, catering to the evolving needs and preferences of their customers.

Betting operators must prioritise the provision of secure and dependable fast payout options, safeguarding the privacy and financial details of their clientele. Additionally, they should streamline the process of deposits and withdrawals, aiming for minimal fees and swift transactions to minimise any potential delays.

Bonuses and promotions

Betting companies leverage bonuses as a means to entice both new and existing customers. These offers take various forms, including deposit bonuses, free bets, cashback rewards, higher odds, and more. By providing these incentives, betting platforms aim to attract new users, encourage the exploration of new features, and promote betting on specific events, thereby enhancing overall engagement and customer satisfaction.

It is crucial to be mindful that the bonuses bookmakers offer typically accompany specific terms and conditions, such as minimum odds, wagering requirements, and expiry dates. We conduct meticulous readings of these terms and conditions to ascertain the company's commitment to delivering a genuinely fair service. By utilising thorough comparisons, we assess the rules of various bookmakers to ensure that we recommend the most suitable ones for you.

Bet types

With most betting companies, a plethora of bet types are available. However, you will find that they vary based on the sport or event being wagered on. Among the common bet types are money-lines, point spreads, accumulator bets, prop bets, and many more. These examples merely scratch the surface of the diverse range of bet types that can be placed with the bookmakers we recommend.

Apart from selecting the types of bets, the variety of sports available is equally crucial. A top-notch sportsbook should cater to gamblers with both local sports events and those that captivate players worldwide. When a bettor in Gambia can place sports bets on events unfolding in Tanzania, Nigeria, Senegal, India, the USA, or Germany, this is a clear indicator that their bookmaker deserves special consideration.

Support work quality

Sportsbooks that hold a valid gambling license typically excel in delivering top-notch customer support to their users. The finest ones go above and beyond, presenting a range of options such as email and live chat. With these services operating 24/7, people can readily access comprehensive information on any matter of interest to them.

Trustworthiness

In the realm of betting companies, trustworthiness pertains to the level of reliability, honesty, and transparency demonstrated by the company in its dealings. A bookie deemed trustworthy operates with utmost integrity, treats its customers equitably, and prioritises the safeguarding of personal and financial data.

Several pivotal elements contribute to the trustworthiness of a betting company. These factors encompass the company's licensing and regulation by respected authorities, its history of timely winnings payouts, its adoption of secure and dependable payment methods, its dedication to responsible gambling initiatives, and its transparency concerning essential information like terms and conditions, privacy policy, and other pertinent details.
2 best betting apps in Gambia
The country's sportsbooks have several excellent applications that provide the opportunity to bet on a wide variety of sports. Gambian bettors get outstanding service, excellent usability and access to all popular sports markets.
#1 Gambia betting app – Bet365
Renowned for its user-friendly interface, the Bet365 app enables players to seamlessly navigate through various sports and markets. This app takes the betting experience to the next level by offering live streaming of sporting events, coupled with in-play betting. With the in-play feature, users can place bets on ongoing matches and events in real-time, enhancing the thrill of the betting process.
Apart from sports betting, the Bet365 app boasts a diverse array of offerings, including casino games, poker, craps, blackjack, roulette, baccarat, lottery, keno and bingo. Users can effortlessly navigate between these various sections by utilising the convenient navigation bar located at the bottom of the screen. This seamless transition allows gamblers to explore a wide range of entertainment options within the app.
#2 Gambia betting app – 1xBet
Like its website counterpart, the 1xBet app supports live betting, allowing users to place bets on ongoing matches and events in real-time. The app offers real-time odds and live scores, providing users with an immersive and dynamic betting experience.
Aside from its sports betting options, the 1xBet app typically presents users with a wide variety of casino games, including slots, table games, video poker, and live dealer options. This extensive selection ensures users can enjoy entertainment beyond the realm of traditional sports betting, adding a diverse and thrilling gaming experience.
Live betting has gained widespread popularity as a dynamic form of sports betting, enabling users to respond to unfolding events and leverage new information or game changes. For instance, in a football match where a team falls behind a goal, the odds of their victory may decrease, prompting users to place a bet on the opposing team at more favourable odds. Additionally, employing football predictions while simultaneously assessing the ebb and flow of a live match allows bettors to make unconventional decisions and potentially secure significant winnings.
Most popular sports support in-game betting in the country:
2 biggest Gambia Bookmakers
After careful market research, we've identified two promising young companies determined to carve their positions among the industry leaders.
#1 Biggest Gambia Betting Site – 22Bet

The 22bet sportsbook is really impressive. Within a brief period, the bookmaker swiftly rose to prominence and established itself as one of the most auspicious entities in the country. The company offers a lot of opportunities for new and experienced bettors, as well as excellent odds, a great selection of markets, and the ability to place different bet types.

#2 Biggest Gambia Betting Site – MelBet

MelBet stands out with its emphasis on live betting, allowing users to place bets on ongoing events in real-time. The platform offers an extensive selection of live betting markets, such as the next goalscorer and total points (or goals), improving the excitement of the football betting experience.

Furthermore, MelBet boasts a user-friendly interface characterised by a distinctive design and intuitive navigation. The platform caters to users with a variety of payment options for both depositing and withdrawing funds, encompassing major credit and debit cards, e-wallets (Neteller, Skrill), and bank transfers.
Popular sports types for betting in Gambia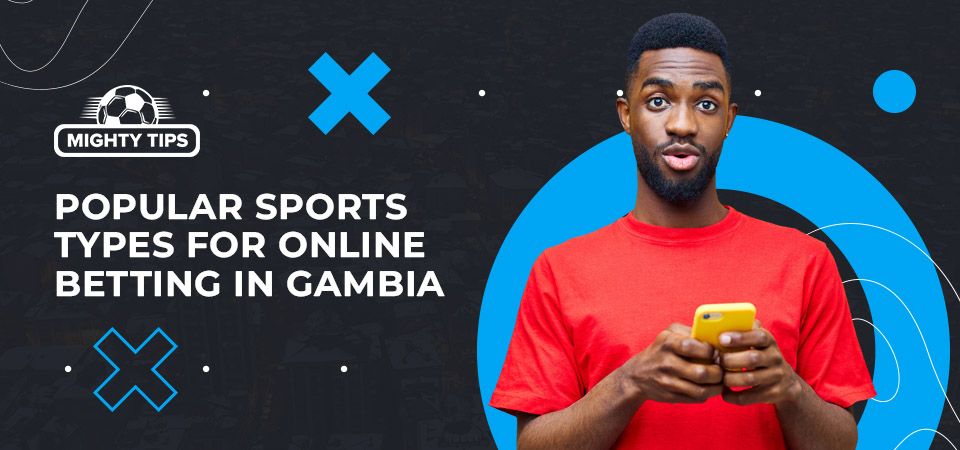 The majority of Gambian residents have a penchant for gambling and enjoy the thrill of taking risks. To meet the expectations of these bettors, bookmakers in Gambia must offer more than just conventional services; they must deliver something exceptional.
Bet on Basketball in Gambia
Basketball enjoys widespread popularity globally and Gambia is home to numerous basketball enthusiasts. Among the most favoured basketball betting markets are the winner, point spread, and total points scored. Notably, many bookmakers extend special bonuses to their customers for basketball matches, enhancing the allure of betting on this exciting sport.
Bet on Boxing in Gambia
One of the key advantages of betting on boxing in Gambia is the wide selection of local and international matches available. Popular betting options such as the winner of the match, round betting, and method of victory are commonly offered, providing ample choices for punters to strategise their bets.
Football Betting in Gambia
Football betting in Gambia encompasses several favoured markets, including total goals, winner, handicap betting, and acca bets. Furthermore, numerous bookmakers and betting sites entice football bettors with a variety of promotions and bonuses, such as free bets or enhanced odds, enriching the overall betting experience for football enthusiasts.
Bet on Baseball in Gambia
Baseball is not very popular in the Gambia, but fans of this sport can also enjoy great betting opportunities. Players can choose the most interesting competitions, make live bets or create multi bets.
How to register, verify your account & place your first bet with a Gambia bookmaker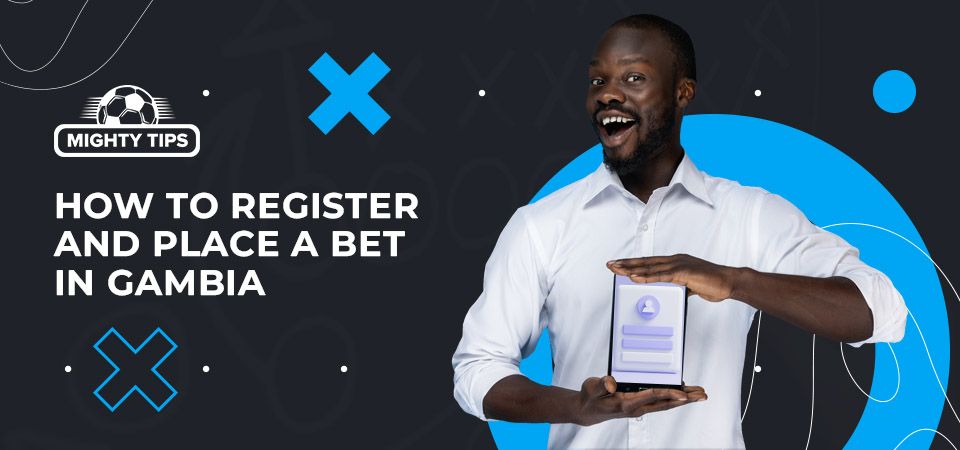 Local bookmakers in the Gambia provide a convenient entry point into the world of betting. You need to follow several steps:
Research local bookmakers and select a reputable one
Register with the chosen bookmaker
Deposit some funds into your betting account
Familiarise yourself with the betting options
Place your bet
Bonuses for Online Sports Betting in Gambia
Top bookmakers in Gambia extend generous welcome bonuses to their customers. Furthermore, upon becoming a client of these bookmakers, you can unlock additional bonuses as rewards for your website activity, as well as receive incentive gifts to further enhance your betting experience.
Deposit bonuses
Bookmakers provide deposit bonuses, where users receive an additional amount of money when they make a deposit. Typically, the bonus amount is a percentage of the deposited sum, and there might be a maximum limit on the bonus amount that can be claimed.
Welcome offers
In Gambia, welcome offers refer to the bonuses or promotions provided to new users who register an account with a bookmaker. The primary objective of these offers is to entice and incentivise new users to explore the bookmaker's platform.
Free bets
A free bet is a specific amount of money provided to users for placing bets on the platform. Among the various types of free bets, matched free bets are the most prevalent. When a user places their first bet, the bookmaker matches the wager with an equal amount, up to a specified limit.
Cashback
Cashback promotions involve returning a certain percentage of a player's losses as bonus funds. For instance, a bookmaker might run a 10% cashback promotion, so if a user loses 100 USD they would receive 10 USD in bonus funds back.
VIP offers
VIP offers are specifically tailored to reward and incentivise loyal gamblers for their ongoing use of the platform. These exclusive perks are intended to encourage users to continue betting with the bookmaker. VIP offers encompass various benefits, such as enhanced odds, free bets, cashback, and more.
Bonuses and Promotions. Best Free Bet Offers in Gambia
Bookmaker
Offer
Advantages
Registration Link
Welcome package up to €100

Option to stream up to 4 live events
Bet Constructor and Betting exchange
25 different cryptocurrencies

Get Bonus
Sign up offer up to €100

Decent welcome bonus
Good odds
Cash out

Get Bonus
Welcome Bonus up to €122

Popular bookmakers
Lots of payment options
Extensive markets

Get Bonus
Up to €100 in Bet Credits

Trusted bookmaker
Live streaming
24/7 customer support

Get Bonus
Deposit bonus up to €100

Fast and easy registration
First deposit bonus
Higher-than-average odds

Get Bonus
Popular payment methods in Gambia
Similar to Europe, bookmakers in Gambia provide a diverse selection of payment options to cater to their clients' needs. Local customers can utilise various payment methods, including bank cards, bank transfers, e-wallets, and even cryptocurrency, to facilitate their betting transactions.