Global Online Betting Markets
We have researched bookmakers and sports betting across the globe for you. We hope this would help you discover the best betting sites on the most popular sports in your country.
This article will focus on the betting market size and trends in several countries. We've research the legal status of sports betting in different countries, the sports that punters in those countries like to bet on, and which online bookmakers are preferred.
So, without further ado, let's start with the fascinating stats and facts about sports betting.
Tap on the country on the map below to see information about its population, number of active players, currency and estimated market size. Then, click on the country flag to read a full review.
Sports betting worldwide – eye-opening sports betting facts and stats
There's no doubt that the popularity of sports betting has exploded since it became available over the internet. As the demand grows, so does the number of online bookmakers. These internet sportsbooks accept punters from almost everywhere.

While online betting has increased during the Covid-19 pandemic, many experts predicted steady market growth long before it hit.
Sports betting is a huge business that continues to grow exponentially. It is believed that it currently accounts for between 30% and 40% of the total gambling market.
However, accurately assessing the global sports betting market is a near-impossible task due to inconsistencies in gambling laws in different regions as well as the thriving black and grey markets.
8 Impressive Facts about Sports Betting
85% of adults have bet on sports at some point.
In the United Kingdom, twice the normal number of wagers are placed on Christmas Eve.
Live betting accounts for 80% of Bet365's betting revenue.
Betting on the point spread was introduced by bookie Charles McNeil in the early 1940s.
Cricket is the most popular sport to wager on in Asia.
Sports betting is the most popular form of gambling among those between the ages of 14 and 22
The Asian Pacific region was the biggest sports betting market – in 2019, it accounted for 47% of all sports wagers placed. And in 2020, around 33% of the entire gambling gross win comes from Asia
45% of all sports bets are made using mobile phones
10 Most Popular Sports to Bet on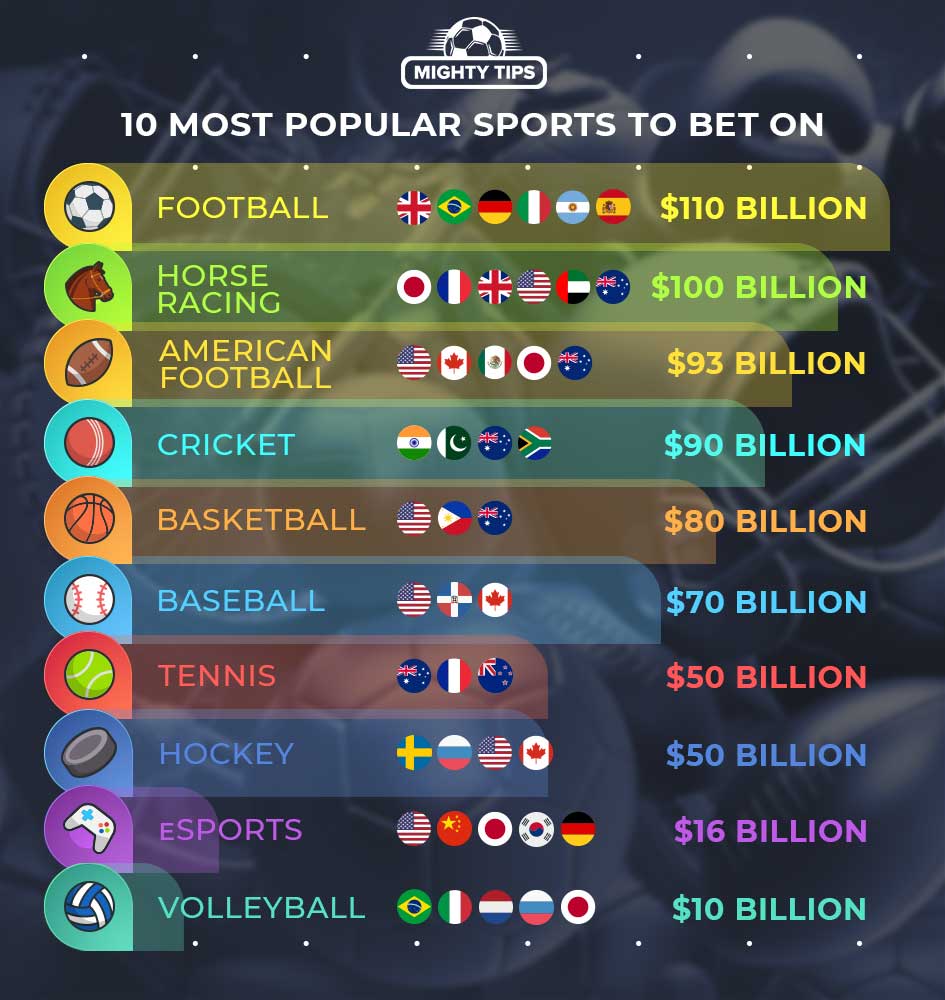 *$ Estimated by year
Unique Betting Opportunities
The legality of online sports betting and online gambling in general drastically varies from region to region.
In some countries, online sports betting is illegal, yet there is little to no enforcement of the rules. In other regions, governments go so far as to force ISPs to block betting sites and instruct payment providers to block gambling transactions.

On top of that, those who flout the gambling laws face hefty fines and even time behind bars. Granted, authorities in these regions are more concerned with shutting down illegal operations than they are with punishing punters, going to prison for betting on sports isn't completely unheard of.​
| | |
| --- | --- |
| Australia | Sports betting online is legal. However, Australian betting sites cannot accept live bets. |
| Canada | Even though several provincial governments operate online betting platforms, they are not allowed to take single bets, thus vastly limiting possibilities for Canadian betting. Canadian punters, however, are free to wager with offshore sites. |
| Ireland | Irish punters can place bets with domestic and offshore online sportsbooks. You will find the full list of Irish bookmakers on our website. |
| Malaysia | Online betting in Malaysia is technically prohibited. While bookmakers cannot operate in the country, punters can place online bets at foreign sites without any worries. |
| New Zealand | Betting on sports is legal, but it must be done with an offshore bookie, since domestic New Zealand betting companies are heavily regulated. |
| Philippines | Sports betting online is legal in the Philippines. However, bookmakers operating in the Cagayan-Freeport region cannot offer their services to Filipinos, which makes Philippine sports betting mostly an off-shore entertainment. |
| South Africa | You can wager online in South Africa as long as you do it with a licensed bookmaker. There are plenty of licensed betting sites in South Africa that will offer you such an opportunity. |
| United Kingdom | Punters in the UK can wager online or at land-based betting shops. The UKGC – one of the most reputable gambling jurisdictions in the world – keeps close attention on UK betting sites. |
| India | Online betting is legal in most, but not all Indian states, which makes the choice of Indian bookmakers a rather tricky one. |
| Germany | German punters have a choice of placing wagers either at betting shops or at any online bookmakers in Germany. |
| France | Sports betting was officially legalized in 2010, paving the road for bookmakers in France. |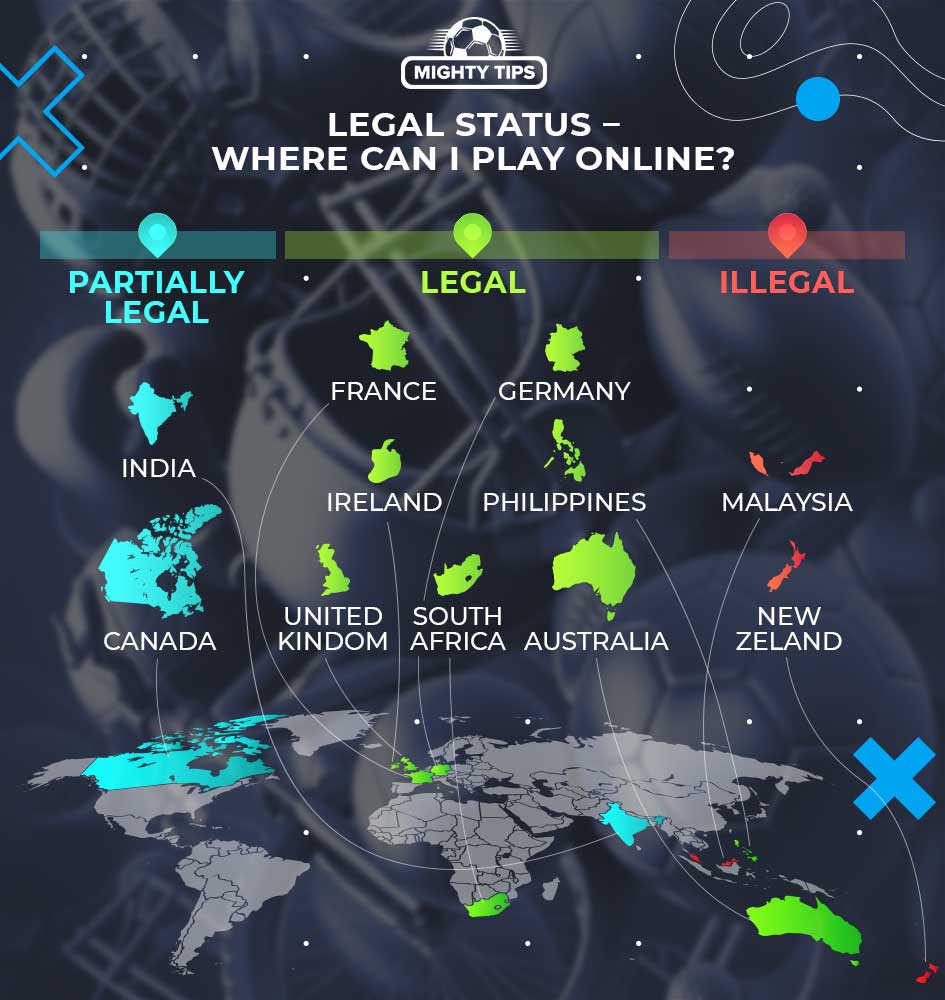 It's easy to bet on any of these sports as they are staples at almost all online betting sites.

One of the most interesting things about betting on different sports is the variety of unique wagers that each sport offers. Sure, all of the above-mentioned sports allow you to simply bet on which team will win, but these sports offer bet types that you won't find for other sports. This allows punters to hone in on certain bet types.

It's also interesting to note that a lot of sports bets don't require any knowledge of the game.

For example, a handicapper who specializes in NFL football can take hours or even days to pore through volumes of information to decide on which team to bet on in the Super Bowl. Meanwhile, someone who knows nothing about the games can wager on such things as the coin toss, the length of the national anthem, or what color the half-time entertainer will wear.