Best Betting Sites in Lithuania
It is difficult to find a more competitive iGaming industry than the sports betting market, so many websites are constantly vying for the attention of bettors. If you're not a professional, then you should not try finding out on your own which bookmakers are safe and reliable. Instead, simply read our report, which has been compiled after thorough research of the Lithuanian betting site market to provide you with the best choice.
List of Lithuania betting sites
Found: 5 Bookmakers
Lithuania Online Sports Betting – The Ultimate Guide
In this review, we cover all the key details about the Lithuania betting market.
You'll find all the information about Lithuania betting on this page.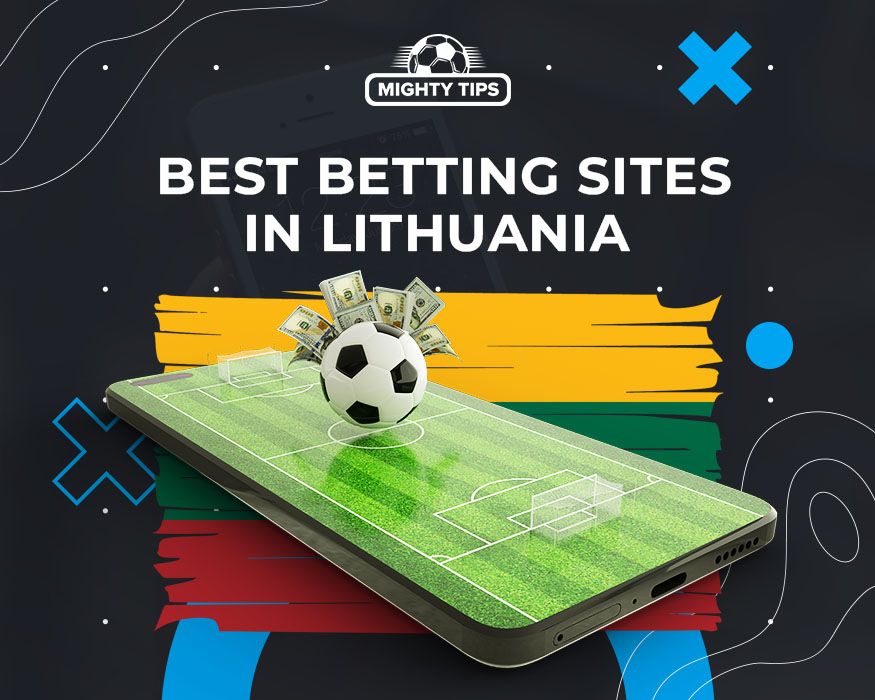 The lion's share of the sports betting market in Lithuania is occupied by online bookmakers. However, which websites are actually worth the time and money? Which brands pay out winnings on time and grade slips quickly? To find out, the MightyTips experts haven't looked for the easy way out. Rather, we've created accounts on each bookmaker's website and placed bets to make sure our scores are as objective as possible.
History of sports betting in Lithuania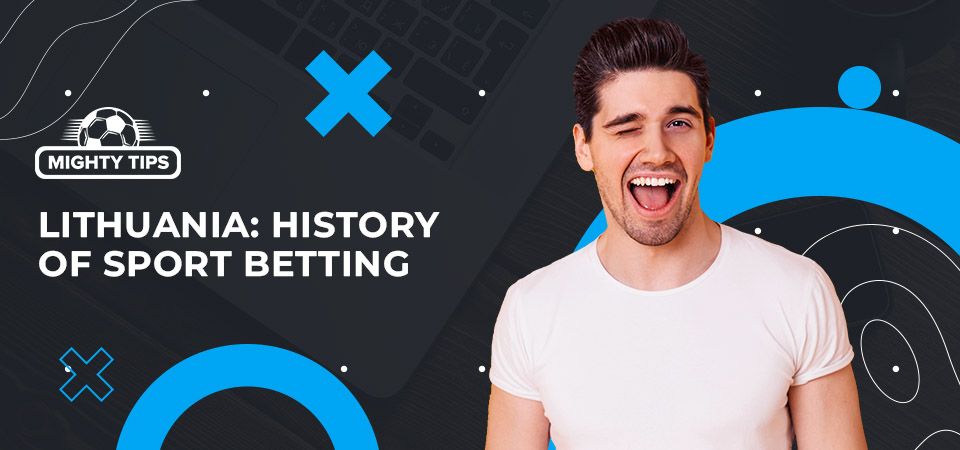 Sports betting in Lithuania has a long and interesting history, dating back to the days of the Soviet Union. However, it wasn't until the country gained its independence in 1990 that the industry really started to take off.
In 1994, the Lithuanian government passed a law legalising sports betting and a number of new companies started offering betting services.
The first major bookmaker to enter the market was OlyBet, which was established in 2008.
Over the years, the Lithuanian government has made several changes to the regulations governing sports betting. In 2016, for example, the government passed a law requiring all sports betting companies to obtain a license from the Lithuanian Gaming Control Authority (LGCA) before they could operate in the country.
Today, there are several licensed sports betting operators in Lithuania, including OlyBet, TopSport, and TonyBet. These companies offer a wide range of betting options on various sports, including football, basketball, tennis, and ice hockey.
There are several interesting facts about the local betting industry:
Lithuania is one of the few countries in Europe that has a fully regulated online betting market.
All online betting sites in Lithuania must be licensed by the Lithuanian Gaming Control Authority.
The Lithuanian sports betting market is worth approximately €100 million per year.
The Lithuanian government heavily taxes sports betting, with a 13% tax on all betting turnover.
Overall, sports betting has become a popular pastime in Lithuania, with a growing number of people participating in the activity each year. While the industry continues to evolve, it is clear that sports betting will remain a significant part of the country's sporting landscape for years to come.
What you Need to Know About Betting in New Zealand

| | |
| --- | --- |
| 🌍 Country | Lithuania |
| 👌 Language | Lithuanian, English |
| 💲 Currency | Euro (EUR) |
| ⚽ Popular sports | Football, tennis, basketball |
| ⚖️ Is Betting Legal | Yes |
| 🏢 Regulator | Gaming Control Authority (LGCA) |
| 🧾 Gambling taxes | 13% |
| 💳 Most popular payment methods | MasterCard/Visa, Neteller, Skrill, PayPal |
Top-3 betting sites in Lithuania
If you're planning to bet in Lithuania, it is important to choose a trusted operator who will not only provide you with quality service but also give you gifts for registration. There are two main bonuses bookmakers offer: free bets and deposit bonuses. Here are three popular and licensed sports betting sites in Lithuania that give out rich rewards to new customers.
Website #1 in Lithuania – Betwinner

Betwinner is a popular sports betting website that operates in Lithuania, as well as in many other countries around the world. It offers a wide range of sports and betting markets, including football, basketball, tennis, golf, rugby, and many more. Betwinner also offers live (in-play) betting, virtual sports, and casino games.

Website #2 in Lithuania – Vbet

Vbet is another popular sports betting website that operates in Lithuania, as well as in other countries around the world. It is licensed by the Lithuanian Gaming Control Authority, which makes it subject to strict regulations and oversight to ensure fair play and protection for customers.

Vbet offers a wide range of sports and betting markets, including football (soccer), basketball, cricket, tennis, baseball, MMA, UFC, and many more. It also offers live betting, virtual sports, bingo, table games and casino slots. Vbet has a user-friendly website and mobile app, which makes it easy for placing bets on the go.

Website #3 in Lithuania – William Hill

William Hill is a well-known and reputable sports betting website that operates in many countries around the world, including Lithuania. One of the advantages of William Hill is that it offers competitive odds and a variety of bonuses and promotions for both new and existing customers. These can include welcome bonuses, free bets, and cashback offers. William Hill also has a customer support team available 24/7 to assist customers with any questions or issues they may have.
How we test & review Lithuania betting sites
In order for players and bettors to enjoy gambling leisure, we scrupulously research sportsbooks that operate in the Lithuanian market. To be approved by us, sites must meet several important criteria. For example, they must offer the highest odds in the industry. In addition, we analyse some other crucial features of betting websites.
Odds

The odds represent the payout that a bettor would receive if they win a bet. For example, if the odds on a particular outcome are 2.00, this means that a bettor would receive a payout of two times their stake if they win the bet. In general, the odds on a bookmaker's website are displayed in decimal format, but some bookmakers may also offer fractional or American odds formats. It's important to understand the format being used and to compare odds across different bookmakers to ensure that you're getting the best value for your bets.

Mobile compatibility

The website should be designed to adjust to different screen sizes and resolutions so that it can be easily viewed on a mobile device. The user interface should be intuitive and easy to navigate on a mobile device. Buttons, links, and menus should be large enough to tap with your fingers, and the layout should be clean and uncluttered. Some bookmakers also offer mobile apps, which can be a more convenient and optimised option for mobile betting.

Available payment options

A good bookmaker should offer a wide range of payment methods, including credit/debit cards, e-wallets, bank transfers, and prepaid cards. The more payment options offered, the easier it will be to find a method that works for you. We also check if the bookmaker charges any fees for deposits or withdrawals and, if so, what the fees are. In addition, we'll also learn how long it takes for deposits and withdrawals to be processed. Ideally, deposits should be processed instantly, while withdrawals should be processed within a reasonable timeframe.

Bonuses and promotions

Assessing the quantity and quality of bonuses and promotions on a bookmaker's website is important for bettors who want to get the most value from their bets. First of all, we check if the bookmaker offers a welcome bonus for new customers. We're also looking for such operators that offer a loyalty program for regular customers, as well as sites with jackpot options.

Bet types

The number of bet types offered by a bookmaker can have a significant impact on its popularity among bettors. A bookmaker that offers a wide range of bet types is likely to be more popular than one that offers only a limited number. In general, such a site gives bettors more flexibility in their betting strategies. Bettors can choose the bet type that offers the best value or the best chance of winning, depending on their analysis of the game and their betting goals.

Support work quality

A bookmaker that provides high-quality support is more likely to be trusted by bettors. Gamers want to know that they can get help if they encounter any problems or have questions. A bookmaker that offers quick and helpful support can increase the trust and confidence of bettors. Also, gamblers want to feel valued and respected, and a bookmaker that offers responsive and helpful support can improve the overall betting experience. Bettors are more likely to stick with a bookmaker that they feel is reliable and trustworthy, and a bookmaker that offers great support can help to build this loyalty.

Trustworthiness

Trustworthiness refers to the degree to which a betting site can be trusted by its users. A trustworthy betting site should be licensed and regulated by a reputable authority. Thus, the bettor can make sure that the site is operating legally and is subject to regular audits to ensure fair play. Also, a reliable and decent site cares about the safety of players. This includes using SSL encryption technology and other security protocols to prevent unauthorised access and hacking. Finally, a trustworthy betting site should have responsive and helpful customer support that is available 24/7 to address any user concerns or issues.
2 best betting apps in Lithuania
There are many great betting apps available, each with its own unique features and benefits. However, only some of them are really worthy of the attention of bettors.
#1 Lithuania betting app – Bet365
Bet365 is a popular and highly-rated betting app that offers a wide range of sports betting options, as well as live streaming of sports events. In addition, you can bet on popular sports such as football, basketball, boxing and horse racing using the bookmaker app. Plus, through the app, players can bet on exotic sports such as greyhound dog racing.
#2 Lithuania betting app – William Hill
William Hill is a well-known and respected brand that offers a user-friendly and reliable app, with a variety of sports betting options and in-play betting. One of the indisputable advantages of the application is round-the-clock support, as well as a constantly updated list of bonuses.
Live betting in Lithuania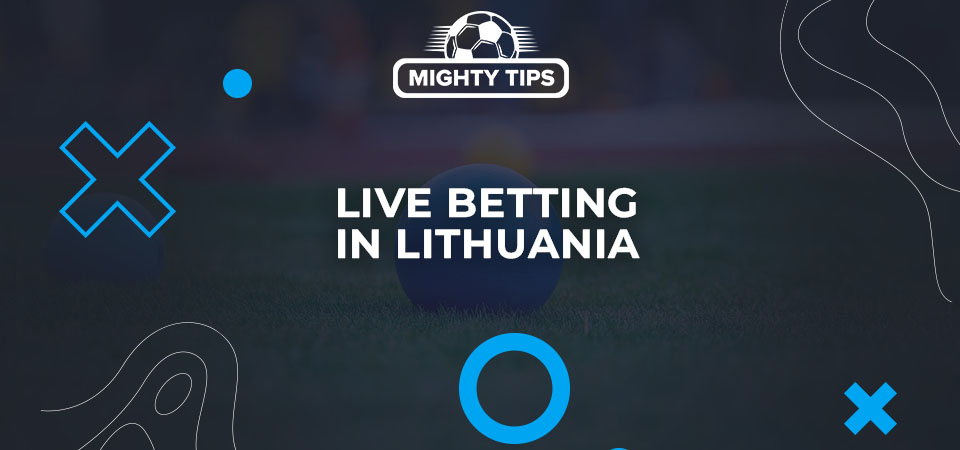 Live betting, also known as in-play betting, is legal and popular in Lithuania. Many licensed online bookmakers in Lithuania offer live betting options, allowing users to place bets on ongoing sports events and matches. Live betting has become increasingly popular in recent years, as it allows users to react quickly to changes in the game and take advantage of new opportunities as they arise.
To participate in live betting in Lithuania, users must first create an account with a licensed online bookmaker and deposit funds into their account. Users can place live bets on a variety of sports, including:
The biggest bookmaker in Lithuania
The best bookmakers in this country are licensed by the local gambling regulator and offer not only betting options but everything related to gambling. For example, along with sports betting options, a player can enjoy casino sections with roulette, TV games, and slots.
We've chosen for you the very best website, which is a real gaming platform offering plenty of gambling entertainment.
#1 biggest Lithuania betting site – Bet365

Bet365 is one of the biggest and most favoured online betting sites in the world and it is also very popular in Lithuania. By registering on the company's website, you can enjoy an extensive catalogue of entertainment, including live betting, as well as casino games, poker, and other betting options.

The company offers a variety of payment avenues, including credit/debit cards, e-wallets, and bank transfers, making it easy for users to deposit and withdraw funds from their accounts. The bookmaker also has an extensive bonus program with good wagering requirements.
Popular sports types for online betting in Lithuania
In Lithuania, online sports betting is very popular and there is a variety of sports types that people enjoy betting on. We have selected for you an overview of the most popular sports chosen by local players.
Bet on Basketball in Lithuania
Lithuania has a strong basketball culture and many Lithuanians enjoy betting on both domestic and international basketball matches and leagues. If you're betting on Lithuanian basketball, it's important to understand the teams and players. Research the current standings, player injuries, and head-to-head records to help inform the betting decisions.
Bet on Boxing in Lithuania
Boxing is a popular sport for betting in Lithuania and there are a few things to keep in mind when placing bets on boxing matches. Before placing any bets on a boxing match, it's important to research the fighters and their records. Look at their previous fights, their styles of fighting, and any injuries or other factors that could affect their performance.
Football betting in Lithuania
Football is one of the most famous sports in the world and is also very favoured in Lithuania. There are a variety of betting markets available for football matches, including match-winner, total goals, and handicap betting. Many online bookmakers offer promotions and bonuses for football betting, including free bets and enhanced odds.
Bet on Baseball in Lithuania
Baseball is not as popular in Lithuania as it is in other countries, but it is still possible to place bets on baseball games. There are a variety of betting markets available for baseball games, including moneyline bets, over/under bets, and run-line bets. Live betting is also a popular option for baseball games, allowing you to place bets during the game based on real-time events and statistics.
How to sign up, verify & place your first bet with Lithuania bookmakers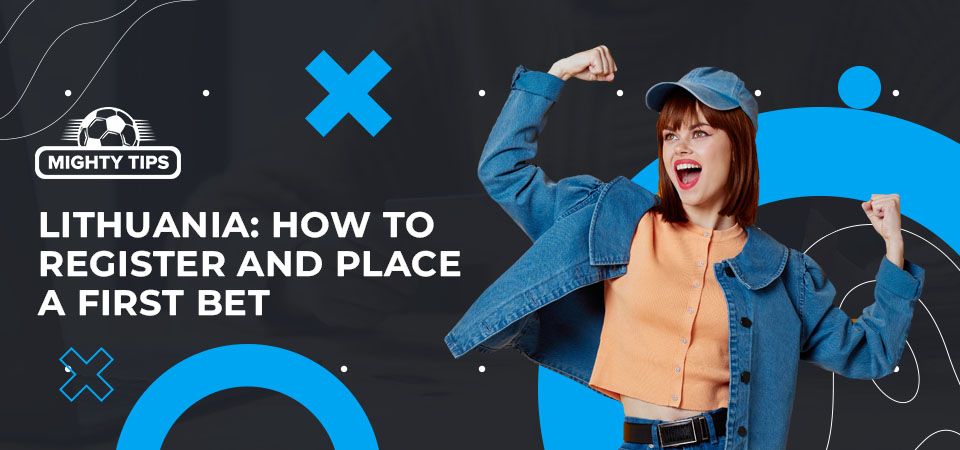 As a rule, to place a bet, you need to follow a few simple steps. The websites of betting companies, as a rule, have a friendly and informative interface that allows you to quickly find the necessary data. Here are the general steps to sign up, verify, and place a first bet with a bookmaker in Lithuania:
Research and choose a bookmaker
Click on the sign-up button
Provide the bookmaker with documents verifying your identity
Make a deposit
Select the odds you want to bet on
Confirm the bet
Withdraw winnings
Bonuses and Promotions for Online Betting in Lithuania
Literally, every bookmaker in the country tries to offer its customers profitable bonuses. They can be a great way to boost your bankroll and increase your chances of winning.
Deposit bonuses
Deposit bonuses typically work by offering a percentage of your first deposit as bonus funds, up to a certain amount. For example, a bookmaker might offer a 100% deposit bonus, which means if you deposit €100 you will receive an additional €100 in bonus funds.
There are usually terms and conditions attached to deposit bonuses, such as a minimum deposit amount, wagering requirements, and time limits. Wagering requirements mean that you need to bet the bonus amount a certain number of times before you can withdraw any winnings.
Welcome offers
These offers usually come in the form of free bets or deposit bonuses. Free bets are a type of welcome offer where the bookmaker will give you a certain amount of free bets to use on their website. For example, a bookmaker might offer a €10 free bet when you sign up and make a €10 bet on a particular match. Deposit bonuses are another type of welcome offer where the bookmaker will match your first deposit.
Free bets
Free bets work by giving you a certain amount of free betting credit, which you can use to place bets on the bookmaker's website without risking your own money. They can come in different forms. For example, some bookmakers might offer a free bet when you sign up and make your first deposit, while others might offer a free bet when you place a certain number of bets or when you bet on a particular event.
Cashback
Cashback is a type of bonus that some bookmakers offer where they will give you a percentage of your losses back as cash. For example, if a bookmaker offers a 20% cashback promotion and you lose €100 over the course of a week, the bookmaker will give you €20 back as cash. It's also important to remember that cashback promotions are designed to keep you betting, and it's important to bet responsibly and only bet what you can afford to lose.
VIP offers
These offers can come in different forms but, generally, they offer special perks and rewards to VIP customers that aren't available to regular customers. To qualify for VIP offers, you generally need to be a high-rolling customer who bets large amounts of money on a regular basis. However, some bookmakers also offer tiered loyalty schemes that reward customers at different levels based on their betting activity so, even if you're not a high-roller, you may still be able to qualify for some VIP offers.
Popular payment methods in Lithuania
There are several popular payment methods that are commonly used for online betting in Lithuania. When choosing an option for online betting, it's important to consider factors like speed, security, and any associated fees or limits. Additionally, make sure that the bookmaker you choose accepts the payment method you prefer before signing up.
Skrill: Skrill is a popular e-wallet service accepted by many bookmakers in Lithuania. It allows users to make deposits and withdrawals quickly and securely, without the need to share their banking information directly with the bookmaker. Skrill charges a fee for some transactions, including deposits and withdrawals. However, many bookmakers will cover these fees for their customers, so be sure to check with your bookmaker to see if they offer fee-free Skrill transactions.
PayPal: While PayPal is widely used in many countries, including the United States and the United Kingdom, it has limited availability in Lithuania and other Baltic countries. This may be due to regulatory restrictions or simply the fact that PayPal has not yet expanded its services to these markets. However, some bookmakers offer this payment method as a recommended option.
Neteller: Neteller allows users to securely and conveniently make online transactions, including deposits and withdrawals to and from their betting accounts. It is widely used by online sports bettors in many countries, including Lithuania, due to its ease of use and fast processing times. Once you've funded your Neteller account, you can then select it as your payment method on the bookmaker's website, and transfer funds to your betting account.
Visa or MasterCard: Visa and MasterCard are widely accepted payment methods on bookmaker websites in Lithuania. They are popular choices among sports bettors due to their convenience, security, and widespread acceptance. It is worth noting that some banks in Lithuania may block transactions to and from online gambling sites, so it is recommended to check with your bank before attempting to use your Visa or MasterCard on a bookmaker website. Additionally, it is important to ensure that the bookmaker is licensed and regulated by the relevant authorities to ensure a safe and secure betting experience.