Melbet review
Advantages:
24h customer support

200+ live daily events

50 different payment methods

Choice of 2 welcome offers
Payment Methods:
New players can benefit from the Melbet sign up bonus. The bookmaker will match your first deposit by 100% up to 100 EUR/ 20,000INR/ 500BRL or currency equivalent. To get started, you'll need to create your account and deposit at least €1.
You won't need to do anything else, as this promotion is automatically credited. Once received, you'll need to wager the bonus funds five times on accumulator bets with at least three events with odds of 1.40 or higher for each one to be able to withdraw.
Depending on your country of residence, you could be offered a FREE BET. The bet needs to be placed within 30 days of making the deposit, and it can't be used with other offers. Again, the free bet is for accumulator wagers and must be wagered three times before any withdrawals of the winnings can occur.
Melbet has some regular bonus offers plus there are a bunch of ongoing offers and promotions:
Original stake refund if your accumulator bet loses by one event
It has an accumulator of the day, and if it wins, the odds will be increased by 10%.
If you place 100 bets in 30 days, Melbet will reward you with a bonus equal to the average stake of your bets.
You can view the odds in different formats depending on your preference on the best betting sites. They can be easily changed between decimal, UK, and US odds on the Melbet website. The odds are competitive across the majority of the markets at this sportsbook.
The Melbet odds compare favourably with most other Egypt betting sites but aren't so high as to challenge operators like Pinnacle. There are high payouts to be found, but the site focuses more on having odds that are generally above the market average, which makes it an excellent choice for bettors who don't like to shop around.
Betting margin
Baseball

4%

Basketball

4.3%

Cricket

4.9%

Football

4.59%

Hockey

5.6%

Tennis

4.8%
Overall betting margin: 4.7%
The Melbet mobile experience is smooth, with all of the features and functions of the leading sites. The Melbet app packs all the information you need on a small screen. There is a Melbet iOS app for those with iPhones, as well as a Melbet Android app.
The applications can be downloaded from the website with IPSW and APK versions available. Both the mobile site and the app are quick, which makes them a good option for your betting needs on the go, or if you don't use a computer.
For those familiar with 1xBet, you will find many coincidences and copy/pasted website sections (like payment methods page). That's no surprise, both bookies formerly come from Russia, and we see it as a massive trend to copy/paste designs and templates of a successful bookmaker.
The homepage for the Melbet betting company has a lot going on, which makes it quite hard to get your bearings. There is a revolving strip at the top showing how much other players have won placing their bets. Once you scroll past the tiles advertising the top matchups and casino games, you'll see the live betting action and upcoming events.
Just like on many Dominicana betting sites, registration is straightforward, with the option to sign up by phone number, email, social media, or one-click. After this, you have your login and can deposit to collect your welcome offer. The sports page is also crammed full of information, but is functional and will help you place the wagers you require.
Toto 15 + Toto Ice Hockey + Toto Football
Option to stream up to 4 Live events
NO daily/monthly withdrawal limits (from Melbet side)
Free Bets available only in particular countries
Skrill, Paypal and Trustly payments unavailable
There are over 35 sports and a range of special bets on offer at Melbet. This means there is something for everyone, with popular sports well covered, and niche areas like skiing, floorball, and Gaelic football also featuring.
There is an extensive range of TV bets from all over the world, including the Golden Raspberry Awards, the Nobel Prize, Cannes Film Festival, and more.
Bettors will find categories like long-term bets, where you can bet on the outcome of events like the Fed Cup and the NASCAR Cup Series. The main action can be found in the pre-match bets and the in-play section for Melbet betting. For example, on a single tennis match, you'll likely see over 100 types of bet, including totals, correct score, and sets handicap.
Although there isn't a Melbet exchange, there are lots of bet types to choose from. Another exciting feature is the Toto bets: They focus on fifteen different events, including cyber soccer, basketball, hockey, and soccer. Predicting all events correctly gives you part of the pooled prize money.
Melbet Types of Bets:
There are verifications in place as part of the Know Your Customer (KYC) process, which means you might need to provide documents to verify your identity.
Melbet is licensed in Curacao but does not hold licenses from other bodies in the areas in which it operates. For example, many other bookmakers aim to have a license from the UK Gambling Commission, which is one of the most highly-esteemed regulators.
The operator, Melbet, provides sufficient information on the website to show how the company works, how it handles customer data, and its terms and conditions. We contacted them by email and asked to provide a full list of restricted countries. The answer was:
Dear Customer,
The full list of the restricted countries can be found in the "Terms and Conditions" section.
Ok, so support avoided a direct answer. Let's see what's in the T&Cs.

As you can see, there is no such thing as a full list, making a deposit can somehow put you in a risky position, where your account can be closed, and money is taken away. Especially suspicious is the advice to consult a lawyer before registering with Melbet.
Customers may need to complete a Melbet verification process to receive a bonus or withdraw funds from their accounts. Such verifications are a part of the Know Your Customer (KYC) process, which means you might need to supply documents (ID card, Passport, Bills, Bank statement) to verify your identity. The information on responsible gambling and partnerships with support organizations feels limited.
The online complaint history for Melbet shows several issues regarding the withdrawal of funds. Often this is due to users being unable to verify their identity successfully.
Popular countries for betting with Melbet
Deposits
Melbet caters to many countries and has 53* different payment methods that it accepts. This means that no matter what country you are in or which one of all betting sites in Nigeria you choose, you are likely to find something suitable. The minimum deposit starts at 1$/1€ or equivalent currency.
Withdrawals
There are 49* different withdrawal methods offered, although many are country-specific, which means some players will be more limited. The withdrawal method you choose might cause issues, if it becomes unavailable, or if the verification process cannot be completed.
The minimum amount for withdrawal is $1.50. A surprise was not to find Skrill and Paypal deposit/withdrawal options as these are payment method front-runners in the gambling industry.
Important to note, Melbet offers deposits/withdrawals in 25 cryptocurrencies, which makes half of its payment methods crypto. The number is pretty impressive for a bookie who doesn't position themselves as cryptobookies. According to the company's support, Melbet does not set any daily/monthly limits for the withdrawal operations; however, such limits can be set on the payment system side.
* May vary on the country of residence
| | | |
| --- | --- | --- |
| $2–n/a | Instant | 0% |
| $1–n/a | Instant | 0% |
| $1–n/a | Instant | 0% |
| $1–n/a | Instant | 0% |
| $1–$25,000 | Instant | 0% |
| $1–n/a | Instant | 0% |
| $1–n/a | Instant | 0% |
| $6–n/a | Instant | 0% |
| $1–n/a | Instant | 0% |
| $19–n/a | Instant | 0% |
| 0.001 BTC–n/a | Instant | 0% |
| 0.001 LTC–n/a | Instant | 0% |
| 1 DOGE–n/a | Instant | 0% |
| 1 DAI–n/a | Instant | 0% |
| 0.001 DASH–n/a | Instant | 0% |
| 0.001 ETH–n/a | Instant | 0% |
| 0.001 XMR–n/a | Instant | 0% |
| 0.001 ZEC–n/a | Instant | 0% |
| 1 USDT–n/a | Instant | 0% |
| 1 TRX–n/a | Instant | 0% |
| 1 XRP–n/a | Instant | 0% |
| 1 mBNB–n/a | Instant | 0% |
| 0.001 BCH–n/a | Instant | 0% |
| 1 EOS–n/a | Instant | 0% |
| 1 ADA–n/a | Instant | 0% |
| 1 BUSD–n/a | Instant | 0% |
| ❌ | ❌ | ❌ |
| | | |
| --- | --- | --- |
| $2–n/a | Up to 24 hours | 0% |
| $2–n/a | Up to 24 hours | 0% |
| $2–n/a | Up to 24 hours | 0% |
| $2–n/a | Up to 24 hours | 0% |
| $2–n/a | Up to 24 hours | 0% |
| $2–n/a | Up to 24 hours | 0% |
| $2–n/a | Up to 24 hours | 0% |
| $12–n/a | Up to 24 hours | 0% |
| ❌ | ❌ | ❌ |
| ❌ | ❌ | ❌ |
| 1 mBT–n/a | Up to 1 hour | 0% |
| 10 mLTC–n/a | Up to 1 hour | 0% |
| 97 DOGE–n/a | Up to 1 hour | 0% |
| 144.00 DAI–n/a | Up to 1 hour | 0% |
| 15 mDASH–n/a | Up to 1 hour | 0% |
| 68 mETH–n/a | Up to 1 hour | 0% |
| 20 mXMR–n/a | Up to 1 hour | 0% |
| 3 mZEC–n/a | Up to 1 hour | 0% |
| 1 USDT–n/a | Up to 1 hour | 0% |
| 49 TRX–n/a | Up to 1 hour | 0% |
| 1 XRP–n/a | Up to 1 hour | 0% |
| 1 mBNB–n/a | Up to 1 hour | 0% |
| 2 mBCH–n/a | Up to 1 hour | 0% |
| 1 EOS–n/a | Up to 1 hour | 0% |
| 5 ADA–n/a | Up to 1 hour | 0% |
| 1 BUSD–n/a | Up to 1 hour | 0% |
| $2–n/a | Up to 24 hours | 0% |
The primary way to receive support is through the Melbet live chat service, which is available 24/7 and can be found in the bottom corner of the site.
When faced with a query, asking if they had a betting exchange, the support agent responded promptly but was not able to answer the question without additional information, which showed a lack of knowledge of Melbet's services, and sports betting in general.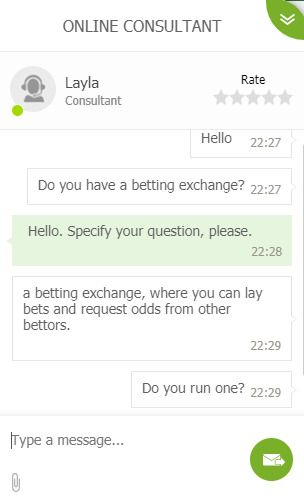 Here is a list of email addresses for different departments, including general queries, technical support, and security:
To talk to someone directly, you can use the Melbet contact number +442038077601. Alternatively, you can use the form on the contact page, which guarantees a response within 24 hours.
Phone

+78043337291

Email

info-en@melbet.org

Live chat

Competence
4 / 5
3 / 5
2 / 5
Politeness
4 / 5
4 / 5
4 / 5
Response Time
Up to 2 minutes
Up to 1 hour
Up to 2 minutes
Melbet was initially offering their services to Russians and Ukrainians only but due to legislative changes in Russia, changed their direction to perspective gambling markets of India, Sweden, Brazil, Italy etc.
There is nothing unique about this bookie that we haven't seen before. Overall they offer a decent amount of bonuses, broad betting market lines; the odds are good, etc. But there is a big gap between them and top bookies in the industry – trustworthiness.
Advantages
50 payment methods (from which 25 are crypto)
Over 1,000 events daily
NO withdrawal limits (from Melbet side)
24h customer support by phone (free of charge)
Toto 15 + Toto Ice Hockey + Toto Football
Limitations
Welcome bonuses focus on accumulator bets
Free Bets available only in particular countries
Skrill/Paypal and Trustly payments unavailable
How can a random customer trust a bookie, who officially suggests consulting lawyers before registering on their website? Unfortunately, that's not an April 1st joke, but part of T&Cs of Melbet. There are no withdrawal limits by their side, which is fantastic, and all betting sites should follow such practice! On the other hand, we have complaints on the web regarding withdrawing.
Unless Melbet earns and proves their credibility over time, Mighty Tips does not recommend to deposit substantial amounts of sums at Melbet.
Bookmaker reviews by players