Spin Sports Mobile App
We're going to discuss highly-important subjects on the Spin Sports mobile site, including mobile usability, payments, bonus packages, and other features.
Not available in your location
Try these bookmakers instead:
Spin Sports is a rising star in the betting industry nowadays, which is why we've created this article to tell you everything about the mobile experience and whether it is possible or not to download a Spin Sports app.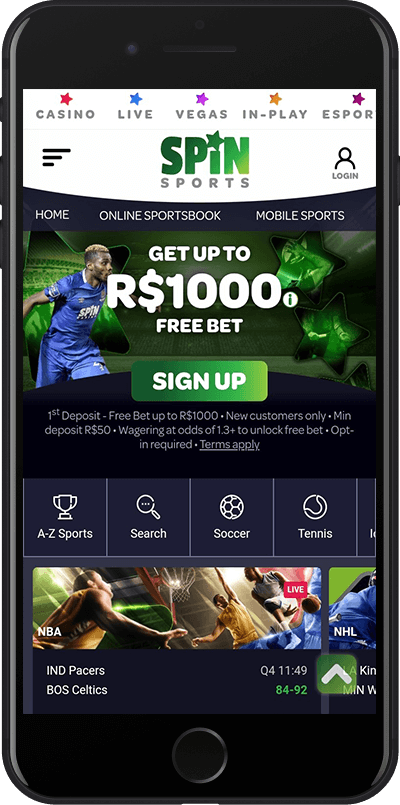 Here we have some bad news for app enthusiasts. Just like other young bookies around the globe, the Spin Sports application has still not been developed. This doesn't mean, however, that punters cannot use their mobile devices to place their bets.
Thanks to a highly-responsive, smooth, and slick mobile version of Spin Sports, you can take advantage of the lack of apps, save up storage and get to place your wagers whenever you want.

As previously mentioned, since there is no Spin Sports app for Android – at least at the moment – your experience will be narrowed down to using their mobile version.
All you need to do is open your mobile browser and go to the bookmaker's website. This way, you can use Spin Sports for Android on your phone without any major problems.
As mentioned earlier, there's no option for a Spin Sports mobile app and this is no different for iOS devices. However, the same tip we gave for Android users goes for iOS users.
Check out the bookie's mobile version as this accounts for both, then you'll be good to go.
The Spin Sports mobile platform is very similar to the desktop site and is actually even a little better to use. Another very good point is that you don't have to worry about finding a Spin Sports .apk file or downloading it, as there are some people who attach malware to fake .apk versions so they can steal your personal information and even bank account passwords.
You can access the bookmaker's mobile platform from any mobile device – be it Android or iOS – and you'll have access to all the features offered by Spin Sports.

In Which Countries are the Spin Sports App Available?
As mentioned earlier in this article, Spin Sports mobile apps remain unavailable. Thus, no countries can currently offer this feature.
However, the website's mobile version is available for all countries where the bookie offers service. This way any user, regardless of where they are, can access bets via mobile devices.
Amongst those countries where Spin Sports doesn't operate, we can mention heavyweight markets like the UK, the USA, Australia, Germany, and other EU members, who normally have the same betting regulation rules.
So this is a point to consider if you're located at one of these places, as VPNs might be essential for a reasonable betting experience.

When talking about the overall usability of Spin Sports, we can highlight the superiority of the mobile version over the desktop one. This is perhaps natural and expected, as the bookie was established back in 2017 in the midst of a mobile betting wave.
The only problem with the mobile version, however, is the feeling that the sidebars are not well organised, which can make things somewhat difficult, especially for first-time punters.

Logging into your Spin Sports account is simple. Using your mobile, access the website, and then click on the top-right silhouette button for 'login'. A new window will show up with spaces for you to fill in your account information – email and password.
In case you've lost your password, you can click on the 'Forgotten Password' green link on the bottom of the page to recover it.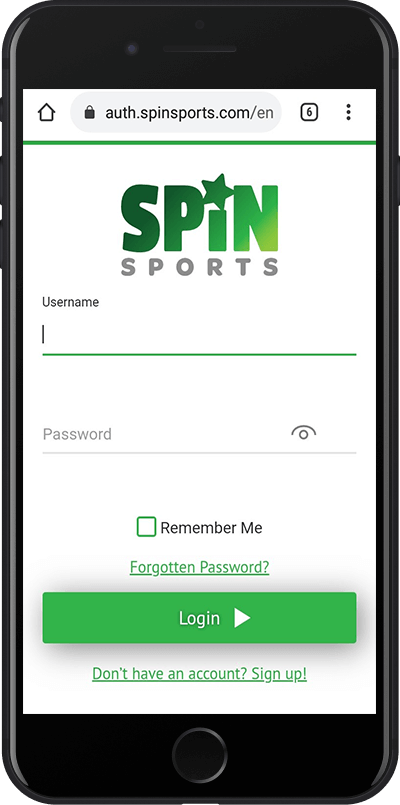 Checking the Spin Sports betting section is as easy as logging into the website, as you're just a few clicks away from your destination. Go to the website homepage and then click on the second option of the top bar: 'Online Sportsbook'.
Once completed, you'll be redirected to a page containing both live and upcoming betting events.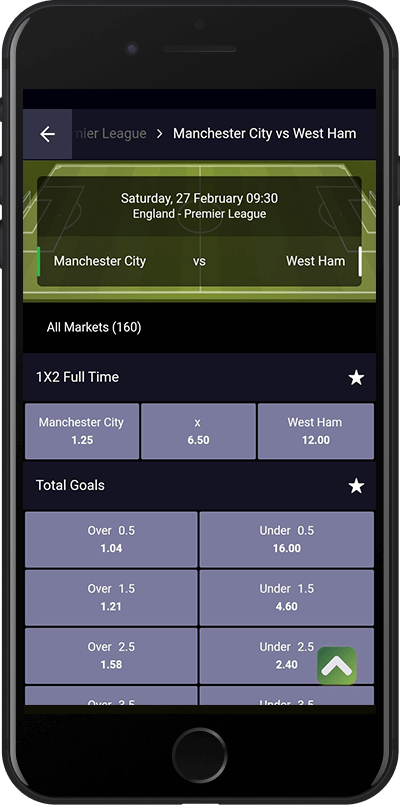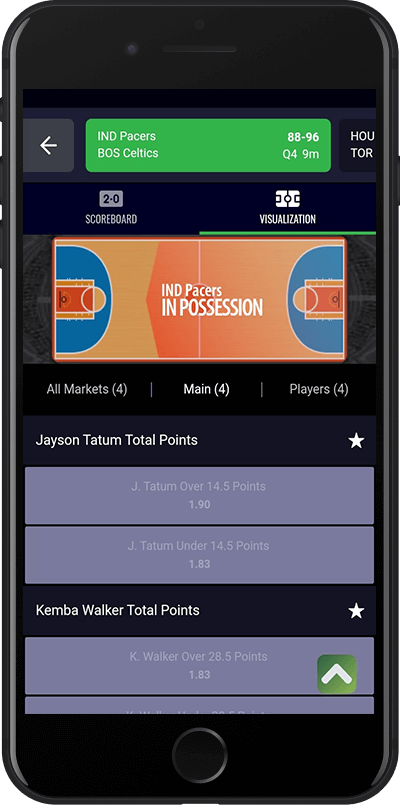 Currently, the Spin Sports bonus package is realistically basic, with a welcome offer the only available option at the moment. However, this was quite expected given the bookmaker's name, as we expected them to have a bigger focus on spin and casino games.
You can claim their welcome offer from your mobile device and get a free bet of up to $200 if you fulfill every requirement.
Payments are usually a crucial point for punters deciding whether to open an account with the sportsbook or not. While there isn't a wide range of payment methods available at Spin Sports, the few available ones are some of the most-spread.
There are currently five accepted methods and we've picked four: being VISA, Mastercard, ecoPayz, and Skrill.
Check out the upcoming sections for more information on deposits and withdrawals with this bookmaker.

Deposit Methods

In order to find information on the minimum deposit amounts available at this Sportsbook, we had to get in touch with their support.
We were told that every method has $5 as their minimum deposit amount, while its maximum wasn't mentioned. By picking these methods, deposits go through right away, so you don't have to worry about the time spent.

| Payment Method | Deposit Minimum | Deposit maximum | Time for Deposit |
| --- | --- | --- | --- |
| VISA | $5 | N/A | Instant |
| Mastercard | $5 | N/A | Instant |
| ecoPayz | $5 | N/A | Instant |
| Skrill | $5 | N/A | Instant |
Withdrawal Methods
The same goes for withdrawals, but both the minimum amount and the time it takes for processing your withdrawal can change depending on the method picked. Check out more below:

| Payment Method | Withdrawal Minimum | Withdrawal maximum | Time for Withdrawal |
| --- | --- | --- | --- |
| VISA | $50 | N/A | Up to 3 working days |
| Mastercard | $50 | N/A | Up to 3 working days |
| ecoPayz | $50 | N/A | Up to 48 hours |
| Skrill | $50 | N/A | Up to 48 hours |
It is quite difficult to access Spin Sports support via mobiles, but not impossible. You need to scroll all the way down to the very bottom of the home page, then click on 'Contact Us'. A new window will show up, then you need to click on the green link.
You'll then be redirected to their live-chat platform. I spent perhaps five minutes in the virtual queue before hearing from a member of their team, so be aware that you may have to wait a little bit depending on the hour of the day you're accessing.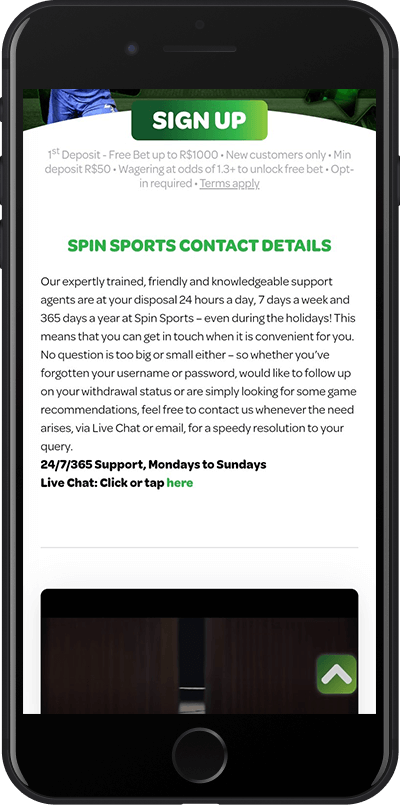 We take two approaches to assessing the Spin Sports performance in this article. There's the 'they're a casino-focused bookmaker' perspective, which is valid to some extent. The other way, however, is to see things how they are and that's the way we're going to do it.
Advantages
Slick Mobile Version
$5 Min Deposit Amount
7+ Available Languages
Limitations
EU Members, UK, US Restrictions
No Mobile Apps
The overall betting experience of a Spin Sports punter right now is somewhat poor due to country restrictions, lack of apps, and some hard-to-find important features, such as the support button.
We can be a little bit more optimistic for the future of the bookie, however, as they're entering their third year of operation and there is some room for improvement.