Velobet Review Sportsbook & Casino in 2023
Advantages:
Live streams

In-game betting

Wide range of sports

Easy-to-navigate
Payment Methods:
T&C apply. Gamble Responsibly 18+
Velobet Sportsbook LIVE Betting
Live betting, often known as in-play betting, enables gamblers to place bets on sports events that are currently in progress. This offers an interactive and captivating chance to wager on various aspects of the game as it unfolds. The best online bookmakers also provide access to live streams of the world's most popular sporting events.
Providing an all-encompassing live betting experience, Velobet presents its customers with a dynamic platform for engaging in instant betting across a diverse array of sports activities. This captivating functionality empowers individuals to place bets during the unfolding of games or matches, utilising constantly refreshed odds that accurately reflect the ongoing event developments.
Types of Live Games at Velobet
Encompassing a wide variety of sports, the platform provides a comprehensive array of live betting options, including:
Football (soccer)
Tennis
Basketball
Baseball
Ice Hockey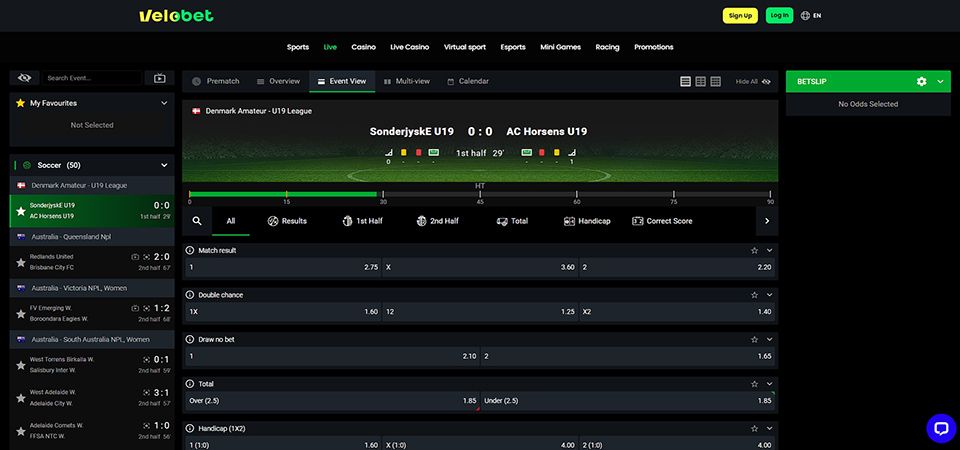 Velobet is one of the top football betting sites that stands out for offering not only a comprehensive sports betting experience but also an extensive and diverse casino section. This dual offering allows users to seamlessly transition from placing bets on their favourite sports events to enjoying a wide array of popular casino games, all within the same platform.
One of the standout features of Velobet's casino section is its vast selection of games, catering to the diverse preferences of its users. Whether you're a fan of traditional table (cards) games or seeking the thrill of live dealer interactions, Velobet has it all covered. Players can immerse themselves in classic casino offerings like blackjack, roulette, baccarat, and poker, all available in various versions to cater to different playing styles.
Blackjack
An engaging card game called Blackjack is played using one or more standard decks of cards. The primary goal is to attain a hand value that comes as close to 21 as you can, without going over. At the same time, your hand should have more value than the dealer's.
Roulette
A captivating game known as Roulette showcases a wheel adorned with numbers ranging from 1 to 36, often including a green 0 (and occasionally a 00). Participants assemble at a table and make wagers based on their anticipations of where a small ball will come to rest within the numbered compartments of the rotating wheel.
Baccarat
Baccarat is a stylish card game centred around predicting the victor. This entails two hands being dealt – one for the player and another for the dealer. You have the option to place your bets on either of these hands or even on a tie outcome. With its rapid tempo and exhilarating nature, Baccarat holds a special place in the hearts of both novice and seasoned casino enthusiasts.
Slots
Within the bookmaker's platform, you'll discover a wide array of slot games boasting diverse themes, gameplay approaches, and bonus attributes, all aimed at delivering players a rich and enthralling gaming journey. In addition to the traditional slots, Velobet also grants entry to progressive jackpots, injecting extra thrill and the possibility of substantial winnings.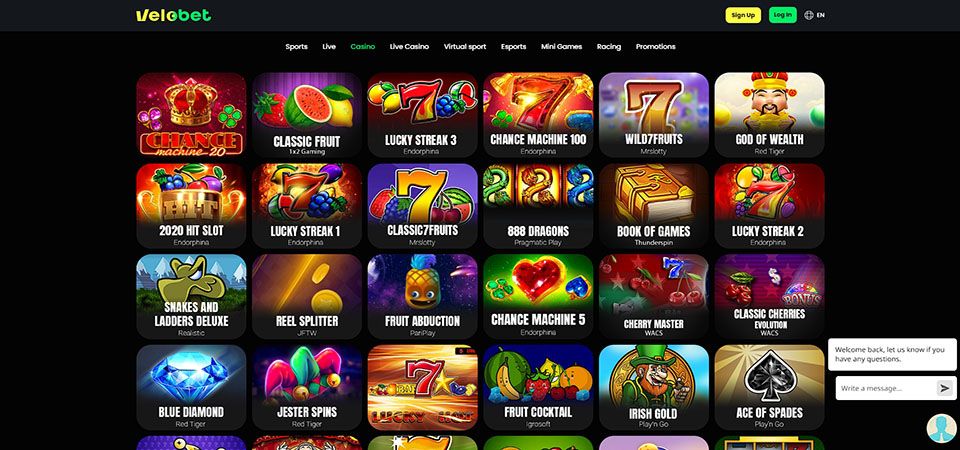 Velobet Betting Bonuses & Promotions
Velobet provides exceptional odds and guarantees immediate payouts for enhanced convenience. And that's not all! You can maximise your enjoyment by taking advantage of the diverse range of bonuses on offer. Whether you're a recent sign-up or a loyal bettor, here's an inclusive compilation of the captivating bonuses extended by the sportsbook.
150% Welcome Bonus up to 1,000 EUR
Velobet extends an alluring 150% welcome bonus for your first deposit, furnishing a substantial uplift to your initial betting funds. With a cap on the bonus at 1,000 EUR, this enticing deal empowers you to commence your wagering adventure with an augmented bankroll. To unlock this generous incentive, a mere minimum deposit of 20 EUR is required.
To be eligible for withdrawal, you're required to wager both the deposit and bonus amount 15 times over. This condition is balanced by the fact that you need to place bets on at least three separate events, each with minimum odds of 1.3. The bonus is a one-time offer, granted upon your first deposit, ensuring that new users receive a warm and rewarding introduction to the platform.
If you want to get more of such bonuses, check out our betting sites offers list. Here, you'll find promotions that are relevant today and immediately accessible.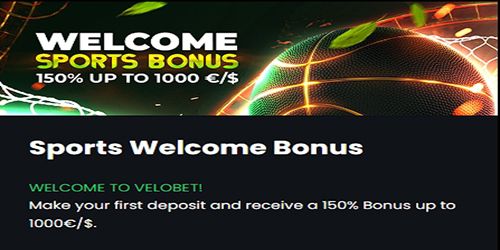 3 + 1 Free Bet
Velobet goes the extra mile to reward its loyal users with an innovative and exciting promotion. By placing a minimum of three bets, each with a minimum stake of 10 EUR and meeting the minimum odds requirement of 1.3 for each selection, you become eligible for a special free bet. The calculation of the free bet amount is as fascinating as the concept itself. Velobet takes the average of the three bets you've placed and grants you a free bet equivalent.
The maximum amount for the free bet stands at an impressive 100 EUR, while the minimum is set at a still-exciting 10 EUR. This range accommodates a variety of players and allows everyone to enjoy the thrill of a complimentary bet based on their level of engagement.
Velobet Review: Odds & Margins
Velobet offers a wide range of sports, encompassing football, basketball betting, and tennis, each presenting distinct odds and margins. These elements fluctuate depending on the particular event, market type, and the array of betting choices accessible.
Furthermore, Velobet's odds are strategically set to attract bettors and offer value for their wagers. The odds reflect the likelihood of an event occurring and also incorporate the bookmaker's margins. Velobet's competitive odds ensure that bettors have the opportunity to capitalise on attractive betting options, with the potential to earn substantial returns on successful football, tennis or boxing betting.
Margins wield substantial influence over a company's profitability and the potential rewards for bettors. Velobet's dedication to offering advantageous margins signifies that the platform claims a reduced portion of the overall bets, thereby increasing the potential for larger payouts. This results in amplified returns for victorious wagers, establishing Velobet as an appealing choice for individuals seeking to enhance their earnings.
Betting margin
Baseball

6.68%

Basketball

9.6%

Boxing

6.05%

Cricket

7.09%

eSports

6.36%

Football

7.7%

Handball

6.85%

Hockey

2.39%

MMA

6.55%

Rugby

6.13%

Tennis

7.22%

Volleyball

6.13%
Overall betting margin: 6.6%
Velobet recognises the importance of catering to users who prefer to place bets on the go, even without dedicated betting apps for Android and iOS devices. While some may consider this absence a drawback, the mobile version of the Velobet website emerges as a superior alternative that seamlessly compensates for the lack of standalone apps.
One of the most significant advantages of the Velobet mobile website is the elimination of the need for downloads or installations. This not only conserves valuable storage space on your device but also ensures instant betting platform access.
Moreover, the mobile version of Velobet retains all the functionality and features of the desktop platform. This means that you can enjoy the same user-friendly interface, quick bet placement, and secure transactions without compromising on the quality of your experience.
Android app: no
iOS app: no
You can play in the Mobile Browser

Mobile Browser
More
You can play in the Opera Mini

Opera Mini
More
Velobet Usability & Features
Velobet is among the dynamic live betting sites so it boasts a user-friendly and feature-rich website that caters to both new and experienced bettors. Noteworthy among the attributes of the Velobet website is its user-friendly navigation system. The arrangement of the menu is systematically structured, enabling users to seamlessly reach different segments of the platform with ease.
For sports enthusiasts, quick access to the calendar and event overviews is a notable advantage. This feature streamlines the process of discovering upcoming events, checking schedules, and researching teams or players before placing your bets. The inclusion of event overviews provides essential information at a glance, empowering users to make informed betting decisions.
The inclusion of a bet slip prominently displayed on the website further contributes to the user-friendly interface. However, it's worth noting that, while the live betting page is a valuable addition, it may appear slightly overloaded with information. The abundance of data and statistics can be overwhelming, particularly for users who are new to live betting.
Velobet: Sports to bet on
Setting itself apart within the gambling sector, the Velobet betting website stands as a beacon of exceptional service, offering an expansive array of sports tournaments that cater to the fervent French or German betting community. Its impressive selection encompasses a wide spectrum of popular sports, including but not limited to football, cricket, basketball, tennis, e-sports, and a plethora of other enthralling opportunities.
The width of betting lines is a crucial aspect in the design and functionality of an online betting platform, and Velobet pays careful attention to this important detail. The space allocated to display odds and betting options for various sports events and markets is certainly user-friendly. Velobet understands that providing an optimal width for betting lines is essential to ensure a clear and dynamic interface for bettors.
Velobet's attention to detail is particularly important in live betting scenarios, where odds can change rapidly as events unfold. With an adequate width for betting lines, users can monitor dynamic odds adjustments without confusion, ensuring that they can capitalise on favourable changes or adjust their bets as required.
Popular Types of Bets
The scope of betting possibilities at Velobet extends far beyond a handful of sports. The company provides a diverse range of options, including:
Note that, upon perusing our Velobet review, you'll swiftly grasp a comprehensive understanding of the various attributes encompassing the sportsbook's football betting markets.
Velobet has established a reputable standing based on its trustworthiness and ethical conduct as a dependable bookmaker. Endowed with a licence from Curacao eGaming (CEG), the company upholds stringent security protocols for financial dealings, ensuring the safeguarding of clients' funds and sensitive information. Employing cutting-edge technologies, the Velobet betting platform places paramount importance on diligently securing players' data.
In a bid to reinforce its credibility, the Velobet bookmaker undergoes periodic evaluations conducted by impartial third-party entities. These assessments play a pivotal role in guaranteeing the sportsbook's equitable and open functioning. By subjecting its operations to external review, Velobet strengthens its image as a platform that maintains impartiality and holds itself accountable to its user base.
Payment Methods: Velobet Deposits & Withdrawals
Deposits
The bookmaker is ideal for high stakes betting, so all possible deposit methods are presented here. Among them are Google and Apple Pay, PaySafeCard, ecoPayz. MasterCard, Visa and various cryptocurrencies, including Bitcoin Cash, Ethereum, Tether and Litecoin. The minimum deposit is 10 EUR.
Withdrawals
To withdraw winnings, you can use available payment methods such as MasterCard, Skrill, Bitcoin, Neteller, Sepa, Ethereum, Tether, Bitcoin Cash, Litecoin, or Ripple. The sportsbook belongs to fast withdrawal betting sites, so all transactions here are carried out within 24 hours. The exception is cryptocurrency – such payments are made instantly. The minimum withdrawal is 20 EUR per transaction and 15,000 EUR per month.
| | | |
| --- | --- | --- |
| N/A | Instant | 0% |
| €10–€2,000 | Instant | 0% |
| €10–€2,000 | Instant | 0% |
| N/A | Instant | 0% |
| N/A | Instant | 0% |
| N/A | Instant | 0% |
| N/A | Instant | 0% |
| N/A | Instant | 0% |
| N/A | Instant | 0% |
| N/A | Instant | 0% |
| N/A | Instant | 0% |
| N/A | Instant | 0% |
| | | |
| --- | --- | --- |
| ❌ | ❌ | ❌ |
| €10–€2,000 | Up to 24 hours | 0% |
| €10–€2,000 | Up to 24 hours | 0% |
| ❌ | ❌ | ❌ |
| ❌ | ❌ | ❌ |
| ❌ | ❌ | ❌ |
| ❌ | ❌ | ❌ |
| ❌ | ❌ | ❌ |
| ❌ | ❌ | ❌ |
| ❌ | ❌ | ❌ |
| ❌ | ❌ | ❌ |
| ❌ | ❌ | ❌ |
Distinguished by its commitment to exceptional customer care, the Velobet website places great importance on providing rapid assistance to players whenever the need arises. Through the platform's readily accessible live chat feature, users can directly engage with a specialised team of customer service professionals. This round-the-clock live chat support operates ceaselessly, ensuring that players can seek aid at any hour, irrespective of their geographical location or time zone.
The adept support specialists at Velobet possess extensive capabilities to address a wide range of enquiries and issues. Whether this involves elucidating various wagering options, assisting users in navigating through diverse markets, or resolving any pivotal matters, players can wholeheartedly trust in the support team's proficiency. Through their swift and effective aid, Velobet ensures that players can partake in a seamless and trouble-free betting journey.
Live Chat
E-mail: support@velobet.com
Phone

Email

support@velobet.com

Live chat

Competence
0 / 5
5 / 5
4 / 5
Politeness
0 / 5
4 / 5
5 / 5
Response Time
n/a
Up to 4 hours
Instant
Similar to numerous new betting sites 2023 options, Velobet follows a protocol for verifying accounts, prioritising the security of bettors and the authentication of their identities. Following the registration process, clients are generally obligated to furnish certain documents and particulars as part of the verification procedure.
The process of verification generally encompasses a series of essential steps. Users are prompted to furnish scanned copies or images of pertinent documents, such as a passport or driver's license, as a means of confirming their identity. Additionally, documents like utility bills might be requisite to validate the player's permanent residence. Furthermore, there could be a necessity to provide particulars pertaining to the financial transaction mechanism utilised on the platform.
Velobet Betting Markets: Short Guide
Velobet offers a diverse range of betting possibilities that extend beyond traditional win-or-lose bets. In fact, you have the opportunity to engage in more flexible wagering, allowing you to enhance your overall experience and add an extra layer of excitement to the process. Additionally, this flexible approach enables you to explore various German, Canadian, Brazilian, or French betting markets and strategies, contributing to a dynamic and thrilling betting journey.
Over/Under (Totals)
Participating in Over/Under betting entails making predictions about whether the cumulative score of a given sporting event will surpass or fall short of a predefined number established by the sportsbook. The odds and predetermined totals for this particular betting category may fluctuate based on factors such as the type of sport and the specific match at hand. Engaging in Over/Under betting adds an extra layer of engagement and strategy to your wagering experience, allowing you to assess the potential scoring dynamics of a game and make informed choices.
Asian Handicap
An Asian Handicap stands out as a unique iteration of handicap betting, where a virtual edge or setback is allocated to a team based on its perceived prowess. This form of wagering presents an intriguing avenue for bettors to place bets on their preferred teams, irrespective of the teams' odds of victory. It's worth noting that Asian Handicap betting is particularly prevalent on the best sports betting sites Canada offers, further adding to the excitement and diversity of the betting experience. This approach empowers bettors with an innovative way to engage in wagering, offering a strategic alternative to traditional betting formats.
Accumulator Betting
Accumulator betting involves a strategic approach where multiple individual bets are combined into a single wager, offering the potential for amplified payouts. It's crucial to understand that the success of an accumulator bet hinges on the accuracy of all the selections included within. In other words, each and every choice within the accumulator must be correct in order for the bet to be successful.
Point Spread
In this form of handicap betting, a virtual advantage or disadvantage is bestowed upon one of the competing teams. The sportsbook establishes a Point Spread line for each team, typically indicated by a positive or negative numerical value. Bettors are tasked with selecting the team that they anticipate will emerge victorious, but factoring in the influence of the Point Spread. A successful outcome is achieved if the chosen team wins, accounting for the Point Spread adjustment.
Money-Line Bets
A Money-line bet offers a straightforward and uncomplicated betting option, allowing bettors to select the team they anticipate will secure an outright victory in the game, without the complication of a Point Spread adjustment. This form of wagering holds particular popularity among enthusiasts of football and basketball.
Prop Bets
Among the favoured betting strategies on the Velobet platform, proposition bets hold a significant following. This approach enables you to place bets on a wide array of specific occurrences that could unfold during a game or match. For instance, you can wager on details such as the first scorer, the number of goals a player achieves, or even non-sport-related elements like the performance of the national anthem.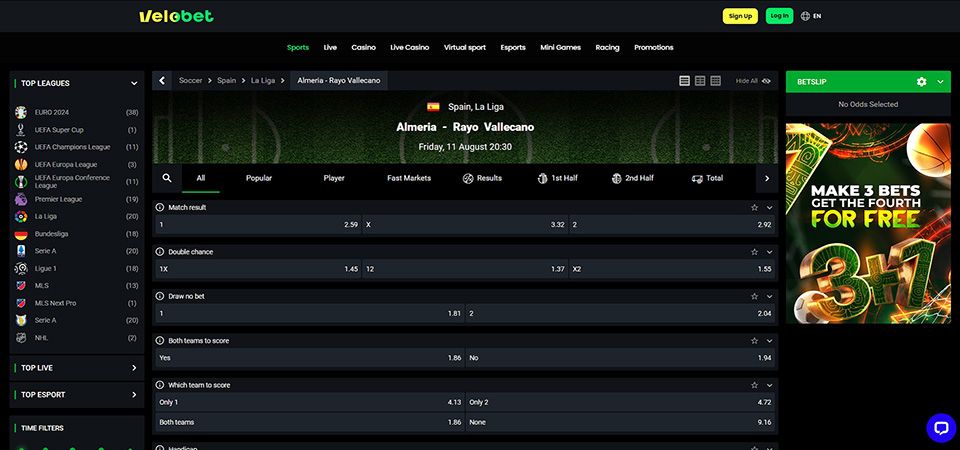 Velobet: Licensing and Regulations
Velobet takes great pride in its possession of a valid license granted by Curacao eGaming; a testament to its commitment to conducting operations in full compliance with the jurisdiction's stringent legal framework. Facilitated by Santeda International B.V. as the license holder, the bookmaker diligently adheres to rigorous mandates and safeguards, encompassing essential areas such as customer protection, responsible gaming, and anti-money laundering protocols.
This comprehensive licensing and regulatory oversight instills users with a profound sense of assurance and trust in the integrity of Velobet's operations.
How to place a bet at Velobet?
Engaging in betting on Velobet is an uncomplicated and direct procedure:
To initiate the process, begin with the registration step.
Follow up with the verification of your account details, then proceed to fund your account.
Survey the array of options provided by the bookmaker.
Select the sports disciplines that you intend to place your bets on.
Opt for the specific type of bet that aligns with your preferences.
Proceed to confidently place your chosen wager.
Exercise patience as you await the game's conclusion.
How to sign up at Velobet?
Signing up on the Velobet website is a seamless and uncomplicated process.
Click the 'Sign Up' button

Locate the black button situated on the right-hand side of the screen.

Fill in all the required fields

Make certain that you provide accurate and exact personal details.

Verify your account

Get your scanned documents ready for the purpose of uploading and subsequent verification.

Well done

Great! You are fully prepared to initiate deposits and commence placing potentially lucrative bets.
Is Velobet Trustworthy? Final thoughts
Our comprehensive Velobet review extensively covers all essential facets of this captivating bookmaker, which places a paramount emphasis on safeguarding user data, enabling bettors to engage in their wagers with a sense of assurance and confidentiality. In addition, our football predictions can help you make more informed decisions, which can be useful for both beginners and experienced bettors.
Moreover, the platform demonstrates a steadfast dedication to fostering responsible gambling behaviours among its users. In alignment with this commitment, Velobet has introduced an array of responsible gambling features. These indispensable resources encompass self-exclusion alternatives, enabling users to temporarily abstain from betting as required, to benefit from deposit limits that facilitate prudent financial management, and to experience time-out periods designed to promote responsible time allocation. These proactive measures reflect Velobet's conscientious approach towards encouraging a healthy and balanced gambling experience for its clientele.
Recognising that complete eradication of all gambling-related risks is not feasible for any online sportsbook, it is crucial to note that Velobet has taken substantial measures to position itself as a reliable and trustworthy platform.
Advantages
Live betting and streaming
Appealing betting odds
Legitimate licensing and strict regulatory compliance
The wide range of sports offerings
Limitations
Restricted availability in certain jurisdictions
Bookmaker reviews by players