Best betting apps in Australia
Fewer platforms can provide you with second-to-none services in your constant search for uniqueness and excellence. In this article, we bring you the crème de la crème of sports betting apps Australia. Pamper yourself with the best selection of Android and iOS sports betting apps.
List of Best Betting Apps in Australia
Found: 5 Bookmakers
Mobile betting apps in Australia - Ultimate guide
Dive into Australia mobile betting!
This guide is written exclusively for Australian sports bettors looking for their ideal and reliable sports betting app. Below is the list of the topics we will cover in this guide.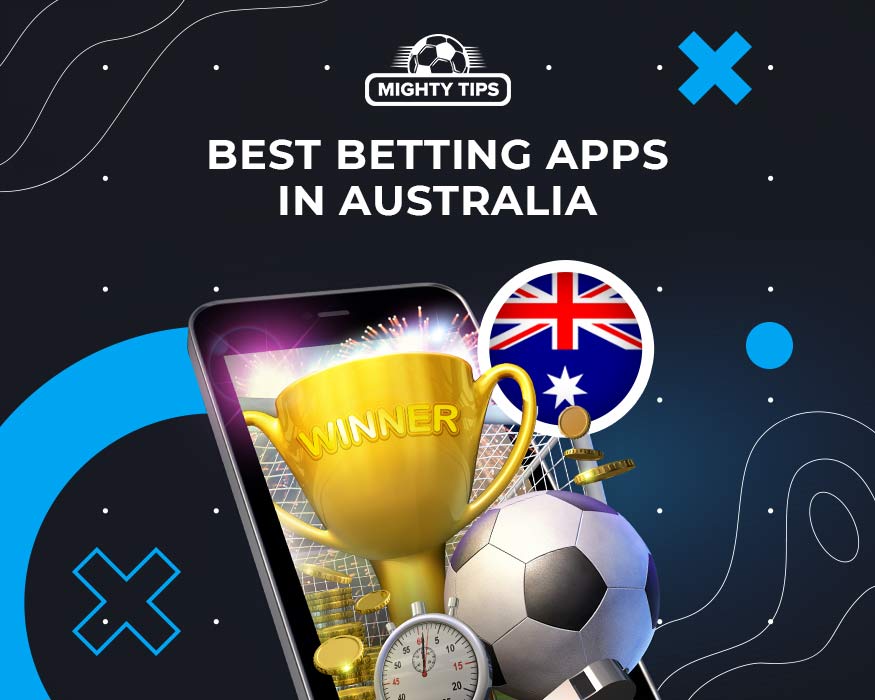 We've brought you the ultimate reliable guide to choosing your next betting websites in Australia wisely. Selecting only the most credible and trustworthy venues that offer niche services within a highly secure betting environment.
This article discusses betting websites Australia in terms of legality and sheds light on some basic laws related to online gambling. It highlights the reasons for picking our list of betting apps Australia, explaining the main criteria for our choices, answering all your questions, and providing you with the best sports betting app options whether you are tennis lovers, horse racing fans, rugby enthusiasts, or cricket supporters.
Moreover, we will go through the main differences between Android and iOS betting app versions.
Is online betting legal in Australia?
One of the first questions that concern any online player is the legality of sports betting in their country. It's totally understandable that online players prefer to keep themselves on the safe side and protect their money, personal details, and time as well.
In Australia, the online sports betting and racing industries are totally legal and regulated by the Australian authorities.
According to the Interactive Gambling Act:
The only forms of online gambling that Australian authorities have legalised are lottery, racing, and sports betting.
The legal age for sports betting is 18 years old, and the bookmaker must obtain reasonable proof of identification from the bettor.
In this sense, the top betting apps Australia has are safe and legal venues to enjoy betting on your preferred sports.
What you need to know about mobile betting in Australia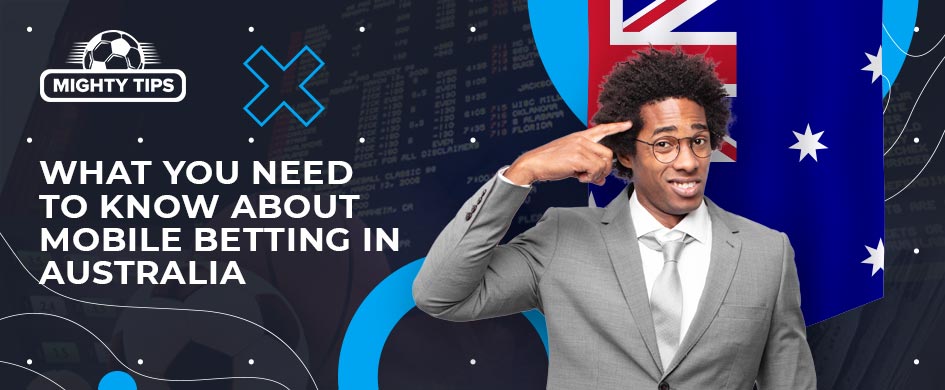 Australians are lucky to have the best versions of sports betting apps. These betting apps embrace top-notch technologies and software to provide users with a smooth and easy-to-navigate betting experience. They offer perfectly compatible Android and iOS apps along with user-friendly interfaces.
Selecting the best betting app Australia has will enable players to experience:
Highly responsive interface
Exclusive in-app bonuses and gifts
Quick and reachable customer support
Multiple payment methods
New betting apps 2023
The internet is stuffed with thousands of sports betting apps that promise players the best services and bonuses, but most don't live up to their customers' expectations. We have encountered a huge number of sports betting apps in Australia. Unfortunately, most of them are not up to our strict standards in choosing the best Australian betting app. For this guide, we've gathered the best choices for an incredibly safe and enjoyable experience.
What to Consider When Looking For the Best Betting App? Our main criteria
To meet our Australian sports enthusiasts' needs, we designed strict criteria to apply when recommending new betting apps Australia. Our criteria covers the main points to consider when picking your next reliable betting app. The main points we focus on are:
Reliability

A reliable betting app Australia based offers a safe and licensed venue that follows all the gambling regulations and embraces the latest security protocols to keep its players' details away from hackers and third-party interference. Besides, a reliable bet app Australia option ensures equal chances and an honest betting environment.

Usability

The best sports betting app Australia option is distinguished from its competitors by its user-friendly and smooth experience. We ensure that our betting app selection perfectly supports Android and iOS operating systems with an easy-to-navigate feel and highly responsive interfaces.

Special mobile app bonuses

A great Australian betting app should pamper its players with unique and exclusive bonuses. This is why we focus on their in-app special promotions and gifts when considering the best sports betting apps. We select the ones that come with generous bonuses to provide our readers with a full betting experience.

Deposits & withdrawals

The top Australian betting apps list comes with no compromises, which includes offering multiple highly safe and secure payment methods for Australian players. Payment options include credit and debit cards, e-wallets, prepaid cards, bank transfers, and other methods that suit the market's needs.

Availability of sports to bet on via the app

While reviewing the list of available apps, we ensure that we select only the best betting apps in Australia that provide players with the largest possible number of sports to bet on. We consider the availability of local and global sports events to be a key feature in any niche betting app.

Cashout option while betting via the app

Versatility and manageability are game-changing features in any app that requires easy cashout processes through the app itself without the need for any third-party apps or websites. In this sense, Australia betting apps come with in-app cashout options, which means a perfect and hassle-free betting experience.

Registration Process

Accessibility is another feature we appreciate greatly in any Australian sports betting app. Online players look for accessible and user-friendly apps without complications, which means an easy registration process with only basic details.
Top 6 Betting Apps in Australia and Best Betting App features
All you are looking for in sports betting in Australia is gathered in one place. We have brought the best venues for you to choose from and experience the excitement of online sports betting. Among the best betting apps are:
Unibet — Unibet is a fast and secure sports betting app. It offers fantastic betting odds and the biggest sports events to bet on.
Igubet — Igubet was established in 2022 and has gained unmatched popularity within a short period with its excellent bonus offers and customer-friendly website.
LiliBet — Lilibet is a prominent venue with generous welcome bonuses and a stunning collection of casino games. The customer service is great, so the website is excellent even if small problems occur.
Powbet — Powbet is a relatively new betting site. However, it gathers all the major sports events, along with other great online games from the very first day. It promises an excellent experience to its customers.
Excitewin — Excitewin is one of the top-ranked gambling and betting venues that offers exclusive betting events and casino gaming experiences.
Sportaza — Sportaza introduces its customers to a stunning world of sports betting events. It's one of the most highly-trusted Australian betting sites and offers 30,000 live betting markets every day.
Mobile app vs. desktop version in Australia: Know the differences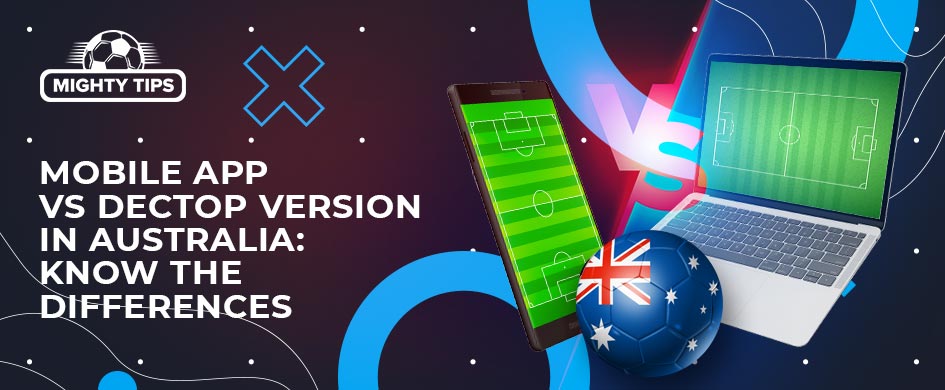 Smartphones have changed our lives irreversibly, becoming essential and irreplaceable tools for our daily activities. Focusing on the sports betting industry, mobile betting apps have had a profound impact on the business as a whole. They've enabled reputable betting apps, including the best gambling app Australia, to easily reach a larger number of interested players.
On the other hand, desktop betting site versions still receive a number of online punters who prefer to bet from the comfort of their homes. The upcoming section highlights the main pros and cons for both mobile and desktop betting versions to assist you in picking the most suitable.
Mobile Apps Versions Pros & Cons
Pros:
Exclusive in-app bonuses and offers
Supports Android and iOS operating systems
Smooth experience with highly responsive interfaces
Widely available and easily accessible
Cons:
Some desktop version features are missing
Desktop Versions Pros & Cons
Pros:
All the payment methods provided are available
Easy-to-navigate experience
You don't have to worry about the battery charge
Your betting session will not be interrupted by voice or video calls
Cons:
In-app bonuses and promotions are missing
Hardly accessible
Best Horse Racing betting apps for Australian punters
You might be impressed to know that the first horse racing in Australia took place in Sydney in the 1790s. Yes, horse racing in Australia has a richer history than any other sport across the country. That explains why Aussies are so excited about this sport and love to attend and bet on it. It's more of a social event where people meet, talk, and enjoy their time.
If you are a horse racing fan and would like to share your passion, then you are invited to the best collection of horse betting apps Australia where you can find everything you are looking for. These apps provide you with detailed information about the horses, the racetrack, and other information related to the price statistics. Not only are the Australian competitions included, but you will be glad to know that all major global horse racing events are covered with their statistics and details.
Betting app offers for Horse Racing in Australia
Despite the fact that hundreds of horse betting apps claim to provide their customers with the best deals, we carefully select the best horse betting apps in Australia that provide top odds and unbeatable bonuses. The list below has gathered the finest choices for our horse racing fans.
Improve your betting experience with top Tennis betting apps
Aussies love tennis. This is a fact and no one can deny that Australia, with its excellent climate and open spaces, makes an ideal home for tennis. To understand the popularity of tennis among Australians, it should be enough to mention that five percent of Australians participate in tennis either through organised clubs or as an activity. WOW!
One of the four famous Grand Slam tournaments is held in Australia, with over 700,000 attendees every year. The first-ever Australian open event took place in Melbourne in 1905. Since then, the number of tennis fans in Australia has risen dramatically. Nowadays, Australian tennis lovers are lucky to bet on their favourite sport via a list of Australian bookmakers. Punters can choose their favourite player and bet on the match points, sets, and other bet options.
Betting app offers for Tennis in Australia
If you are an Australian tennis fan looking for the best betting app offers Australia has then we invite you to the best collection of tennis betting apps that offer you generous welcome bonuses along with other exclusive gifts. Take a look at the list below and pick your next reliable tennis betting venue.
Free betting apps featuring Rugby for Australian customers
Rugby might not be as popular as football around the world, but Aussies have been familiar with this sport since 1876 and love it. Rugby has a rich history in Australia, perhaps as much as any other country, considering that the first fully-organised rugby league was played in Australia in 1908.
Nowadays, the national Australian league consists of nine teams, and thousands of fans are able to bet on their favourite through sports betting apps. The extensive list of Australian bookmakers enables punters to enjoy the thrill of rugby matches at their fingertips. The good news is that rugby fans are able to enjoy betting on domestic and international rugby events through their preferred best bet app Australia.
Betting app offers for Rugby in Australia
No need to look around, as we've gathered a premium list of rugby betting apps for your comfort. The list below has the best betting apps Australia based, with unbeatable bonuses and promotions. Pamper yourself with generous welcome bonuses along with other distinctive promotions.
Enjoy great mobile betting apps for Cricket
Believe us when we say that cricket is also a key part of Australian history. Records mention that the first cricket match took place in Sydney in 1803. Since then, cricket has gained unmatched popularity among Australians and is regarded as a national sport.
Currently, the Australian national cricket team is among the greatest in the world, with stunning success abroad. Moreover, Australia is recognised as one of the founders of the Imperial Cricket Conference.
Australian cricket lovers are invited to share their enthusiasm with cricket betting Australia, where they can find all their favourite teams, players, and events to bet on. Experience the excitement of cricket matches with only one click on your chosen app.
Betting app offers for Cricket in Australia
Being bonus lovers, we seek the most impressive bonuses and promotions to share with our readers. In this sense, we've collected Australia cricket betting apps that offer exclusive bonuses and gifts. Navigate through our selection of the best betting apps for cricket fans.
Find the best betting apps for Android in Australia
According to recent research conducted in January 2022, Android maintained its position as the global leading operating system with a 70% market share. With many Android phone users, online bookmakers Australia concentrate on providing the best sports betting app technologies.
Here we have some of the best betting operators with Android mobile apps:
Find the best online betting apps for iOS in Australia
As the second-largest category by market share, Australian betting websites provided iOS users with sports betting apps that were perfectly compatible with their operating system.
Check our list below for the best bookmakers in Australia that offer stunning sports betting apps for iOS users.
| Place | Betting App | Advantage | Link |
| --- | --- | --- | --- |
| #1 | 888sport | Live streaming | Read review |
| #2 | William Hill | Great list of promotions | Read review |
| #3 | 18Bet | Great page loading speed | Read review |
Main differences between iOS and Android betting apps in Australia
We can say that the best bookmakers in Australia spare no effort to provide both Android and iOS users with ideal betting apps. These apps come with fast payment options, highly responsive interfaces, and an overall complete user experience.
The question that arises is: what are the main differences between Android and iOS apps? Well, apparently, both operating systems offer almost similar features, with slight differences that won't affect the overall betting experience. These differences relate to how users receive notifications, manage payment methods, and interact with the app interface.
Here you have the main features that you can expect while choosing your next betting apps Australia.
Android apps:
A sleek design without any complications
Quick mobile payment methods
Easy to log in using a fingerprint
Up-to-date push notifications with price changes and live bets
Fast page loading with quick responsive buttons
iOS apps:
Easy login using Face ID without the need to use a password
Secure and fast mobile payment options with Apple Pay support
Functional and smooth navigation
Downloadable from the App Store
Top 5 all-time best betting apps in Australia
Sharing your interest in finding the crème de la crème of sports betting apps, we have selected the top 5 all-time best betting apps in Australia. These apps passed through our strict criteria to detect the most prominent apps that offer excellent services and provide an exceptional sports betting environment.
Looking for the best sports betting apps with free bets?
There is nothing better than starting your sports betting journey at the best betting app in Australia with generous free bets. This is a great way to begin your betting journey and test the app services with a zero-risk experience. Consider your basic needs while choosing your next favourite betting app, and pick the one that pampers you with real free bets and promotions.
More types of bonuses for betting app lovers
Sport betting Australia apps offer a wide variety of bonuses and exclusive in-app gifts that will increase the level of betting excitement. The list of other juicy bonuses that are waiting for you includes:
Welcome Promotions
To be honest, welcome promotions are one of the most important factors we consider when recommending a betting apps Australia sign-up bonus. We want to ensure that our readers are well treated and receive all the stunning welcome bonuses they deserve.
Cashback
A cashback bonus is all about enjoying the app services and then receiving your cash back as a bonus. Who doesn't love that!
Daily deposit offers
Fortunately, not only your first deposit will be gifted, as the best bet app Australia offers unique bonuses every time its punters make a deposit. Daily deposit offers to enable Australian players to enjoy distinctive bonuses every day.
Recommended payment methods
While customers' online safety and security are their number-one priority, the top 10 betting apps Australia has have embraced the most enhanced and cutting-edge technologies to process their punters' payments. Feel free to choose your most suitable payment method from the list below and enjoy a highly secure betting experience.
Recommended payment methods
Bookmaker
VISA
MasterCard
Neteller
Skrill

Min/Max: A$1-A$20,000




Fee: 0%




Time: Instant

Min/Max: A$5-A$20,000




Fee: 0%




Time: Instant

Min/Max: A$5-A$5,500




Fee: 0%




Time: Instant

Min/Max: A$5-A$5,500




Fee: 0%




Time: Instant

Min/Max: A$5-A$20,000




Fee: 0%




Time: Instant

Min/Max: A$5-A$20,000




Fee: 0%




Time: Instant

Min/Max: A$5-A$5,500




Fee: 0%




Time: Instant

Min/Max: A$5-A$5,500




Fee: 0%




Time: Instant

Min/Max: A$5-A$20,000




Fee: 0%




Time: Instant

Min/Max: A$5-A$20,000




Fee: 0%




Time: Instant

Min/Max: A$5-A$5,500




Fee: 0%




Time: Instant

Min/Max: A$5-A$5,500




Fee: 0%




Time: Instant