Rabona mobile app
Throughout today's article, we'll discuss everything on the Rabona mobile apps and their usability for the average global punter.
Not available in your location
Try these bookmakers instead:
So, you've come across the Rabona bookmaker and are now wondering whether it's possible to download the Rabona app or not before starting off your journey at the bookie?
You've come to the right place. Throughout today's article, we'll discuss everything on the Rabona mobile apps and their usability for the average global punter.
Besides these topics, we'll also cover other aspects such as:
Rabona App for Android
Rabona App for iPhone
How to Login for Rabona
Overall Aspects of Payment Methods, Bonuses, and Support Offered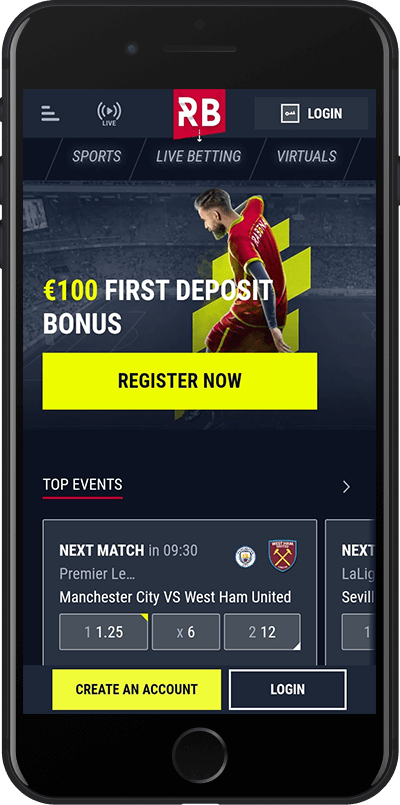 So, first to the inconvenient part. Right now, you cannot download the app for Rabona as it hasn't been developed yet. We cannot hide our frustration over this, as a Rabona application would improve the usability and comfort of their punters 100%.
However, we can still use their mobile version, which thankfully works pretty well.

As briefly mentioned, currently, it's not yet possible to download the Rabona app for Android. You can still capitalise on this fact, however, by using the space you'd take up on your device to download other useful apps and still bet on Rabona's mobile version.
The same applies to the Rabona app for mobile iOS. As iOS apps are bigger overall than Android ones. Use this to your favour and save some space on your device.
You can still pretty much do everything you would with a Rabona .apk file by using their mobile version. From live betting to contacting the support and topping up your account, you'll be well-served with Rabona.
The lack of Rabona for Android and iOS doesn't need to be a reason to completely rule out this promising sportsbook. You can regularly place your bets using their mobile version, in more than 15 different sports, and more than five languages currently available.
In Which Countries are the Rabona App Available?
If you're from major English-speaking countries, you may feel a bit frustrated, as Rabona isn't available in the UK, the US, or Australia. Only Canada and New Zealand residents can access the Rabona platform out of the so-called CANSUK members.
Plus, some restrictions are also applied to some EU countries like the Netherlands, Portugal, Spain, Greece, and France.
However, punters elsewhere are free to access the Rabona website and have fun betting with them.

Throughout this section, we'll briefly discuss our experience of logging into the Rabona website, how it feels to be mobile betting with them, their payment options, bonus packages, and how to get in touch with their support.
We've had good experiences overall and we're about to share them with you.
In order to login for Rabona through your mobile phone, you'll need to go to their website, and then click on 'Login' on the top right corner of your screen.
By doing so, a new window will show up, with spaces for you to fill in both your chosen email and password at the moment of registration.
In case you're not yet registered on Rabona, you can open your account by clicking on the 'Create an account' button, which is right beside the 'Login' one. We highly encourage you to do this by yourself, as there are no major secrets. However, we'll prepare a step-by-step article on how to register on Rabona in the future, so if you don't feel confident enough to do it by yourself we'll guide you click by click.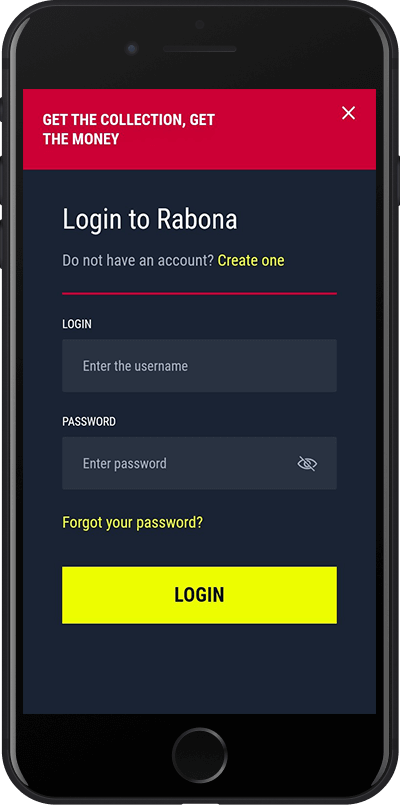 You can use the Rabona mobile website for laying your wagers through your phone. All you need to do is to go to their homepage and find the option 'Sportsbook', which is located on the top bar.
Once clicking on this option, you'll be redirected to Rabona's betting options and, depending on the period of the day you're accessing, you'll be stuck with mostly football betting options.
If you want to narrow down your options, you can still click on 'Live Betting' in order to only bet on events happening right at the moment.
The Rabona mobile site is overall good for mobile betting, as everything loads in a decent amount of time, with no damage to the usability of the platform whatsoever.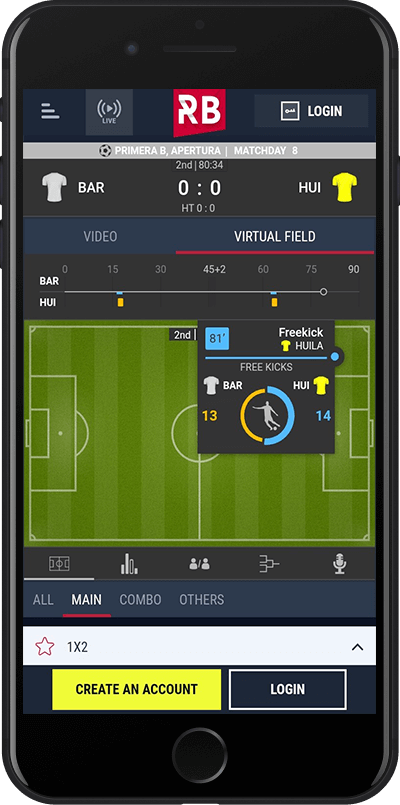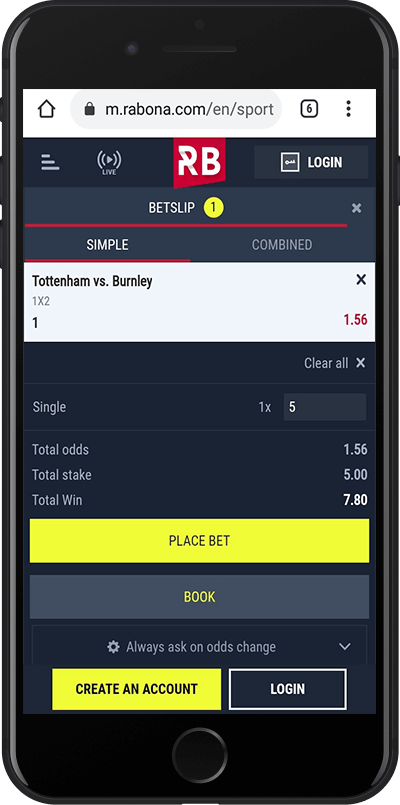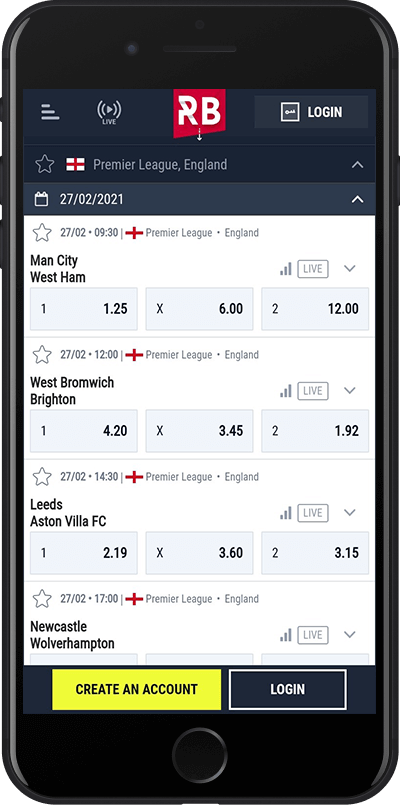 If you're looking for a highly diverse bonus package, then you might feel at home punting at Rabona. Right now, as for this first quarter of 2021, the sportsbook is offering 10 bonuses for both newcomers and long-term players.
There is the traditional welcome bonus, where you can get 100% of your first deposit up to $100, as well as a weekly reload bonus, free bets, UEFA Champions League-specific bonuses and, last but not least, acca bonuses.
You can claim all of these via your phone and we highly recommend you to do so, first by reading their terms and conditions and then fulfilling the pre-established requirements.
When it comes to payments, there are always questions surrounding minimum deposits and withdrawal amounts. We got in touch with Rabona's support and have been told they do not have minimum or maximum deposit amounts, meaning you could deposit amounts ranging from cents to millions of dollars.
We do have to bear in mind, however, that there are some bonuses with minimum deposit amounts. So, if you have any intentions of claiming any, follow the requirements within their terms and conditions.
Deposit Methods

We've picked the four most-spread global payment methods for deposits. These are VISA, Mastercard, Skrill, and Neteller. In the table below, you can see more deposit info for the aforementioned methods, as well as minimum and maximum deposit amounts.

| Payment Method | Deposit Minimum | Deposit maximum | Time for Deposit |
| --- | --- | --- | --- |
| VISA | N/A | N/A | Instant |
| Mastercard | N/A | N/A | Instant |
| Skrill | N/A | N/A | Instant |
| Neteller | N/A | N/A | Instant |
Withdrawal Methods
The same applies to withdrawals, with the exception of the time for withdrawals, as these can take up to three working days in order for the money to get to your account. Check out the withdrawal table below for more info:

| Payment Method | Withdrawal Minimum | Withdrawal maximum | Time for Withdrawal |
| --- | --- | --- | --- |
| VISA | N/A | N/A | Up to 72 hours |
| Mastercard | N/A | N/A | Up to 72 hours |
| Skrill | N/A | N/A | Up to 48 hours |
| Neteller | N/A | N/A | Up to 48 hours |
You can contact Rabona's support through your phone by accessing their website, and then scrolling all the way down to the bottom of the home page. There, you'll see the 'Live Chat' option.
Click on the option and fill in with your name, e-mail, and question. In a matter of seconds, someone from the Rabona live chat team will help you out.
We got in touch with them to ask questions about the mobile Rabona apps – or lack of them – and also on payments, and they were really quick to answer overall, although they could have been politer.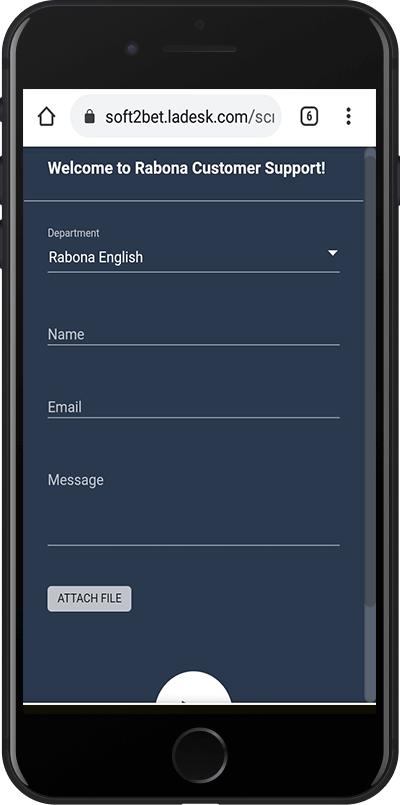 Although the Rabona betting site runs smoothly and displays an overall clean design, the lack of an app and restrictions on some of the most important countries for betting enthusiasts around the world has certainly damaged Rabona's ratings so far.
Advantages
Clean Mobile Version
No Minimum Deposit/Withdrawal Amount
Easy-to-find Betting Features
Effective Support Team
Limitations
UK/US/AUS Restriction
No Mobile Apps Yet Developed
However, the future may look bright for them, as they already possess some good features, such as a good support service, and no minimum amounts for both deposit and withdrawal. A betting app could change the bookie's caliber overnight and, if they release it anywhere in the future, we'll certainly be updating this article.