This bookie was established back in 2018 and throughout this piece of text we are going to answer questions like:
If it's possible and if yes, how to Install Betzest apps
How to login to your Betzest account
Payments & Support
And much more, besides comparing every available version of the Betzest apps for better overall comprehension.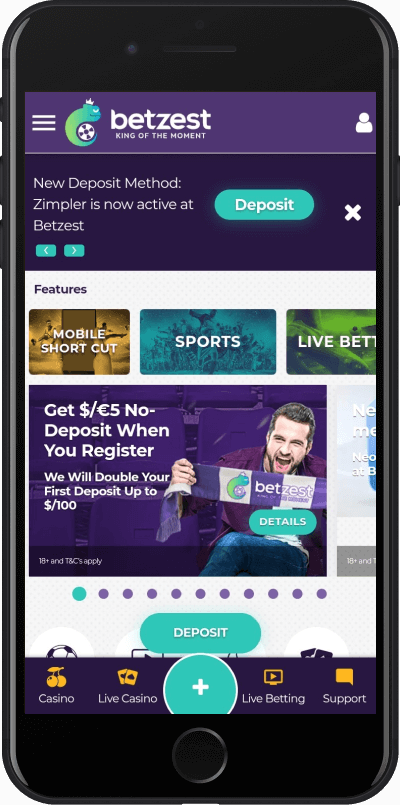 Mobile apps can prove to be handy in multiple situations, and it is no different with the Betzest apps. However, this is where things get a little bit uncomfortable here - Betzest has not yet developed apps.
Maybe mobile apps are most notorious for working as a time-saver for punters, as they can skip the whole process of grabbing their phones, opening their browsers, and accessing the bookmaker's website, besides logging in and everything else.
Apps provide you comfort, stability, and makes the login process much simpler, but unfortunately, that's not the case with this sportsbook at the moment.
Since there are no apps yet developed by the sportsbook, it is not possible to download the app for your Betzest Android. However, things could change in the near future, and you could download your APK file for Betzest Android app.
In case you do not know what an APK is, it's basically a normal app that you must find some unorthodox ways to download it to your phone. For example, instead of downloading it from Google Play, you'll do it through the bookmaker's official website in order to get your Betzest APK file.
We'd like to remind you that in case Betzest develops an app in the future, we are going to update this article.
As stated in the previous sections above, there is no Betzest mobile app, so iOS users may not enjoy the pros of having the app installed on their devices either.
Of course, this has an advantage, as space is not consumed on the iOS device. But this is just a tiny pro over lots of other advantages a Betzest mobile app could provide for punters.
Given the lack of Betzest apps, our comparison will be based on the mobile version and the desktop one. The Betzest mobile version is not one of the best on the markets, but it still manages to gather attributes such as ease of finding important icons, compactness, a pleasant design, and most importantly: greater speed for placing bets.
Obviously, the Desktop version also has its advantages, such as greater ease in contacting support, for example.
However, it is possible to do this also in the mobile version, which makes it superior in both versions to the PC version.

With that, we'd rank them like this:
It is easy to use the Betzest mobile portal, as all icons are well-organized and quite easy to find, making them self-explanatory in many cases. It is true that you'll have more options on the PC version, but everything can be done through your phone in case you need it as well.
It's quite simple to log in to your Betzest account. In the mobile version, just click on the silhouette on the upper right bar. After that, a new tab will open with the options "Login" and "Register".
Choose the first one if you have already opened an account at the Betzest sportsbook, and after that, just fill in your information.
If you do not yet have an account with Betzest, simply choose the second option, and provide the documents and information required by the house. If you have difficulty, read our article on how to open a Betzest account, as we walk you through the whole process.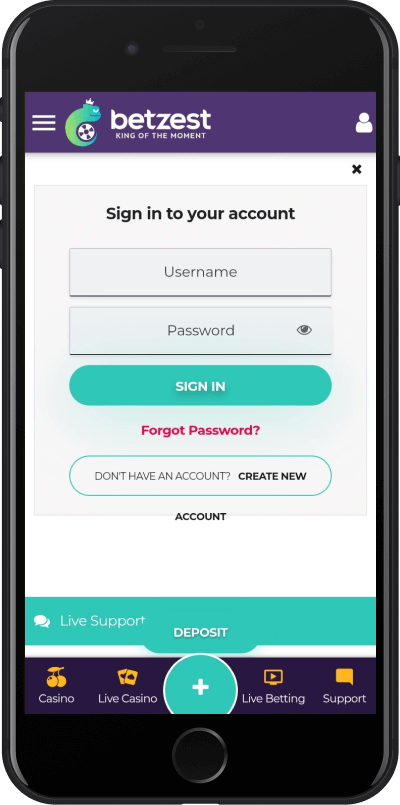 Betzest is a bookmaker that mixes its focus between sports and casino betting. In the mobile version, you can place your sports bets as well as play in the casino perfectly.
As we reported in the advantages and disadvantages section, placing sports bets on the mobile version of betzest is extremely easy and fast, with this version being slightly superior to the desktop version.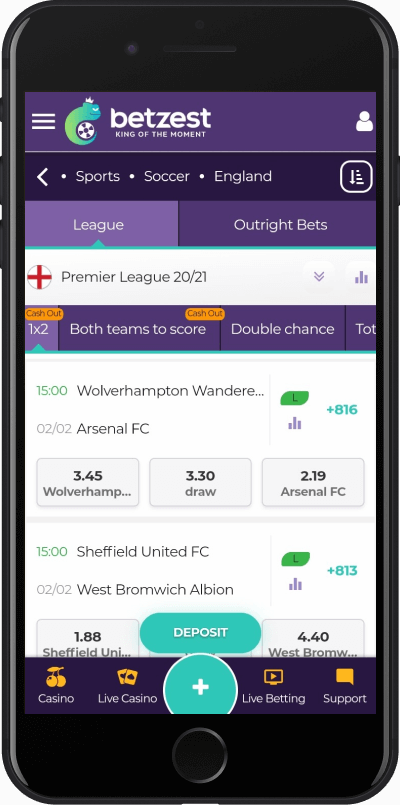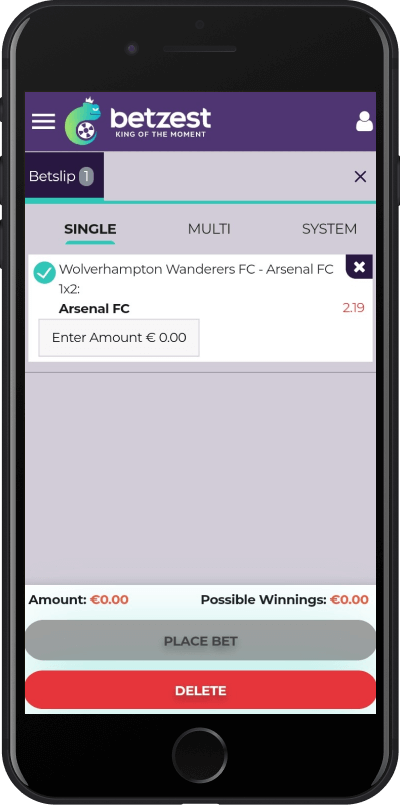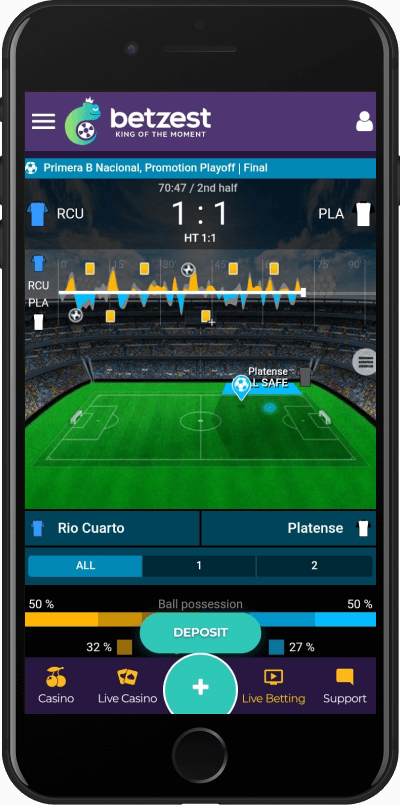 Yes, it is possible to place live bets from your mobile phone at betzest! To place your live bets, simply access the home website, and click on the green icon written "live bets" right at the top of the home page.
That done, all the sporting events happening at the moment will be shown, and all you'll need to do next is to pick the desired event you wish to lay your wagers on, and to have good luck!
Deposits and Withdrawals can also be made through the Betzest mobile version. Most of the common global methods are available for punters to top up their accounts from every country available at the bookmaker.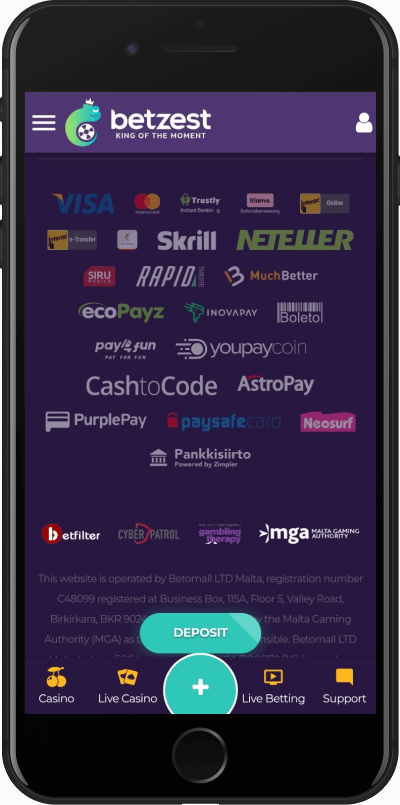 Betzest support works 16 hours a day every day of the week. It is possible to access it through the virtual chat in the mobile version. The option is on the bottom bar, a yellow button labeled "support".
The support is made entirely in English, and it takes only a few minutes to have your doubts clarified, which makes their overall support service really effective.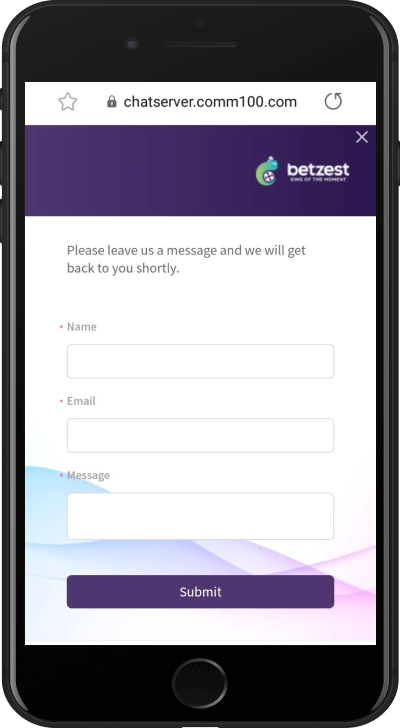 Despite not having mobile apps, it is possible to have a pleasant betting experience on betzest through your cell phone. The overall usability is good, with a compact and modern design, making it easy and fast to place your bets efficiently.
Advantages
Global Payment Methods
Good mobile interface
Mobile Live Betting available
Limitations
Lack of Mobile Apps
The final rating could be higher, but the mobile apps - or lack of them - make such a huge impact to Betzest's rating. Surely that the bookie is relatively young, and it is possible that we'll have some news on the app in the near future. But until then, Betzest remains only as an average bookie.