Betsafe mobile app
This is an in-depth overview of the Betsafe betting app's sportsbook for mobile. Step-by-step download instructions, distinctive features, tips & recommendations – keep on reading our unique article.
Not available in your location
Try these bookmakers instead:
Before reading this extensive review, you may want to get familiar with our general introduction to the Betsafe bookmaker.
Classic desktop version aside, Betsafe maintains 3 alternative platforms for online betting:
Mobile site
iOS app
Android app
While the functionality is largely similar to the main site, there are certain unique features of the native apps which are worthy of exploring in advance. Let's dive right in!
Strangely enough, the default page of the Betsafe mobile site neither advertises the mobile applications nor refers to them at any point. Still, high-quality Betsafe apps can be installed for both iOS & Android.
Press Download
Accept the installation -> If your phone protests, go to the settings to enable "Downloads from Unknown Sources"
Enjoy your application!
The Betsafe app download can't be done officially via the Play Market due to the current prohibition of real-money betting apps.
Nonetheless, by googling "Betsafe App", the very first result will lead you to the mobile app page – Betsafe .apk for Android file can be downloaded here for free.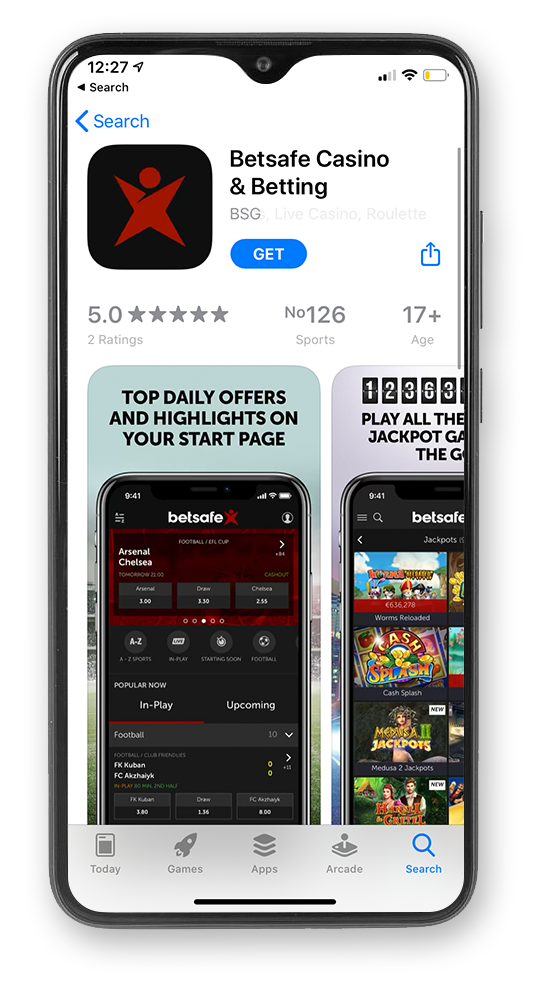 For iOS devices, the installation might require additional manipulations.
Step 1 — Go to the App Store and search for "Betsafe". In case you found the desired app, download it and engage in the first-class betting experience.
Step 2 — If no Betsafe app showed up, change your Apple ID's country location to install the application file from another region's market: do not worry, it's an extraordinarily simple operation.
Step 3 — Go to Settings -> ITunes & Apple ID -> Apple ID: -> View Apple ID
Step 4 — Tap on Country / Region -> Change Country or Region -> select Malta in the list
Step 5 — Agree to the Terms & Conditions. Now, enter the following data in the form:
Payment Method – None
Street: Pieta
City: Gwardamanga
Postcode: SNG 2302
Phone: 21376774
(as an alternative, search for a generated address in Malta)
Step 6 — Press Done
From this moment, your App Store market is Maltese – there, the "BetSafe Casino & Betting" mobile app is openly available for download.
After installing the app, you are free to change the address back to normal without losing access to the Betsafe application.
Opening the app for the first time, every bettor will be stunned to learn there is no difference from the browser Betsafe mobile version. Amazingly, the site's structure was transferred into the native apps almost to the last detail – and it works faster and smoother as an installed application.
Meanwhile, some innovations are noticeable. For instance, the convenient login methods via a 4-digit PIN that works exclusively from your device has been introduced for app-users only. Also, a FaceID sign-in is supported in case you own one of the latest iPhone versions.
Besides, one can't stop noticing casino and poker advertisements and promotions obtrusively shown all over the place – naturally for an app with three distinct directions-to-play mingled together.
Choosing between the visually similar native app and browser site, the former deserves a victory at least due to the faster service and a handful of new handy features.
Betsafe's app performance is running smoothly to the point of amazement! Absolutely no significant glitches were faces during our test.
In case you enjoy a more or less stable connection and a decent smartphone, an enjoyable betting experience is guaranteed.
From the app's starting page, tap on the large "LOGIN" button.
Two sections will come up: Password and Pin. For the first time, you'll need to sign in via email and passcode – then, a short PIN-code may be set up and used as a shortcut for future access.
Conveniently, the "Hide/Shown" feature is situated on the password-bar, so it becomes easier to enter your private data correctly. The classic "Forgot Password?" function is also in place.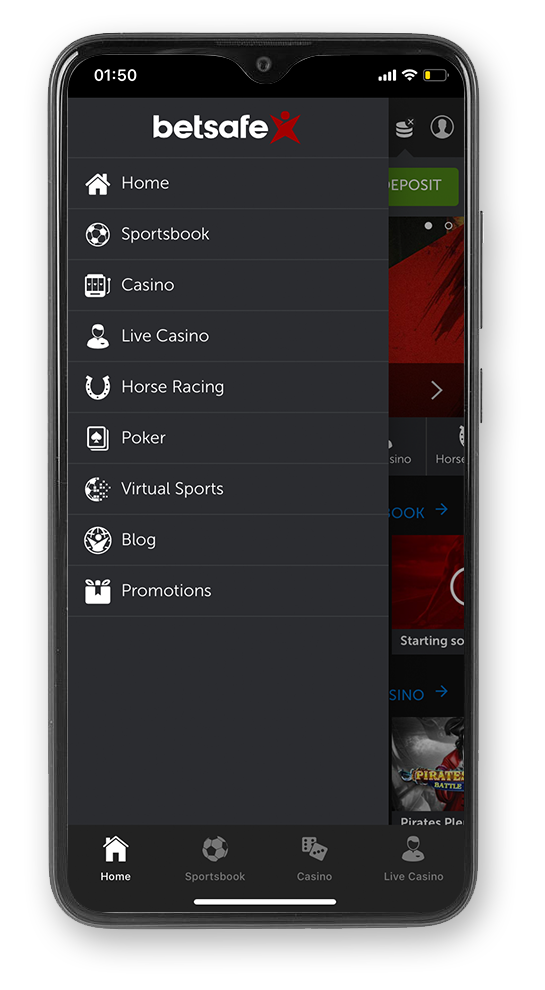 Given that Betsafe's sportsbook is not its main focus, the range of supported sports feels quite limited yet justified. In total, 10 major sports categories are maintained, divided among comfy In-Play and Upcoming sections.
The bet slip page is designed in an intuitive way in the palette of the app colours. Single, Accumulator (2+ bets), and Multiples (3+ bets) can be placed. Notably, in some countries, the service has to charge an additional tax for certain types of bets, which is shown in the bet-calculator. Keep tabs on it!
Apart from that, make sure to check out the virtual-sports games category! Around 10 fresh virtual types of matches with an "Instant Stake" feature supported will certainly dilute your experience.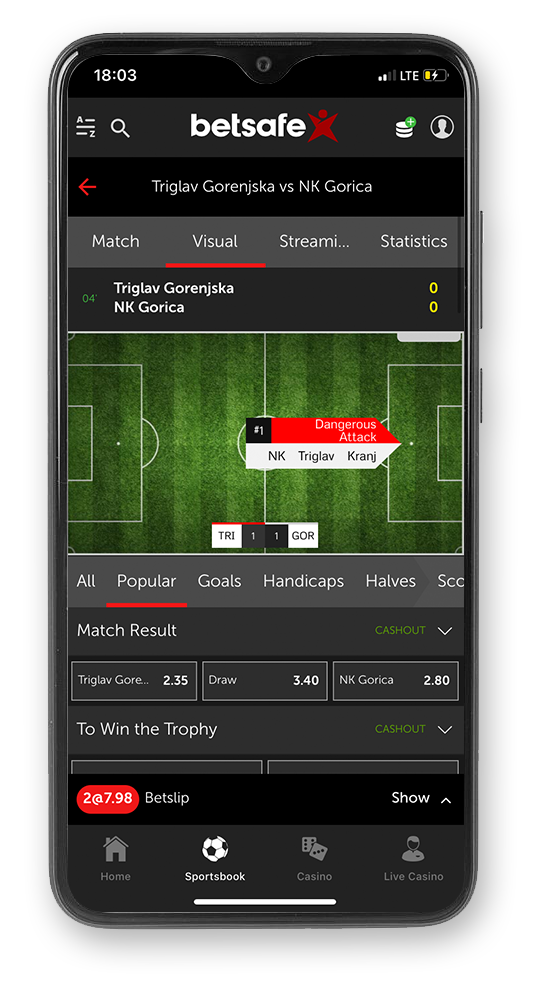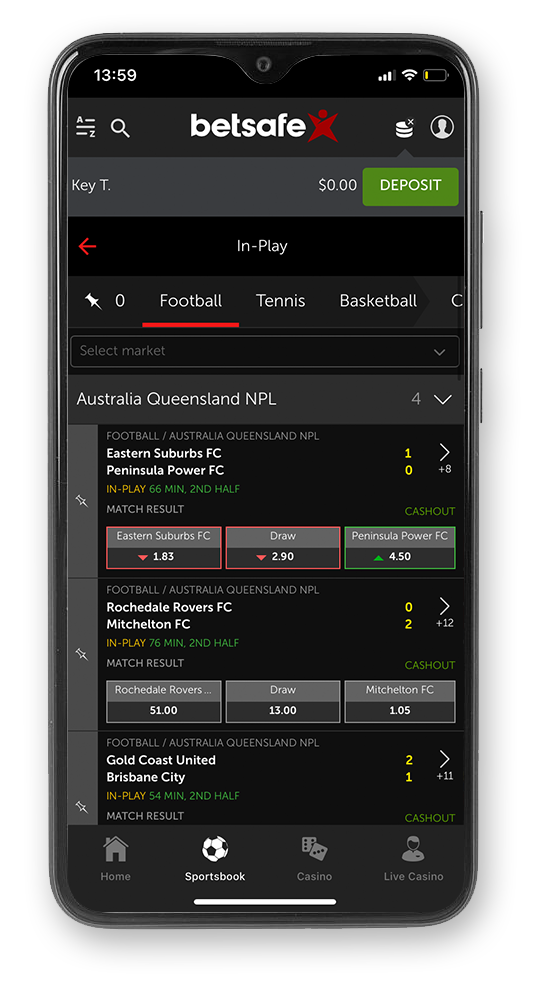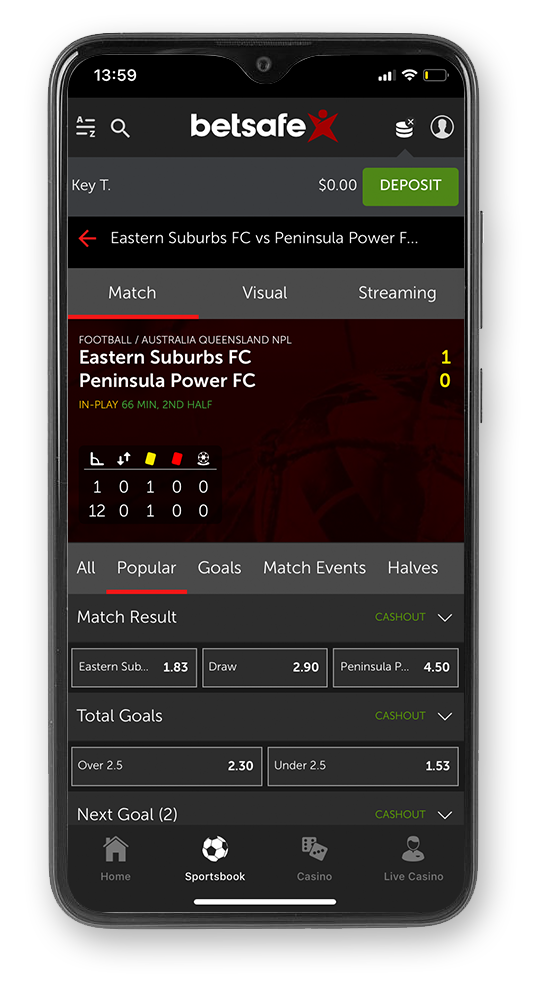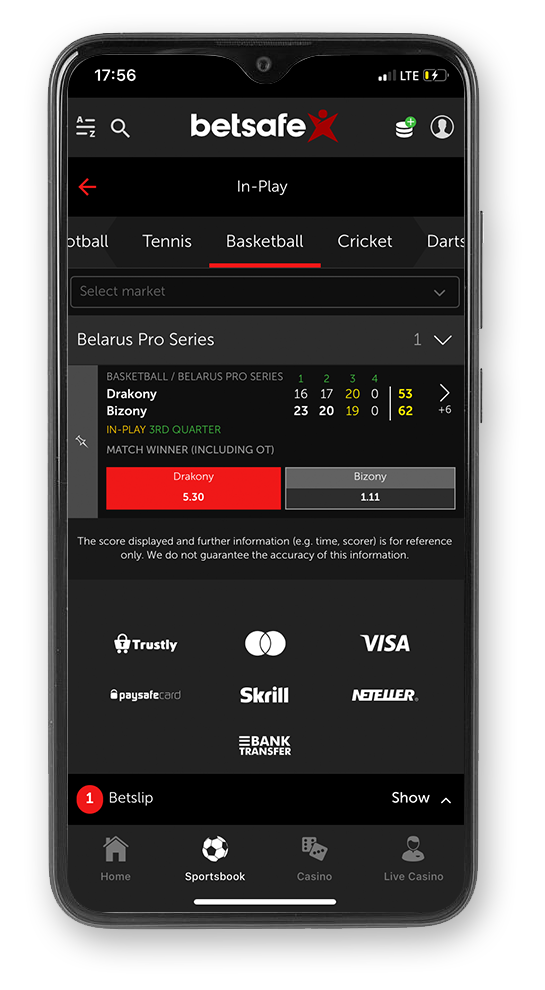 Betsafe's live interface usually provides for a short match overview (goals, red & yellow cards, corner kicks, etc.), on-air emulated visual, live stream, and detailed statistics. Sadly, in the unstable times of the COVID-19 pandemic, most of the live broadcasts are not conducted – therefore, the "Visual field emulation" feature is of great use. When selecting the statistical tab, we have always received the "Domain not licensed" error.
Hope it comes back to normal in the nearest healthy future!
In the tested country, 7 deposit methods were accessible:
Mastercard

Neteller

Skrill

Bank Transfer

Giropay

Paysafecard

Sofort
As an advantage, the transactions are processed instantly. Still, two surprises here: VISA can't be used for cash-ins, and the minimum deposit sums are either $10 or £10 (not a lot better!).
Even more scarce the withdrawal methods are: just two bank transfer options were proposed with the least accepted sums of 20 and 30 dollars.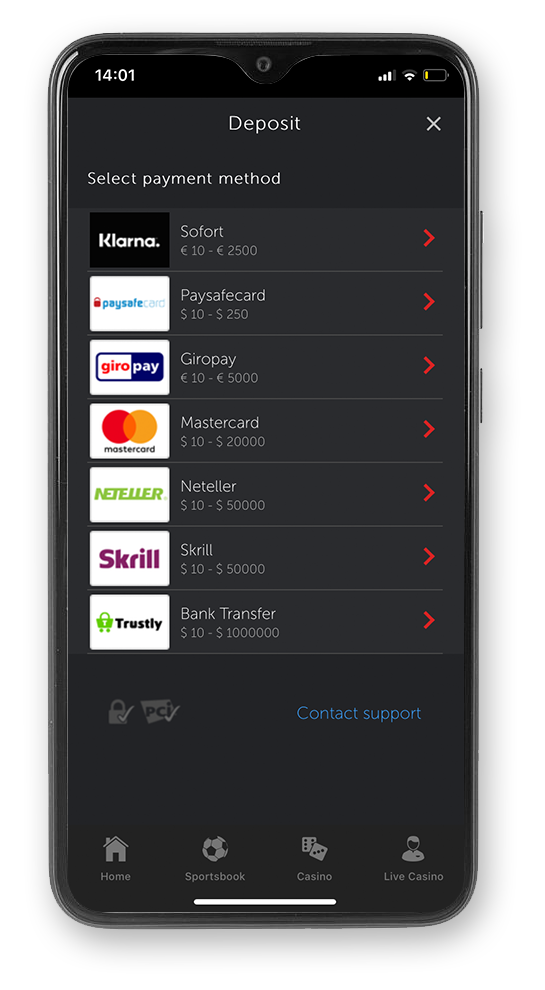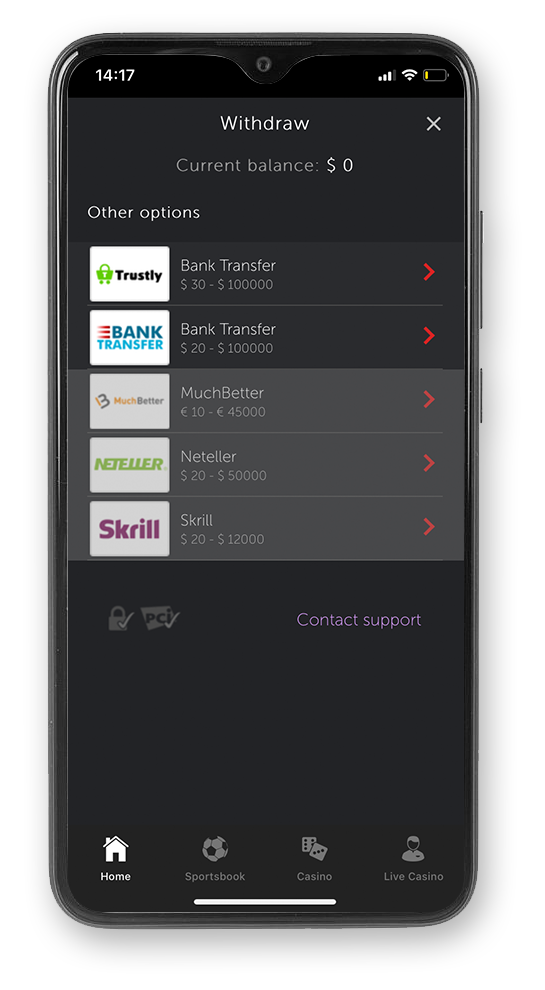 Deposit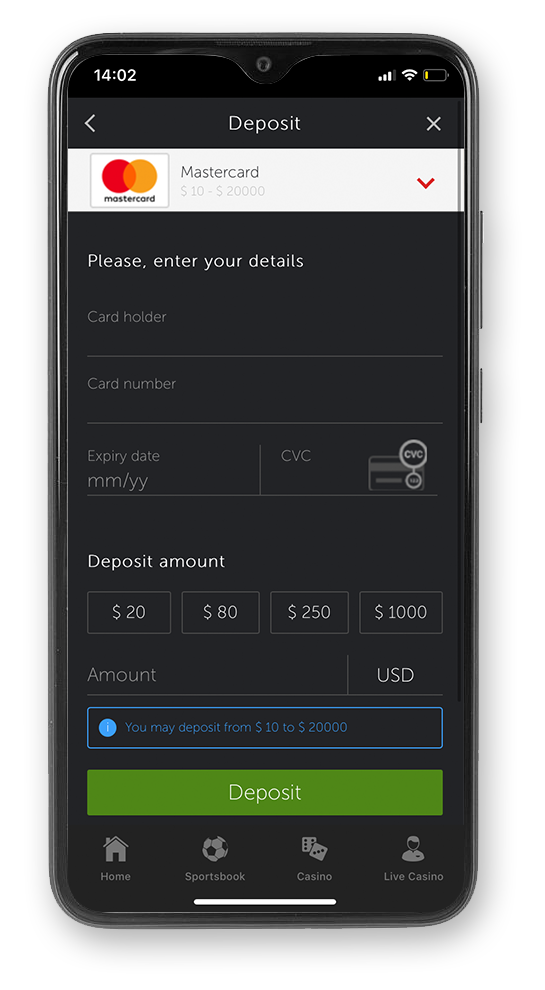 Withdrawal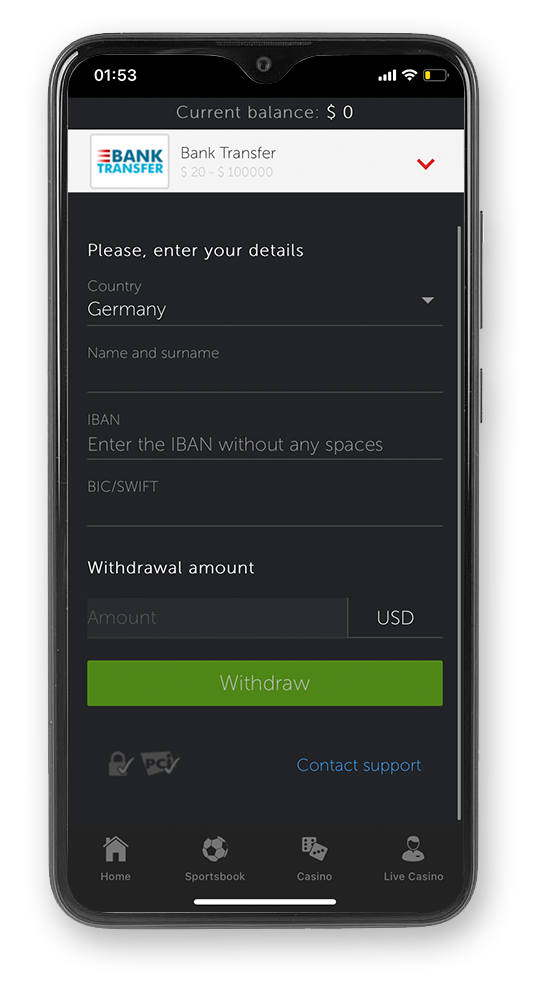 A major weakness of the Betsafe app is automatic redirection for any support-related issues.
Help Centre (FAQ)

Live Chat

Call-back Request

Email Address
All can only be accessed via a mobile browser, where you would need to log into your account once again.
In case you turn to the online chat option, expect it to take around 15 minutes for an uncommon issue to be resolved. Initially, a bot will scan your question, trying to find a readymade answer – if it does not succeed, you'll need to retype your request once again to a real assistant.
Unfortunately, call-back orders (a fine substitute for the lengthy live assistance) were unavailable during our field test. Still, try it out when the need arises!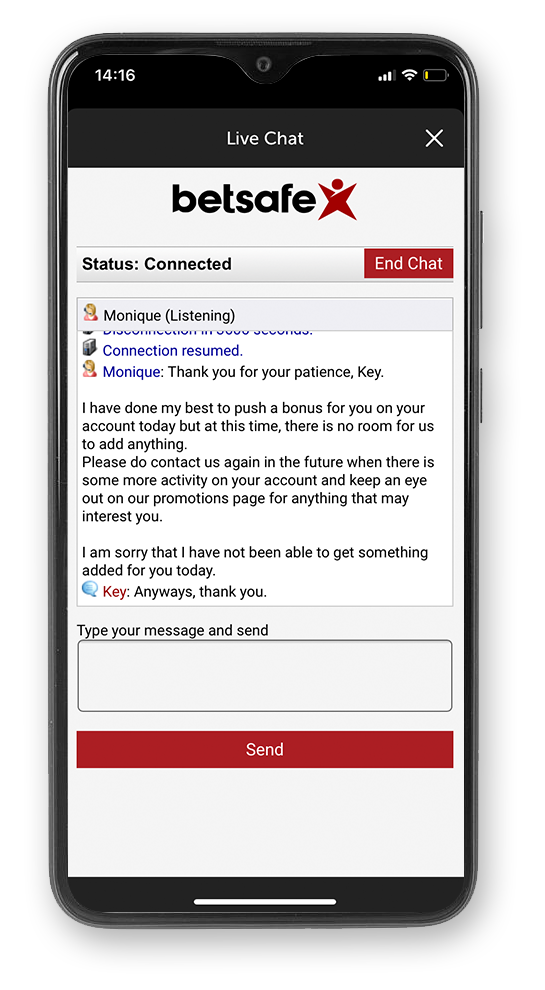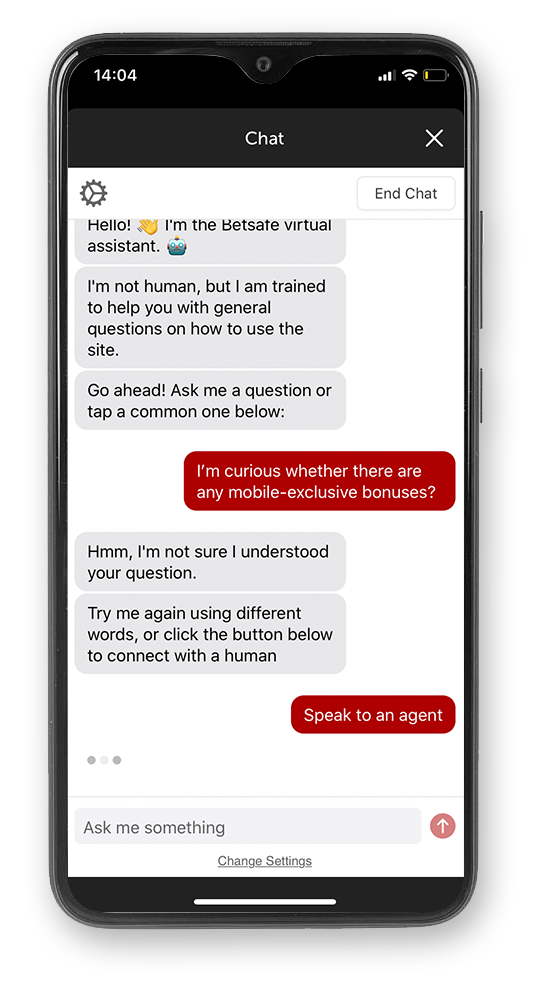 Being one of the most aesthetically pleasing apps, the Betsafe mobile app implementation ought to be called a successful enterprise. Even though the sportsbook might lack the diversity of sports offers for some, the platform remains strong positions for both newbies and professionals in the betting industry.
Now, a final summary of major ups & downs:
Advantages
Fully adapted mobile service
Innovative ways for swift login
Quality & interactive design
Cutting-edge virtual games
Limitations
Sportsbook mixed with casino games in one app
Extremely restricted payment spectrum