Parimatch UK Review
Advantages:
Wide range of markets

iOS & Android app available

Fair odds

Four differen welcome bonuses
Payment Methods:
T&C apply. Gamble Responsibly 18+
Parimatch UK LIVE betting
Parimatch UK offers a comprehensive live betting service to its users, which allows them to place bets on sporting events in real-time. This means that users can bet on a game or match as it is happening, with odds that are constantly updated to reflect the current state of play.
Overall, the live betting service at Parimatch UK is highly intuitive and easy to use, with a wide range of sports and events to choose from. In this article, we will reveal all the secrets of the bookmaker. Also, to compare the offers of the bookmaker with other sites, see list bookmakers UK.
Types of live games at Parimatch UK
The live betting service at Parimatch UK covers a wide range of sports, including:
Football
Tennis
Basketball
Cricket
Users can access the live betting section by clicking on the "In-Play" tab on the Parimatch website or mobile app. More information can be found on the Mighty tips website.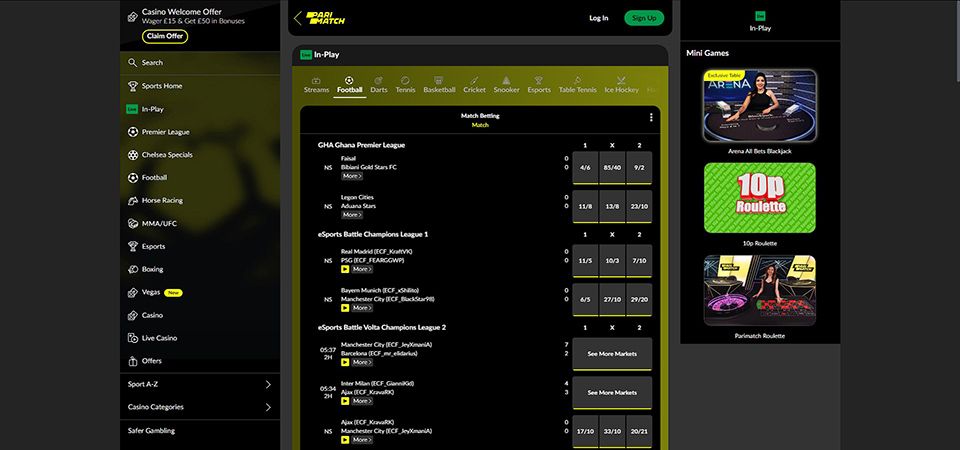 Parimatch UK online casino offers a wide range of games, including slots, bingo, table games, and live dealer titles. The casino is licensed by the UK Gambling Commission and provides a safe and secure gaming experience for players. Alsom it has partnerships with leading slots providers, including NetEnt, Microgaming, and Evolution Gaming. This ensures that players have access to a diverse range of high-quality titles with smooth gameplay and engaging graphics. In addition to its games, Parimatch UK casino offers various promotions and bonuses for new and existing players, including welcome bonuses, free spins, and cashback offers. The casino also has a loyalty program that rewards players for their gaming activity on the site.
Blackjack
The website offers 13 types of live blackjack where you can bet from £1 to £1000. A wide variety of variations of this classic board game are available to the attention of users, including American Blackjack and the famous Lightning Blackjack. In addition, 24 online slots are available on the site, in which the most daring and innovative ideas of providers are implemented, striving to make this game even more interesting.
Roulette
The site has 43 types of online roulette, including the newest and most advanced slots. The user also has access to 22 types of live roulette, where you can place bets ranging from £0.2 to £1000. This section of the website is constantly updated with new releases.
Baccarat
As for baccarat, the casino can offer 6 types of this famous game. The list includes several varieties, including Speed Baccarat and options that include side bets. In general, baccarat is not very popular among casino visitors, so the site administration pays more attention to the development of other areas.
Slots
There are really a lot of fun slots at Parimatch UK casino. The site offers Drops&Wins, poker, lottery and Megaways games, as well as keno, jackpot titles and scratch cards. In addition to hot new products, Parimatch UK has many exclusive slots that are available only on the company's website.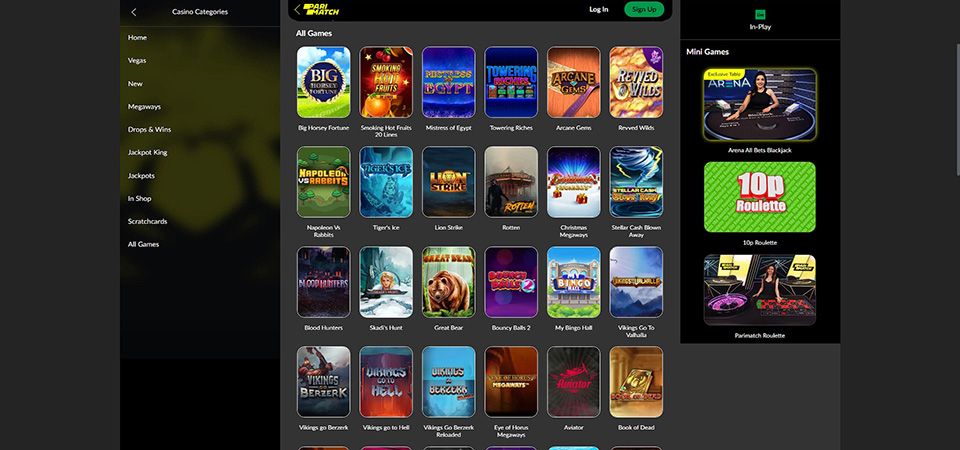 Parimatch UK bonuses & promotions
Parimatch UK offers best bonuses and promotions to both new and existing players. Advertisement about this can be seen on the main page of the site. New customers can get up to 4 different welcome bonuses, each of which makes bets much more profitable and gives you the opportunity to get acquainted with the features of the bookmaker.
Sports welcome offer
The bookmaker offers beginners to place a bet of £10 to get four free bets worth £5. The bonus is valid for 7 days from the moment it was is activated. Bets must be placed on sporting events with odds of 2.00+.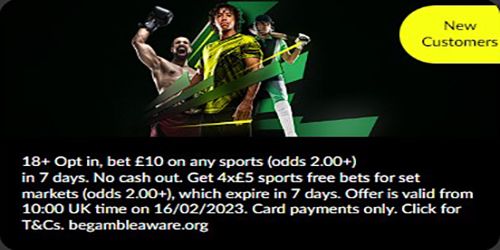 Combat sports offer
This offer is only valid for betting on boxing and other combat sports. You can bet £10 and get 4x £10 free bets for similar markets. Freebets will expire 30 days after they are received.
Esports welcome offer
Esports fans can place a £10 bet and get a £15 free bet for any esports markets excluding esports battle. In addition, they will receive a £10 free bet for betting on FIFA football Battle markets.
Football offer
Special offer for football fans. Players can place 3 bets on one of the three football markets. If they all lose, you will receive a £10 refund. We recommend that you read the current football tips before placing bets. In addition, the bonus also includes £10 for online slot games with a 35x wagering requirement.
ACCA bonus
An excellent offer for people who like to make several bets at once, united by one sport. By betting an Acca of 5 or more English League games, you can get up to a 40% bonus to your winnings. This bonus is available weekly so you always have a chance to win up to £500.
Run for your money
Entertaining bonuses are available even to those who lose. This offer will be of interest to fans of horse racing. If your horse drops out of the race at the start, you can get a full refund of your bet.
Parimatch UK Odds & Margins
Parimatch UK offers competitive odds on a wide range of sports and events. The odds are set based on various factors, including the teams or players involved, recent form, injuries, and other relevant factors. They are often in line with or better than those offered by other leading bookmakers in the industry.
In terms of margins, Parimatch UK generally has a margin of around 4-6% on most sports. This means that the bookmaker takes a commission of around 4-6% on each bet. However, it's worth noting that the margin can vary depending on the specific market and event. Some markets may have a higher margin than others, depending on the level of competition and the complexity of the market.
It's important to note that the margin is essentially the commission that the bookmaker takes on each bet. Therefore, the lower the margin, the better value the odds are for the player. Overall, Parimatch UK offers competitive odds and margins that will satisfy most of the bookmaker's customers.
Betting margin
Football

4.05%

Basketball

4.34%

Hockey

5.12%

Tennis

4.84%

Baseball

6%

Volleyball

5.89%

MMA

4.01%

Handball

4.75%

Cricket

5.32%

Boxing

5.74%

Rugby

4.91%

Horserace

5%
Overall betting margin: 5%
The bookmaker offers a mobile app for iOS and Android devices, which can be downloaded from the App Store or Google Play Store respectively. The app has a range of features and benefits for customers, including the ability to bet on sports and play casino games on the go. With the Parimatch UK app, customers can easily access their account, manage financials, make deposits and withdrawals, and place bets on a wide range of sports and events. The app also offers a range of casino games and virtuals including slots, table games, and live dealer titles.
The application has been developed to provide a straightforward and convenient user experience, featuring a sleek and contemporary user interface that is effortless to operate. It also offers a range of features to enhance the betting experience, such as live streaming, in-play betting, and cash out. It is worth noting that the best apps uk offer a similar service.
Android app: yes
iOS app: yes
You can play in the iPhone App

iPhone App
More
You can play in the Android App

Android App
More
You can play in the Mobile Browser

Mobile Browser
More
You can play in the Opera Mini

Opera Mini
More
Parimatch UK Usability & features
The Parimatch UK website has a user-friendly interface that is designed to be easy to navigate. The homepage provides you with quick access to the most popular sports and betting markets, as well as a range of live events that are currently taking place.
The platform offers a range of betting options, including pre-match and live betting, as well as a variety of betting markets, such as win/draw/win, over/under, and more. The website also provides users with detailed information on upcoming events, including team statistics, player information, and more, to help users make informed betting decisions.
Generally, Parimatch UK offers a range of features and options for sports betting enthusiasts, with a user-friendly interface, live betting, mobile responsiveness, and great customer support. The platform is designed to be accessible from anywhere, at any time, making it easy for users to place bets and manage their gambling activity.
Live streams are available to registered users only
Slightly confusing In-play page interface
Parimatch UK: Sports to bet on
As an online sportsbook, Parimatch UK offers a wide range of sports and events to bet on, including football, tennis, basketball, cricket, horse racing, and many more. The platform also offers live betting, which allows users to place bets on games and matches in real-time. It is a reputable and reliable platform for sports betting and online gaming, with a strong emphasis on user experience and customer support.
The width of the betting lines at Parimatch UK can vary depending on the sport, event, and market. In general, the platform offers a range of betting lines that are competitive with other leading sports betting platforms. For popular sports like football, basketball, and tennis, Parimatch UK offers a wide range of betting markets and options, including traditional ones like win/draw/win, over/under, and handicap, as well as more niche markets like first goalscorer, correct score, and more. This provides users with a diverse range of options to choose from when placing their bets.
For less popular sports and events, the range of betting lines may be narrower, but Parimatch UK still offers a variety of markets and options to cater to different user preferences.
Parimatch UK Popular Types of Bets
Parimatch UK offers a wide range of sports to bet on, including:
These sports cover a variety of leagues, tournaments, and events from around the world, providing users with a diverse range of betting options. Users can also access detailed information on upcoming events, including team statistics, player information, and more, to help them make informed betting decisions.
Parimatch UK is a licensed and regulated online sports betting and gambling company that operates under the jurisdiction of the United Kingdom Gambling Commission (UKGC). The UKGC is a well-respected and strict regulatory authority that sets high standards for online gambling companies operating in the UK market.
Furthermore, Parimatch UK is also a member of the European Betting and Gaming Association (EGBA) and the International Betting Integrity Association (IBIA), which are two organizations that promote fair play, responsible gambling, and integrity in the online betting and gaming industry. Overall, the fact that Parimatch UK has licenses and regulated by the UKGC and is a member of reputable industry organizations suggests that the company has taken steps to ensure its credibility and maintain a trustworthy reputation in the online gambling industry.
Payment methods: Parimatch UK deposits & withdrawals
Deposits
The company offers an optimal choice of payment methods, including operations with debit and credit cards, as well as PayPal. The bookmaker accepts Visa and Mastercard. Any transaction is carried out using a secure link between the website and the bank. This provides additional security for all financial transactions on the site. In addition, the bookmaker has not set any limits on deposits.
Withdrawals
To withdraw winnings, you can use the same payment methods as at the time of the deposit. As a rule, transactions are carried out instantly, or within the time specified in the rules of a particular payment system. The minimum withdrawal amount is £5 and the maximum is £30,000.
FastFunds withdrawals
The company offers a unique FastFunds option that allows you to withdraw your winnings within 30 minutes of your application being approved. The function is available to users with Visa bank cards. At the same time, the FastFunds option must be supported by your bank.
| | | |
| --- | --- | --- |
| £5–n/a | Instant | 0% |
| £5–n/a | Instant | 0% |
| £5–n/a | Instant | 0% |
| £10–n/a | Instant | 0% |
| ❌ | ❌ | ❌ |
| | | |
| --- | --- | --- |
| £5–n/a | Up to 1-3 days | 0% |
| £5–n/a | Up to 1-3 days | 0% |
| £5–n/a | Up to 1-3 days | 0% |
| £5–n/a | Up to 24 hours | 0% |
| £5–n/a | Up to 5-7 days | 0% |
When it comes to customer support, Parimatch UK offers various channels for players to get in touch with their support team. These channels include:
Live Chat: The bookmaker has a 24/7 live chat feature on their website, which allows players to contact their customer support team instantly. The live chat feature is easily accessible from the website and mobile app.
Email Support: Players can also email the support team at support@parimatch.co.uk. The objective of the company is to ensure that all emails are attended to within a time frame of 24 hours.
Social Media: Parimatch UK is active on social media, and players can contact their support team through their social media channels, including Twitter and Facebook.
Phone Support: Parimatch UK also offers phone support to its players. Players can call their customer support team at +44 203 807 8274.
Generally, Parimatch UK offers a comprehensive customer support system that is available round the clock, allowing players to get assistance whenever they need it.
Parimatch UK, like most reputable online gambling and sports betting companies, requires account verification as part of its security measures and to comply with regulations. Account verification helps to ensure that only eligible and authorized players use the site and prevents fraud, money laundering, and other illegal activities.
Withdrawing without verification
It's important to note that you will not be able to make withdrawals from your account until it is verified. Therefore, it's recommended to complete the process as soon as possible after creating the account to avoid any delays when you want to withdraw your winnings.
Verification documents
To verify your account on Parimatch UK, you will need to provide some personal information and supporting documents, including:
Identification documents such as a passport, national ID card or driving license.
Proof of address, such as a recent utility bill, bank statement or other official documents that show your name and address.
In some cases, you may also be required to provide additional information or documents, such as proof of income or source of funds.
Once you have provided the required information and documents, Parimatch UK's verification team will review your details and may contact you if any additional information is needed. The verification process usually takes a few business days, depending on the volume of verification requests.
Parimatch UK Betting Markets: Short guide
The site covers a variety of sports, including popular sports like football, tennis, basketball, and cricket, as well as lesser-known sports like handball, futsal, and table tennis. Here are some of the key betting markets available on Parimatch UK.
Over/Under (Totals)
This is a popular betting market where you bet on whether the total number of goals, points or runs scored in a match will be over or under a certain number.
Asian Handicap
In this type of betting, a handicap is given to the underdog to level the playing field. It effectively gives the weaker team a virtual head start, which is reflected in the odds.
Accumulator Betting
To win an acca bet, all individual wagers within the bet must win. Accumulator bets often offer higher payouts than individual ones since the odds of winning it are lower.
Point Spread
The point spread is a handicap that the favorite team must cover to win the bet. For example, if the point spread for a football game is -3, the favorite team must win by more than three points for the bet to win.
Money Line Bets
Money line bets do not involve a point spread or any other handicaps. Rather than anything else, you are placing a bet solely on the team you think will emerge as the winner.
Prop Bets
Prop bets can cover a wide range of topics, including individual player performances, the length of the national anthem at a sporting event, or the color of Gatorade poured on the winning coach at the Super Bowl. Prop bets are often offered for major events and can add an extra level of excitement to the betting experience.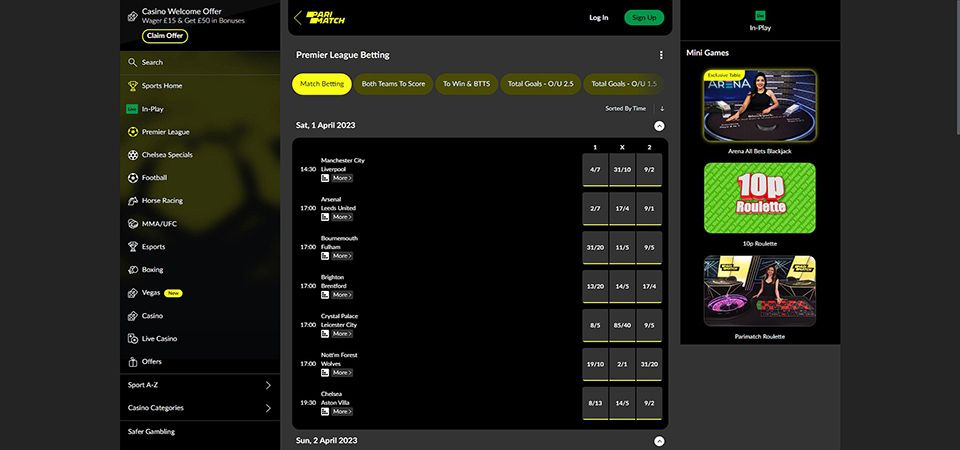 Parimatch UK: Licensing and regulations
Parimatch UK has obtained a license from the UK Gambling Commission, which ensures that the company adheres to strict standards of fair play and player protection. The license also ensures that Parimatch UK operates in compliance with all relevant UK laws and regulations.
Personal data security license
In addition to the license from the UK Gambling Commission, Parimatch UK also adheres to various other regulations and standards. For example, the company is required to comply with the EU's General Data Protection Regulation (GDPR), which governs the collection, use, and storage of personal data.
How to place a bet in Parimatch UK?
To place a bet in Parimatch UK, you can follow these steps:
Register and fund your account
Choose your sport and event
Choose the market
Place your bet
Watch the action and wait
If you win, Parimatch UK will credit your winnings to your account.
How to sign up in Parimatch UK?
If you're not already a member of Parimatch UK, you'll need to create an account.
Click "sign up" button

At the top right of the screen is where you can find this button.

Fill in all required fields

Follow the on-screen prompts to do it the right way.

Verify your account

Submit all requested documents for verification.

Well done

You are now a full member of the Parimatch UK club.
Is Parimatch UK Trustworthy? Final thoughts
Overall, Parimatch UK appears to be a trustworthy and reputable online sports betting and casino operator. The company is licensed and regulated by the UK Gambling Commission, which ensures that it adheres to strict standards of fair play and player protection.
Parimatch UK also uses advanced security measures to protect its players' personal and financial information. The company uses encryption technology to protect data transmitted between users and the website, and it adheres to industry-standard security protocols.
Overall, while there is no online gambling operator that is 100% risk-free, Parimatch UK appears to be a trusted and reliable option for those looking to bet on sports or play casino games online.
Advantages
Licensed and regulated
Wide range of markets
User-friendly website
Competitive odds
Limitations
Limited casino game selection
Restricted in some countries
Bookmaker reviews by players