22bet registration – how to sign up & log in
22bet registration ‒ a step-by-step guide
Click any 22Bet link on this page
Select the register button on the homepage
Complete the registration form
Create a username and password
Your betting account will be confirmed and ready to use
That's how to register at 22Bet in the quickest and safest way possible. After reading our review, you should follow these steps closely to gain your online betting account with 22Bet and get the best welcome bonus available. 
When reviewing the 22Bet website and mobile site, we were impressed and wanted to share why with our readers. When reviewing established and new online betting companies, it's very rare that we come across one that captures our imagination the way that 22Bet does. We were excited by this and wanted to ensure that as many bettors as possible give them a try.
We understand that you may already have an online betting account and, perhaps, don't have the time in your busy day to go through the registration process again. This is why we aim to do the heavy lifting. We've done the homework needed to present you a shortcut to creating a 22Bet account, as we want you to spend less time signing up and more time seeking out the value, reading previews and placing bets. The 22Bet sign-up steps help you do that.
By the end of this article, you won't just be familiar with the ins and outs of the 22Bet registration process, you'll have a strong understanding of the welcome bonus available and how you can secure your share. This is your one-stop for all the information you need on betting with 22Bet and getting the most from the service.
How to register at 22Bet in 4 easy steps
Registering with a website is the number one thing you should seek to do if aiming to bet with a bookie. Perhaps you'd like a fast signing-in experience and a quick briefing on how to achieve this? If so, you're at the right place. Just follow us with our simple explanation below.
Step 1

Download or boot up the application. First of all, make sure you've got access to 22Bet on either desktop or mobile, no matter which, this will be the first step to take.

Step 2

Find the registration button. Close to the login, you'll also find the option to register an account. Clicking this will take you to the registration page.

Step 3

Fill in the details. Once you've entered the page, fill the page in with your details and verify your account via email or mobile.

Step 4

Click on Register. When you've filled everything in, you can then register your account with the final option to do so at the bottom of the page.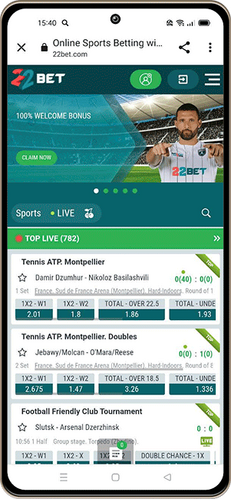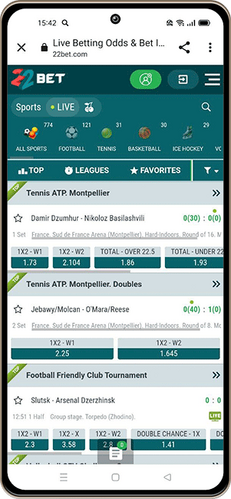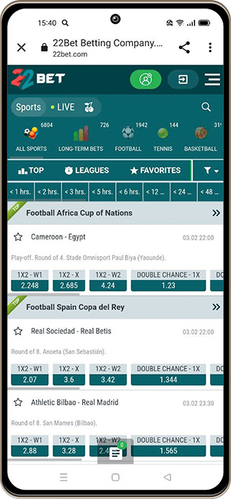 What you should know about 22Bet sign-up requirements
As all bookies need them, you will have to provide 22Bet with your default information, which is usually your date of birth, address, and postcode. This will then lead to additional requirements such as creating your username and password.
As far as we're aware, the process is very simple and robust, with nothing too complicated getting in your way. Their verification isn't difficult, meaning an ideal scenario for new players especially, who will avoid wasting so much time creating an account.
| | |
| --- | --- |
| 📧 Requires email | ✔️ |
| 📲 Requires phone number | ✔️ |
| 🤳 Requires ID scan | ❌ (for registration) |
| 🧾 Requires scan of a utility bill | ❌ (for registration) |
| ℹ️ Types of support | 🆘 live chat / phone / e-mail |
| 🎁 Welcome bonus | ✔️ first deposit  |
We've already touched on the registration process at the top of this article, but that was just a quick introduction to the process to show you how easy it is to get started. We'll now take a bit more detailed look at how to register. Remember, you can use these steps on your home computer or mobile device and must complete registration only once.
Step 1

Click any link on this page. Throughout this article, you'll find links that will securely take you to the 22Bet register page. Click any of them to get started.

Step 2

Hit the 22Bet registration. At the top of the homepage, you'll find the button to register an account, which you should click.

Step 3

Fill in the registration form. Complete the registration form by filling in your name, date of birth and postcode.

Step 4

Create a username and password. The username and password you create here will be used every time you visit your account, so don't forget them.

Step 5

Deposit and bet. Choose your deposit method – debit or e-wallet account, make your first deposit, and then bet on sports.

Step 6

Receive your welcome bonus. Your welcome bonus free bet will be added to your account balance and can be used to gamble on your favourite sports.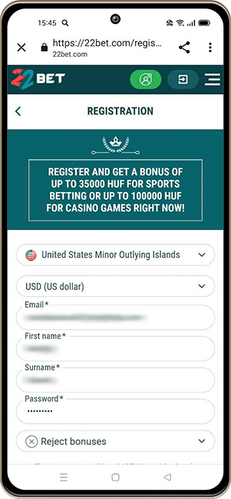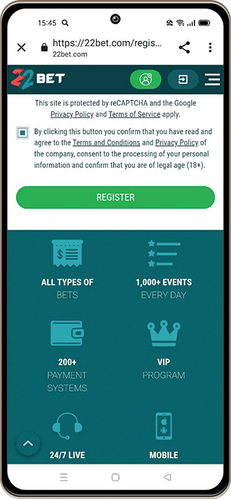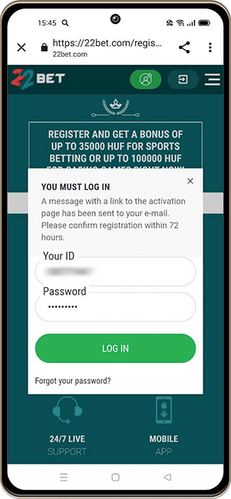 How to join 22Bet on desktop/mobile
The 22Bet team is shrewd, understanding the importance of signing you up quickly and allowing you to get on with the enjoyment of placing pre-match and in-play bets, grabbing promotions and collecting your profits. Consequently, the sign-up process is streamlined, easy and hassle-free. Follow our advice and you'll be on the site and betting in no time. 22Bet, together with our writers, has made every effort to give you a smooth ride.
You can bet on your favourite sports, including football, tennis and rugby, using your 22Bet login at home or when on the go. Access the website from your home computer or take advantage of the mobile site, turning everyday situations into an enjoyable sports betting experience. With the 22Bet mobile site, you can gamble from anywhere in the country. 
We've detailed the steps to register for an account above, and the great news is that you only need to complete the process once. When registering, you are doing so for a 22Bet account that will provide you with login details on the website or mobile site. You are free to access your account on any device at any time and are in complete control of your betting experience.
The process of signing up is the same on mobile as it is on the website. Follow the steps at the head of this review and you'll have an account in minutes.
You have your 22Bet account registered and you're ready to start betting. Do you have to go through the process every time you want to make a bet? It could become very dull, very fast. Thankfully, this is a one-time thing. On future visits, you simply login to your account using the username and password you created at registration. 
Plus, some modern mobile devices speed up the login process further with face recognition or fingerprint technology. This isn't available on all devices, however. Below, we explain the steps involved in logging in to your account quickly and securely.
Step 1

Visit the 22Bet homepage. Type the 22Bet URL into your device's web browser.

Step 2

Click the login button. At the top right of the homepage, you'll find the login button. Click it.

Step 3

Enter your username and password. Add your username and password; the same details you decided on when creating the account.

Step 4

Access your account. You'll see your username at the top corner of the homepage, confirming you are logged into your account.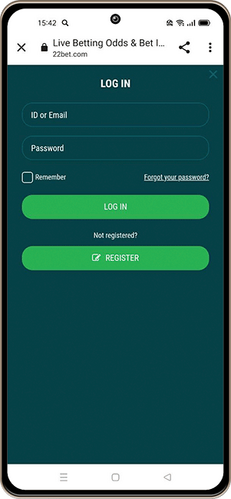 You now know how to join 22Bet but why should you join them? What do they do differently from other sportsbooks on the market? Let's be honest, to the untrained eye just about every betting site and mobile app looks the same. But it's the little differences that have a huge impact on your betting experience.
We could talk about the secure login process and wide range of payment options, the plethora of sports and betting markets available, or the jaw-dropping welcome bonus free bet that is reserved for new customers. 22Bet has all these points covered and that's why we're big fans of the site. 
We choose to focus on something a bit different, however.
22Bet is a bookie that does it all. They even provide you with winning tips to bet on the site. That's truly unique.
You will have noticed we've mentioned the sign-up bonus or the welcome bonus a few times already, but what is it? A sign-up bonus is offered by most reputable betting firms and often comes in the form of a free bet.
This is a promo aimed at enticing you into creating an account with one bookmaker, choosing them over the competition. They come in many different shapes as sizes as bookies strive to offer something different from the crowd. But the promo you'll find at 22Bet really is something special and we advise signing up now and getting your share.
Create an account at 22Bet by following our steps then making your first cash deposit and placing a bet on a qualifying sportsbook market, such as Premier League football. When your first bet has a result, you will receive your free bet.
This is a deposit-matched bet offer, which means your free bet will be equal to the value of your first deposit. For example, if you choose to sign up and place a bet of £50 on sports then a £50 free bet will be added to your account. Read the terms and conditions to ensure you have a full understanding of what is required.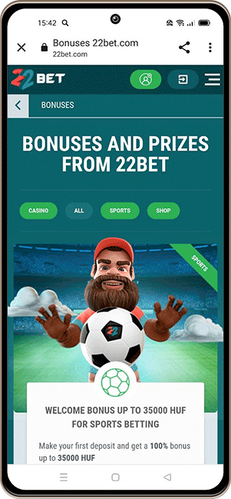 How to verify my 22Bet account?
You will be asked to verify your account, usually when requesting your first withdrawal of cash from 22Bet. This may catch you a little off-guard but it's all standard stuff in the industry and is there to protect you from identity fraud and the bookie from underage gambling. When asked to verify your account, you can do this quickly by taking a snapshot of an acceptable form of ID and emailing it to the customer care team to check.
What if I need help while creating an account at 22Bet?
If you ever require assistance when creating an account at 22Bet or on using any site feature, you can contact the customer services team by phone, email, or live chat. The latter is the quickest way to receive an answer. The staff are friendly and eager to assist on all matters relating to their sportsbook.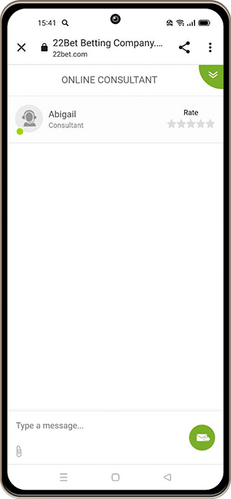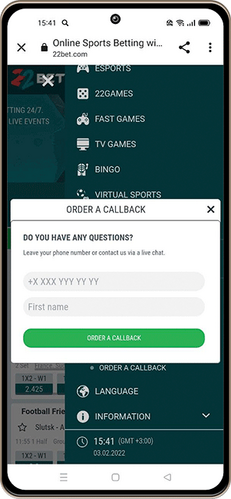 Possible problems with 22Bet registration
We don't envisage you will encounter any problems with the 22Bet registration process as it has been kept as simple and basic as possible. Most issues stem from user error but, if you need them, remember that the customer care team is available to help.
22Bet is one of our favourite online sportsbooks outside of the leading industry names. They have a real passion for customer service and share our values for keeping sports betting as easy and fun as possible. Give them a try today and get a free bet.
Read other registration guides: