Emirbet Review: Online Betting Site & Sportsbook in 2023
Advantages:
Excellent site layout

Massive welcome offer

Great promotional material

Responsible customer service
Payment Methods:
Throughout this review, readers will understand that the team at Mightytips rates EmirBet among the best top bookmakers in the industry. But before we dive into the nooks and crannies of how EmirBet stands tall in a crowded field, it's imperative to highlight one of the most essential facets of all live sportsbooks - the in-play product.
Having an intuitive and dynamic platform ensures bettors can get bets on quickly when reacting to any in-game action, such as a goal in soccer or an ace in tennis.
The Emirbet in-play model ticks those boxes and more! All live events are displayed clearly at the top of the Live Betting page - whether a player is on a mobile device or desktop, they can scroll across to find the sport they want in fewer than three clicks.
Most events have an accompanying in-play graphic, helping players see key stats, recent points/goals, and general match momentum, which can help people put their money where their mouth is and follow through with their predictions on football, basketball, or any other big event.
Types of live games at EmirBet
Football
Tennis
Basketball
American Football
Volleyball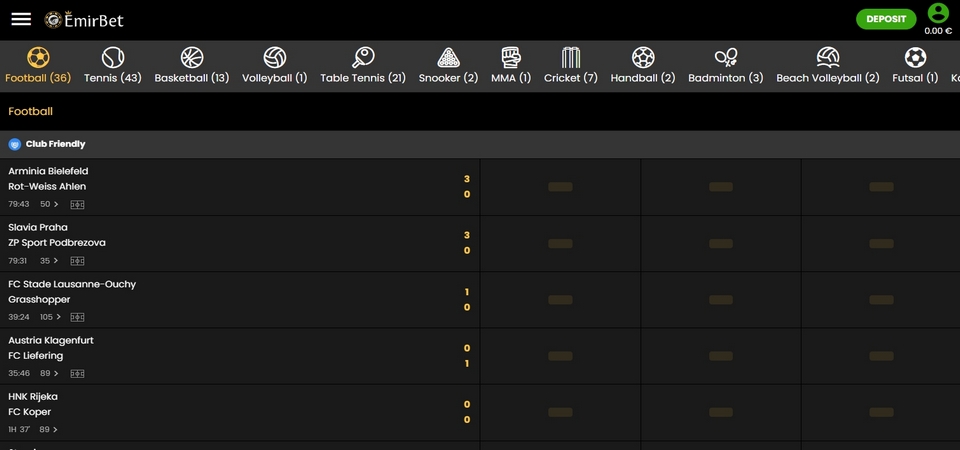 The advantage of having an excellent online casino that goes hand-in-hand with a sportsbook is it creates a broader gambling experience for the bettor while opening up more promotional material.
The entire focus of an operator should be to ensure a player gets good value for its custom - and EmirBet delivers in multiple ways.
Thanks to a collaboration with some of iGaming's most renowned developers, including Play'nPlay'n Go and Evolution, a spectacular selection of slots and classic table games are on offer.
Check below for the types of casino games available at EmirBet, a brief overview of how to play them for beginners, and other important information.
Blackjack
Playing live blackjack at an online casino is similar to playing in a real-life casino. The rules and strategies are typically the same. Players must get to as close as 21 without going over while beating the dealer simultaneously.
Players must start by selecting a stake size before picking a live blackjack table – there are various available, differing from minimum stake size to experience level.
Players must place a bet before the dealer deals out the cards before deciding to hit (ask for another card) or stand (stay with the cards they are dealt) when they are face up. Once all players choose, the dealer will reveal their face-down card.
Roulette
EmirBet is an excellent hub for playing live roulette connoisseurs. Players can select the Live Roulette option from the games menu. The next step is to choose which type of roulette game they would like to play from a selection of European, French, and American options.
Once the game of choice has been selected, players will be connected to an actual live dealer who is hosting the tables. Players will place their bets in real-time with a virtual interface that is easy to navigate. The dealers are professional and friendly, providing players with a truly immersive experience. At EmirBet, players can access exclusive features like chat rooms and special promotions.
Watch for modern twists of the roulette game, including Evolution'sEvolution's Lightning Roulette, which can multiply the stake size by up to 500x.
Baccarat
A classic of the live casino genre, baccarat is an easy game to learn, and it's all about predicting which cards will win: players, bankers or tie. Thanks to state-of-the-art technology put forward by partners of EmriBet, players can enjoy this classic game with real dealers in the comfort of their own homes.
The aim of the game is to get as close to the number nine as possible, using two cards (or possibly more, depending on the deal). The bettor can predict which side will win - the banker, the player, or if it will end in a tie.
Slots
There are thousands of exciting slots at EmriBet, each with an imitable design, unique mechanics, and - depending on the developer and slot - eyewatering volatility and maximum win potential.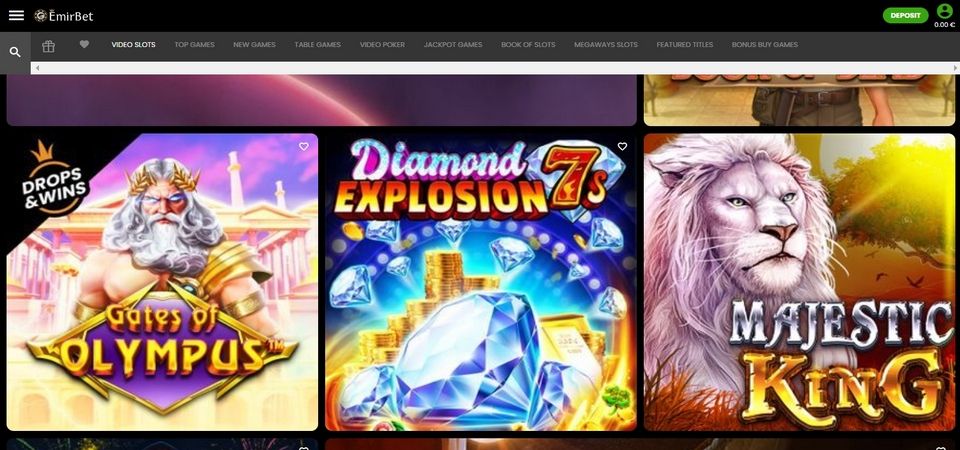 EmirBet bonuses & promotions
Emribet has lots of great sportsbook promotions that bettors can take advantage of. These promotions enhance the betting experience and give bettors more bang for their buck. Examples of the offers available at EmirBet include free bets, long-term bonuses, and special offers.
All bonuses at sportsbooks come attached with wagering conditions. Be sure to check the terms before signing up.
100% Welcome Bonus up to €100
Like most football sportsbook companies, new players can boost their balance on a first deposit thanks to a matched offer. To claim, new players must sign up to EmirBet, and make a first deposit of €10 or more. One crucial step is to enter the bonus code EMIR100 before proceeding with any qualifying deposit. Players can do this at the cashier.
Like all offers of this nature, they do come with terms and conditions - here are some of the key ones:
There are wagering requirements of 16x on the bonus funds before any winnings are withdrawable. For example, a customer deposits €10 and receives a €10 bonus. To withdraw the amount, they are required to meet a rollover of €160 = 16 x €10.
All wagering must be completed in 21 days.
There is a cap of 10x the bonus amount available for withdrawal. For example, if a player has a €10 bonus, they can withdraw a maximum amount of €100.
Only players from Germany, Austria, Switzerland, Italy, Denmark, Sweden, Norway, Finland, Hungary, Greece, Arab States of the Gulf, Canada, New Zealand, and Portugal can qualify for the welcome offer.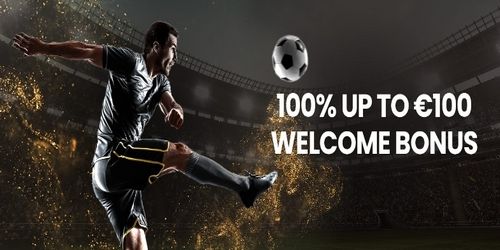 Monthly 10% Bonuses up to €50
A neat monthly offer, players can claim a 10% bonus up to specific amounts. Players need to enter a bonus code on each respective deposit to boost their balance accordingly:
1st Deposit- 10% up to €10
2nd Deposit - 10% up to €15
3rd Deposit - 10% up to €25
The bonus codes are available to players once they are in a logged-in state.
50% Reload Bonus up to €50
New and existing players can increase their betting balance by 50% with any deposits of €20 or more. For example, a deposit of €20+ would award any qualifying player an extra €10 bonus.
Bettors must wager the deposit amount 5x before withdrawing any winnings accruing from the bonus.
Odds and margins are two key concepts to understand regarding online betting. Odds refer to the probability of an outcome occurring, while margins indicate the commission a trader takes when accepting a bet on behalf of the bookmaker.
EmirBet, like most new betting sites, has to compete in terms of odds generosity or risk falling behind rival competitors.
Betting margin
Football

5.4%

Basketball

4.76%

Hockey

5.43%

Tennis

6.34%

Baseball

6.89%

Volleyball

6.67%

MMA

6.47%

Handball

6.87%

Cricket

4.88%

eSports

6.11%

Boxing

4.32%

Rugby

5.34%

Horse Racing

5.34%
Overall betting margin: 5.8%
EmirBet's mobile platform offers punters a great experience, as the website is optimised for any device. The intuitive interface allows beginners to quickly get up and running while providing experienced bettors with all the features they need to make rapid bets. With quick loading times and easy navigation, users can quickly find their favourite sports and events and access various betting markets.
The absence of an EmirBet mobile app doesn't take away from the overall sports betting experience on offer. Punters can expect to find a wide choice of sports and leagues, with competitive odds and generous bonuses available throughout. Furthermore, security is taken seriously at EmirBet; punters can rest assured that their personal and financial data will always be safe, essential in an era of increasing cyber criminality.
Android app: No
iOS app: No
You can play in the Mobile Browser

Mobile Browser
More
EmirBet usability & features
While there aren't any groundbreaking site features to write about, EmirBet delivers a great user experience thanks to sensible site navigation, large clickable buttons, and an easy-on-the-eye design.
Check out what we think about the pros and cons of the EmirBet site design below:
Dynamic search function with the ability to highlight betting around a team or a player.
Easily navigable site layout.
Great in-play platform to help players get their bets on as quickly as possible.
There are plenty of live sports at EmirBet - ranging from the most popular to niche events. Thousands of pre-match and in-play markets are available, covering all the primary markets, while the EmirBet traders venture into some special prices too.
Here are a few examples:
EmirBet popular types of bets
The excellent and professional site layout of EmirBet immediately inspires confidence in the business and its suitability as a credible and reliable online betting site. Its controlled and disciplined market presentation makes it one of the more popular Germany betting sites, as well as AT betting sites.
If that weren't enough, it passed service testing with flying colours - withdrawals were processed within 72 hours, and fundamental questions were answered by customer support quickly and efficiently.
The EmirBet website is certainly trustworthy and credible.
Payment methods: EmirBet deposits & withdrawals
EmirBet offers customers a wide range of payment options for low and high stakes players, ensuring they can choose the most convenient and secure way to deposit and withdraw their funds. From traditional banking methods to eWallets, EmirBet has got players covered. The team also ensures all payments are securely processed with industry-leading encryption technology. All customer data is completely private and never shared with third parties. With EmirBet, players can rest assured funds are in safe hands.
Deposits
Players can deposit instantly via several traditional banking methods, such as Visa and Mastercard, and eWallets, such as Neteller Skrill.
A lack of cryptocurrency banking options is the only thing that could be improved upon.
Withdrawals
Withdrawals are processed via the same method as deposits - typically, they hit players' accounts within 1-3 days of hitting the withdrawal button.
Some methods do incur a charge - be sure to check with your payment provider before proceeding. For players looking for fast payout bookmakers, they should start at EmirBet!
| | | |
| --- | --- | --- |
| €10–€2,500 | Instant | 0% |
| €10–€2,500 | Instant | 0% |
| €10–€2,500 | Instant | 0% |
| €10–€2,000 | Instant | 0% |
| €10–€5,000 | Instant | 0% |
| €10–€1,000 | Instant | 0% |
| €10–€400 | Instant | 0% |
| €10–€10,000 | Instant | 0% |
| €10–€2,500 | Instant | 0% |
| €10–€10,000 | Instant | 0% |
| €10–€2,500 | Instant | 0% |
| €20–€2,000 | Instant | 0% |
| €10–€400 | Instant | 0% |
| €20–€5,000 | Instant | 0% |
| €20–€10,000 | Instant | 0% |
| €20–€10,000 | Instant | 0% |
| €20–€10,000 | Instant | 0% |
| €20–€10,000 | Instant | 0% |
| €20–€10,000 | Instant | 0% |
| €20–€10,000 | Instant | 0% |
| | | |
| --- | --- | --- |
| - | - | - |
| €10–N/A | Up to 1-3 days | N/A |
| €10–N/A | Up to 1-3 days | N/A |
| €10–N/A | Up to 5-7 days | N/A |
| - | - | - |
| €10–N/A | Up to 24 hour | N/A |
| €10–N/A | Up to 24 hour | N/A |
| €10–N/A | Up to 24 hour | N/A |
| €10–N/A | Up to 24 hour | |
| €10–N/A | Up to 24 hour | |
| - | - | - |
| - | - | - |
| - | - | - |
| €10–N/A | Up to 1 hour | N/A |
| €10–N/A | Up to 1 hour | N/A |
| €10–N/A | Up to 1 hour | N/A |
| €10–N/A | Up to 1 hour | N/A |
| €10–N/A | Up to 1 hour | N/A |
| €10–N/A | Up to 1 hour | N/A |
| €10–N/A | Up to 1 hour | N/A |
EmirBet's customer support service is world-class. The support team is available 24/7 to help with any inquiries or customer issues. All questions are answered quickly and efficiently, and the staff always goes above and beyond to ensure each customer's experience is as positive as possible.
Phone

Email

support@emirbet.com

Live chat

Competence
0 / 5
5 / 5
5 / 5
Politeness
0 / 5
4 / 5
5 / 5
Response Time
-
Up to 2 hours
Instant
All licensed online sportsbooks require customers to verify their account - it's part of an industry-wide strategy to weed out money laundering and identity fraud. These processes are known as KYC (Know Your Customer) and AML(Anti-Money Laundering) protocols.
First, the player must provide personal information, including name, address, date of birth, and other identifying documents such as a driver's license or passport. Once all the required data is submitted, the player must upload copies of the documentation for review by the sportsbook.
Next, the player must wait for their documents to be verified and approved by the sportsbook. This process typically takes a few minutes or hours, depending on the type of documents submitted. Once the verification has been approved, the player will receive an email notification confirming their account is active and ready for use.
EmirBet betting markets: a short guide
Over/Under (Totals)
The Over/Under (Totals) market in online betting refers to a bet on the combined total of two teams, with the bettor predicting whether it will be over or under a predetermined number set by the bookmaker. It is also known as totals betting.
Asian Handicap
The Asian Handicap market is a type of online betting where two teams competing against one another are given a handicap to level the playing field. The handicap is then applied to the final score, and those who have bet on the correct outcome will receive their winnings.
Accumulator betting
The accumulator is a betting system that combines different selections into one bet, and the winnings from each selection roll over to form a larger payout. Online bettors frequently use it as it can increase their chances of winning a bigger reward.
Point Spread
The Point Spread balances the odds in online betting by giving one team a "head start" over the other. It is part of a money line wager, where the favoured team must win by more than the point spread for the bettor to win. The point spread is usually set by oddsmakers based on the relative strength of each team.
Money Line bets
The Money Line market is a popular form of online betting where the bettor has to pick which team will win or lose without any handicap.
Prop bets
Prop Bets, or Proposition Bets, are online betting terms to describe a wager on specific outcomes within an event. They typically involve making predictions on individual aspects of the event rather than the outcome as a whole.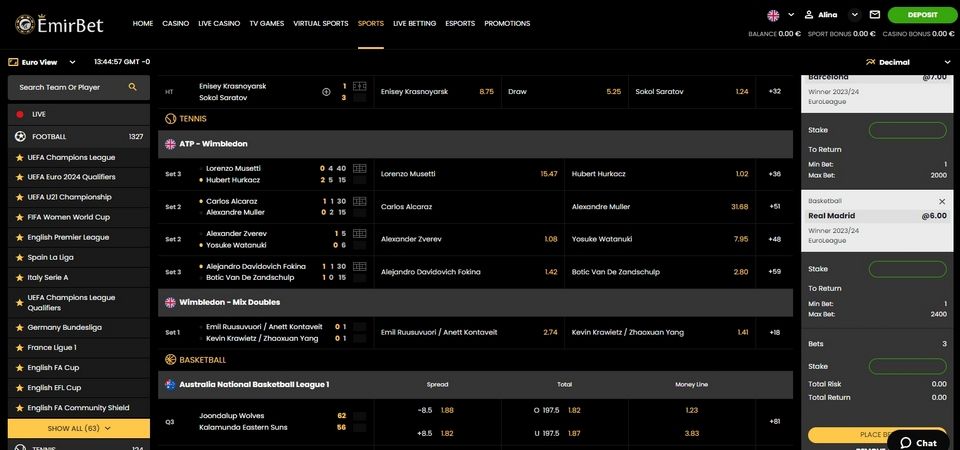 EmirBet licensing and regulations
The EmirBet's credibility is further reinforced by its membership to one of the world's leading gambling authorities - the Curacao gambling license.
EmirBet is owned and operated by Bellona N.V., a company registered and established under the Law of Curacao, with registration number 120860 and registered address at Heelsumstraat 51, E-commerce Park, Curacao. Bellona NV is licensed and regulated by Antillephone N.V., under License No 8048/JAZ2010-010.
How to place a bet in EmirBet?
Upon testing, we could place a bet within five seconds of starting the process. It's straightforward and user-friendly:
Players must find the market and add a selection to a betslip.
The betslip will open to the right of the screen - enter the stake in the "Stake" field.
Click "Place Bet", sit back, and wait for the result.
How to sign up in EmirBet?
It's more important than ever, in a crowded and competitive field like iGaming, for customers to sign up quickly and efficiently.
The team at EmirBet clearly understands the desire for a smooth sign-up process, which is why players can get an account within hours of sign-up.
This is how it works:
Click the "register" button

It is located in the top right-hand corner of the page.

Fill in all required fields with relevant info

Players must enter a valid email address, create a username, and invent a password.

Enter contact details

The first name, last name, mobile number, country of birth, date of birth, and desired currency are all required in this step.

Well done

Just like that, the account is created!
Is EmirBet trustworthy? Final thoughts
Yes - EmirBet is one of the most reliable online sportsbooks in operation.
Why? Thanks to its amazing online sportsbook and accompanying casino and live casino platforms, excellent customer service, great odds, and a sensational welcome offer, EmirBet stands out from the crowd.
Its license under the Curacao law also means it's primarily bulletproof from cyber criminals.
Advantages
Great promotional material
Amazing odds
Fantastic user interface
Great in-play graphics
24/7 customer service
Limitations
No live streaming
Restricted countries
Bookmaker reviews by players