LVBet Registration ‒ how to sign up and log in
Content
How to Register at LVBet– a step-by-step guide
LVBet is one of the most exciting sportsbooks in the market and has thousands of fans. New punters should definitely check it out, thanks to their excellent markets and fantastic odds. In this extensive LVBet how to register guide, we'll tell you what to pay attention to and how to use the great welcome bonus.
Once you're in, you'll enter a world of great betting offers along with some of the top sportsbook industry odds, particularly when it comes to football and horse racing.
How to register with LVBet in 4 easy steps
The registration process at LVBet is pretty straightforward. You don't need to pay attention to any specific details, and the whole thing can be completed in just a couple of minutes. We have a comprehensive guide on the sign-up process at LVBet, allowing new punters to join and bet at the bookie with ease.
When you enter the site, you should select 'Sports' from the top ribbon. The platform will present you with a range of centred odds and markets, but before you can bet on them all you first need to complete your registration.
Look in the website's top right corner – there should be a yellow register button that fits the bookie's aesthetics. A simple click here will bring you to a new page where you should enter the necessary information. LVBet likes to keep things simple, so you should only need a few details to fill in the personal form.
Once your profile is verified via email, you're welcome to use the LVBet login page to start betting.
Here's how to register in 4 easy steps:
Step 1

Click on the registration button to bring up the form.

Step 2

Enter your username, password, and email.

Step 3

If you have an LVBet promo code, now would be the time to use it.

Step 4

Finish the personal form on the next page and you're ready to go.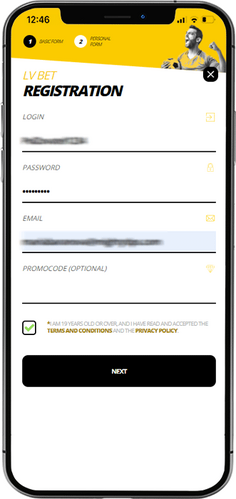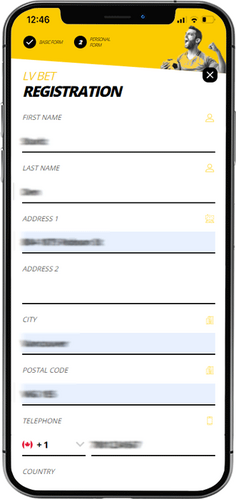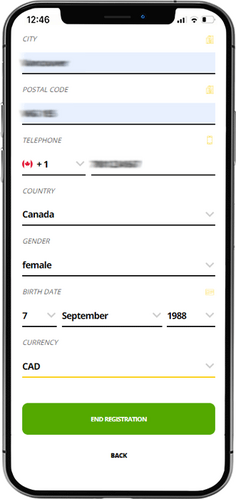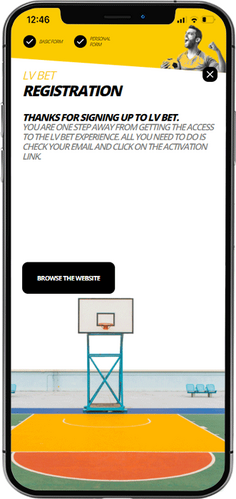 What you should know about LVBet sign up requirements
Bookies these days keep sign-up processes straightforward and easy. This is no surprise, as punters are eager to start betting as soon as possible. If any bookmaker allowed betting as a guest, they'd all flock to it. LVBet keeps the sign-up form simple as well, only requiring a few of your details.
Once you're done with the first page basics, a more comprehensive form follows on the second. This one requires your full name, country, date of birth, gender, phone number (for SMS confirmation) and the currency you want to use. While this might seem like overkill for many, it's all required under the KYC guidelines with which LVBet must comply.
| | |
| --- | --- |
| 📧 Requires email | ✔️ |
| 📲 Requires phone number | ✔️ |
| 🤳 Requires ID scan | ❌ |
| 🧾 Requires scan of a utility bill | ❌ |
| ℹ️ Types of support | 🆘 Live chat / e-mail |
| 🎁 Welcome bonus | Bet £10 Get £10 |
Logging in at LVBet is even easier than registering. The 'Login' button is right next to 'Register', so you won't have to look for it in unusual places.
Of course, you'll need to remember the LV Bet login details used in the previous steps to register with the site. We recommend writing them down and storing them offline.
Step 1

Click on the login button in the top right corner.

Step 2

Enter your username.

Step 3

Enter your password – if you can't remember it, the remind password field will help you reset it.

Step 4

Click on the login button to enter the betting site.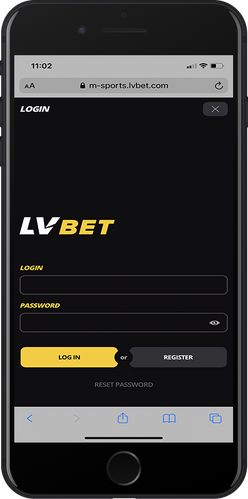 Why you should join LVBet?
LVBet has been around since 2015, so it's not a new arrival to the online sports betting market. The popular betting site has plenty of promotions on offer, along with excellent odds and sports markets for all types of punters. LVBet's status has seen a rise in the past few years among football and horse racing fans.
What's most exciting about this bookie are the promotions like enhanced odds and superbets. Thanks to these, you'll get the most out of your bets. They come in addition to the LVBet sign up offer and plenty of free bets you'll earn as a regular LVBet customer.
In terms of sports, you can bet on anything you set your mind on. Some of the markets include football, horse racing, UFC/MMA, basketball, tennis, cricket, and golf. In short, LVBet has everything punters want and need, along with super-duper bets you won't find anywhere else.
5 reasons to register with LVBet
UK Gambling Commission license
Plenty of sports markets to bet on
Fun and unique promotions
Great odds on Premier League football
Live betting
Looking to join LVBet? The bookie will give you an extra incentive to sign up with the welcome bonus. It's a free bet for new punters that has become one of the industry's top offers. To qualify for the LVBet sign up bonus, you'll have to register following the steps above and make a qualifying deposit.
How to verify your LVBet account?
There's no information yet on the LVBet verification process, but we're sure it must come at some point. Most bookies nowadays are required to verify their punters' profiles under the KYC act. New punters at LVBet are allowed to register an account and make deposits with ease. However, you might need to send some personal documents to the sportsbook before requesting your first withdrawal.
If the bookie requires verification, this step-by-step guide can help you to easily verify your account:
Step 1

Send a copy of your passport or ID to confirm your identity.

Step 2

Provide a copy of a utility bill will confirm your address.

Step 3

Send a copy of your payment method details that shows your name and account number.

Step 4

The bookie may also need a selfie that shows the current date and possibly a valid document (ID or passport).
LVBet's iOS app is available for all fans in the App Store. It has a modern design with a great layout that's optimised for use on touch devices. It's fast, reliable, and offers betting on thousands of markets ranging from football to horse racing and everything beyond and between.
You also get fast deposits as well as betting on virtual sports and live bets. Thanks to the intuitive interface, every section of the site is within a flick of your finger.
What if you need help while creating an account with LVBet?
While the registration process is pretty simple, new punters might need direction. In this case, the FAQ page is your friend. It has a comprehensive overview of all the betting site's features and also offers support for account creation.
If you get stuck anywhere, don't hesitate to consult this resource. If the problem is technical, then the registration section under the FAQ page can help. There are a few reasons you might not be able to open up a new LVBet account, but the solutions are simple.
If you're from the UK and not from a prohibited jurisdiction, you will likely have your account up and running in a few minutes.
Possible problems with LVBET registration
There aren't too many problems when signing up at LVBet, but we'll list the most common ones below. Even if you hit a snag when signing up, don't worry. The FAQ page offers plenty of help with many burning questions, and the technical support staff is more than willing to help you complete your registration.
I can't access the website
If the LVBet website doesn't open and you can't register, then you're probably accessing it from a prohibited jurisdiction. The bookie accepts players from everywhere around the world except for the USA, Turkey, Italy, and France. A few other countries are also on the list where online sports betting is prohibited.
Username taken
Think of a creative username when registering at LVBet. The site will instantly tell you if the one you enter has already been taken. If this is the case, you'll have to think of another or add some numbers to the one you plan to use.
The LVBet promo code is not accepted
You might have entered a promo code that has run out. Make sure you're entering it correctly. It's best to copy and paste the word or the phrase to avoid any problems.
Signing up at LVBet won't take more than a few minutes of your time. The bookie offers plenty of excellent sports markets to bet on, with a particular focus on the Premier League. With great promos and super-duper bets you won't find anywhere else, LVBet is a bookie you should think about joining.
Thanks to our guide, you'll be done in a jiffy. All that remains is to login at LVBet and enjoy the odds and promos, such as the LVBet welcome offer they feature.
Read other registration guides: