Betwinner registration – how to sign up & login
When you're looking for a bookmaker to start out with or expand your betting network to, the first and foremost thing you must do is research. Logging in and signing up is an integral part of any bookmaker, and here we'll be looking deeper into how you can login and sign-up, with Betwinner.
Here, we at MightyTips will not only show you how to register on Betwinner but also some useful things to keep in mind ahead of using the bookie.
Betwinner is a new bookie with an aim to provide some great odds on not only real-life sports but lots of eSports content too. Keeping up with the modern demand, you'll be able to have a look at some of the many eSports gambling options available.
How to register at Betwinner in 4 easy steps!
Step 1

Find the registration page

Step 2

Fill in your details

Step 3

Accept your sign-up

Step 4

Verify your account
What you should know about Betwinner sign-up requirements
Becoming a verified member of the Betwinner register is an easy deal. You will be asked for information depending on which sign-up service you will use, as there are four different ways to sign-up for this bookmaker.
There is also a mobile page for Betwinner, which can help punters start betting on the go rather than sitting on the desktop app, increasing comfort all around.
Four different sign-ups mean a variety of options, the one-click method will only need your currency and place of residence, meaning they'll assign you a random password and username so that you can jump straight into the action.
Other methods include via messaging/communication apps, by phone, or by email. With the email service being the slowest, as you need to fill in the most details. This unique way of registering for Betwinner can prove very effective for people with varying interests.
| | |
| --- | --- |
| 📧 Requires email | ✔️ |
| 📲 Requires phone number | ✔️ |
| 🤳 Requires ID scan | ❌ |
| 🧾 Requires scan of a utility bill | ❌ |
| ℹ️ Types of support | 🆘 Live chat, phone, email |
| 🎁 Registration bonus | ✔️First deposit bonus |
How to register at Betwinner
The Betwinner registration process has proven to be a quick and easy one, keeping up with the modern demands of how a bookie should be. Allowing people to pick the way they want to register, it's an ideal scenario for people who may not have time to fill in everything and just want to jump straight into the action.
Step 1

Betwinner sign-up button - the button can be found at the top right of the website. It is a small yellow icon that stands out more than the others and will take you to a page with four choices.

Step 2

Pick a sign-up method - you can pick from one-click, email, phone, or social network sign-up to help get you going with your Betwinner signup. The details you'll need to fill in depend on which one of these you pick.

Step 3

Fill in your details - depending on which method you pick, you will need to complete the small pop-up page below the selection, and then confirm your account creation.

Step 4

Confirm - once you have filled in all of the adequate details needed to process, with your selected sign-up process, you can then confirm and it will take you straight back to the betting interface for you to begin.
Once you have filled in all of the adequate details needed to process, with your selected sign-up process, you can then confirm and it will take you straight back to the betting interface for you to begin.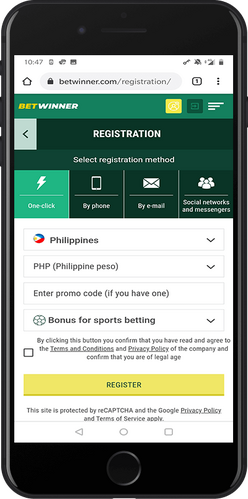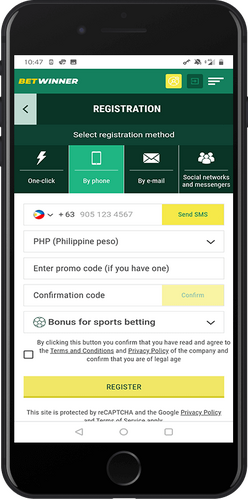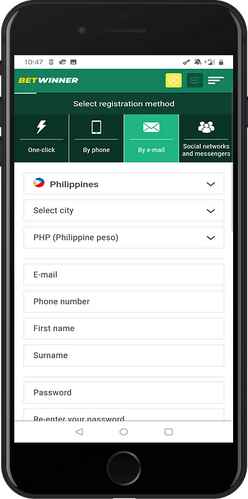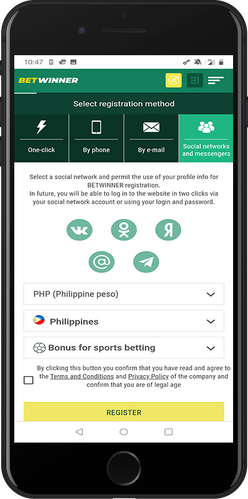 The Betwinner login is also not a very complicated deal. When you register, you'll be given the option to log back in after leaving the site, with the button slightly less flamboyant to the sign-in, which is also right next to it.
Step 1

Find the button - find the login button very close to the sign-up, with a small user icon. This will take you to the details input page.

Step 2

Input details - once you are on the login page, it will let you put in your details or login with other options, such as via social media.

Step 3

Confirm - hit the confirm button at the bottom of the page once you have input all of your required information. You will then be taken straight to the interface, accessing your Betwinner account.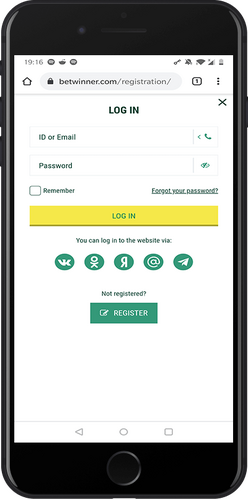 Why you should join Betwinner
Betwinner has some unique betting strategies, allowing you to customise your experience. For example, a bet builder that lets punters construct their own bets, express their creativity and build their own unique way to win! Not only this, but the service also allows you to stream up to four different events, which is obviously a huge plus.
The payment methods allowed include a large number of cryptocurrencies, which is becoming more and more of an advantage for players who would like to convert their crypto into betting currency to try and double their figures.
There is a deposit bonus on offer too, which can go as low as one Euro, so gives every punter the chance of some extra funds, no matter what the figure they input as their first ever deposit on the site.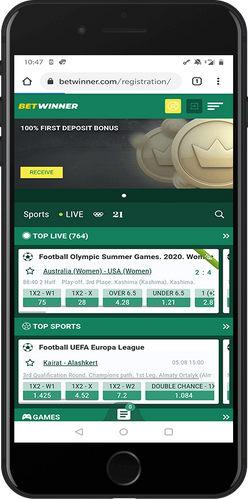 Sign-up bonuses help punters to start their betting career with a bookmaker, be it experienced bettors or newcomers. Betwinner is no different, they offer a great sign-up bonus for their new customers in order to help them get moving, and you're no different!
Upon your Betwinner account opening, the first and best Betwinner sign-up offer that they have is the first deposit welcome bonus. They'll match your deposit by up to 100% to a minimum amount of 1 Euro, meaning absolutely everybody can make use of this excellent offer.
This bonus will help you get going by providing additional funds, giving you more than you bargained for when you join up. Plus, there will be more Betwinner sign-up bonuses introduced over the coming months too, so keep an eye out.
How to verify your Betwinner account
In order to avoid any future problems and be able to deposit, withdraw, and use your cash with Betwinner, you must first verify your account. The Betwinner verification involves possibly having to join a video conference with staff, allowing them to see the appropriate documents for verifying your account.
Step 1

Find the verification interface - it is likely that you'll only need to send your documents via a scan as proof of your possession of these identification docs. Finding the verification page in this case is the first step.

Step 2

Attach adequate documents - documents such as your ID papers, photo ID papers, and clear scans of key information are required.

Step 3

Click send - once you have filled everything in and strictly fulfilled your conditions, you will then need to send your docs through.

Step 4

Wait - it might take a bit but, after your verification, you will then be freely able to bet at will and use money with your Betwinner account.
What if you need help while creating an account at Betwinner?
Support is always a must for any good sportsbook and Betwinner has found numerous ways to support anybody who faces problems. From creating your Betwinner account, to betting, to help with any other section of their site.
Scrolling down to the bottom of the page will clearly show you to the phone number displayed in bold font, and the support page.
Betwinner provides a support helpline telephone number and also gives you five different emails, which will help in different ways and all for specific purposes. There is also a live-chat service, which is basically the fastest method to get help, as you will be connected to an employee who you can ask all your queries.
Possible problems with Betwinner registration
In our experience, there are not any major problems with the registration process. But the usability of the page can definitely be improved upon, while not presenting a huge obstacle. Accidentally backing off from the registration process can reset your information and you will need to restart in this case.
There were no Betwinner login problems either, aside from some lag at times.
However, there are no other issues to report, making this a well-executed registration process.
With our assessment of Betwinner's registration, we can confirm that it offers a slick process with more than one option to choose from. The varying methods can suit different preferences, with the email, telephone, and one-click options all proving ideal for kickstarting your time at Betwinner.
The login is also extremely simple, with your password and username getting you straight back into the action from where you left off.
We believe that both the login and registration processes with Betwinner are pretty good, enabling fast navigation through to the betting options on display.
Read other registration guides: