Jackbit review
Advantages:
Unique new crypto gambling experience.

Excellent user interface.

Thousands of pre-match and in-play markets.

Great cash-out function.
Payment Methods:
Looking for a Jackbit REVIEW by a Sports Betting Expert? Look no further than our complete Mightytips breakdown of one of the industry's best bitcoin betting sites!
In-play betting forms a massive part of the modern-day sportsbook experience. A good in-play product means customers are better placed to react to the dynamic nature of live sports. An aggressive match between two rivals reaching boiling point? Are leaky defences being wholly overrun? Is a striker looking dangerous? Quickly betting on cards, goals, and action after you spot a trend is crucial.
Fortunately, Jackbit understands the importance of staying on the ball by offering a comprehensive in-play product. Players can click on the live icon on the desktop version of the site, and they are immediately confronted by four in-play markets: Match Result, Total Goals, Next Goal, and Rest of the Match. Players can populate the betslip within two clicks of logging into their account.
Types of live games at Jackbit
All of the world's most popular sports and leagues are available at Jackbit, including:
Football
Tennis
Golf
Basketball
Hockey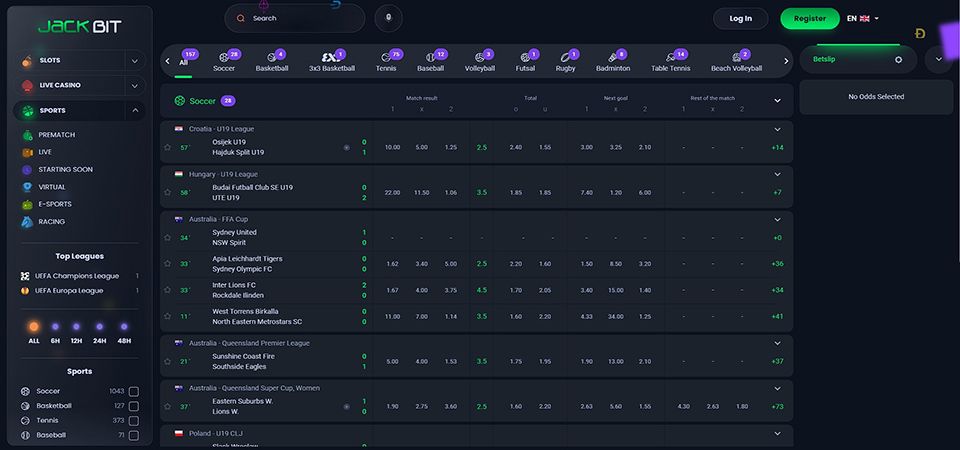 Every good sportsbook has an exciting casino - you can't find the total online sportsbook betting experience without one! Much like its sports counterpart, the Jackbit casino layout ranks highly among its competitors - at least by our reckoning.
Once you land on the casino's desktop homepage, you are met with a neat layout and the world's best online casino slots from the industry's most prominent developers. You can scroll through rows of six slots at a time, filter through them via the provider, or search through the category menu, which is locked to a toolbar on the left-hand side of the page.
There are thousands of games to choose from, not to mention an exhilarating live casino where a team of expert live dealers are at hand to bring you that unmistakeable live casino sensation!
Here's what you can expect with the Jackbit Casino product:
Blackjack
Jackbit offers up the chance for players to take on the world's best dealers in blackjack - a hugely popular live casino game online. Its popularity is primarily due to its simple rules and the fact that it has one of the lowest house edges of all casino games. This makes it an attractive choice for players who want to maximise their chances of winning. It also requires skill and decision-making, which counts for a great deal when considering its appeal among experienced players.
Roulette
It wouldn't be a live casino without a roulette wheel in tow - and thanks to Jackbit Casino's partnership with some of the world's best providers, they have a fantastic selection of tables suitable for newcomers and experienced live casino connoisseurs.
The Jackbit live roulette experience works for everyone, from low-staking players to high rollers.
Baccarat
Baccarat is a top-rated live casino game online because it is easy to learn and play, offers high-stakes gaming action, and provides plenty of opportunities for players to experience classic live casino excitement. Unlike other card games that require complex strategies and lengthy tutorials, baccarat is relatively simple to understand, which means it is a gentle and enjoyable experience for newcomers. At Jackbit, there are plenty of baccarat tables to explore.
Slots
In a new age of casino technology, online slots are becoming increasingly popular, partly thanks to the fantastic new mechanics available to developers but mainly down to the impressive innovation from exceptionally talented designers.
As recently as five years ago, it felt like online slots were being churned out without any great care for the customer experience. Now, developers employ the brightest minds to create genuinely immersive experiences through art, graphics, and in-game features that can offer up life-changing wins.
The Jackbit casino is an excellent hub for the world's best slots. Moreover, they encourage a responsible gambling approach through tools such as deposit and loss limits. It's strongly recommended all players stick within their budget.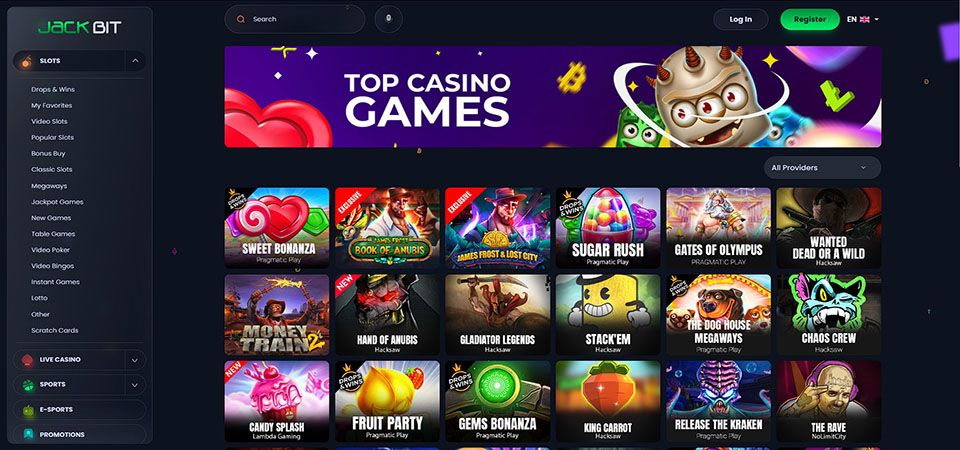 Jackbit bonuses & promotions
While there is no Jackbit sports welcome offer, players can tuck into one juicy promotion to help top up the balance.
One of their most prominent offers is the 3+1 Free Bet promotion, which requires players to place three separate qualifying bets - they will then receive the mean average of those same three bets. For example, if a player were to place one bet of €20, one bet of €30, and one bet of €40, the player would get a Free Bet worth €30 (€20+€30+€40 = €90/3 = €30)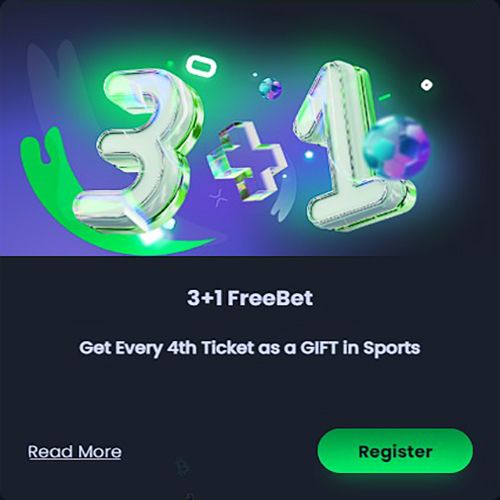 Odds and margins are significant in an online sportsbook because they provide the foundation of how the house will make its profit. The bookmaker determines these odds and margins to ensure that, regardless of the outcome of a game or match, the bookmaker can still make a consistent, reliable profit over time. The higher the odds and margins the bookmaker sets, the more money they stand to make in the long run. However, these odds and margins must be carefully calculated to ensure that customers still get a fair chance of winning their bets.
Thankfully, the Jackbit sports traders work around the clock to ensure the customer gets top value for their wager by using sophisticated algorithms and analysis of past results to offer up a fair and reasonable balance.
Betting margin
Football

1.6%

Basketball

1.75%

Hockey

2.1%

Tennis

1.55%

Baseball

1.75%

Volleyball

2.1%

eSports

1.31%

Rugby

1.95%
Overall betting margin: 1.8%
While there is no native mobile Jackbit app, users can still experience the thrill of an online sportsbook at their fingertips with a fully optimised, excellently laid out browser-based option.
Without being too hyperbolic, it's one of the better mobile casino sites on the circuit. Upon arriving at the mobile casino landing page, users have one of four choices: Sport, Casino, Live Casino, and Mini Games. They have to click on one of the big buttons to navigate to the site section they want to visit.
From there, the commitment to a neat layout and user experience throughout the product is evident. On the sports page, for example, customers can immediately browse through the upcoming games filtered by sport. During the soccer season, the first events you see will likely be soccer games, but you can switch the sport with a swoosh of a finger by heading to the "Top Events" drop-down menu. Alternatively, they can navigate using the top toolbar.
The in-play betting terminal is on the bottom toolbar - players need only to click "Live" to access the ongoing games. They will also find the betslip, their open bets, the menu, and a drafts section.
Android app: No
iOS app: No
Jackbit usability & features
The usability and user experience ensures visitors can expect an enjoyable website experience. A well-designed and easy-to-use interface allows users to navigate the site quickly, find what they want, and place their bets with minimal fuss. Additionally, an intuitive interface means customers won't want to place their pre-match or live bets elsewhere!
Extensive sports betting selection.
Save/Delete/Replace feature that allows you to edit your bets.
CashOut function is available.
24/7 live support is available.
Floating graphical elements in the background add a nice touch to the design.
A dark website colour palette makes it difficult to find some elements.
Jackbit: sports to bet on
Sports fans are spoilt for choice at the Jackbit, which is regarded by many as one of the best baseball betting sites in the market. Players can find the complete list of sports to bet on by scrolling down the toolbar on the left-hand side of the page. There are more than 35 available, including classics such as tennis, baseball, tennis, ice hockey, and basketball, to rarer sports, including darts, e-Sports, and a specials market. There is no denying Jackbit leaves it all out on the field!
It's not just the wide selection of events that catches the eye, but the sheer selection of competitively-priced markets on offer, too! For example, a typical soccer match has hundreds of wager opportunities - from betting on the who wins the championship to the final score. As an online bookie, it's up there with the best!
Take a look at some examples below:
Jackbit popular types of bets
When it comes to gambling, the most important thing is trust. Players need to be able to trust that Jackbit will provide a fair and secure gaming experience. Having a reliable license from Curacao is one way to demonstrate that commitment to providing a safe and regulated online gaming environment.
With this license, players can rest assured that Jackbit is operating within the strict framework of regulations set forth by the Curacao government.
Alongside the Curacao license, its brilliant user interface and slick design mean players are already adding to the burgeoning Jackbit reputation by leaving positive reviews and feedback on renowned forums within the gambling community.
Payment methods: Jackbit deposits & withdrawals
Crypto payments offer several advantages over traditional payment methods. Transactions are almost instantaneous, meaning funds can be credited in minutes or seconds. They also provide a high level of security. Transactions are confirmed using blockchain technology, meaning the data is stored on shared ledgers and cannot be tampered with or reversed once completed, providing peace of mind.
Finally, crypto transactions don't require personal banking details to be shared. Players can remain anonymous while making deposits, ensuring their data is not exposed to potential hackers or malicious third parties. Furthermore, crypto payments are generally free of charge and enable players to deposit funds in any currency without costly conversion fees.
Deposits
Jackbit boasts many modern-day deposit methods thanks to its Crypto-first approach, including heavyweight coins such as Bitcoin, Ethereum, Litecoin, and Ripple. However, there is an opportunity for players to use alternative methods too.
Withdrawals
All of the same Crypto-based payment methods are available for withdrawals. It's vitally important for players to input the correct information when taking money out, so as not to add it to a different crypto address mistakenly.
| | | |
| --- | --- | --- |
| No limit | Instant | 0% |
| No limit | Instant | 0% |
| No limit | Instant | 0% |
| No limit | Instant | 0% |
| No limit | Instant | 0% |
| No limit | Instant | 0% |
| No limit | Instant | 0% |
| No limit | Instant | 0% |
| No limit | Instant | 0% |
| No limit | Instant | 0% |
| No limit | Instant | 0% |
| No limit | Instant | 0% |
| No limit | Instant | 0% |
| | | |
| --- | --- | --- |
| €10–€15,000 | Up to 1 hour | 0% |
| €10–€15,000 | Up to 1 hour | 0% |
| €10–€15,000 | Up to 1 hour | 0% |
| €10–€15,000 | Up to 1 hour | 0% |
| €10–€15,000 | Up to 1 hour | 0% |
| €10–€15,000 | Up to 1 hour | 0% |
| €10–€15,000 | Up to 1 hour | 0% |
| €10–€15,000 | Up to 1 hour | 0% |
| €10–€15,000 | Up to 1 hour | 0% |
| €10–€15,000 | Up to 1 hour | 0% |
| €10–€15,000 | Up to 1 hour | 0% |
| €10–€15,000 | Up to 1 hour | 0% |
| €10–€15,000 | Up to 1 hour | 0% |
There is a 24/7 live chat service available at Jackbit, which goes a long way in reassuring players. Live customer support allows customers to quickly and easily get answers to their questions or resolve any issues they may have, ensuring a smooth and hassle-free sports betting experience.
Players can also reach out to the Jackbit support email response team at support@jackbit.com. Using this method, players can keep records of their conversations with customer service, which may be useful if any issues arise.
Phone

Email

support@jackbit.com

Live chat

Competence
0 / 5
5 / 5
4 / 5
Politeness
0 / 5
4 / 5
4 / 5
Response Time
n/a
Up to 2 hours
Instant
Like many new betting sites, Jackbit may require customers to prove their identity via checks. It is industry standard to ensure players are enjoying services responsibly and legally. Failure to comply with these requests could lead to a player's account being blocked.
When prompted by a member of the Jackbit team, players must provide a valid form of identification, such as a driver's license or passport, and additional documentation, such as proof of address, which can be a utility bill or a bank statement. The requested documents verify the customer's identity and age; the bank details authenticate the customer's financial information.
Jackbit betting markets: A short guide
There are hundreds of pre-match and in-play betting markets available at Jackbit - we've earmarked a few you should look out for:
Over/Under (Totals)
An Over/Under betting market works by predicting whether the total number of points scored in a game will be higher or lower than the bookmaker's predicted line.
Asian Handicap
Asian Handicap betting gives one team a virtual head start by assigning them a certain amount of goals or points, providing bettors with more varied and exciting wagering opportunities.
Accumulator betting
An Accumulator betting market allows bettors to combine multiple selections into a single bet, where the odds of all selections are multiplied together to determine the potential payout.
Point Spread
In point spread betting, a sportsbook sets a line that handicaps one team in a matchup by assigning points to cover or receive against the other team in order to even out the perceived advantage of either side and create an equal opportunity for bettors to back either side.
Money Line bets
A Money Line bet is a wager on which team or player will win the game, match, or event outright with no point spread involved.
Prop bets
Prop bets offer an opportunity to bet on specific outcomes in a sporting event or other events that may not directly relate to the final outcome, such as which team will score first, who will win certain awards, or how long a song will last during the halftime show.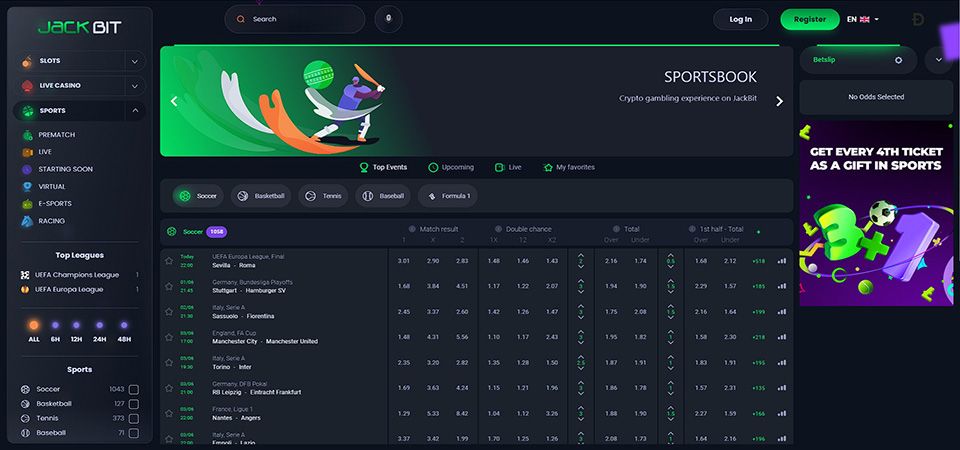 Jackbit sportsbook licensing and regulations
Jackbit Sportsbook's valid and reputable bookie license guarantees compliance with regulations, fair play, and responsible gambling. Thorough background checks and financial stability verification ensure a safe and secure betting environment for customers.
Company name: RYKER B.V
Curaçao
License number: 1668 JAZ
How to place a bet in Jackbit?
Placing a bet at Jackbit is simple - simply locate the sports betting market using the dynamic search function and add it to your betslip by clicking the appropriate selection. Once in your betslip, simply enter your stake, sit back, and wait for it to come in!
Here's a step-by-step guide:
Register via our detailed website review on this page.
Make your first deposit.
Choose a bet, select your stake, and cheer it in!
How to sign up on Jackbit?
Registering an account with Jackbit is incredibly quick and can be done within two minutes. Click the Sign-Up page, create a username, enter an email, and invent a secure and complex password, and voila - the player can access their account and begin betting!
Here's the process in a digestible form:
Click "Register" button

Look to the top right corner of the homepage and click the Register button.

Fill in all required fields with relevant info

Create a username, enter an email address, and come up with a complex password.

Verify your account

You can do this by submitting documents, including a driver's license and/or passport, and bank statement to meet industry standard protocols.

Well done, you have your Jackbit account!

Get betting!
Is Jackbit trustworthy? Final thoughts
Jackbit is a credible and trustworthy online betting website due to the quality of its product. The site offers an extensive library of casino games and sports betting options, with reliable software from some of the world's top providers.
Furthermore, Jackbit is governed by an internationally renowned authority in the Curacao gaming licence. This means that the website has been rigorously tested to ensure it meets the highest safety and security standards. As such, customers can be sure that their data is protected against fraud or cheating.
Advantages
Licensed by Curaçao Governing Body.
24/7 customer support.
Reliable user interface.
Fast payment processes.
Clear terms and conditions attributed to promotions.
Limitations
Limited countries in which it is legal to bet at Jackbit.
Bookmaker reviews by players