Helabet Registration - How to sign up?
advantages
Decent odds for football

Modern-looking website design

Easy to find betting features

Juicy sign up bonus
This article was last updated:
The most important thing to do if you want to start placing your wagers in online bookmakers is to open an account on their platform. Thinking about that, we prepared an article with everything you need to know to complete your registration and start using Helabet's website to place sports bets.
We are going to explain not only the process you need to go through in order to create your profile but also how to verify your account. Apart from that, we are going to use images to explain exactly how you log into your Helabet profile so you don't have any doubts left.
Why should I make a Helabet Kenya login?
Helabet is a legal online bookmaker who provides many interesting functionalities for their users. Apart from an easy layout, where you can surf without major difficulties, they also offer a great amount of sports modalities for bettors to choose - there are more than 40 sports for you to place your wagers.
Also, they count with good bonuses not only in their casino, but also for those who bet on sports. The best part is that you can subscribe to receive an e-mail or a message on your mobile when they have a new bonus.
Helabet sign up bonus
One of the best bonuses offered by Helabet is certainly the sign up bonus. With it, you can receive up to 10.000 KES on your first deposit to continue placing your wagers.
All you have to do to get it is make your first deposit of at least 112 KES and complete all details in your profile. After that, you will receive a 100% bonus automatically up to 10.000 KES. And you have 30 days to use all your bonus.
How to make your Helabet registration?
First thing you should do in order to complete your registration is access Helabet's website. It will be an easy process that won't take that much of your time.
As you enter their platform, it will already be easy to spot the "registration" button, as it is yellow and makes a nice contrast with the purple of their layout. Click on it in order to open the sign up window.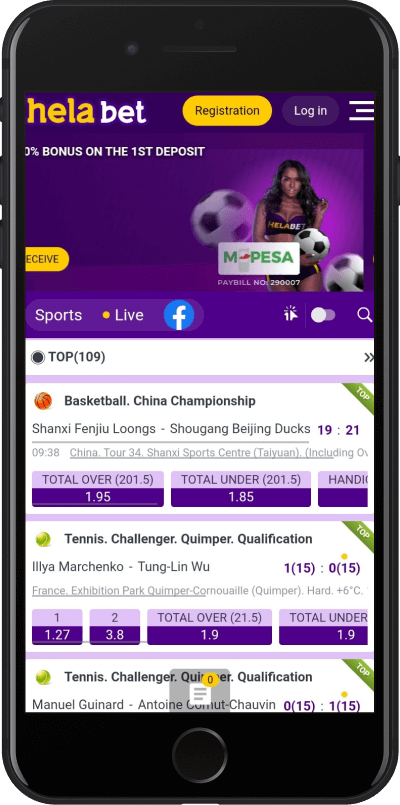 Now there will be two options to continue the process: by phone or by email. In the first, you are going to choose your mobile's number to complete the registration, while in the second it will be necessary to give your email address to finish the sign up.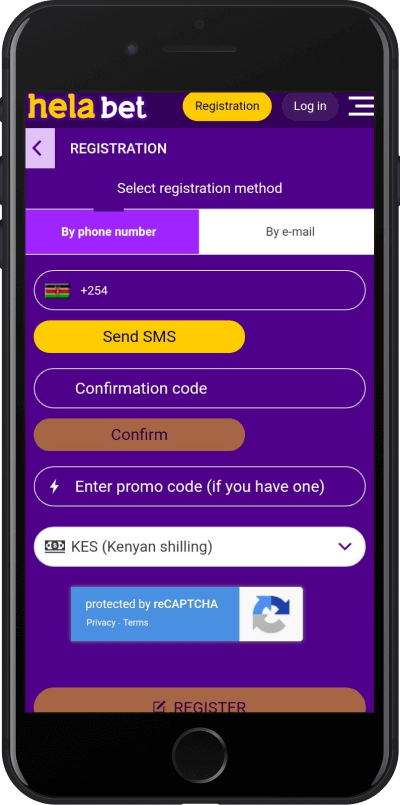 Pay attention to the fact that the registration by phone will require a confirmation code, which will be sent by sms to your mobile, before you are able to finish the sign up. That won't happen in the email registration.
Fill all the required blank spaces, mark the box to confirm you agree with the policies of Helabet and then click in the "register" button right at the bottom of the window. That way you will complete your registration.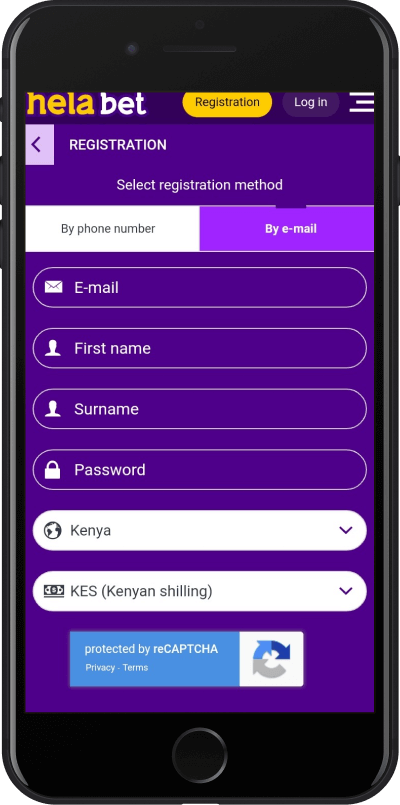 How to make the Helabet login?
Once again, it is an easy and fast process, once the button is really clear and simple to find in their website.
At the top of the page, next to the registration sign, you will find a purple button with the option "log in" written in it. Click there to open the little log in box. In the first blank space, write your email or the id you acquired later, while in the second one you need to put your password. After that, click in the yellow "log in" button to access your profile.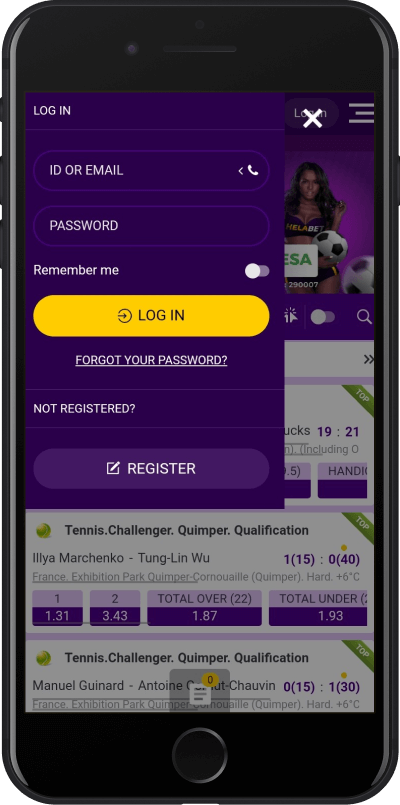 There is also the possibility to make the login through your phone, by sms. All you have to do is click on the "sms login" option, at the bottom of the box, and write your mobile number. Next click in the "send code" button and wait for the confirmation code that will arrive at the mobile. In order to complete the process, write down the code and you will be able to access your account.
Things I should know about Helabet's sign up requirements
Fortunately, there aren't many things you need to know about it. As we explained before, there are two methods of sign up in Helabet and both of them don't require much information.
The first method is the registration by phone. On it, it will be necessary to inform, of course, your mobile number. Apart from that, there isn't any other important information you need to give, just the currency you are going to use to bet and the confirmation code that was sent to you by sms. There will also be a blank space to enter a promo code, if you have one, before finishing the process.
The second method, which is the registration by email, will require a little more information in order to be completed. Differently from the phone sign up, here you will have to write down your name and surname, as well as an email address, of course. Another thing that will be necessary is the creation of a password. It will also be necessary to choose your country of residence and currency that you will use while betting at their website.
How to verify my Helabet account?
Another good news is that you don't need to worry about verifying your account right after you sign up at Helabet.
Of course that, later, especially when you want to withdraw funds from your account, it will be necessary a verification in which the bookmaker will ask for some documents in order to check your identity. This kind of verification usually takes a few days to be completed, as the bookie is going to analyse the documents to see if everything is correct.
Apart from that, in the phone registration, it will be necessary to make a small verification during the process, as you will need to prove that the number given is really yours. That way, you are going to receive a confirmation code by sms and you will need to write it down in order to finish your sign up.
What if I need help while creating my Helabet account?
Unfortunately, Helabet's website still doesn't count with a FAQ section. According to them, it is still under construction. However, don't panic, because it is not the only way to find help about the registration process.
When accessing Helabet's platform, you will be able to find in the right bottom corner a small box with an "ask a question" option. Clicking on it, it will open the online chat and there you can talk directly to an online consultant. They will help you with any problems or doubts you may have while creating your Helabet account.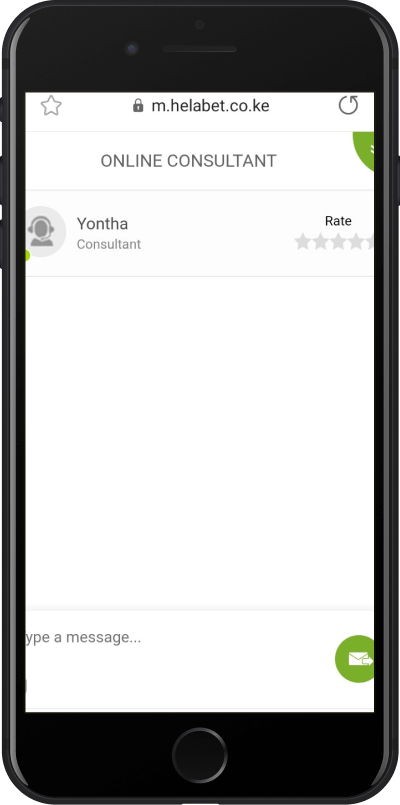 It is also possible to send an email to Helabet's support. For that you need to roll until the bottom of the main page and click in the "contacts" option. Then write your name, email and message in the available spaces, confirm you are not a robot and press the "send" button.
Remember that the online chat is a better option as it is faster and that means you can solve the problem within a few minutes. However, if you prefer to wait a longer time for a better replay or if you are having problems with the chat, use the email.
Conclusion
Well, we believe that now you already know everything you need to create a Helabet account and access it without facing any problems.
During our article, we saw how the registration process is easy and fast, as well as the fact that you can choose two different methods to complete it. The phone registration doesn't require much information, while the email registration asks for a little more.
We also learned how to log into your account and saw that it is possible to do it with your email or id. You can also do it by sms, in which you receive a confirmation code on your mobile and write it down on Helabet's website to complete the log in.
Finishing, we talked about the verification process, which is not necessary to do after the sign up, and also about how to find help if you have doubts about the registration. As we said, it is possible to talk to Helabet's support by email or using the online chat, which is a great option for those who want to solve the problems without using much time.
Top Rated Bookmakers in your country