Exchmarket bookmaker Review
Advantages:
Large selection of sports

Great welcome bonus up to ₹30,000

Live betting available

Large selection of deposit and withdrawal options
Payment Methods:
Exchmarket LIVE betting, Live Streaming
Exchmarket offers live betting on a variety of sports and events, including football, tennis, basketball, and more. Live betting, also known as in-play betting, allows users to place bets on an event while it is in progress. Bookmaker's live betting platform is designed to be user-friendly, with a live scoreboard, live statistics, and a variety of betting options available. Users can place bets on a range of outcomes, such as the next goal or point, the final score, or the outcome of the game.
Types of live games at Exchmarket
Here are some live-streaming games that are popular on the bookmaker's website:
Cricket
Football
Tennis
Basketball
Hockey
Horse racing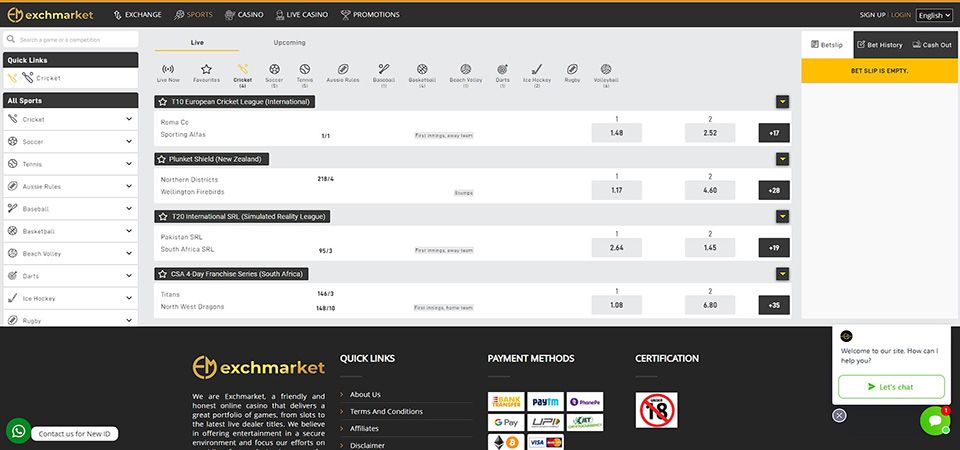 Exchmarket company - casino
Exchmarket offers a range of online casino titles, such as slots, table games, and video poker, provided by several reputable software providers, including NetEnt and Microgaming. They claim to offer fair and transparent gaming experiences, with random number generators (RNGs) audited by independent testing agencies to ensure fairness. Exchmarket also offers various bonuses and promotions to their customers, such as welcome bonuses and free spins, as well as a VIP program for high rollers. They also have a mobile-optimized website and app for playing games on the go.
Blackjack
The bookmaker's site has 18 blackjack slots, including the most advanced variations of this famous game. Almost all versions include the possibility of side bets. Also here you can find a complex blackjack, where you can create prize card combinations.
Roulette
The site also offers 16 variants of slot roulette, as well as 18 variants of the same game that can be played on exchmarket.com online. Although the bookmaker is predominantly targeting players from India, it is possible to load a roulette game in various European languages, including German, Russian and Italian.
Baccarat
The site has dozens of live baccarat variations, including an accelerated version of this famous title. All slots dedicated to this game can be launched in demo mode to practice and explore all the bonuses.
Slots
The bookmaker offers an extensive catalogue of titles, ranging from simple slots without bonuses to modern entertainment platforms that include multi-level jackpots and countless benefits for players. The most popular on the site are table games, however, slots on other topics are also in demand among its local visitors.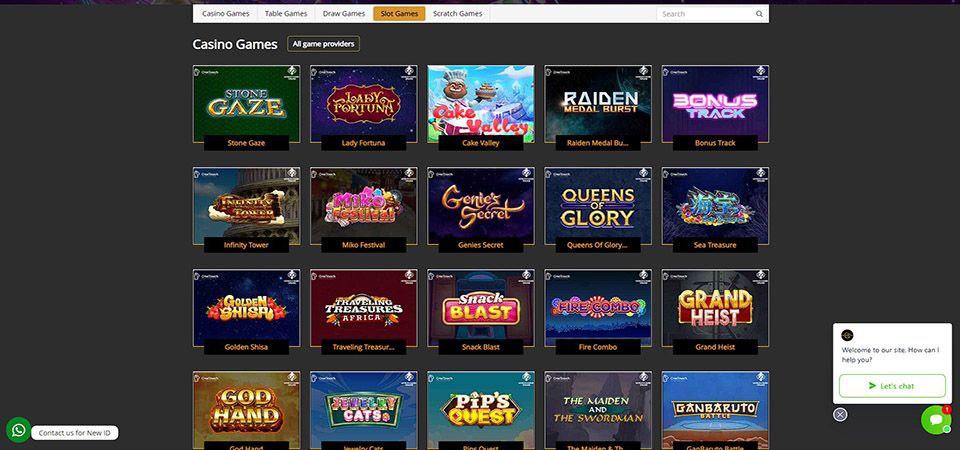 Exchmarket welcome bonus & promotions, Special Events
The company offers a wide variety of bonuses that increase player engagement and their chances of big wins. As a rule, the bookmaker holds special events relatively often and their list is constantly changing. Only the welcome bonus remains constant, which allows you to double your first deposit.
Exchmarket Welcome Bonus
In order to receive Exchmarket welcome bonus, players need to:
Register an account on the bookmaker's website
Verify their email
Top up their account up to 30,000 INR
After that, you will get a doubling of your entire deposit amount. The bonus must be wagered 5x within 10 days. The maximum payout amount of winnings is equal to the amount of bonuses received.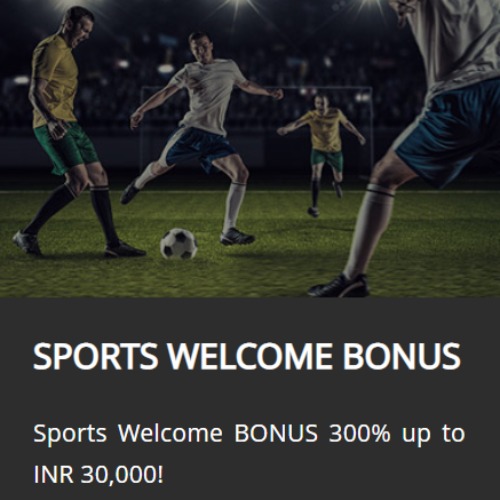 Exchmarket Odds & Margins
Odds and margins are essential aspects of sports betting. Exchmarket company offer competitive odds and margins to attract and retain customers. However, they may vary depending on the popularity of the event or market, the volume of bets placed, and the level of competition from other sportsbooks.
Odds are the probabilities of an event happening or not happening, expressed in decimal or fractional format. They determine the amount you can win if you place a bet and the risk you take. Higher odds mean that the event is less likely to happen, but the potential payout is higher. Lower odds mean that the event is more likely to happen, but the potential payout is lower.
Margins, on the other hand, represent the bookmaker's commission. Bookmakers use margins to ensure that they make a profit regardless of the outcome of a sporting event. The margin is the difference between the odds offered by the betting company and the true probability of the event happening. The lower the margin, the better for the bettor, as it means that the bookmaker is taking a smaller commission. In general, Exchmarket aims to offer lower margins to attract more customers.
Betting margin
Football

1.69%

Basketball

1.76%

Hockey

1.53%

Tennis

1.95%

Volleyball

2.42%

Handball

4.75%

Cricket

2.56%

Rugby

4.38%

Horse Racing

4.9%
Overall betting margin: 2.9%
Exchmarket Mobile apps, Exchmarket Mobile Betting & App
Many online sportsbooks and bookmakers offer their users to play and place bets using portable devices such as tablets and smartphones. Exchmarket mobile betting & app is a great way to place bets and manage your account on the go. At the same time, the bookmaker's application is still in the upgrade stage и and Exchmarket bet app download is not currently available. Instead, you can use the Exchmarket mobile version.
The features of the Exchmarket mobile version include the ability to place bets, access your account balance, deposit and withdraw funds, view live scores and results, and receive notifications about promotions and bonuses. It also has a user-friendly interface that makes it easy to navigate and place a bet quickly.
Android app: no
iOS app: no
You can play in the Mobile Browser

Mobile Browser
More
You can play in the Opera Mini

Opera Mini
More
Exchmarket Usability & features
The website has a simple and clean layout, with a navigation bar at the top of the page that allows users to easily access different sections of the site, including the sportsbook, casino, and live casino. The sportsbook itself is well-organized, with events categorized by sport and league, making it easy for users to find the events they want to bet on. The odds are clearly displayed, and users can quickly add their bets to their betting slip with just a few clicks.
The website also offers a range of features to help users make informed decisions, such as real-time statistics and live streaming of some events. Exchmarket live betting page is also mobile-friendly, allowing users to access it on their smartphones and tablets.
Overall, the usability of the website appears to be intuitive and easy to use, with a range of features to help users make informed betting decisions.
There is no Esports betting page
Exchmarket: Sports to bet on, What to Bet On, Available Sports competitions, Esports Betting
The bookmaker offers a number of sports and other events that any user can bet on. The list includes such popular games in India as football, cricket, tennis and horse racing. The width of betting lines offered by the company may vary depending on the specific event and the level of interest from users.
For popular sports and events such as football and cricket, the sportsbook may offer a wider range of betting lines and odds, including moneyline bets, point spreads, and proposition bets. For less popular sports or events, the range of lines and odds may be more limited.
It is important to note that the bookmaker's offer may also be affected by the location of the user and local laws and regulations. Overall, Exchmarket appears to offer a range of available sports to give users options for placing bets.
Exchmarket Popular Types of Bets
So what to bet on Exchmarket? It offers a variety of sports, including:
In addition to these popular sports, the website also offers to bet on events such as political elections and entertainment awards shows. It is important to note that the availability of certain sports and events may vary depending on the location of the user.
Credibility & Exchmarket Rewards Club
The bookmaker began its work in 2020, having received a license from the Curacao Gaming Control Board. The website uses secure encryption technology and has a privacy policy in place. When evaluating the company, we took into account factors such as the quality of customer support, the range of betting options and odds offered, and the ease of use of the website. According to our research, the bookmaker has a good reputation and is popular among bettors from India.
We didn't find any mention of the Exchmarket rewards club on the company's website, however, the bookmaker offers excellent betting and winning opportunities. The constantly updated bonus program also helps to increase user loyalty.
Payment methods: Exchmarket deposits & withdrawals, Deposit Methods
Deposits
Deposits and withdrawals are important features of any sportsbook. It is essential to have a convenient and secure payment method for users to deposit funds into their accounts and withdraw winnings. The bookmaker offers a wide range of deposit methods, including credit/debit cards, e-wallets, bank transfers, and cryptocurrencies.
Withdrawals
To withdraw money, you can use the same payment systems as at the time of the deposit. The processing time for withdrawals can also vary depending on the payment method. Some methods may have instant processing times, while others may take a few days. We were unable to find out details regarding the fees associated with withdrawals. Therefore, please note that the company may charge fees for certain payment methods or have minimum withdrawal or deposit amounts.
| | | |
| --- | --- | --- |
| ₹100–₹1,000,000 | Instant | 0% |
| ₹100–₹1,000,000 | Instant | 0% |
| ₹100–₹1,000,000 | Instant | 0% |
| ₹100–₹1,000,000 | Instant | 0% |
| ₹100–₹1,000,000 | Instant | 0% |
| ₹100–n/a | Instant | 0% |
| ₹100–n/a | Instant | 0% |
| | | |
| --- | --- | --- |
| ₹100–n/a | Up to 5-7 days | 0% |
| ₹100–n/a | Up to 24 hours | 0% |
| ₹100–n/a | Up to 24 hours | 0% |
| ₹100–n/a | Up to 24 hours | 0% |
| ₹100–n/a | Up to 24 hours | 0% |
| ₹100–n/a | Up to 1 hours | 0% |
| ₹100–n/a | Up to 1 hours | 0% |
You can ask the bookmaker support specialists any questions regarding live bets, sports, markets and others. There is an online support chat on the website where any player can get comprehensive advice. In addition, a bookmaker from India can chat with you via WhatsApp. In emergency cases, you can arrange a call and talk with the site administration face-to-face.
Phone

+44 78888 66 565

Email

Live chat

Competence
5 / 5
0 / 5
5 / 5
Politeness
4 / 5
0 / 5
5 / 5
Response Time
Up to 5 minutes
n/a
Instant
Account verification is a process that involves confirming the identity of a user or customer to ensure that they are who they claim to be. In the case of sportsbooks, the process is essential to prevent fraud, money laundering, and other illegal activities. The verification process typically involves providing personal information such as name, address, and date of birth, as well as a government-issued ID and proof of address, such as a utility bill or bank statement.
Sometimes the sportsbook may also require additional information or documentation, such as a copy of a credit card or a selfie with the ID. The verification process may take several days to complete. Once this happened, users can enjoy the full range of features and services offered by the bookmaker, including the deposit and withdrawal options, placing a bet, and accessing promotions and bonuses.
Exchmarket Betting Markets: Short guide
Exchmarket offers a variety of different types of bets that users can place on sporting events. In addition to the classic bets, the website offers interesting combinations of them.
Over/Under (Totals)
This type of bet involves predicting whether the total number of points scored in a match will be over or under a specific number set by the bookmaker.
Asian Handicap
It is a form of spread betting that aims to level the playing field between two unevenly matched teams by giving a handicap or point advantage to the underdog and a handicap or point disadvantage to the favourite. Asian Handicap bets can be placed on either the favourite or the underdog, and the handicap can be a whole number, half number or quarter number. The use of quarter numbers allows for more precise handicapping, as the half number ensures that the bet cannot result in a draw, which is a possible outcome in traditional handicap betting.
Accumulator Betting
Accumulator betting, also known as parlay betting, is a type of bet that combines multiple selections into a single bet. The aim is to increase the potential payout by multiplying the odds of each individual selection together. However, in order for the accumulator bet to win, all selections included in the bet must be correct.
Point Spread
This type of bet involves betting on the margin of victory or defeat for a team. The favourite team is given a handicap, and you must decide whether they will win by more than the handicap or if the underdog will lose by less than the handicap.
Money Line Bets
This is a simple bet where you choose the team or player you think will win the match. In addition to sports, such bets can be placed on political, cultural and other events.
Prop Bets
This is the name of the bets that players make on events or outcomes within the same game. For example, you can bet on the first team to score, the total number of goals scored by a specific player, or the number of fouls committed in a match.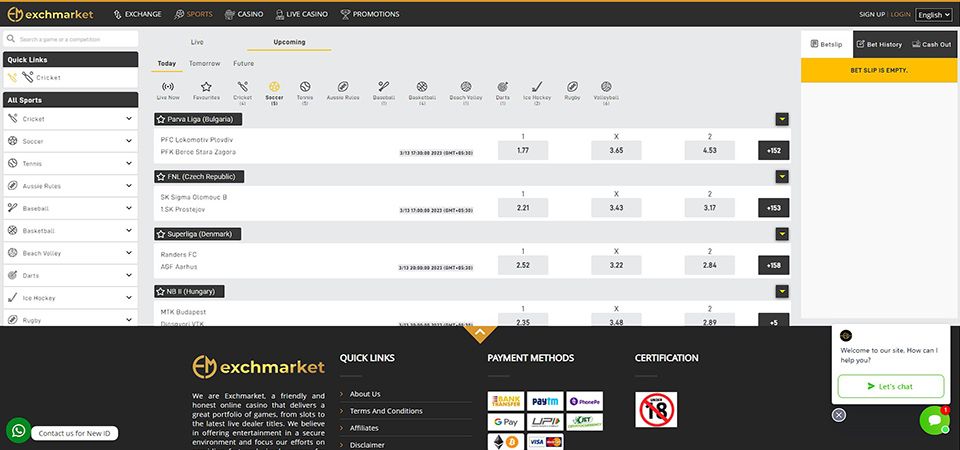 Exchmarket Licensing and regulations
Exchmarket is licensed and regulated by the Curacao Gaming Control Board. Regulated platforms are required to adhere to specific standards, policies, and procedures that aim to protect users and ensure fair trading and betting practices. Regulatory bodies and financial authorities also oversee the financial and operational stability of the platform and ensure that users' funds are safeguarded.
How to place a bet in Exchmarket?
To start bidding, you must complete the Exchmarket register form. Then you have to follow a few simple steps in the correct order. Here is a short guide on how to bet on one of the events on the bookmaker's website:
Deposit funds
Choose the sport and event
Choose the type of bet
Enter your stake
Confirm the bet
After submitting the bet, all you can do is wait for the outcome. As soon as you win, the prize amount will be instantly credited to your account and you can withdraw it later.
How to sign up in Exchmarket
To make bets, you have to create a personal account first and then the Exchmarket bet login. This is a simple procedure, but nevertheless an important step if you are going to bet on sports for the first time.
Click the "sign up" button

It is located in the upper right corner of the official website of the bookmaker.

Fill in all required fields with the required info

In this way, the Exchmarket login options will be available to you at any time.

Verify your account

After you have completed the Exchmarket register procedure, you need to upload your ID for verification.

Well done

After completing the registration completely, you will become a full member of the Exchmarket club. All bonuses will be available to you, as well as individual offers and, of course, all types of bets
Is Exchmarket Trustworthy? Final thoughts
The trustworthiness of any online betting or trading platform depends on several factors, such as licensing, security measures, user reviews, and regulatory compliance. If you are considering using Exchmarket, it is advisable to conduct thorough research and seek professional advice to ensure that the platform is reputable, trustworthy, and compliant with all relevant laws and regulations. By the way, you don't have to search too long. We have already made a professional opinion about this bookmaker and are happy to share it with everyone who plans to use its services.
In our opinion, Exchmarket is a noteworthy licensed website that meets all the criteria of a good bookmaker. First, the platform uses advanced security measures, such as encryption and two-factor authentication, to protect users' personal and financial information. Secondly, users of the site leave mostly good reviews about it. And, finally, thirdly, the company offers current events with profitable odds. So, this is a great place to play casino and bet.
Advantages
Competitive odds and wide range of markets
User-friendly interface and mobile app
Fast and reliable payment processing
Live streaming available for some events
Good customer support and helpful resources
Limitations
There are no critical cons
Bookmaker reviews by players