ZotaBet: Unbiased And Honest Review 2023 (Pros And Cons)
Advantages:
Crypto-friendly

Live streams

Detailed statistics section

Excellent odds
Payment Methods:
T&C apply. Gamble Responsibly 18+
ZotaBet is one of the new bookmakers in the Australia betting market. Hollycorn N.V. is the proprietor and operator of ZotaBet, and it operates under the legal framework established in Curacao. The company is duly registered and recognised according to Curacao's laws.
After conducting an in-depth assessment, we have granted the website a high rating. From our perspective, ZotaBet delivers top-notch services, provides enticing bonuses, and offers valuable support features, positioning itself among the premier live betting platforms.
Types of live games at ZotaBet
The ZotaBet website is a popular betting destination for the following sports:
Football
Rugby
Basketball
Tennis
Hockey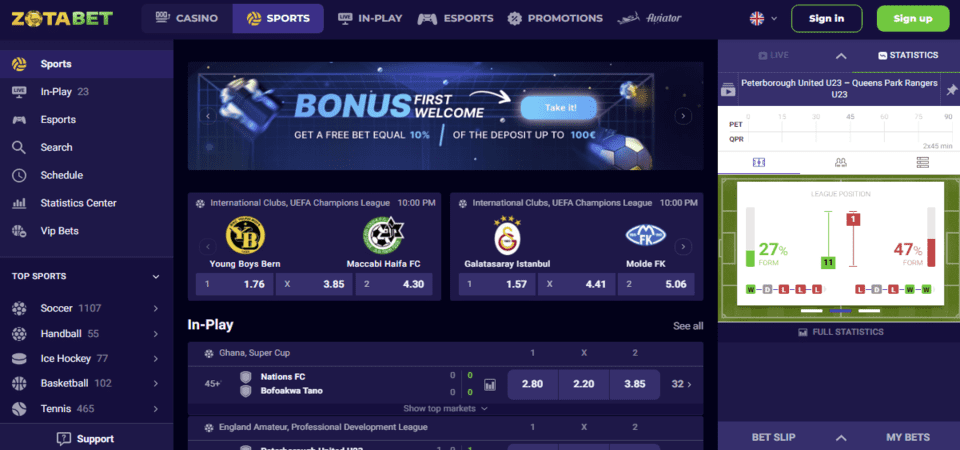 ZotaBet's online platform features a comprehensive casino section that showcases a diverse array of games, blending both traditional and innovative options. Within this section, users can partake in a broad spectrum of captivating experiences, including top-notch slots, timeless table games, engaging lotteries, and various popular forms of betting entertainment.
What sets ZotaBet's casino apart from newer betting websites is its huge incorporation of live dealer games, which have seen a notable surge in popularity recently.
Blackjack
ZotaBet provides players with the opportunity to relish the evergreen game of blackjack, where the main goal is to achieve a hand total of 21 points or get as close to this score as possible. In the beginning, two cards are given to players, who can then choose whether to 'hit' for additional cards or 'stand' to keep their current hand. Similar to leading online betting platforms, ZotaBet offers an array of blackjack variations, all of which feature live dealers, adding an interactive element to the gaming experience.
Roulette
Roulette is possibly one of the most well-renowned live casino games and involves a spinning wheel and a ball. The wheel consists of numbered slots, and the dealer releases the ball in the opposite direction. Players place bets on where they predict the ball will land within the wheel. The bookmaker's website offers a wide array of live roulette variations for players to enjoy.
Baccarat
Baccarat's popularity is anchored in its simplicity, helping it gain popularity on numerous casino and bookmaker websites worldwide. This game revolves around two primary hands: the player's hand and the banker's hand. Typically, two or sometimes three cards are distributed for each hand, with the objective of attaining a hand value as near to nine as feasible. The bettor's job is to predict whether the dealer or the player will win or whether it will be a tie.
Slots
The ZotaBet casino website boasts an impressive array of games designed to cater to a diverse range of gaming preferences. Here, players can immerse themselves in a captivating world of entertainment that spans various categories. For those who enjoy the strategic allure of card games, ZotaBet offers a compelling selection. Also, the sportsbook recognises the appeal of live dealer games, and it offers an assortment of live gaming experiences.
ZotaBet's slot collection is extensive and diverse, catering to both classic and modern slot enthusiasts. Classic slots with three reels and straightforward gameplay are available for those who appreciate simplicity. Meanwhile, video slots with five or more reels and multiple paylines offer a wealth of winning opportunities.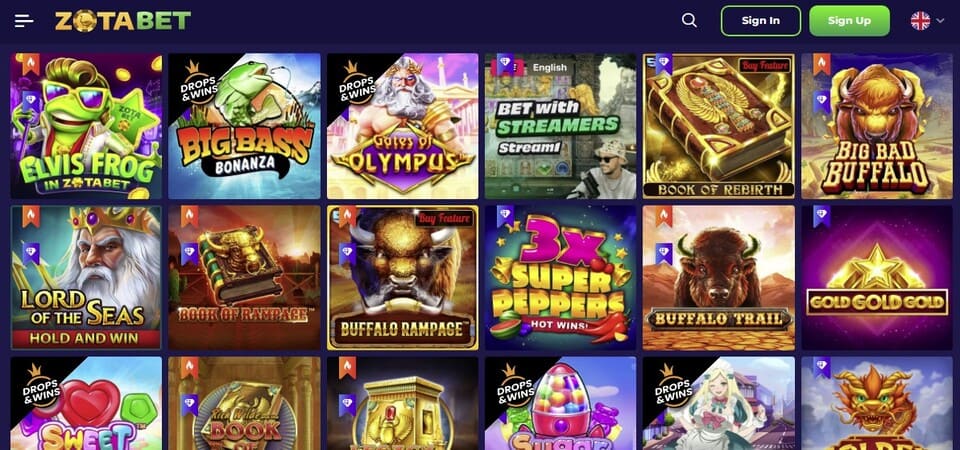 ZotaBet Bonuses & Promotions
ZotaBet has gained popularity among sports betting enthusiasts for a variety of compelling reasons, with one of the standout features being its extensive selection of sports betting offers. To accommodate diverse preferences, ZotaBet provides a broad spectrum of choices for bettors, including enticing sign-up bonuses. Moreover, for those seeking even more options, our experts regularly update a list of current betting site offers on a weekly basis.
100% First Welcome Bonus Up To 150 EUR
The 100% welcome bonus of up to 150 EUR offered by this platform is an excellent way to kickstart your betting experience. It effectively doubles your initial deposit, providing you with extra funds to explore the wide range of betting options including rugby, football, tennis and so on.
What's even more enticing is the opportunity to receive a free bet of up to 100 EUR if your initial deposit surpasses this amount. The flexibility of using free bets on events with odds ranging from 1.01 to 2.00 is a notable advantage. It means you have the freedom to choose from a variety of betting options, whether you prefer low-risk wagers or are feeling more adventurous with higher odds.
25% Second Deposit Bonus Up To 200 EUR
The reload bonus for the second deposit on this platform is an enticing offer that rewards players for their continued participation. When you make a second deposit of 1000 EUR or more, you become eligible for a substantial 200 EUR bonus. The bonus, delivered as a free bet, enhances and enriches your betting experience by providing substantial added value.
It's important to note that the free bet received as part of this promotion must be used within a relatively short time-frame, specifically within three days. This time constraint encourages players to stay engaged and actively participate in betting activities.
What's even more exciting for players who've made their second deposit is the access to the AllBoost 25% bonus. This bonus is particularly appealing for those who enjoy combined bets, as it's available for wagers featuring 4 or more events, each with odds of 1.40 or higher. This boosts the potential returns on these multi-event bets, providing an extra layer of excitement for bettors seeking higher rewards.
ZotaBoost Up To 50%
The ZotaBoost, which can reach up to 50%, is accessible for accumulator bets involving three or more events, with each event having odds of at least 1.40. Additionally, the cumulative odds of all the eligible events in the bet must be 1.00 or higher.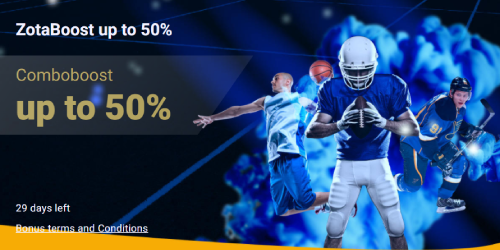 ZotaBet, like any reputable bookmaker, sets its odds and margins to ensure sustainability and profitability. This means that odds are adjusted to reflect the perceived likelihood of an event occurring, and the margin ensures that the bookmaker takes a small cut from each bet.
For bettors, understanding the odds is crucial because it directly affects potential winnings. Higher odds can yield more substantial profits, but they typically come with a lower likelihood of success. Conversely, lower odds are more likely to win but result in smaller profits.
Margins play a significant role in a bettor's profitability. A bookmaker with lower margins offers more competitive odds, which can lead to higher potential returns for bettors. In contrast, bookmakers with higher margins tend to offer less favourable odds, reducing the potential profits for bettors.
Bettors often look for bookmakers with lower margins as they provide better value in terms of odds. ZotaBet, like many leading platforms, strives to offer competitive odds and margins to attract and retain bettors.
Betting margin
Baseball

7.11%

Basketball

6.45%

Boxing

6.78%

Cricket

8.23%

eSports

7.09%

Football

5.23%

Hockey

8.32%

MMA

7.45%

Rugby

6.9%

Tennis

7.02%

Volleyball

7.56%
Overall betting margin: 7.1%
In today's fast-paced world, mobile apps have become a cornerstone of convenience, and ZotaBet is no exception. With dedicated mobile apps for both iOS and Android users, ZotaBet brings the world of sports betting and casino gaming directly to the palm of your hand.
ZotaBet caters to a wide range of users by offering apps for both iOS and Android devices. This means you can enjoy the platform's offerings regardless of your preferred mobile operating system. According to many experts, ZotaBet's solution for betting on smartphones and tablets is one of the best football and golf apps in the betting markets of Australia, New Zealand and Ireland.
The mobile apps are a game-changer for bettors on the move. Whether you're commuting, waiting for a friend, or simply relaxing at home, you can access your ZotaBet account and place bets anytime, anywhere. This level of convenience is invaluable for keeping up with live events and seizing betting opportunities as they arise.
ZotaBet prioritises security, and the mobile apps are no exception. They employ robust encryption protocols to safeguard your personal and financial information, ensuring a safe and secure betting environment.
Android app: yes
iOS app: yes
You can play in the iPhone App

iPhone App
More
You can play in the Android App

Android App
More
You can play in the Mobile Browser

Mobile Browser
More
You can play in the Opera Mini

Opera Mini
More
ZotaBet Usability & Features
ZotaBet's website strikes an ideal equilibrium by providing a flawless user interface that caters to both casino gaming and sports betting enthusiasts. The website's meticulously structured design guarantees that players can effortlessly locate all the necessary features for a successful betting experience within the dedicated Sports section.
The website's rapid navigation features contribute significantly to its overall user-friendliness. Regardless of whether players are seeking particular casino games, live dealer choices, or sports events, ZotaBet guarantees that the essential information and selections are easily accessible with just a few clicks.
ZotaBet's Sports section is designed to accommodate a broad spectrum of preferences by presenting a comprehensive array of sports and global events. Whether you're a fan of mainstream leagues or have a penchant for more obscure competitions, ZotaBet caters to your interests and betting strategies with a diverse range of options. This abundance of choices provides ample opportunities for successful wagering. In summary, ZotaBet's website usability is exceptionally high, establishing it as one of the top new betting sites, especially for football. rugby and NHL enthusiasts, among others.
Live streaming and betting
Bonuses and Promotions section
ZotaBet: Sports to bet on
ZotaBet is proud to provide an exceptionally wide variety of betting choices, guaranteeing that each user can discover precisely what they're seeking. With its extensive array of betting markets, the company caters to a broad range of interests, establishing itself as the preferred destination for passionate bettors.
ZotaBet presents a vast array of sports, encompassing not only popular ones like football, basketball, and tennis but also more specialised sports and events, such as cycling. The platform offers a rich assortment of matches and competitions from across the world, ensuring that sports enthusiasts have a wide spectrum of options. Additionally, ZotaBet maintains broad betting lines, accommodating a large selection of betting preferences and budget sizes.
Moreover, here you can bet on eSports tournaments such as Dota-2 and CS:GO team competitions. On the platform, you can watch online broadcasts of the most popular matches.
ZotaBet Popular Types of Bets
Among the sports on offer for bettors are:
Aussie Rules
Table Tennis
ZotaBet is well-regarded for its commitment to credibility, emphasizing a secure, top-notch, and trustworthy service for its users. The presence of a valid license further solidifies its reliability, providing players with added benefits and confidence. The sportsbook employs advanced encryption methods to protect players' personal and financial information, reducing the risk of data breaches or identity theft. Also, it maintains segregated accounts for player funds. This means that player deposits are kept separate from the bookie's operating funds, ensuring that bettors can access their money when they wish to withdraw their winnings.
Customer feedback has largely been positive, with users expressing satisfaction and positive experiences with the platform's offerings. However, it's important to note that ZotaBet, being relatively new in the market, is still in the process of building a long-term, stable reputation.
Given its recent entry into the industry, ZotaBet may need additional time to establish a strong track record and earn the trust of a broader user base. Nevertheless, the platform's dedication to ensuring a safe and enjoyable betting environment lays promising groundwork for its future expansion and reputation within the gambling market.
Payment Methods: ZotaBet Deposits & Withdrawals
Deposits
The bookmaker provides comprehensive support for major payment methods, encompassing Visa and MasterCard, along with electronic payment systems like GiroPay, Mifinity, AstroPay, among others. Notably, the company promotes high-stakes betting and, as a result, refrains from imposing any commissions or fees on bettors' deposits.
Furthermore, apart from conventional deposit methods, users also have the option to fund their accounts using cryptocurrencies. The minimum deposit amount in bitcoins is 0.0001 BTC. In addition, the platform accepts Litecoin, Ethereum, Tether and others. Sportsbook does not charge any fees for deposits or withdrawals of winnings.
Withdrawals
Winnings can be withdrawn through the same payment methods employed for deposits. Typically, transactions are processed almost promptly, earning the bookmaker recognition as one of the quick withdrawal betting platforms. Nevertheless, there might be instances where a waiting period of up to three days is necessary. It's important to note that the minimum withdrawal amount stands at 10 AUD / 20 EUR. The max payout amount per transaction is 1600 AUD / 1000 EUR.
Withdrawal & deposit in AUD
| | | |
| --- | --- | --- |
| A$30–A$4,000 | Instant | 0% |
| A$30–A$4,000 | Instant | 0% |
| A$30–A$4,000 | Instant | 0% |
| A$30–A$4,000 | Instant | 0% |
| μ100–n/a | Instant | 0% |
| m1–n/a | Instant | 0% |
| m10–n/a | Instant | 0% |
| m10–n/a | Instant | 0% |
| 0.001 XRP–n/a | Instant | 0% |
| 5 USDT–n/a | Instant | 0% |
| A$30–A$4,000 | Instant | 0% |
| A$30–A$4,000 | Instant | 0% |
| ❌ | ❌ | ❌ |
| ❌ | ❌ | ❌ |
| | | |
| --- | --- | --- |
| ❌ | ❌ | ❌ |
| ❌ | ❌ | ❌ |
| ❌ | ❌ | ❌ |
| ❌ | ❌ | ❌ |
| A$10–A$1,600 | Up to 1 hour | N/A |
| A$10–A$1,600 | Up to 1 hour | N/A |
| A$10–A$1,600 | Up to 1 hour | |
| A$10–A$1,600 | Up to 1 hour | N/A |
| A$10–A$1,600 | Up to 1 hour | N/A |
| A$10–A$1,600 | Up to 1 hour | N/A |
| ❌ | ❌ | ❌ |
| ❌ | ❌ | ❌ |
| A$100–A$1,600 | Up to 3–10 days | N/A |
| A$100–A$1,600 | Up to 3–10 days | N/A |
Withdrawal & deposit in EUR
| | | |
| --- | --- | --- |
| €20–€4,000 | Instant | 0% |
| €20–€4,000 | Instant | 0% |
| €20–€4,000 | Instant | 0% |
| €20–€2,500 | Instant | 0% |
| €20–€4,000 | Instant | 0% |
| €20–€10,000 | Instant | 0% |
| 0.0001 BTC–n/a | Instant | 0% |
| 0.001 BCH–n/a | Instant | 0% |
| 0.01 LTC–n/a | Instant | 0% |
| 0.01 ETH–n/a | Instant | 0% |
| 0.001 XRP–n/a | Instant | 0% |
| 5 USDT–n/a | Instant | 0% |
| €20–€500 | Instant | 0% |
| ❌ | ❌ | ❌ |
| ❌ | ❌ | ❌ |
| | | |
| --- | --- | --- |
| ❌ | ❌ | ❌ |
| ❌ | ❌ | ❌ |
| ❌ | ❌ | ❌ |
| €20–€1,000 | Up to 24 hours | 0% |
| ❌ | ❌ | ❌ |
| ❌ | ❌ | ❌ |
| €20–€1,000 | Up to 1 hour | 0% |
| €20–€1,000 | Up to 1 hour | 0% |
| €20–€1,000 | Up to 1 hour | 0% |
| €20–€1,000 | Up to 1 hour | 0% |
| €20–€1,000 | Up to 1 hour | 0% |
| €20–€1,000 | Up to 1 hour | 0% |
| ❌ | ❌ | ❌ |
| €20–€1,000 | Up to 5–7 days | 0% |
| €20–€1,000 | Up to 1–3 days | 0% |
ZotaBet places a strong emphasis on ensuring customer satisfaction, exemplified through its dedicated and responsive customer support service. The support team is composed of well-informed agents who stand ready to assist users from Australia and beyond, addressing any questions or problems that may arise during their gaming experience.
Users have the option to contact the support team through two convenient communication channels: email and live chat. For non-urgent matters or queries that require detailed explanations, the support email (support@zotabet.com) provides a reliable means of communication. In addition, the site has a FAQ section which contains answers to the questions most often asked by the bookmaker's users. In the Support Service section of the site, you can also send your message using a special online form.
Phone

Email

support@zotabet.com

Live chat

Competence
0 / 5
5 / 5
5 / 5
Politeness
0 / 5
5 / 5
5 / 5
Response Time
N/A
Up to 12 hours
Up to 3 minutes
Account verification enhances the overall security of the platform by confirming the identity of the user. This helps to prevent fraudulent activities and unauthorised access and protects users from potential account breaches. Verifying user accounts is an important step in promoting responsible gaming. It helps to ensure that individuals using the platform are of legal age and meet other eligibility criteria, promoting a safe and controlled gaming environment.
Note that verified accounts are more likely to have smooth and hassle-free payment transactions. Some payment providers may require account verification before processing withdrawals or large deposits.
Common documents needed for account verification on ZotaBet include:
A government-issued ID
A recent utility bill (or bank statement)
A copy of the credit card (or a screenshot of an e-wallet)
The speed of the verification procedure can vary depending on a user's responsiveness and the completeness of the documents provided. Typically, ZotaBet strives to process verifications as quickly as possible to minimise any disruption to the user's gaming experience.
ZotaBet Betting Markets: Short guide
ZotaBet offers a wide variety of betting options to cater to different preferences. They allow you to choose the type of wager that suits your knowledge and strategy. Whether you prefer straightforward bets like Money-Line or enjoy more complex strategies like Accumulator Betting, ZotaBet offers a range of choices to make your betting experience exciting and engaging.
Over/Under (Totals)
In Totals, you're not concerned about which team wins; instead, you're predicting the total points or goals scored in a game. The bookmaker sets a number, and you decide if the actual total will be higher (Over) or lower (Under) than that number. For example, in a soccer game, if the bookmaker sets the total at 2.5 goals and you bet "Over," you win if the game has 3 or more goals.
Asian Handicap
Asian Handicap makes uneven matches more exciting. One team starts with a "handicap," which means they either begin with a goal advantage or a goal deficit. Your job is to bet on which team will overcome this handicap. For instance, if Team A has a -1 goal handicap against Team B, Team A must win by at least 2 goals for your bet to win.
Accumulator Betting
Also known as Parlay, Accumulator Betting lets you combine multiple bets into one big bet. You can bet on the outcomes of several games or events. All of your bets must be correct for you to win the accumulator. It offers the chance for higher payouts but can be riskier since one wrong bet means you lose the whole accumulator.
Point Spread
Point Spread is common in sports like American football and basketball. It levels the playing field when one team is heavily favoured. You bet on whether the favoured team will win by more points than the spread (cover) or if the underdog will lose by fewer points than the spread. For example, if the Point Spread is -7 for Team A, they must win by more than 7 points for your bet to win.
Money-Line Bets
Money-Line Bets are straightforward. You pick the team or player you believe will win, regardless of the margin or score. The odds tell you how much you can win for a given bet amount. For example, if Team X has odds of +150, a $100 bet would win you $150 if they win.
Prop Bets
Prop Bets are fun and focus on specific events within a game. They can cover anything from which player scores the first goal to how many three-pointers a basketball player makes. Prop bets add extra excitement to the game by letting you bet on specific moments or performances.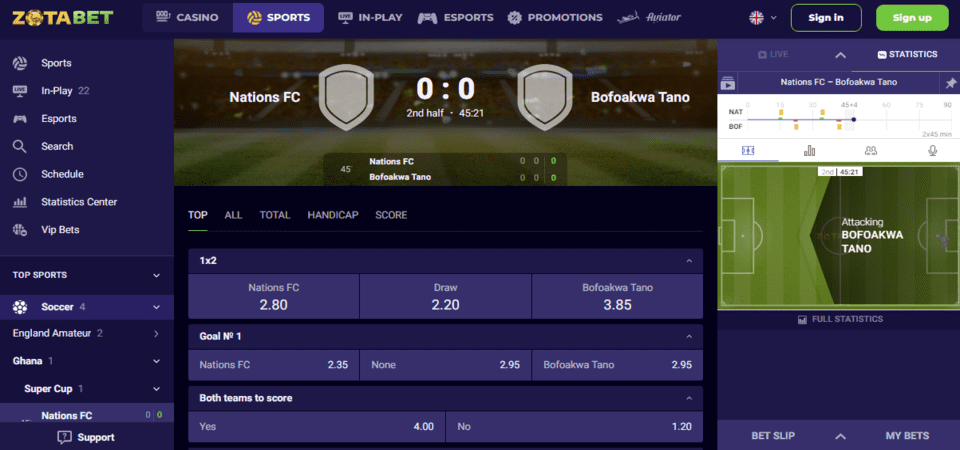 ZotaBet: Licensing and Regulations
ZotaBet is owned by Hollycorn N.V., which is licensed by the government of Curacao. This guarantees user protection as the bookmaker is obligated to comply with specific regulatory standards. This means that players are protected by the legal system, and they have recourse in case of disputes or unfair treatment. Licensed casinos must adhere to strict regulations, which often include guidelines on fair play, secure transactions, and responsible gaming practices.
The casino license that issued by the regulatory body ensures the games offered are fair and not rigged. The platform uses random number generators (RNGs) to determine game outcomes, ensuring that no one can manipulate the results to disadvantage players. This fairness provides players with a level playing field and boosts their confidence in the games.
Additionally, licensed sportsbooks prioritise the security of their users' funds and personal information. The bookmaker partners with secure payment processors, offering players a range of trusted deposit and withdrawal options. This ensures that financial transactions are processed safely and efficiently.
How to place a bet on ZotaBet?
Starting to place a bet on ZotaBet is a straightforward and hassle-free procedure. To help you begin, here's a step-by-step guide:
Register and fund your account.
Select the sport you wish to bet.
Choose your preferred betting market.
Make your bet.
Verify the outcomes.
By adhering to these guidelines, you can easily explore the platform and savour the excitement of online betting on ZotaBet.
How to sign up for ZotaBet?
To initiate your betting experience, you'll need to create an account on the bookmaker's website first. Once that's done, you can start betting on your preferred sports, including TV shows.
The registration is a quick process that takes just a few minutes to complete. Ensure you have your identification documents on hand, as they might be needed during registration. Having these documents ready will help you speed up the registration process, allowing you to start your betting activities without any delays.
Click the 'Sign Up' button

You'll locate this green button at the top right corner of the homepage of the website.

Fill in all the required fields

Remember to thoroughly review the information to eliminate any potential errors.

Verify your account

Forward scanned copies of the necessary verification documents via email.

Well done

Deposit funds, unlock profitable bonuses, and place bets!
Is ZotaBet Trustworthy? Final thoughts
ZotaBet is a trusted and dependable platform known for its commitment to delivering a secure and trustworthy gambling experience. The sportsbook offers a wide variety of betting markets, encompassing different sports, leagues, and events to satisfy diverse interests. Here you can even bet on political events. Additionally, ZotaBet ensures a seamless and enjoyable gaming experience for all users with its easy-to-use interface and smooth navigation.
The platform's customer support service, which can be reached through email and live chat, promptly handles any user concerns or questions, thereby improving user satisfaction. Additionally, ZotaBet is fully licensed and regulated, offering users assurance regarding the platform's legitimacy and compliance with industry standards.
Despite being a newcomer in the market, ZotaBet's dedication to providing a secure, top-notch, and dependable betting environment forms a solid basis for building an enduring and trustworthy reputation. Players leave great reviews about the sportsbook. They carry substantial weight in the gambling industry influencing the perception of a bookmaker's trustworthiness, user experience, and overall quality. Positive reviews set the bookmaker apart from its competitors.
With these core strengths, ZotaBet consistently earns the trust of users and remains a favoured option for gambling enthusiasts seeking an outstanding gaming experience.
Advantages
Crypto-friendly
Licensed and regulated
Competitive odds
A wide selection of sports
Limitations
Availability is restricted in some countries
Bookmaker reviews by players