Mr. Play Mobile app
This Mr Play mobile site guide answers all your questions. How to get the app and how to install Android and iOS apps. Our team has tested for usability and much more.
Not available in your location
Try these bookmakers instead:
Mr Play has burst onto the scene in recent months with the Mr Play mobile site creating quite a stir in the industry. This hasn't gone unnoticed by our expert review team who are keen to find out what all the fuss is about.

Consequently, we're putting the Mr Play mobile website under the microscope. Having researched the platform in detail, spending many hours investigating, comparing, and rating, we report on our findings. The aim is to give you a full understanding of the performance of this online bookmaker.

We explain the process of how to download the Mr Play app to Android and iOS. We pick through the sports betting markets, live betting, deposit options, customer service support and more. If it's worth knowing about, you'll find the details here.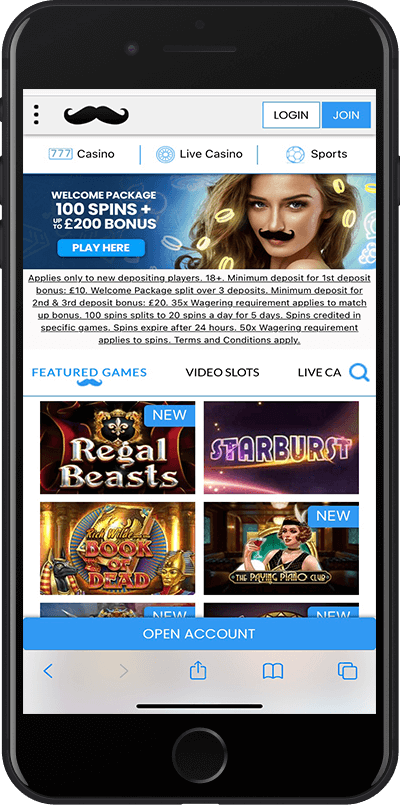 The Mr Play application can be downloaded to Android and iOS devices in less than a minute. It's a simple process you only need to complete once on each device you wish to use for betting. This frees up more time for bettors to familiarise themselves with the app's layout, to take advantage of the bonuses and to experience the betting value on offer.

The Mr Play app for Android and iOS is slightly different in terms of download and installation. Because of this, we've set out a step-by-step guide to downloading both apps to your mobile or tablet device. Follow these pointers for each download to ensure you complete the process in the quickest possible time.

Follow the steps below to install the Mr Play app for Android…
Open the web browser on your device and enter the Mr Play URL
Click the homepage link to download the Android app
Open Settings > Security
Click the box to allow downloads from 'Unknown Sources'
Open your downloads folder
Click the Mr Play .apk file to download
The app will download and install automatically
Enjoy the benefits of using Mr Play for Android

Follow the steps below to install the Mr Play mobile app to an iOS device…
Open the App Store on your device
Type Mr Play into the search bar
Choose the sportsbook version and click Get
The app will download and install automatically
Enjoy using the Mr Play mobile app on your iOS

Together with the Mr Play mobile app on Android and iOS, there's another way to access your account when on the move. The mobile-optimised website can be accessed from anywhere in the world where gambling is legal, and the best thing about this is that there's no need to download it. This saves storage space on your device, which can be vital for some.

The Mr Play mobile apps are worth downloading to give yourself the best possible user experience, but the mobile app also does a great job. You can login to your account, check prices, take advantage of promotions, contact customer services, place bets and more. Once you've finished, it's a simple case of logging out of your Mr Play account and clicking off the page.

If you do have the space available, we always recommend the Mr Play app for iPhone or the Android version. This speeds up login times and the updates ensure you are always using the app's latest and best version.
In which countries is the Mr Play app available?
The Mr Play app is widely available and you can download Mr Play app for Android or iOS in many countries. Some regions restrict the app, however, and online sports betting in general. Betting on sports or casinos is banned in some countries, so we advise reading the rules in your area before attempting to access Mr Play.

Even if you're a visitor to that country, taking a holiday for example, then local gambling laws still apply to you. So be sure not to access your online betting account as it could land you in hot water. You may still see that the Mr Play mobile app is free to download in a region but that doesn't mean it's legal. Tread carefully when enjoying international travel is our advice.

Regardless of whether you are using the Mr Play for Android or the iOS app, you'll find they both share the same functions. They're both user-friendly and fast enough to keep up with the demands of sports betting. The in-play betting list is on the homepage and that helps to speed up the process of betting on a match that has already begun.

The app for Mr Play has a useful navigation bar, which makes it simple to browse what's available and choose your bet for the day. This is ideal if you have a bit more time on your hands and are on the lookout for a value play.

You can login to your Mr Play apps by entering your unique username and password, while many devices now allow you to login using fingerprint technology. Both are extremely secure and ensure that your account is protected against the threats associated with betting online.

Follow the below steps to login to the Mr Play app for mobile

On an iOS device, you should click the login button at the top of the homepage before entering your username and password. You will know you have successfully logged in when you can see your username and access your details.

To login via an Android app, you should touch the 'hamburger' icon at the top of the homepage then fill in your details and confirm. If you see your username at the top corner of the screen then you know you are logged into your account.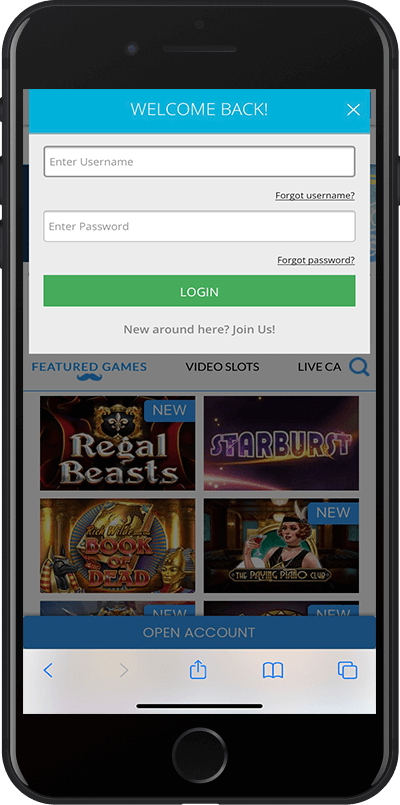 The Mr Play trading team works hard to ensure there's a bet to suit all members each time they visit. You'll find quick homepage links to the most popular sports of the day, such as the next horse race due off. Or, if you're after a quick interest, then you can bet on the favourite in the next race in under 10 seconds.

The top sports are present in the navigation bar, including football, basketball, boxing, golf, rugby, and ice hockey. There's also a healthy presence of more niche markets. Browse what's available and you'll often uncover a gambling gem worth backing. The aim of the apps is to make the betting process as smooth and user-friendly as possible.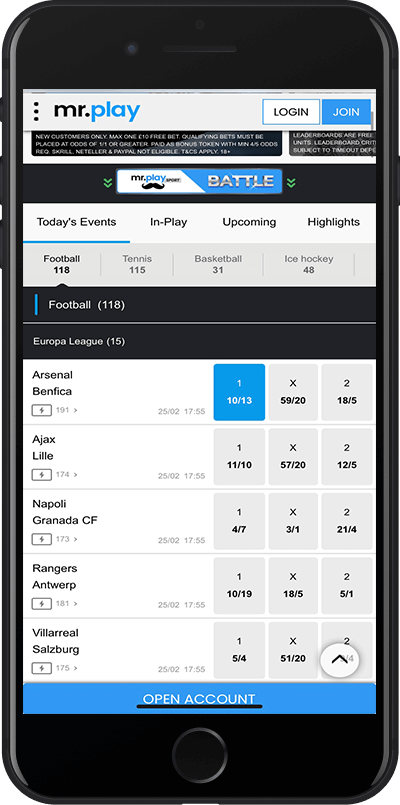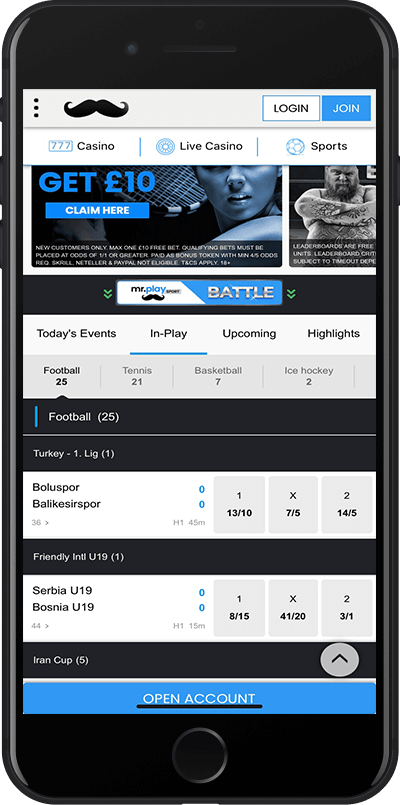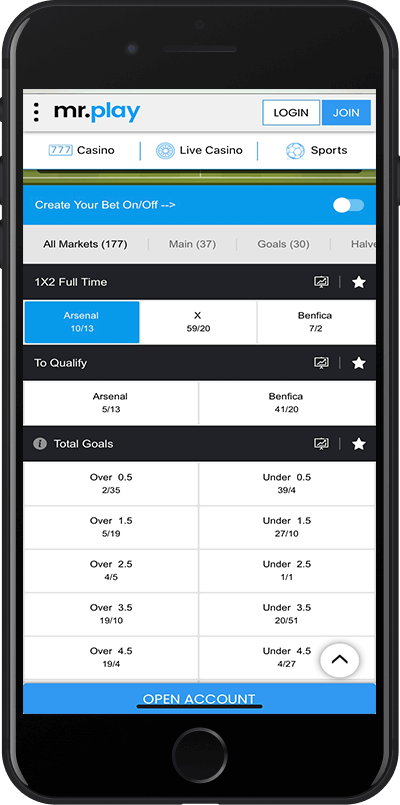 Via this page, sign up as a new customer for a Mr Play account today and you'll receive an exciting welcome bonus. Open an account, deposit $10 and you'll receive a $10 free bet on sports. You must deposit and bet on a qualifying sportsbook market to release the $10 free bet.

Mr Play gives members options for transferring money to and from your betting account. You can use your debit card or one of the more popular e-wallet services. Regardless of which option you decide to use, you can be sure of being protected. Secure Socket Layer technology protects against cyberattacks, allowing you to bet with peace of mind.

Deposit methods
Below is an example of some of the deposit methods available at Mr Play:
| Payment Method | Deposit Minimum | Deposit maximum | Time for Deposit |
| --- | --- | --- | --- |
| VISA | $10 | N/A | Instant |
| Paysafecard | $10 | N/A | Instant |
| Neteller | $10 | N/A | Instant |
| Skrill | $10 | N/A | Instant |
Withdrawal methods
Below is an example of some of the withdrawal methods available at Mr Play:

| Payment Method | Withdrawal Minimum | Withdrawal Maximum | Time for Withdraw |
| --- | --- | --- | --- |
| VISA | $10 | N/A | 3-5 days |
| Paysafecard | $10 | N/A | Instant |
| Neteller | $10 | N/A | Instant |
| Skrill | $10 | N/A | Instant |
If you have a question or query regarding the Mr Play service, your first point of contact should be the Frequently Asked Questions page. There, you'll find a catalogue of popular queries with helpful answers attached. If you'd prefer to speak to a member of the customer support team, you can reach them using any of the following methods
Email
Telephone
Live Chat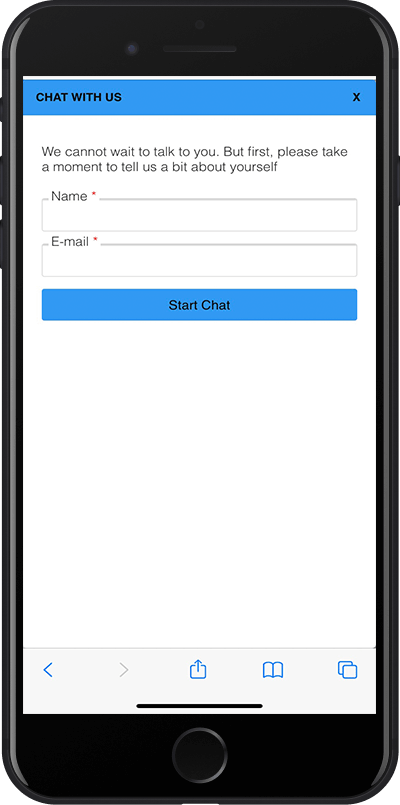 Our review team were impressed by what Mr Play had to offer from the first visit. You will be welcomed by a generous £10 free bet and members can use this promotion on an impressive list of sports betting and markets.
Advantages
£10 free bet for new customers
Stylish mobile app
Wide range of sports
In-play betting available
Limitations
Limited ongoing promotions
No live streaming
The mobile app is stylish and modern enough to keep up with the demands of users. It's ideally suited to betting in-play on live sports. Click any link on this page to get started with Mr Play.