GGbet registration - how to sign up & log in
GGbet Registration – A Step-By-Step Guide
In this comprehensive guide, we'll provide you with all the details that you need to know about the process of creating an account and obtaining a GGbet login. 
As you are about to find out, the process is extremely simple and won't take more than just a few minutes of your time. Additionally, we'll take a look at other potential benefits that come from registering here and explain the potential problems that you may have, if there are any. So, let's start breaking down the details.
How to Register at GGBet
Step 1

Access the official GGbet website on your desktop or mobile device. Make sure that you have a stable internet connection.

Step 2

Click on the Sign-Up button at the top-right of the screen to start the registration process.

Step 3

Fill in the required fields, select your currency, confirm that you are over 18 and accept the terms and conditions.

Step 4

Click on the Registration button to finalise the process. Keep in mind that GGbet will ask you to verify your account later on.
As mentioned, the process of registering an account at GGbet won't take much of your time and will be completed within minutes. You won't experience any difficulties, regardless of your computer skills. That being said, the process consists of 4 steps, explained below.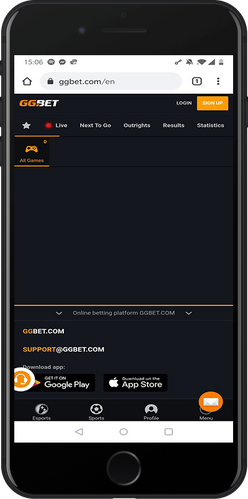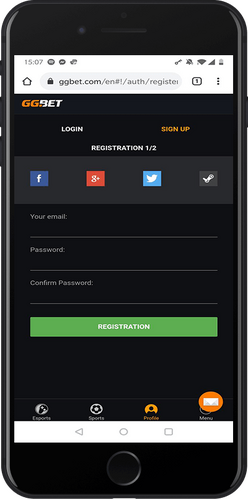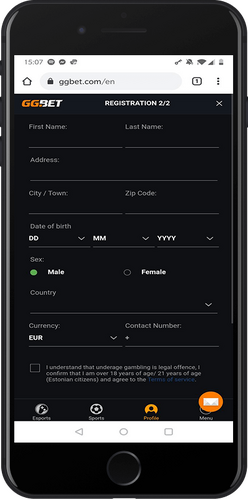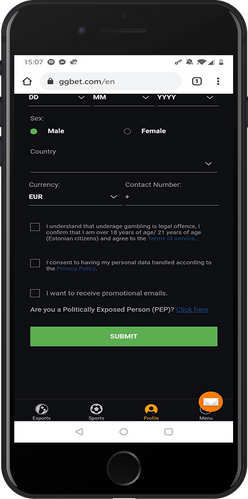 GGbet Registration from Your Country is Not Allowed?
One important thing you need to keep in mind is that GGbet has certain terms and conditions, just like any other bookmaker. Country restrictions are among those conditions. If GGbet registration from your country is not allowed, then we're afraid that you will have to browse for a different operator that will meet your preferences.
What You Should Know About GGbet Sign Up Requirements
The process of registering an account at GGbet is extremely simple and consists of 4 steps only. While explaining the third step, we mentioned that there are a couple of fields that you need to fill out. There are three fields in total for submitting personal information – one where you need to write your phone number, one where you need to choose your password, and the final one where you choose your preferred currency. This is the only information required to register.
| | |
| --- | --- |
| 📧 Requires e-mail | + |
| 📲 Requires phone number | + |
| 🤳 Requires ID scan | - |
| 🧾 Requires scan of a utility bill | - |
| ℹ️ Types of support | +44 (203) 769-19-62, support@gg.bet, live chat |
| 🎁 Welcome bonus: | + |
Just like the process of registering an account, the GGbet login process is extremely simple. Regardless of your age or skill, you won't experience any problems completing it and, ultimately, accessing your account to place bets. Indeed, logging into your GGbet account consists of just 4 simple steps:
Step 1

Access the official GGbet website on your desktop or mobile device and click on Login at the top-right of the screen.

Step 2

Enter your email, username, or phone in the first field and your password in the field below it.

Step 3

Choose whether you want the sportsbook to remember the details so that you won't have to login every time you request access.

Step 4

Click on the login button and browse the featured categories to place bets on your favourite markets.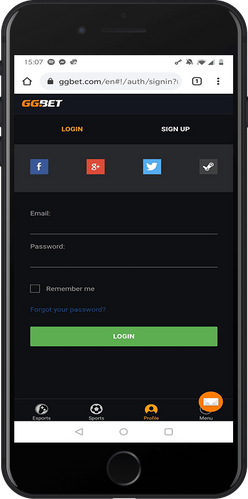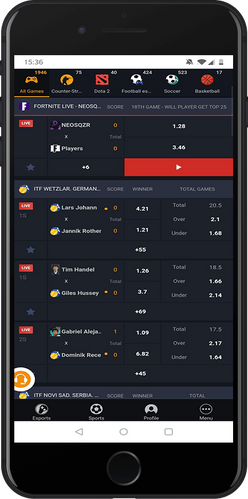 Why You Should Join GGBet
As a reputable online sportsbook, there's no denying the fact that GGbet will provide you with a fantastic betting experience. However, we know you may be asking yourself one thing: Why in particular should I choose GGbet?
First of all, GGbet features plenty of payment methods, which is a massive advantage. You can complete deposits and withdrawals with Visa, MasterCard, ecoPayz, MiFinity, SoFort, Interac, Klarna. 
Moreover, this online sportsbook comes with its own mobile app available to Android and iOS users and can be downloaded from the Google Play Store or App Store, respectively. 
Finally, there are tons of bonuses and promotions in store for every registered player, including Free Bets and cashbacks.
Speaking of the bonuses and promotions at GGbet, there are quite a few that you can claim once you register an account. The most important thing that you need to remember is that it is not all about the sum that will receive; it's also vital to read the terms and conditions – especially wagering requirements stating how many times you need to wager before withdrawing your winnings. Other T&Cs include a validity period, minimum deposit, eligible categories, and maximum bonuses.
Now, while some may be sad to hear that GGbet does not provide newly-registered players with a welcome bonus, the good news is that this sportsbook has plenty of other promotions up for grabs. 
Some of those that deserve mentioning are 15% cashback for sports betting, free bets, risk-free bets for certain events, deposit bonuses of up to $300, and so on.
These promotions come with a validity period, which means that they will not be available throughout the year. Instead, you can claim them within a certain time limit.
How to Verify Your GGbet Account?
After you register for an account, you won't be able to deposit funds and use them to bet on sports until you've completed the GGbet verification process. 
The reason why verifying your account is important is that it helps sportsbooks to establish that you are a real person looking to wager on sports. 
Below, we've explained how to successfully verify your GGbet account.
Step 1

Successfully register for an account on GGbet by following the aforementioned steps; the process will take just a few minutes of your time.

Step 2

Once you register for an account, you will have to provide the sportsbook with an email for the verification.

Step 3

Wait for GGbet to send the email confirmation. In most cases, it takes less than a minute to receive the verification email.

Step 4

Access your email and open the mail from GGbet. Read the details and confirm that the address you provided is real.
If you are an iPhone user, you can just go ahead and download the GGbet iOS app for a seamless experience when setting up your account. Of course, it's not just for setting up an account, as you can use the app to bet on sports ranging from football to esports events anywhere and anytime.
What if You Need Help While Creating an Account on GGbet
Of course, you may need technical help to register an account at GGbet, even though it is highly unlikely to face any hiccups. However, if you have any questions or problems during the registration process, there is no need to feel stranded. There are two ways through which you can receive help if you can't register an account.
First, you can browse GGbet's FAQ section, which can be accessed by clicking on the Support 24/7 button located at the left side of the screen. That same button will also lead you to the Live Chat team. Once an operator answers, you can ask them to help you finish the registration process. You can also contact the support team by dialling +44 (203) 769-19-62 or by emailing support@gg.bet.
Possible Problems with GGbet Registration
Slow Load Page Speed at GGBet
Now, if this happens to you, then you ought to check your Internet connection and contact your provider to see whether there are any issues with the network. GGbet is a stable site with a fast page loading speed, so the problem won't be on their side.
I Am Not Familiar with the English Language
Some players might not be overly fluent in English, which is why they might experience difficulties during the registration process. Rest assured that the solution to this problem is easy as you can switch between other languages. The button is located next to the Login button.
The access to GGbet's Site is Restricted
The third problem that you might come across is restricted access to GGbet's official website. If this is the case, you ought to check the laws concerning online betting in your country because it may be illegal. Hence, you won't be able to register an account.
Overall, GGbet has a few cons, but the good thing is that the pros outweigh them by a huge margin. 
The main thing here is that the process of registration is as simple as it can be. But GGbet also has huge market coverage, a responsive support team and many payment methods to choose from. The only disadvantage is the lack of a welcome bonus.
Read other registration guides: