Gbets registration – how to sign up & login
Have you been to Gbets? If so, you may be familiar with the great welcome bonus that you can claim after you create Gbets account. You can use your bonus cash to wager on a vast selection of sports, eSports, and other events. You can also participate in a variety of regular promotions that are designed to help you make more money.
This bookmaker has a lot to offer punters, but you need to complete the Gbets sign-up process first. While this is a straightforward undertaking, some people may not understand exactly how the Gbets registration works. Not to worry. We here at Mighty Tips will walk you through this quick and painless procedure every step of the way. You may also want to check out our extensive Gbets review if you'd like any more information about the bookie.
Gbets registration – a step-by-step guide
Gbets is a South African bookmaker that caters to sports bettors from all over the world. The site offers fair odds on dozens of sports and hundreds of leagues. It is perhaps one of the best bookmakers for betting on football, cricket, and rugby.
After reading this guide, you will know how to register on Gbets, how to login, and how to claim your welcome bonus. You'll also learn everything you need to know about the verification process as well as other helpful information to get you started. While this guide will go into detail about the Gbets account opening procedure, we will start with a brief overview of what's involved.
How to Register at Gbets in 4 easy steps
Step 1

Click on any Gbets offer on this page: You will be redirected to Gbets.

Step 2

Click on the yellow 'Register' button at the top of the page: This will bring up the registration form.

Step 3

Fill out the Gbets register form: You will be asked to provide some basic personal details, such as your full name, address, and date of birth.

Step 4

Submit the registration form: Once completed, submit the form to activate your new Gbets account.
What you should know about Gbets sign-up requirements
You can register at Gbets using your desktop computer, mobile browser, or by downloading the Gbets app. No matter which route you choose, it will only take a few seconds to successfully complete the task.
The sign-up form asks you to provide some personal information. Don't worry about these details being compromised as the site is highly secure. Gbets uses SSL encryption, which is the same security technology that the world's biggest financial institutions use.
Once your account is activated, you can claim your Gbets sign up bonus, make your first deposit, and start placing pre-match and live wagers on all your favourite sports. However, you won't be able to withdraw your winnings until you verify your age and identity.
This also takes mere seconds and we will guide you through the process in detail further below. You can get a headstart on the verification process by scanning a copy of your government-issued photo ID, such as your passport or driver's license.
📧 Requires Email
✔️
📲 Requires Phone Number
✔️
🤳 Requires ID Scan
❌ Registration
✔️ Withdrawals
🧾 Requires Scan of Utility Bill
❌
ℹ️ Types of Support
🆘 Live Chat, Telephone, Email
🎁 Welcome Bonus
✔️ (First deposit bonus of up to R1000)
Let's take a detailed look at the registration process and guide you through it.
Step 1

Click or tap on the 'Register' link at the top of the website: This will prompt the registration form.

Step 2

Enter the required information: You must create a password and then enter your personal information

Step 3

Click on the 'Register' button: You'll find it at the bottom of the form.

Step 4

Your account is now active: You can claim your welcome bonus, deposit, and start placing real money bets.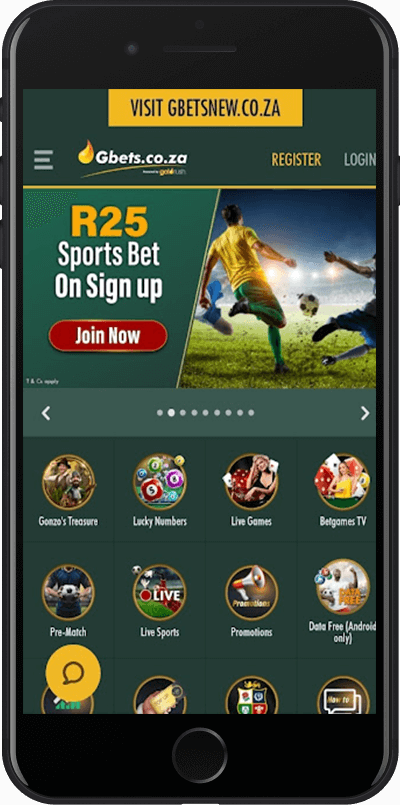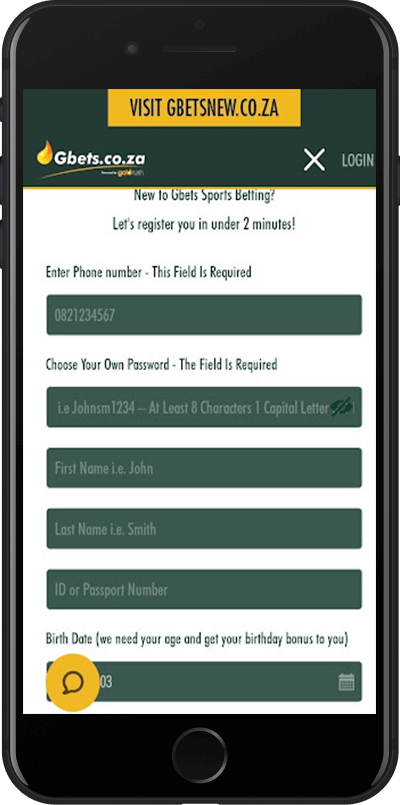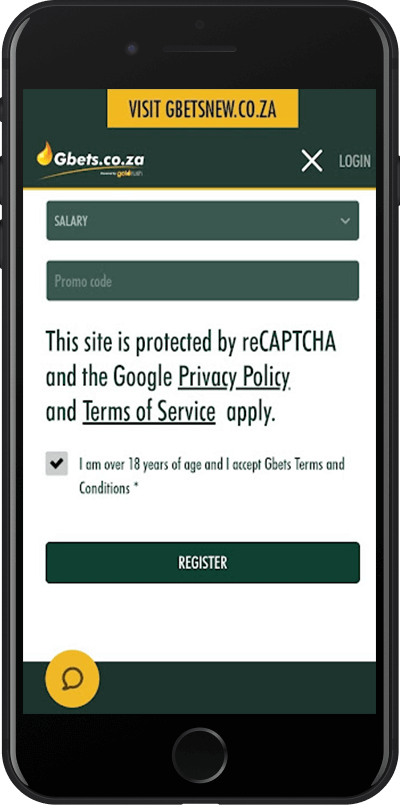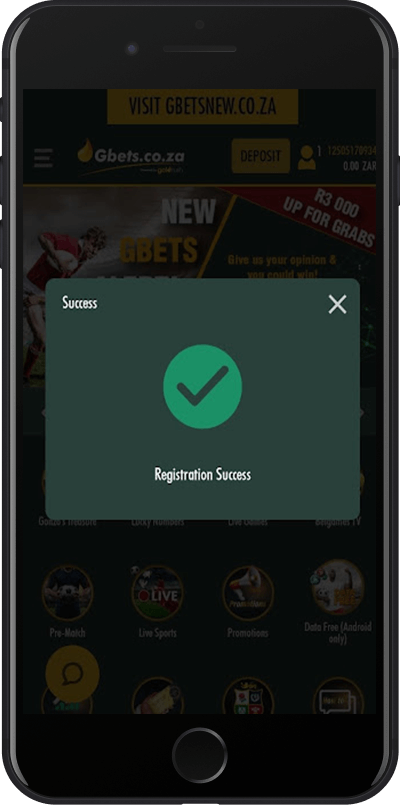 Gbets automatically logs you in when you complete the registration process. However, once you log out from your initial session, you'll have to manually login when you visit Gbets next time. This procedure is even easier than signing up and takes about five seconds when you follow these steps.
Step 1

Go to Gbets: You can use the desktop, the Gbets mobile platform, or use the app.

Step 2

Click or tap on the Gbets LOGIN link: It's located in the top-right corner of the screen.

Step 3

Enter your account ID and password: Your ID is the phone number you provided. If you forgot your login information, select the 'Forgot Password' link to reset.

Step 4

Click the 'LOGIN' button: Congrats! You are now logged in.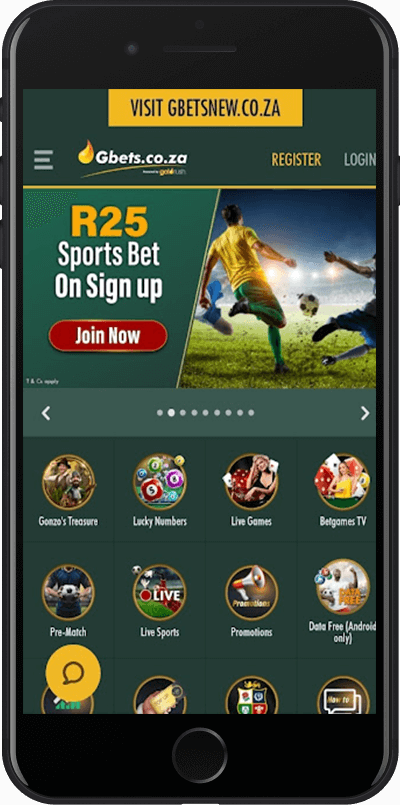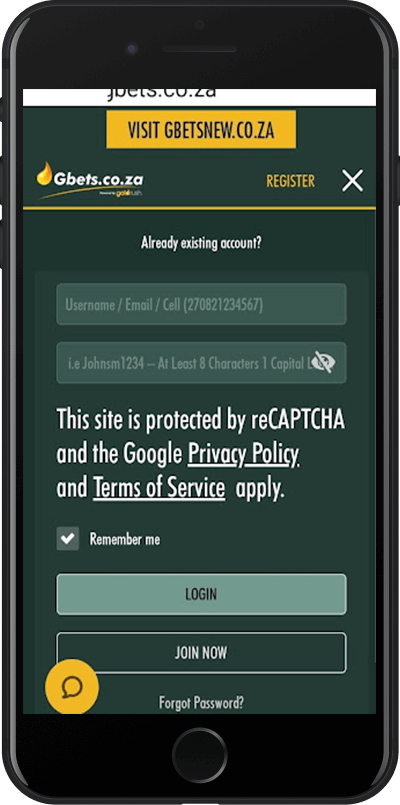 Why you should join Gbets
Gbets has been legally accepting bets since 2005 and is licensed by the Western Cape Gambling and Racing Board. This means that the site must abide by strict standards. You know that this bookmaker will treat you fairly and pay you promptly.
When you open a new account at Gbets, you can claim a sports welcome bonus. The Gbets sign up offer isn't the most bountiful bonus around, but it's still quite attractive and the wagering requirements are quite lenient. New customers will definitely be impressed with the number of interesting promotions on offer.
Gbets covers almost any sport imaginable, as well as eSports, politics, and more. The odds aren't the greatest, but they are certainly competitive. This is especially true when it comes to football and rugby. Anyone who likes playing for larger stakes should be more than satisfied with the betting limits and the withdrawal limits. Gbets will process your withdrawals within 24 hours, although it's typically within a few hours.
Fair odds on thousands of daily betting opportunities.
Welcome bonus T&Cs easy to satisfy.
Licensed and regulated by Western Cape Gambling and Racing Board.
Trusted since 2005.
After you open your account, you'll want to click on the icon at the top of the main page that looks like a wrapped gift. Alternatively, you can select the 'Bonus' header in your player profile. This will show you the bonuses that are currently available to you. Look for 'First Deposit Match Bonus' and then click the yellow 'Claim' button to activate.
You can now click on the 'Deposit' option. Choose your preferred payment method, enter the amount you wish to deposit, and then follow the instructions to complete the deposit. Because you chose the sportsbook welcome bonus, Gbets will 100% match your deposit by up to 5,000 Rand, which equates to about €55. The bonus cash will appear in your account as soon as you complete the deposit. Please note that this offer is only extended to new members and is only available for 30 days after claiming.
One of the best things about this bonus is that the wagering conditions are easy to satisfy. You need only wager through the bonus amount three times on events with odds of 1.50 or greater. Upon meeting these conditions, the bonus cash will be transferred to your regular account balance where you can withdraw it or use it on more wagers. Be sure to read the bonus T&Cs for full details.
How to verify your Gbets account
Anyone who bets at Gbets is required to verify their age and identity. As mentioned earlier, you can get started by scanning a copy of your valid passport or driver's license. Then it's just a matter of following these simple steps.
Step 1

Select 'Account Not Verified': Hover over your player profile and select it from the dropdown menu. You can also enter your player profile and select the FICA Upload tab.

Step 2

Select the ID you wish to submit: You can choose the document of your choice from the dropdown menu.

Step 3

Select the file you want to upload: Use the 'Browse' function to find it quickly.

Step 4

Click on the yellow 'Verify' button: Gbets security will go over your scanned documents.

Step 5

Wait for approval: Gbets will notify you as soon as your documentation has been verified. This typically takes a few hours but can take up to 24 hours.

Step 6

You're now verified: You can start making fast withdrawals without any hassles or delays.
What if you need help while creating an account at Gbets?
While most Gbets members register without experiencing any troubles, you may encounter an issue during the registration process. In these cases, it's best to contact Gbets' 24/7 customer support team. You can also refer to the FAQs, which cover an array of topics that include registration issues and Gbets login problems.
Possible problems with Gbets registration
There are a number of reasons why you might run into obstacles during registration. The most common problem is entering incorrect or incomplete information on the form. The first thing you should do is double-check your information if you experience some kind of glitch.
There are also some problems that are out of your control, such as a weak or unstable internet connection. It could also be that Gbets is temporarily down for maintenance. Just remember that you can always contact the support team to help solve your registration or login problem.
Gbets isn't among the most widely recognised brands in international sports betting, but it is every bit as good as many of the top online bookmakers. We urge you to at least check it out and see for yourself.
It costs nothing to join and you can even get yourself a small no-deposit bonus to give them a try for free. If you like the site, you can then claim your welcome bonus and start betting on the full spectrum of sports.
Read other registration guides: