Betway Customer Service Review
advantages
100% First Deposit Bonus

Lots of online betting markets

Free bet and payout promotions

Various cash out options
This article was last updated:
This is the article that deals with all you might want to know about Betway customer support service.
We have used all available means of communications at Betway to bring you the correct and useful information on what you can expect if you want to contact this bookmaker's staff. With our personal experience, we could then compile a list of all available support channels, as well as our opinion on their quality.
If you are interested, you can also read the full review of the Betway bookmaker.
Where to find Betway contact details
Let's assume that you've read our registration process description and tried to register, but stumbled half-way. Once you try to get in touch with Betway's support team, you'll soon realise that it's not an easy task.
Even after a thorough search on their home page, we were still unable to locate any direct link that mentions words like "support" or "customer service".
Interestingly, near the bottom of the page, you can actually see word "Support", but you can't click on it and in small print underneath it, you are suggested to visit the "Help page" for all account queries. After opening the help page, you will realise that it's actually a FAQs section, where you will be able to find important "how-to" articles you might want to read.
Among those links is the one that reads "Contact Us", however, even that isn't the place where you will immediately find ways of reaching out to the support team. It will rather give you the instruction to scroll to the bottom of the page, where you will see "Was this article helpful" section. Choose "No", and then click a link that will appear. Only then you will finally reach the desired destination, and be able to choose a way you would like to communicate with the customer service.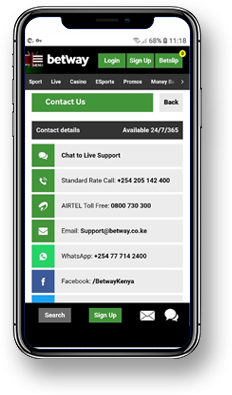 How to contact Betway customer services
Once you have finally managed to navigate to the actual page that has various means of reaching customer support listed, you will have three options for contacting them:
Betway live chat
In our opinion, this is the best and the fastest way to get in contact with the support team, and to solve possible problems or simply to get the answer to something you would like to know.
To launch a live chat, you'll have two options to choose from, depending on the nature of your query. If you have a question about the cash-out, click the link "Withdrawal" (or, alternatively, read our withdrawal review for clues), and if you would like to get information on anything else, click "General". Whichever link you choose, a new pop-up window will open, and you will be asked to type in your preferred name.
After submitting that, you will enter the live chat, and soon one of the consultants will greet you. Feel free to ask anything you'd like to know, as Betway's support team is very polite, and from what we've learned by asking all kinds of questions, they are also very professional. However, on a couple of occasions, we also noticed that they lacked knowledge in some areas.
We also tried using the live chat at different times of day, and the average time for the response was always under 5 minutes.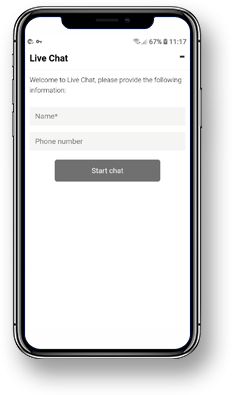 Betway phone support
If you prefer to get your answers in a conversation over the phone, this a highly recommended option of communication with Betway's support team.
There is one universal number to call: +44-808-238-9841 (your location may have a specified local number instead, so check your support options before calling), and every time we dialled it, our calls were answered in less than 5 minutes. All the consultants we got in touch with were very friendly and willing to help with our questions.
However, just as we noticed when we tried the live chat option, when it came to some complex questions on betting, they couldn't provide us with certain answers.
Betway contact email address
If you decide to choose e-mail as an option to contact the customer services, be aware that the response to your query might take quite some time. All the e-mails we sent were answered within up to 5 days, so if you are hoping to get a faster response to your inquiry, you should definitely consider other two options, as this is the slowest one.
Otherwise, all the replies we got were brief but comprehensive, and more importantly, the consultants who work in this particular area were able to answer even our trickier questions.
Conclusion
Overall, communication with Betway's support team was a pleasant experience. On the other hand, we were more than displeased with finding the proper page on their website with the links to the actual customer services.
All in all, it tells us that this sportsbook prefers that you find the answers you seek in their FAQs section, rather than reach out to the support team. But if you are persistent and find the way to communicate with them, you'll be pleased by their service.
Top Rated Bookmakers in United States