Betway Uganda Voucher code & Sign Up Bonus
This review was last updated:
Hello, and welcome to the page of Ugandan bonuses and promotions of Betway.
Bonus up to 200,000 UGX

| | |
| --- | --- |
| Activation | first deposit |
| Bonus type | free bet |
| Payback time | 180 days |
| Country | Uganda |
| Bonus limit | up to 200,000 UGX |
Betway sign up offer for Uganda
This Betway welcome bonus equals to half of your initial deposit in the form of free bets and is rewarded to you after realizing 3X deposit value within Jackpot and Sports sections with 3.0+ odds.
Betgames, casino, and virtual sports stakes won't receive the promotion. The qualifying period is 30 days since the primary deposit. For a bet to be taken into account, at least one event on a bet slip has to finish with a definite result. Once granted, Betway free bets are operational in the course of 180 days. Free bets value is not returned after a bet is won. While Betway free bets remain active, no withdrawals are permitted. Your account must be created no earlier than August 8, 2018.
Step 1.

Verify your account registration date.

Step 2.

Make the first deposit.

Step 3.

Bet 3 times the primary deposit value.

Step 4.

Manage your fresh free bets!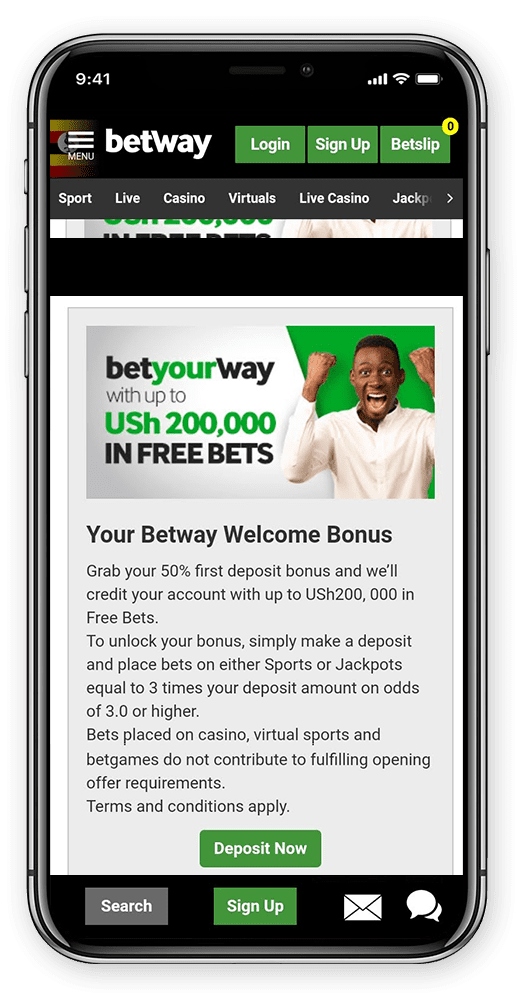 Get Your Piece

| | |
| --- | --- |
| Activation | qualifying bet |
| Bonus type | money prize |
| Payback time | daily / weekly |
| Country | Uganda |
| Bonus limit | 10,000 / 1,000,000 UGX |
Take Part In Daily And Weekly Giveaways
One hundred winners are picked daily, receiving more 10,000 Ush; also, one random winner is selected weekly for a jackpot prize of 1,000,000 shillings.
To participate, one needs to place a bet of at least 2 thousand UGX on Virtual Sports, Casinos, Betgames, and Lucky Numbers. This way, you will become an eligible candidate for one particular day – to prolong the participation, a new bet is needed.
Step 1.

Hold a legal Betway account.

Step 2.

Place a two-thousand bet.

Step 3.

Wait until the results are posted!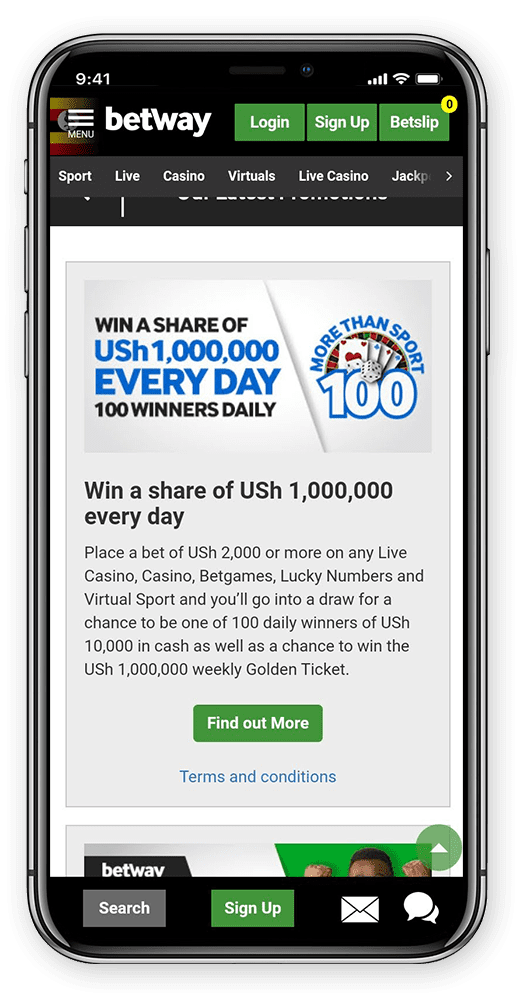 Weekly Free Jackpot

| | |
| --- | --- |
| Activation | prediction |
| Bonus type | money prize |
| Payback time | weekly |
| Country | Uganda |
| Bonus limit | 35,000,000 UGX |
Win The 4 To Score Promotion Prize
Weekly, you can take part in the draw for free by selecting the initial 4 goalscorers in the proposed matches. If you make an educated guess and win, the Betway team will replenish your account with the jackpot money up to 35 million UGX.
Own goals do not count – the next goal of the match will be considered instead. If more than one bettor succeeds, the prize fund will be divided among them. Starting with a total reward of 10,000,000 shillings, the sum will increase by 5 million each week in case there is no actual winner. The upper limit of the prize is 35,000,000.
Steps to Engage in the Contest:
Step 1.

Ensure you own a legitimate Betway profile.

Step 2.

Carefully fill out the Four To Score prediction form.

Step 3.

Make sure to accept the prize within a week!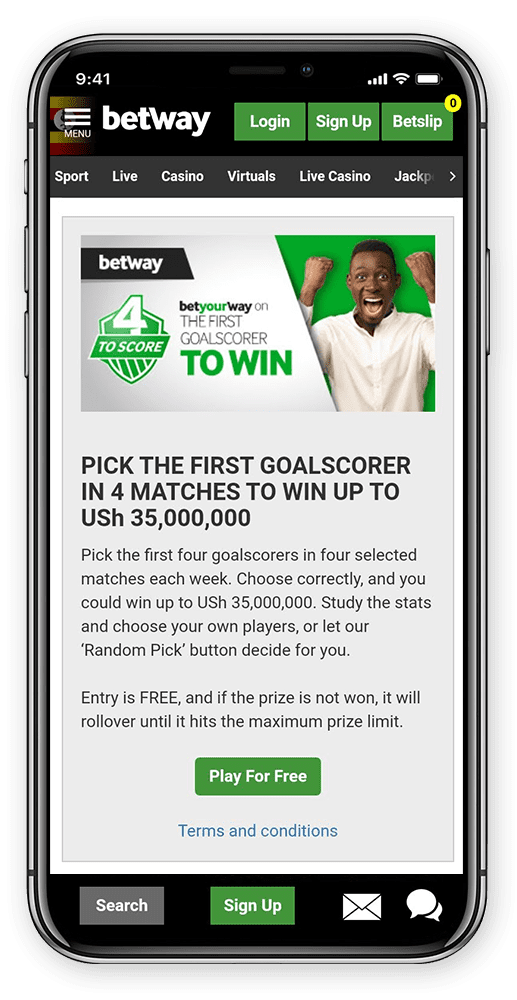 Multiple Bets Slip Refund

| | |
| --- | --- |
| Activation | lost betslip |
| Bonus type | refund |
| Country | Uganda |
How To Use Betway Bonus Guidelines
In case your multibet slip lost because of just one event occurrence, your original stake, multiplied by twenty at max, would be paid back to your account in cash.
Necessary qualifications for a multiplex betslip: six to ten bets of 1.5+ odds or at least eleven bets of 1.3+ odds. The bet slip still can contain more bets of various odds, yet only the aforementioned bets will count. While free bets are forbidden, stakes on outright, pre-match, and live events only are eligible.
Any single event that results in either fractional victory or a potential refund will be deemed a victorious bet. Cancelled games are excluded from the bet slip. Cashed out stakes are not eligible for the payback.
How To Claim The Promotional Refund:
Step 1.

Do not engage in unfair play and hold a valid Betway acc.

Step 2.

Place a multiple bet slip complying with policies.

Step 3.

Get the bonus if your bet slip lost due to 1 bet.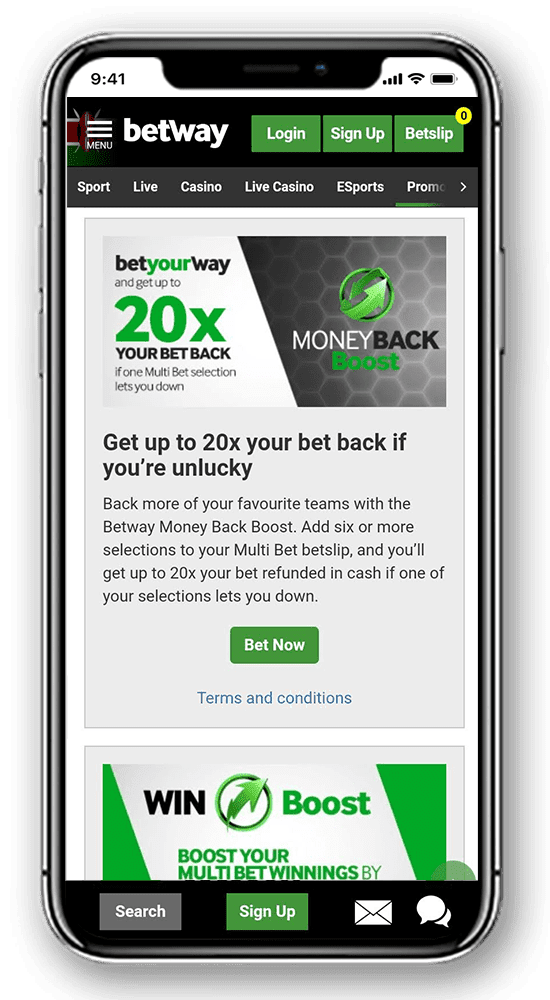 Get Events Booster

| | |
| --- | --- |
| Activation | accumulator bet |
| Bonus type | extended odds |
| Country | Uganda |
| Bonus limit | up to 300,000,000 UGX |
Qualifying For Winning Cash Jump
For a victorious multievent betslip with 5+ occurrences of 1.2 odds and higher, bonus payment will be bestowed upon your account. The boost ranges from 5% to 100%, depending on the number of acceptable wagers your bet slip incorporates. Eventual return from the stake cannot surpass 300,000,000 shillings.
Tournament, Single, and Outright bets, as well as cancelled bets, won't count. Cashouts operated beforehand will result in nullifying of the promotion.
Raise Multibet Winnings – Manual:
Step 1.

Arrange a combined bet slip according to the rules.

Step 2.

Stay by until each event finishes.

Step 3.

Receive additional bonus money to your account!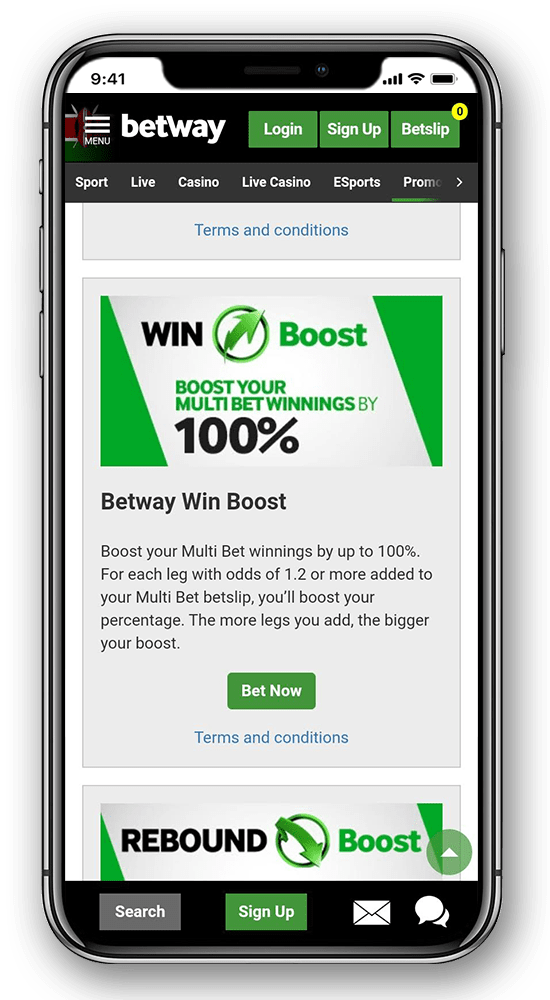 Losing Streak BetWay Aid

| | |
| --- | --- |
| Activation | losing series |
| Bonus type | free bet |
| Payback time | 180 days |
| Country | Uganda |
| Bonus limit | up to 1,000,000 UGX |
Obtain Backup Financial Support
Once you're on a significant losing run, take a look at your account to see whether special Betway support was credited to you.
Granted free bets ought to be wagered as a single bet completely. The winning sum only is transferred to your account after a win. In case of a withdrawal conducted from your account, any free bets are negated. After 180 days since their generation, the free bets are permanently wiped out. The upper limit of the free bet return is 1 mil UGX.
How To Get The Losing Streak Boost:
Step 1.

Adhere to Betway's official policies for users.

Step 2.

Lose a reasonable number of bets in a row.

Step 3.

Soon, you're likely to acquire special cash support.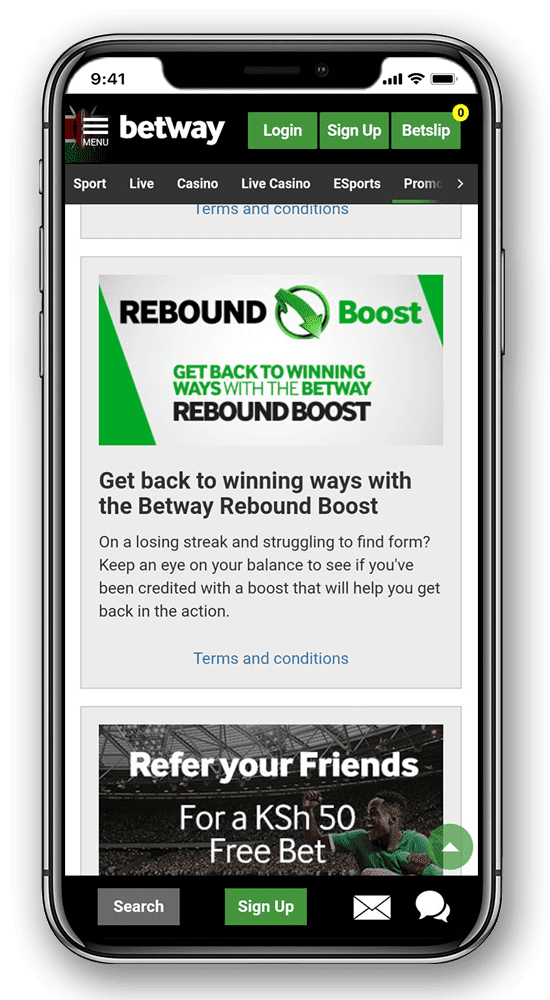 Other bonuses in this country

Deposit bonus up to €100

Welcome Bonus up to €122