If you're looking for a comprehensive guide on how to bet on football, you've come to the right place. On this page, we're going to look at everything from the different types of football bets, through to how to bet successfully on football games. Once you've finished reading, you'll be ready and raring to start placing football bets. You'll then simply need to sign up at one of the fantastic sportsbooks we've recommended.
For reference, all screenshots used on this page have come from William Hill. This one of the online sportsbooks we rate exceptionally highly and recommend to absolutely everyone.
The Different Types of Football Bets
There are absolutely loads of different bets you can make. Those looking to learn how to bet on football matches and win should understand most of them. By doing so, you'll be able to bet on the widest range of different markets. Plus, you can also capitalise on favourable odds.
We haven't got the space on this page to include details of every type of bet. You'll find details below on the most commonly seen types of football bets though.
Correct Result
The first bet all new punters should make is a simple one: just bet on which team you think will win a match, or whether you think it will end as a draw. There's nothing complicated about this at all. This type of bet can be massively exciting, especially if the scores are close and 90 minutes is approaching!
The more likely a team is to win, the lower their odds will be. Playing at home is also nearly always an advantage. As you can see by the screenshot, Barcelona is the favourite in the match, with odds of just 1/3. If you bet on Manchester United though, you could win a seriously large sum of money. Mostly, it's about balancing risk vs. reward.
Accumulators
Once you've mastered single bets, you can move onto accumulators. An accumulator is essentially a bet that combines two or more single bets. In order to win, each of the different bets making up the accumulator must come in. This means that accumulators aren't won too often, however when one is successful, the payout can be massive.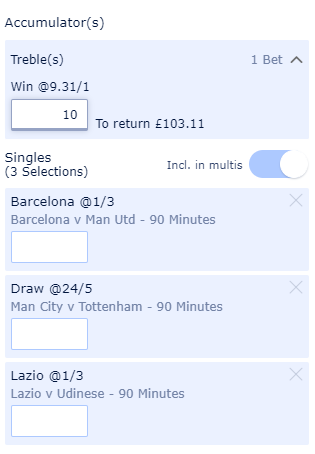 If you look at the example above, you can see that we've made three selections. We've selected Barcelona to win @ 1/3, Manchester City and Tottenham to draw @ 24/5, and Lazio to win @ 1/3. When these bets are all pooled together, the total odds are 9.31/1. This means you'll win £9.31 for every £1 you bet. What's more, you'll also get your stake back. If even one prediction is wrong though, you'll lose the entire bet. Those looking for excitement and big wins often favour accumulators. Experienced gamblers who really know how to bet on football don't use them much though, due to their unpredictability
Handicap
If you want to learn how to bet successfully on football, you have to understand handicap bets. Expert punters favour bets of this type. This is because they really allow them to use their knowledge of the game to place successful bets. Handicap bets essentially give one team a head start over the other, which levels the playing field.

The above screenshot shows how handicaps work. You'll notice that Tottenham have "+1 Goal" next to them. This means that Tottenham will start with a one-goal cushion. So, should the game end as a draw, the winning team will actually be Tottenham. Therefore, betting on them will win too. Another example would be betting on Manchester City and the finishing result 3-0 to City. Even with their handicap, which subtracts one goal from their total, they'd still win the game 2-0.
Please be aware that you'll also sometimes find Asian handicaps at sports betting sites. Those differ slightly to regular handicaps, and our comprehensive page on the subject goes over them in detail.
First Goalscorer
When learning how to bet on football games, don't forget something: it's supposed to be fun to bet on football! We think that one of the most exciting markets is the first goalscorer market. Just predict which player will get the ball in the back of the net first. Manage to and you'll find yourself winning a prize.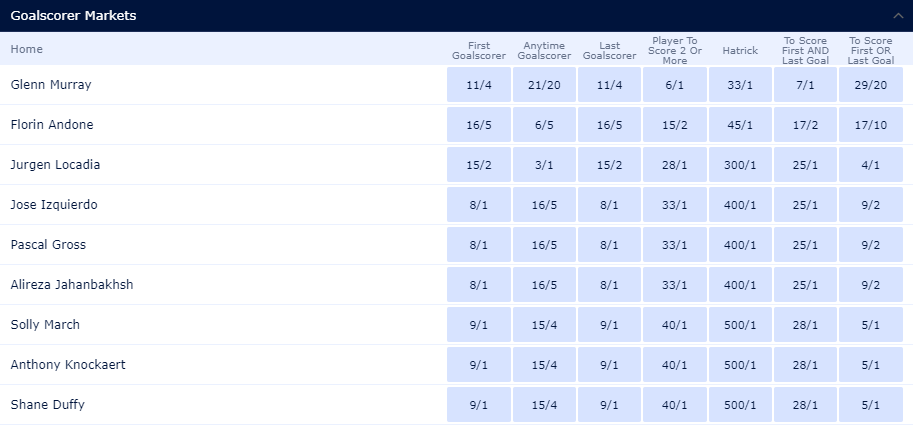 As the screenshot above shows, attacking players have lower odds than those with more defensive duties. Don't worry if your selected player doesn't make it onto the pitch either. In this case, the bet is void, and you will get your money back. Plenty of other markets on goalscorers are found too, including anytime goalscorer and last goalscorer.
Correct Score
This bet is pretty self-explanatory: simply predict the correct score in order to be a winner. As with some other bets, experienced gamblers often avoid the correct score market, as it's just too unpredictable. This unpredictability is what attracts others to this type of betting though.

One thing many punters enjoy is combining this type of bet with the first goalscorer one. So, for example, you might bet on Brighton to win 2-1 and Glenn Murray to score the opening goal. If you satisfy both of these criteria, you should gain quite a nice cash prize.
Draw No Bet
Next is the draw no bet (DNB) market, which is a really simple one to explain. All you need to do is predict which of the two teams will win. If you're correct, you'll win a prize, but if the other team wins, you'll lose your bet. In the event of a draw, you'll find that your stake is returned to your online gambling account.

It is always the case that you'll get lower odds here than for a standard bet. For example, a DNB bet on Barcelona has odds of 1/9. If you made a standard single bet on Barcelona to win though, you'd get odds of 1/3. There is less chance of losing a DNB bet though, which is why the odds are always lower.
Over/Under
Over/Under bets are pretty popular, especially with more serious punters. Therefore, you need to learn about them if you want to know how to make money betting on football. The premise is simple: just predict whether there will be under or over the stated number of goals. Most sites give you plenty of options for this bet, such as over/under 1.5, over/under 2.5 and over/under 3.5.

So, in the screenshot above, you can see the market is over/under 2.5. Therefore, if the number of goals in the match is three or above, those betting on over 2.5 win. Less than three goals will see those betting on under 2.5 scooping a prize. The people most attracted to these markets are generally more experienced gamblers.
Betting on Live Football Matches
It used to be the case that football could only be gambled on before the game started. Not anymore though. The invention of live betting (also known as in-play betting) has revolutionised the industry. This is because punters can now bet on a variety of different markets as a match is ongoing. It works as the odds update in real time. So, if a team grabs a goal, for example, the odds of them winning will get lower immediately. On the flip side, the odds of the other team winning will get higher at the same time.
Live Betting Markets
Most good sports betting sites will allow you to bet live on a massive range of matches, ranging from Premier League encounters, all the way through to the Irish Senior League. We would advise everyone betting live to only bet on games they're knowledgeable on though. So, if you're a fan of the Champions League and want to bet on Juventus vs. Barcelona, that's fine. It's probably best to stay away from games in the Romanian third tier though unless this is your specialty. In fact, this is a good rule for every type of betting if you're looking to learn how to bet on football online. So, only ever bet on markets you're comfortable with.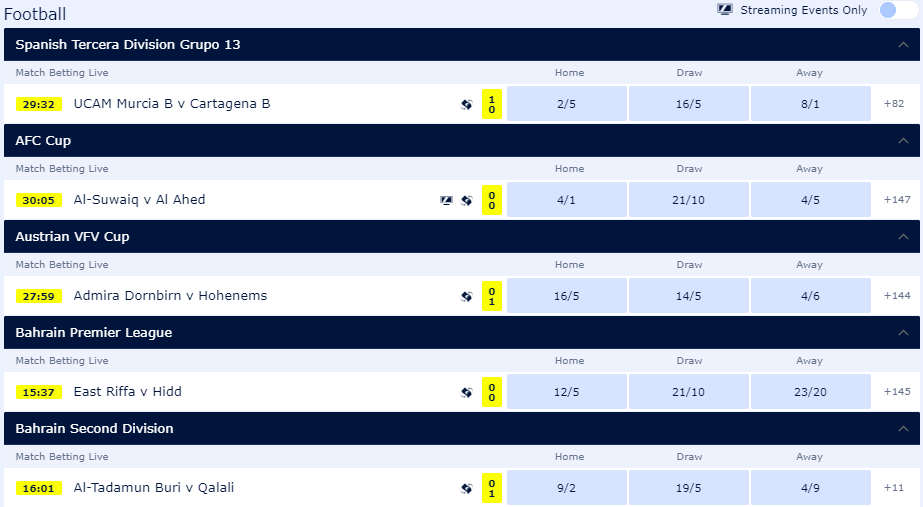 You can see from the screenshot that you can quickly place simple bets straight from the main screen. Look to the far right, and you'll see a number preceded by the plus sign though. This tells you how many other live markets are on offer. So, for example, the match from the AFC Cup has 147 other live markets for you to bet on. The variety of bets is one of the main reasons why live betting is so exciting.
Live betting is also great for those looking to learn how to bet successfully on football. This is because those with good instincts for the game can read the action and make accurate predictions. Some successful live gamblers can make several correct bets throughout a match. This results in them finishing with a nice sum of extra money in their sportsbook account.
Understanding the Odds
One thing that often confuses those taking their first steps into the world of sports betting is the odds. What makes them even more confusing is the fact that you can see them displayed in three different ways. Don't worry if you're trying to learn how to bet on football games and can't quite understand odds though. We'll explain the three types to you below…
Fractional Odds
Fractional odds are mainly seen at British and Irish bookmakers. Unsurprisingly, they're presented as fractions, such as 2/1 and 12/5. We mostly work in fractional odds on this site, plus they're usually displayed like this at online sportsbooks. There's nearly always the option to switch over to decimal odds if you want though. This is something that more and more UK and Irish punters are now doing.
An example of fractional odds would be 11/5. The first number is basically the amount you'd win if you bet the second number. So, if you bet £5, you would receive £11 in profits. You should remember that you also get your stake back though, which was £5. Therefore, your overall payout would be £16.
Decimal Odds
Decimal odds are also often known as European odds. Therefore, it won't surprise you to find they're popular in mainland Europe, as well as in Australia and Canada. A number is used to represent the odds. You can work out how much you could win simply by multiplying your bet by the odds.
So, let's imagine you're betting £10 on Barcelona to beat Real Madrid, and you're getting odds of 2.1. Just multiply £10 by 2.1, which will give the answer £21. This is how much you stand to win. Remember that this figure includes also having your stake returned so your overall profit would be £11.
American Odds
American odds, also known as money line odds, are perhaps the most complex type of odds. They're rarely used outside of the United States though. They are shown as +200 or -350, for example, but what exactly does this mean? Well, if a plus sign precedes the number, you're being told how much you'll win for every £100 staked. But what if there's a minus sign in front of the number though? Well, this means you're being told how much you need to stake in order to win £100.
Let's use a couple of examples. Imagine you're betting on a selection that has odds of +200. This means that a successful bet of £100 would lead to a prize of £200. If the choice has odds of -200 though, it means that you'll have to bet £200 to win £100. You will also receive your initial stake back if you make a successful bet. As already stated, this really is the most complicated way to gamble on football. You don't really have to understand it if you want to know how to bet on football online.