ZodiacBet: Sportsbook & Casino Review 2023
Advantages:
Huge welcome bonus of up to €100.

Exceptional selection of promotional offers.

Intuitive in-play platform.

Dynamic search function.

30+ sports to bet on, from football to surfing.

Combo of the Day tool that quickly populates betting slip.

Six odds display options
Payment Methods:
T&C apply. Gamble Responsibly 18+
Any betting site must have an in-depth live betting platform to satisfy a bettor's need for quick and reliable wagers. Fortunately, ZodiacBet offers endless options – from multiple markets on popular sports like tennis and football to more obscure events from basketball, eSports, and UFC.
Thanks to its excellent in-game graphics on most major sports, bettors can follow key in-game stats to help inform their selections. In football, for example, the in-play graphic displays dangerous attacks, total shots, and number of corners, among other stats, giving bettors a clear view of the game's pattern.
Types of live games at ZodiacBet
Like any premier European Sportsbook, there is a healthy selection of live games available to bet on at ZodiacBet. They include:
Football
Tennis
Volleyball
Hockey
Basketball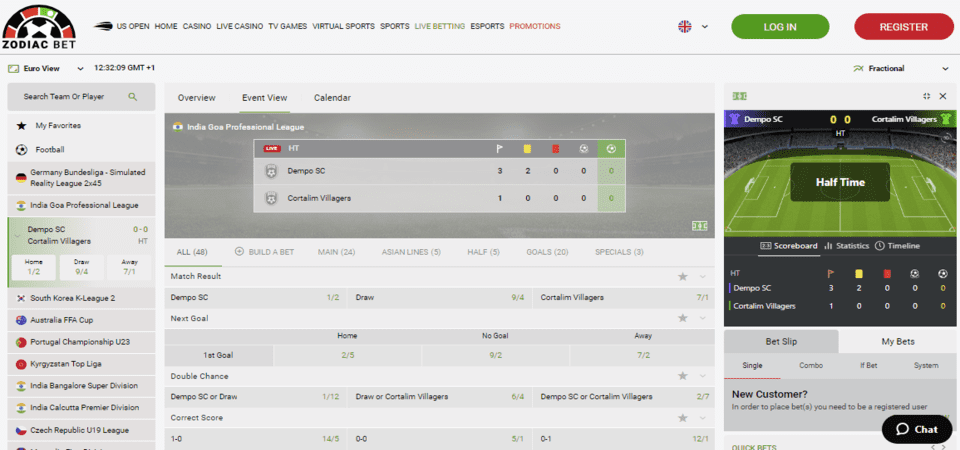 Online sportsbooks continue to thrive in an era where alternative live entertainment is more sought-after than ever before. While many consider aspects such as promotions, pricing, or customer service when choosing a sportsbook, players should also consider the level of enjoyment an online casino offers.
An excellent online casino can provide hours of enjoyment and fun for sports bettors in addition to its core sportsbook offerings. Sports bettors can take a break from the action and get immersed in thrilling online casino games, from classic slots and video poker to table games like roulette and blackjack.
Here are some examples of live casino games at ZodiacBet and a brief explanation of how they work.
Blackjack
At ZodiacBet, the table limits for live blackjack range from $1-$10,000 per hand. This makes it accessible to all types of players regardless of their bankroll size. Additionally, the selection of live blackjack games at ZodiacBet is vast, with multiple game variants such as American Blackjack, European Blackjack, and Spanish Blackjack available.
Roulette
With a wide selection of tables and limits, there's something for every roulette player - be they seasoned veterans or newcomers. You can choose from American Roulette, European Roulette, French Roulette and more.
Each table has its own minimum and maximum betting limits to ensure an excellent experience for all levels of play. With an array of exciting features such as multi-wheel roulette, random prize multipliers, and unique side bets, the roulette is constantly spinning up a storm at ZodiacBet.
Baccarat
Live baccarat at ZodiacBet sees players privy to an authentic casino atmosphere with real-life dealers and other players congregating in a dynamic and finely tuned arena.
From classic baccarat to Speed Baccarat, there is no shortage of tables available to players to try their luck.
Slots
At ZodiacBet, big-win hunters can enjoy a unique and unforgettable gaming experience by exploring their selection of slots. From classic five-reel games with nostalgic designs to modern-day hits with new-fangled mechanics, they have something for everyone.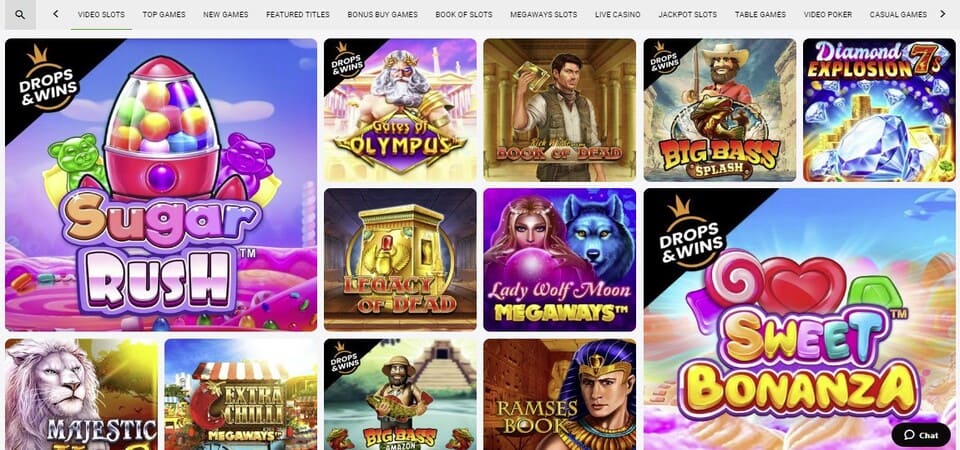 ZodiacBet bonuses & promotions
One of the most essential elements of any online sportsbook is the number of customer promotions - particularly for sports bettors, where value is significant. In sports betting, the term "value" refers to the relationship between the odds of a bet and the probability of the outcome happening, but bettors also talk about it in terms of an offer.
Fortunately, there are plenty of great offers at ZodiacBet, including:
100% Welcome Bonus up to €1000
New players can match their first deposit as a sports bonus by up to €1000. To claim, players need only sign up and enter the bonus code ZB100S in the depositing field.
Like most sports bonuses, it comes with terms and conditions attached. The deposit and bonus amount must be wagered 10 times within 30 days before the funds are withdrawable. For example, if a player deposits €20, they get a €20 bonus in addition, which means €40 in total. The sum of €40 x 10 is €400 - the amount a player must wager before it turns to cash. Bets must only be placed at odds of 1.80 or higher when using bonus funds - any lower will not count towards wagering.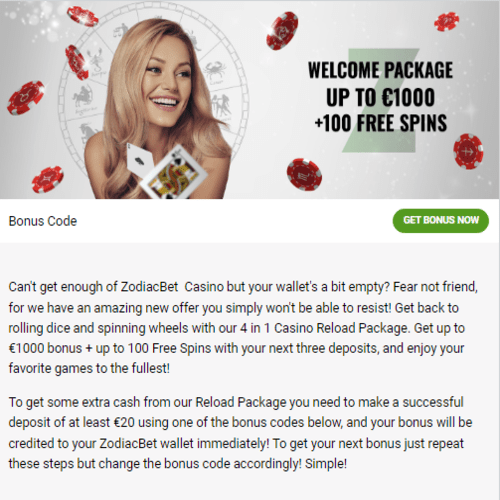 50% Reload Bonus up to €50
All players at ZodiacBet qualify for a special balance boosting offer - a 50% Reload Bonus up to €50.
To claim, players need only deposit a minimum of €20 when entering the code ZB50S in the required field. Whatever they deposit, they will get an additional 50% bonus worth up to €50. For example, if a player deposits €20, they will get a €10 bonus, meaning their sports betting balance will be €30.
In order to use the bonus funds, players must first play through the deposit value a total of 5x. For example, the €20 deposit will require €100 of wagering at minimum odds of 1.80. Only when the wagering has finished can a player access the €10 bonus.
€50 in Free Bet Tokens Every Month
Current bettors at ZodiacBet can claim an extra €50 in Free Bet Tokens with their first three deposits in the month.
This is how it breaks down:
First deposit: 10% up to €10 using bonus code FBMONTHLY01
Second deposit: 10% up to €15 using bonus code FBMONTHLY02
Third deposit: 10% up to €25 using bonus code FBMONTHLY03
The minimum deposit to qualify for this promotion is €50. Free Bet tokens must be used at minimum odds of 1.80 and maximum odds of 3.0, with the total winnings from the Free Bet not exceeding 5x the original token amount.
In sports betting, "odds" represent the probability of a particular outcome happening. They dictate the payout for a winning bet, indicating potential risk and reward. For example, odds of 2/1 mean that for every €1 bet, the potential total return is €3.
On the other hand, "margins" are essentially the commission taken by the bookmaker or betting site from the betting pool. It's a way for them to ensure a profit regardless of the game's outcome.
ZodiacBet is renowned for its generous odds offering with industry-standard margins.
Betting margin
Baseball

7.88%

Basketball

6.11%

Boxing

6.02%

Cricket

5.98%

eSports

6.98%

Football

5.11%

Handball

7.22%

Hockey

7.23%

Horse Racing

6.43%

MMA

6.89%

Rugby

7.77%

Tennis

6.33%

Volleyball

5.97%
Overall betting margin: 6.6%
There is no ZodiacBet mobile app, but the on-the-go experience makes up for it. Large clickable buttons, a neat site layout including a toolbar at the top of the homepage encompassing all the main sports, and a brilliant in-play platform are among the most noticeable elements of ZodiacBet, which all gears towards a highly competent mobile product.
Android app: No
iOS app: No
You can play in the Mobile Browser

Mobile Browser
More
You can play in the Opera Mini

Opera Mini
More
ZodiacBet Usability & features
A good bettor understands the importance of unique features that help advance the overall experience - at ZodiacBet, there are a few standout tools.
Combo of the Day: A pre-populated betslip that groups a selection of teams as part of an accumulator. It's useful for players in a hurry.
Cash Out function: Players can cash out when their bet is on top or cut their losses if things aren't going to plan. A Bundesliga bet looking good? Guarantee profit! A La Liga bet failing? Take it and run!
Build-a-Bet: For players who can't find a pre-set bet that suits their fancy, they can turn to the Build-a-Bet feature. They can select a variety of markets available on a single event and combine the odds to increase returns.
Build-a-Bet: for players who can't find a pre-set bet
No combo bet bonus promotions (extra winnings according to the number of legs of a combo bet).
ZodiacBet: Sports to bet on
At ZodiacBet, they take pride in offering an extensive selection of sports and events to bet on. From major sports like football and events such as the FIFA World Cup, tennis, and basketball to politics and beyond, there is something for everyone at ZodiacBet. They even cater to those who are looking for betting options outside the conventional realm.
The breadth of betting lines available widens the eyes. Catered to both the seasoned gambler and the occasional punter, ZodiacBet ensures something for everyone.
ZodiacBet: Popular Types of Bets
For those with their pulse on politics or riding the wave of surf betting, players at ZodiacBet can have a punt on anything and everything.
Looking to predict the next USA president? Players can get 6/4 on Joe Biden and 2/1 on Donald Trump. Have a hunch on the Mercury Prize winner? A €10 bet on musician Loyle Carner would return €47.50.
The popular sports are also well stocked. Check this list out below:
Reliability and trustworthiness is the premium factor for all online sports bettors - failure to espouse these values through safeguarding protocols will likely deter any players from joining the site.
ZodiacBet prioritises player safety and security through a number of measures - including its responsible gambling programme, which enables deposit limit, loss limit, and timeout tools designed to prevent gambling addiction.
They employ Secure Socket Layer technology to protect financial transactions and personal information. At the same time, it is licensed by the Curacao Gaming Authority, which means it must adhere to international player safety practices.
While its tools suggest ZodiacBet is a safe place to play, some gambler comments on review sites such as TrustPilot suggest some issues with the overall customer experience.
Payment methods: ZodiacBet deposits & withdrawals
Like all good online sportsbooks, ZodiacBet has agreat selection of deposit and withdrawal methods.
Find out more below:
Deposits
The availability of multiple deposit methods often signifies the reliability and trustworthiness of an online sportsbook. It assures users that the platform is dedicated to providing a seamless and secure betting experience. At ZodiacBet, it passes this test with flying colours.
From traditional VISA banking methods and eWallets including Skrill and Paypal to crypto technology, players have many options. The minimum amount is €10 for all processes, except for Interac, where the minimum is €35. The max amount depends but varies between €2,000 and €5,000. There is no fee attached to any deposit.
Withdrawals
The same deposit methods are available for withdrawals; once again, no fees are attached.
All withdrawals are processed instantly or within 24 hours apart from the Bank Transfer option, which can take up to five business days.
| | | |
| --- | --- | --- |
| €10–€2,000 | Instant | 0% |
| €10–€5,000 | Instant | 0% |
| €10–€5,000 | Instant | 0% |
| €10–€2,500 | Instant | 0% |
| €10–€2,500 | Instant | 0% |
| €10–€2,500 | Instant | 0% |
| €20–€10,000 | Instant | 0% |
| €20–€10,000 | Instant | 0% |
| €20–€10,000 | Instant | 0% |
| €20–€10,000 | Instant | 0% |
| €20–€10,000 | Instant | 0% |
| €20–€10,000 | Instant | 0% |
| €10–€10,000 | Instant | 0% |
| €10–€2,500 | Instant | 0% |
| €10–€2,000 | Instant | 0% |
| €10–€10,000 | Instant | 0% |
| €10–€5,000 | Instant | 0% |
| €10–€5,000 | Instant | 0% |
| €10–€5,000 | Instant | 0% |
| €10–€2,000 | Instant | 0% |
| €10–€5,000 | Instant | 0% |
| | | |
| --- | --- | --- |
| €10–€10,000 | Up to 1-5 business days | 0% |
| €10–€10,000 | Up to 1-5 business days | 0% |
| ❌ | ❌ | ❌ |
| €10–€2,500 | Up to 24 hours | 0% |
| €10–€2,500 | Up to 24 hours | 0% |
| €10–€500 | Up to 48 hours | 0% |
| ❌ | ❌ | ❌ |
| ❌ | ❌ | ❌ |
| ❌ | ❌ | ❌ |
| ❌ | ❌ | ❌ |
| ❌ | ❌ | ❌ |
| ❌ | ❌ | ❌ |
| ❌ | ❌ | ❌ |
| ❌ | ❌ | ❌ |
| ❌ | ❌ | ❌ |
| €10–€2,500 | Up to 24 hours | 0% |
| €10–€5,000 | Instant | 0% |
| €10–€5,000 | Instant | 0% |
| €10–€5,000 | Instant | 0% |
| €10–€2,000 | Instant | 0% |
| €10–€5,000 | Instant | 0% |
Customer support plays a vital role in the operations of an online sportsbook. This is because it connects the business and the customers, ensuring that all inquiries, complaints, and issues are addressed promptly and effectively. Excellent customer support can significantly enhance user experience, boosting customer satisfaction and translating into loyalty and referrals. This can be a significant differentiator in a highly competitive market.
At ZodiacBet, players can use the live chat option, which is in the bottom right-hand corner of the desktop homepage. Upon testing, the live chat service was quick, knowledgeable, and answered the query efficiently.
The lack of phone and email support is one of the negative aspects of ZodiacBet, but keep an eye out for these services over the coming months.
Phone

Email

support@zodiacbet.com

Live chat

Competence
0 / 5
5 / 5
5 / 5
Politeness
0 / 5
5 / 5
5 / 5
Response Time
N/A
Up to 30 minutes
Instant
To get started with Zodiac Bet, one crucial step every player needs to complete is account verification.
This usually involves providing some basic personal information to ensure security, legality, and fairness for all users.
Let's break down the usual process of account verification in an online sportsbook:
Create an Account: The first step is to create an account by providing your basic personal information. This generally includes your full name, date of birth, and contact details.
Email Verification: Once you've provided your details, the sportsbook will send a verification link to your registered email address. You'll need to click this link to verify your email.
Identity Verification: To ensure you are of legal betting age and to prevent fraud, you'll be asked to verify your identity. This typically involves uploading a copy of a government-issued ID, such as a passport or driver's license.
Address Verification: Some sportsbooks may also require you to verify your address. You can usually do this by providing a utility bill or bank statement that clearly shows your name and address.
Final Approval: After you've submitted all your documents, the sportsbook will review them. This can take anywhere from a few hours to a couple of days. Once your account is verified, you're ready to place your bets!
Remember, account verification is a one-time process and aids in maintaining a secure betting environment. It's a small investment of time that will lead to a more enjoyable betting experience.
ZodiacBet Betting Markets: Short guide
Like all good online sportsbooks, ZodiacBet boasts plenty of betting markets. Here are a few examples:
Over/Under (Totals)
The Over/Under (Totals) betting market, often termed as Totals betting, is a wager placed on the combined score of both teams in a game. It revolves around predicting if the total score will be over or under a specified number set by the bookmaker.
Asian Handicap
The Asian Handicap is a betting market that aims to level the playing field between two opposing teams. It provides a handicap that can either be positive (for the underdog) or negative (for the favoured team).
Accumulator Betting
Otherwise referred to as a combo or parley, it combines several selections into one bet for bigger odds.
Point Spread
The Point Spread, in betting, refers to a numerical margin set by bookmakers to create an equal betting environment. It gives an advantage to the underdog and a disadvantage to the favourite, levelling the playing field.
Money Line Bets
A bet on the winner of a match.
Prop Bets
Prop bets, short for proposition bets, in online betting are wagers placed on specific events within a game, not directly tied to its outcome.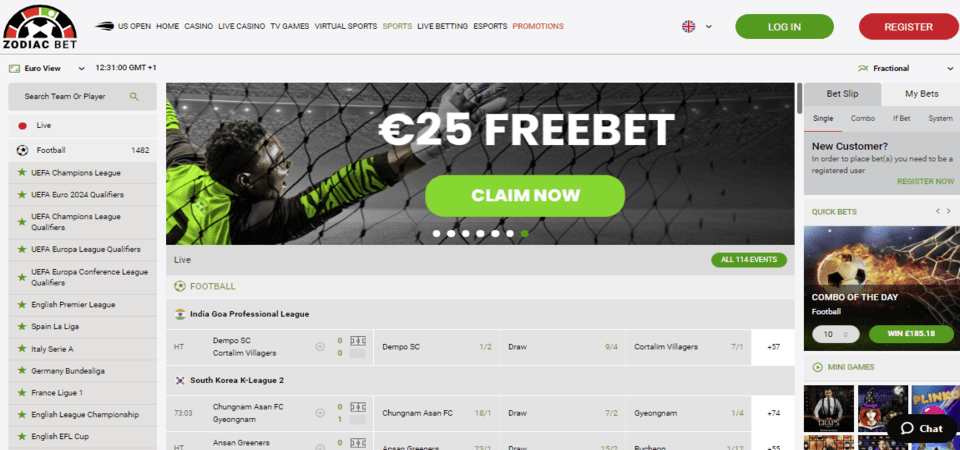 ZodiacBet Licensing and regulations
The ZodiacBet bookmaker is registered under registration number 120860 under the law of Curacao, with license number 8048/JAZ.
How to place a bet in ZodiacBet?
Placing a wager at ZodiacBet takes a matter of seconds. Here's how players can start their betting journey:
Register using the special link in our review.

Make a first deposit using the bonus code ZB100S to get added betting funds.

Choose a selection, add it to the betslip, and press place bet.
How to sign up in ZodiacBet?
Starting the ZodiacBet odyssey is straightforward - players can begin their betting journey within a minute. Here's how:
Click "sign up" button

You can find this in the top right hand corner of the honepage.

Fill in all required fields with relevant info

This could include a username, password, mobile phone number, and email address.

Verify your account

Enter the verification code sent to your contact details.

Well done

Congratulations - you have started your ZodiacBet journey!
Is ZodiacBet Trustworthy? Final thoughts
ZodiacBet, an exhilarating sportsbook, stands out as a beacon of excitement in the online betting landscape. Its commitment to transparency, fair play, and a captivating sports selection offer a well-rounded gambling experience.
A user-friendly interface and secure payment system combine with an exceptional customer support team to ensure a seamless betting journey.
Advantages
Plenty of sports markets.
Good welcome bonus.
Great promotional offering.
Fast withdrawals in less than 24 hours.
Secure payment options.
Limitations
No live streaming.
Lack of phone and email support.
Bookmaker reviews by players