Mobilewins Review
Advantages:
Simple interface upon site entry

Easy-on-the-eye colour scheme

New promotions introduced every month
Payment Methods:
Mobilewins bonuses & promotions
Bonuses and promotions that welcome the user are some of the most important aspects when considering which bookie to use. Here, we cover exactly that in this Mobilewins Review allowing you to assess the Mobilewins welcome offer for yourself!
New players offer
Depositing a minimum of £10 will allow you to get a MobileWins sign-up offer of £10 FREE for the beginning of your MobileWins betting escapade. This is especially useful if you look to double up on your amount to start with and take risks you usually might not have.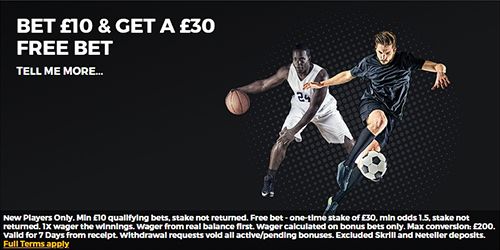 'Super fan' winner
This is a little out of the ordinary as with this offer you deposit £10 or more using the code ATTACK, which will trigger this MobileWins bonus . You will then need to place up to £50 on qualifying sports, which will place you on a leaderboard. The higher you manage to get, the better chance you have of winning a cash prize.
Sports-specific cashback
This includes multiple options for different sports, but they are all the same so we've put them in the one category for this list. You'll notice that they are regarded as different offers, but have the same requirements although with different sports or codes. If you enter the code and deposit money on the specified sport but lose, then you get 10% of your lost bet back of up to £500.
The betting odds on Mobilewins usually vary by sport. When it comes to the popular sports, they are either usually competitive compared to other bookies or almost as competitive. On the Mobilewins desktop site, football options are not quite as strong a draw as other sports in this case though, but the rest tends to be attractive.
eSports are available on this site too, with roughly the same sort of odds as rugby, basketball, and volleyball. Hockey is a good one to bet on as it offers quite good margins. The odds here are not the best but not the worst either, so we can describe the odds as just right.
Betting margin
Basketball

8.5%

eSports

8.19%

Football

5.6%

Hockey

8.69%

Rugby

8.1%

Volleyball

8.19%
Overall betting margin: 7.9%
Ironically, there is only a mobile site for Mobilewins sports betting and no applications of any sort. We believe that an app for either Android or Apple would have been ideal for a bookmaker of Mobilewins' caliber, so we'd like to see one in the future.
Though the mobile site is very usable, it can sometimes face the same problems as the desktop version. Though a little faster and nimble, it can be a bother having to access the internet every time you want to play rather than using a quick app.
You can play in the Mobile Browser

Mobile Browser
More
You can play in the Opera Mini

Opera Mini
More
A way of describing how usable a site is by checking just how well it works and goes about its business is by measuring its usability. We've done this for you right here: the Mobilewins online betting site allows you to navigate, but does not let you into the fray until you sign up or login.
Big labels allow you to know where you are going
Easy to find where to deposit your money
Sometimes one click isn't enough to get you somewhere
There are currently several problems with the site. After logging in, we tried to access the sports betting area but several clicks in and we were still on the deposit page, which is where completing registration will take you.
This problem persisted throughout and sometimes gave us a pop-up to deposit with instead, which was completely unrelated.
The site offers a fair variety of sports to anyone who wishes to login and begin their betting venture.
The more popular sports such as football, volleyball, basketball and rugby are all present, whilst some unorthodox sports like snooker, NASCAR and Aussie rules also make the list. Although the Mobilewins online betting on football could be improved.
This isn't the biggest selection on the web, but not the smallest either. You are spoilt for choice with this, as even the eSports section itself is divided into smaller sections like eFootball, DOTA, LOL, and more subheadings.
Mobilewins Types of Bets:
The Mobilewins bookmaker claim to offer a safe environment for bettors, however, they have had numerous complaints about the site not being fully trustworthy and about the fees they use to administer any sort of deposits and withdrawals. Nevertheless, despite the comments, they have the appropriate licensing and have been operating since 2012.
They are regulated by the Great Britain Gambling Commission, allowing them to fully operate in GB territory and are also recognised by the Malta Gambling Commission.
Payment methods: Mobilewin deposits & withdrawals
Deposits
The deposit list for Mobilewins is fair, offering six to choose from and the availability of MasterCard and VISA allowing many punters to use the most popular methods.
The limitations on deposits mean that you have to deposit more than £10, and up to £5,000 ‒ this goes for all the available methods.
Withdrawals
This is where it goes a little downhill. You only have 3 payment method choices for withdrawing your cash, plus a £2.50 transaction fee enforced, which a lot of people have found outrageous.
| | | |
| --- | --- | --- |
| £10–£5,000 | Instant | 0% |
| £10–£5,000 | Instant | 0% |
| £20–£5,000 | Instant | 0% |
| £10–£700 | Instant | 0% |
| £10–£700 | Instant | 0% |
| £10–£5,000 | Instant | 0% |
| £10–£5,000 | Instant | 0% |
| £20–£5,000 | Instant | 0% |
| | | |
| --- | --- | --- |
| £3–n/a | Up to 24 hours | 0% |
| £3–n/a | Up to 1-3 days | 0% |
| ❌ | ❌ | ❌ |
| ❌ | ❌ | ❌ |
| ❌ | ❌ | ❌ |
| £3–n/a | Up to 1-3 days | 0% |
| ❌ | ❌ | ❌ |
| ❌ | ❌ | ❌ |
Betting is safe when the support is quality. When a bookmaker tends to care for their punters this means that their sportsbook is going in the right direction. Here, we'll show you just how well Mobilewins have shaped their own support and whether they can do any better.
Mobilewins offers a live chat. This is extremely useful if you want a fast and straightforward answer whenever you are having a problem.
An email is also available for more in-depth questions and for punters who may have time or find that the live chat might be unhelpful or simply doesn't work for them.
As far as we are concerned, there is no mobile number provided to punters on the contact us page that Mobilewins provides. This could be improved in future.
Mobilewins has been around for quite a while and many punters rate the bookmaker. At the same time, we do believe there is still a room for them to improve and grow. Despite some complaints, their reputation is rather ok, and the sportsbook seemingly tries to appease its customers with competitive odds, variety of sports and a good customer service.
The bookmaker has done its job despite a lot of pressure from unhappy punters. They work well and provide a safe spot for people who would like a decent betting experience.
Advantages
Wide array of betting markets
Good customer service
Variety of promotions
Limitations
No dedicated apps
Not many payment methods
On the downside, MobileWins can sometimes lag when you browse the website, and its payment methods are severely lacking.
All in all, our final impression is quite good, and we will be looking forward for the sportsbook's growth to see how it manages to stay ahead of its competition.
Bookmaker reviews by players