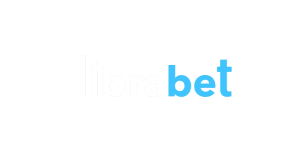 Librabet registration – how to sign up and log in
LibraBet registration – a step-by-step guide
On this page, our team of sports betting experts explains the processes behind LibraBet registration. The aim is to ensure that readers have a strong understanding of how LibraBet works, including how to sign up for a new online betting account and how to log in using their website or mobile device. There's even useful information on how to land an attractive welcome bonus by registering.
By the end of this read, you'll have everything needed to ensure a smooth and straightforward LibraBet register process. Follow our tips and steps to ensure you're active on the site quickly, using the best welcome bonus available, with less time spent registering and more time seeking out winning selections.
How to register at LibraBet:
1.

Visit the LibraBet website or mobile site

2.

Click the LibraBet sign-up button at the top of the homepage

3.

Fill in the form

4.

Create a username

5.

Confirm your account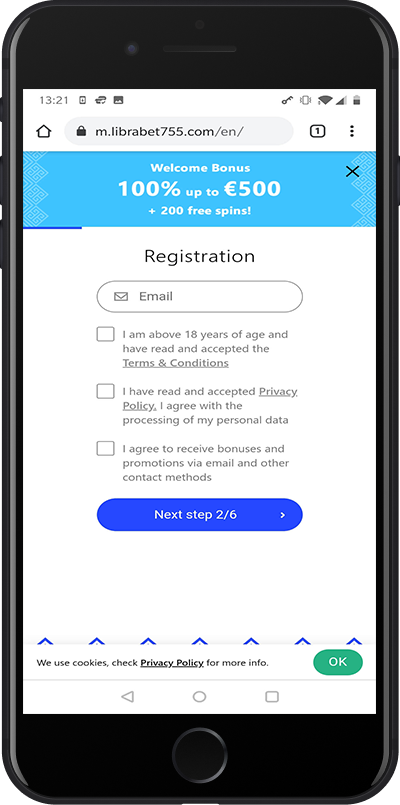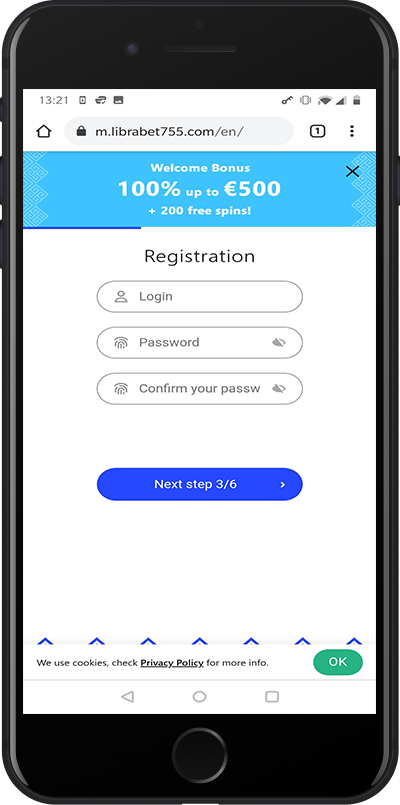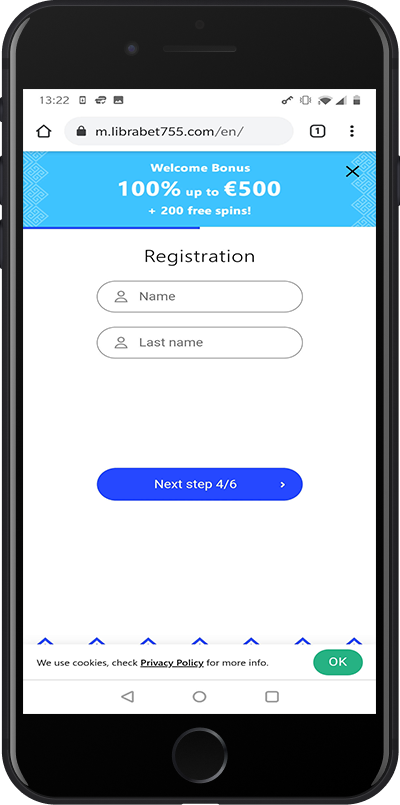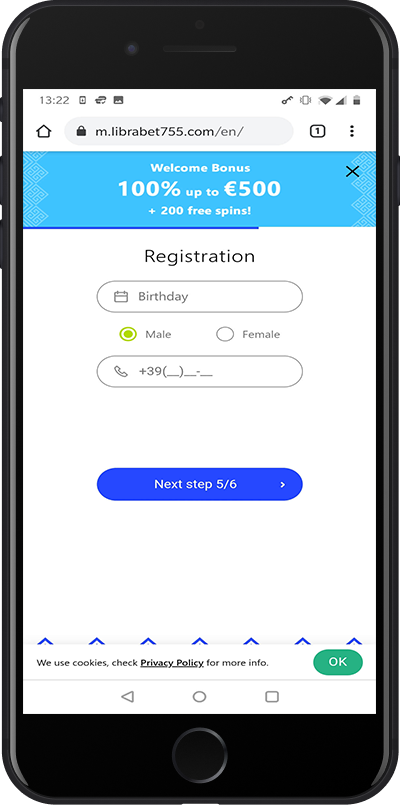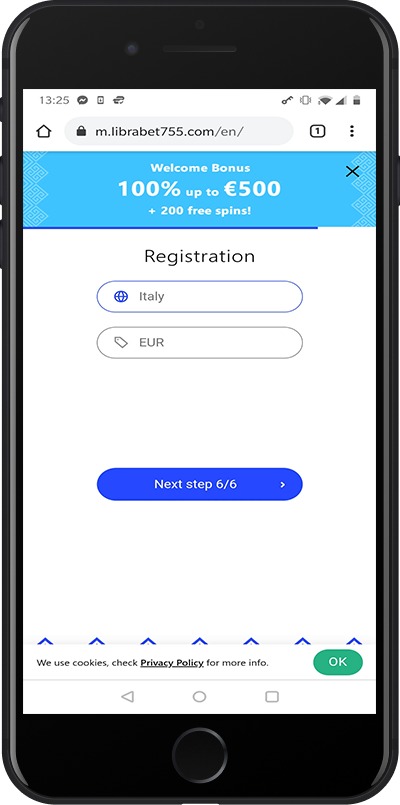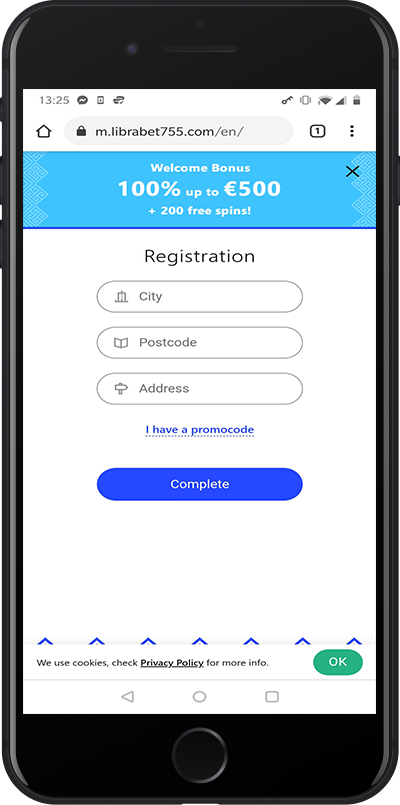 What you need to know about Librabet registration
A pleasing aspect of the Librabet registration process is just how easy it all is. Every effort has been made to streamline the steps to ensure new members can sign up and start betting without delay. It's simple, fast and effective. You'll find you can create a Librabet account in under three minutes.
You must complete this stage only once. In future, simply click Librabet login then provide your username and password to access the account. This takes seconds. Add your username to the first field, password to the second then click to confirm and access your personal online betting account.
How to register at LibraBet
For most readers, this will be the focus of this article. When registering for an online betting account, you'll want to get on quickly, bypass the questions and start betting. Thankfully, LibraBet has kept things easy. Yes, they require your details to set you up an account and ensure you are over the legal age for gambling, but they don't want to bombard you with details. They understand the dangers associated with this as you could decide you've had enough and exit the site.
Thankfully, LibraBet appears to have the balance just right. As you can see from the steps listed below, there's nothing difficult. Follow the points closely and we'll have you betting in no time. Take care not to miss any stages as skipping a step could delay you securing an account.
Click any link to LibraBet
Dotted throughout this page, you'll find links to the LibraBet sign-in page.
Hit the button to register
At the top right of the homepage you'll find the register button, which you should click to begin.
Fill in the registration form
The registration form will ask you to add your details, including name, date of birth and postcode.
Create a username and password
The username you create at this point will be used to sign in to your account for all future visits.
Make your first deposit and bet
Choose between a debit card or e-wallet account and make your first deposit, then place a bet on sports.
Your welcome bonus will be added
The welcome bonus due will be dropped into your account balance.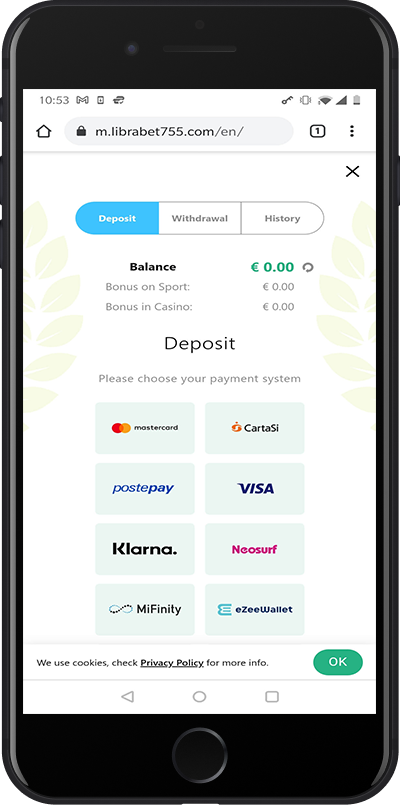 You must create a betting account only once with Librabet, you'll be glad to know. There's no need to follow the steps after your account has been created. In future visits to your account, you only need to enter your username and password to access and bet.
The login process is even quicker than signing up. Follow the steps below to login to your LibraBet betting account using the website or mobile site. You will then have unrestricted access to all features
1.

Visit the LibraBet site

Type the LibraBet URL into your device's web browser and visit the homepage.

2.

Click Login

At the top of the homepage is the login button, which you should click.

3.

Enter your username and password

Input the username and password you created during registration.

4.

You'll have access to your account

You will now have access to your account and will notice your username at the top right of the homepage.
Why should I join LibraBet?
There are many benefits to opening an account and betting with this Malta-based online betting site. They are licensed to accept sports bets in your region and will give you a welcome bonus free bet when signing up – more on that in a minute.
As well as the free bet for new players, there are also several recurring promotions for existing members, so you won't be overlooked after creating an account.
You can even cashout your sports bets. Choose between a list of secure and fast payment options, including e-wallets.
A generous sign-up bonus has the potential to make or break a betting site's reputation. So, why do bookies offer a new player bonus? What's in it for them? The sports betting industry is a fiercely competitive one with bookies constantly battling for your attention.
What is the LibraBet sign-up bonus?
Make a deposit, place a bet on your favourite sports and the free bet will land in your account balance. You can use the promo to gamble on sports that include football, tennis, basketball and American Football.
How to verify my LibraBet account
Online betting allows you to gamble on your favourite sports from the comfort of your own home, but the one drawback is that you could be anyone. How do the bookies know you are who you claim to be and how do they guard against underage gambling or identity fraud?
They do this by asking customers to verify their details. You may be asked to provide proof at the point of registration, when making your first bet, or when making your first withdrawal.
It's easy to verify your account when asked to do so. If you don't complete this request in a timely fashion, the bookie may become suspicious and place restrictions on your account.
The easiest and quickest way to verify your account is as follows:
Take a snap of your photo ID on your smartphone, such as a driver's license
Email it to the customer care team.
They match the details on your ID against those saved on your account and then lift the restrictions.
You'll then be free to continue betting.
What if I need help while creating an account at LibraBet?
If you ever require assistance when using the LibraBet online betting service – from creating an account to getting the welcome bonus free bet – you can rely on the customer services team. If you have a question, your first check should be the Frequently Asked Questions page. There, you'll find a list of popular questions with answers attached. If you'd prefer to speak to a member of staff, you can do so via the live-chat option. The customer care team is polite, friendly and knowledgeable.
Possible problems with LibraBet registration
The LibraBet registration process has been kept as basic as possible. Much research has gone into creating a streamlined service that appeals to all levels of bettors. Most problems with the LibraBet registration can be blamed on user error. If you ever have an issue with registering for an account then you should contact the customer services team.
LibraBet may not yet be a huge industry name, having only launched in 2018 and so far without a UK Gambling Commission license, which means they can't accept customers from the UK. But there's no doubt that LibraBet is heading in the right direction.
You can sign up for an account at LibraBet in just a few minutes and, if following the steps laid out in this article, you'll bag the welcome bonus. It's time to get started.
Read other registration guides: