Chezacash mobile app
Discover everything you need to know about downloading and navigating the Chezacash betting app for sports betting on Android, iOS and Desktop.
Currently this bookmaker doesn't provide a mobile application for this platform
Currently this bookmaker doesn't provide a mobile application for this platform
Not available in your location
Try these bookmakers instead:
The team at mightytips.com has recently reviewed the Kenyan bookmaker Chezacash – great news if you love betting on your favourite sports teams - and now we're back for the Chezacash app. We've looked at the availability, usability and compatibility with various operating systems. Here's everything you need to know about Chezacash.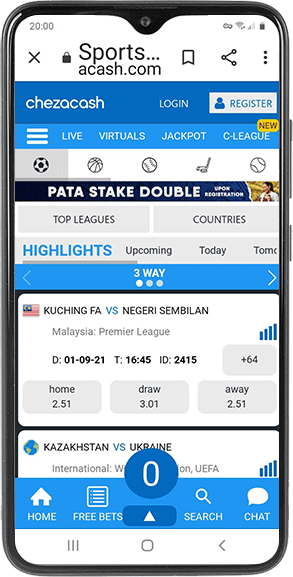 As we've mentioned, there is no Chezacash app download per se. But if you want to use their mobile platform, it's simple to login.
Go to the top right corner and tap 'Register' to create an account. This is necessary if you want to participate in the live betting option, which you will notice is locked until you sign-up.
Once you have an account, you will instantly be logged in and can start navigating the platform freely. You will also be able to login later when checking on your bets.
No APK exists for Chezacash, but we're hoping they will develop one soon. It's therefore not necessary to download a Chezacash Android app to use the platform that's already provided.
No installation is needed for a Chezacash APK app on iOS either. Simply navigate to the Chezacash website from your browser and use the platform directly.
Up until recently, Chezacash only offered pre-match sports betting options. But now you can also bet on live games, which has significantly boosted the popularity of the Chezacash platform.
Truth be told, this betting platform was wildly popular before the introduction of live betting. That's because Chezacash offers high odds and a large variety of games per sports category for sports fans in Kenya.
The platform in general has improved its overall user experience. Using Chezacash is now more exciting in terms of its usability, in addition to the inherent excitement that comes with betting on the games themselves.
As it stands now, there isn't a Chezacash app. But they do have a mobile platform that is easy to navigate. This platform is compatible with iOS, Desktop and Android, so let's look at how it performs on each of these operating systems.
Chezacash on Android
If you have an Android device, you won't find a Chezacash download. But the system is highly intuitive and will recognise your device regardless of the lack of an app. Further down, we'll show you how to login, manage your funds and start betting.
Chezacash on iOS
The same can be said for iOS devices. Here too there is no Chezacash mobile app that can serve as a gateway to the platform. The best way to use the platform on an iOS device is to simply navigate via your browser and access the site directly.
Chezacash on Your Desktop
Using a PC to access the Chezacash platform is your best bet (excuse the pun). But that doesn't take away from the user-friendly navigation when accessing Chezacash mobile from your phone or tablet.
The usability of the Chezacash experience has improved massively over the last few years. The overall look and feel of the site have become more exciting. The same familiar game options are still there for loyal users who used the platform before the revamp.
A new feature that allows for live betting is also enhancing the usability of Chezacash, which is why we've decided to review it now. As always, the odds offered on the platform are great.
Football – or soccer – is the most popular game users bet on, being the most popular sport in Kenya (and around the world, with plenty of football bookmakers to choose from). A number of football leagues are included as betting options, and each relevant game schedule is accessible directly from the site for your convenience.
If you are not sure which bet to choose, you can always look up our free football predictions.
So, despite there being no Chezacash app, Kenya sports fans can still use the platform freely.
Creating an account is your first step. You will only be asked for a mobile number. This information is necessary whether you're logging in from a desktop or a mobile device. The number you provide will validate your identity and you can login with this information after creating a password for your account.
Fast Access
The quickest way to login if you already have an account is to insert your phone number and password. Once in, you will get access to all games, including the ever-popular live betting option for games being played at any given time.
Step-by-Step Instructions
Click or tap the 'Login' tab on the top right corner of the screen.
Type in the mobile number you used to create the account.
Type in your password.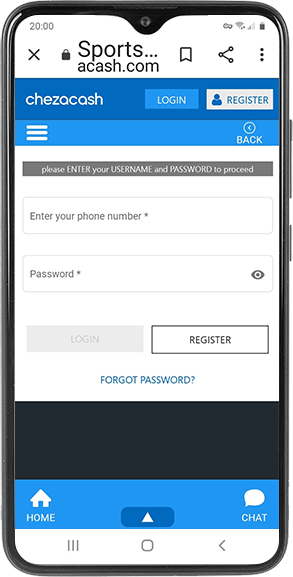 You can choose from a huge number of sports on Chezacash, including:
Basketball
Baseball
Ice Hockey
Tennis
Handball
Boxing
Rugby
American Football
Table Tennis
Cricket
Pesapallo
Football (Soccer)
You can also browse through other countries and their respective leagues, sports and games to participate in international betting opportunities.
| | |
| --- | --- |
| 📲 Available platforms | (Web) |
| 🔴 Live betting | ✔️ |
| 💳 Mobile deposits | ✔️ |
| ✨ Mobile withdrawals | ✔️ |
| ℹ️ Mobile support | Phone & Live Chat |
| 🎁 Mobile offer | Ksh 10,000 Freebet |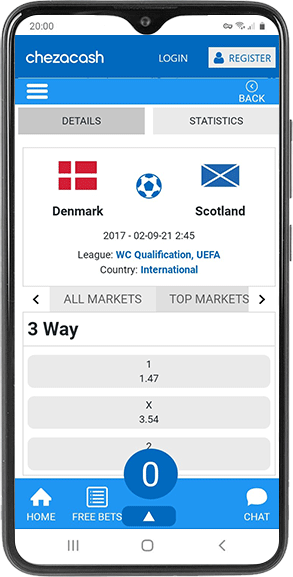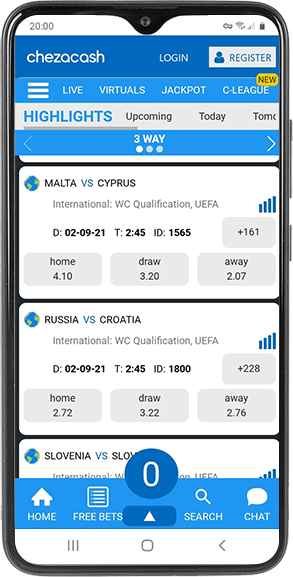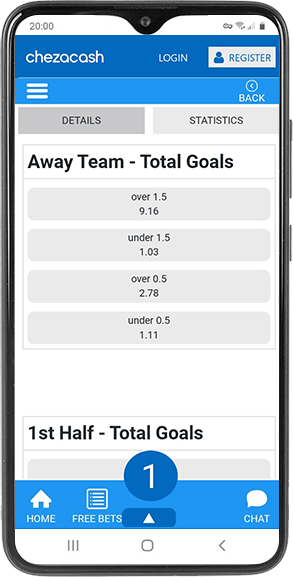 Live betting can only be accessed once you have logged into your Chezacash account. From here, simply click or tap on the 'LIVE' tab on the top of your screen.
If you don't yet have an account, you can still view these games, but betting access will be locked.
Once in, you will be able to view games being played at that time. To place a bet, simply follow the prompt buttons provided on each individual game.
Chezacash allows you to top up your account with funds from your mobile device or from your desktop. Doing so is easy and instant. If you have an account, simply go to your profile and follow the prompts to load money or withdraw your winnings!
We found that the top-up and withdrawal processes are convenient and simple to understand, which is probably why Chezacash is the go-to platform for Kenyan sports fans. However, if you're not entirely satisfied with the quality or quantity of provided payment methods, you're welcome to browse the list of the best Kenyan bookmakers available on our website.
You can chat live with an agent directly from the platform. We tested this out and found that Chezacash offers on-the-spot assistance via their live-chat application. But this option is only available if you provide them with your number, and only Kenya numbers are accepted as valid.
Chezacash also has a telephone helpline. Speaking to an agent is a quick way to get answers or assistance during your betting process. The agents on both the live chat and telephone helpline are knowledgeable and helpful.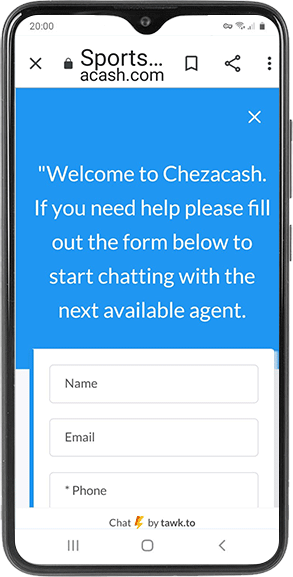 We were hugely impressed by the new features and general user-friendly feel of the site, despite there being no Chezacash APK download available.
Advantages
Live betting feature
Convenient withdrawal processes
Fast access available
Crazy number of sports to choose from
Limitations
No dedicated Android/iOS app
Using the platform on its own was a pleasure, and uncomplicated, since it's the same usability regardless of the device you're using.