Bwin Registration – How to Sign Up and Log In
Content
Bwin Registration – A Step-By-Step Guide
In this comprehensive Bwin registration guide, we are going to provide you with all the information that you need to successfully register an account at one of the world's most reputable online sportsbooks. Not only is the process fast and straightforward but, once complete, you will gain access to many great features.
Apart from giving you all the necessary information on registering for a Bwin account, we are also going to take a look at the promotions in store for you. So, without any further ado, let's start breaking down the details.
How to Register with Bwin
The Bwin register process is very fast and simple, as you are about to see. The only thing that you need to make sure of before you start registering an account is that you have a stable internet connection. Since Bwin is optimised for mobile and desktop use, you can choose any device to register an account. As for the process itself, it consists of four steps, all of which are explained below.
Step 1

Access Bwin's official website to start the process of registering for an account. Bwin's platform is as secure as can be.

Step 2

Click on the yellow Register Now button, which is located at the top right corner of the screen.

Step 3

Start filling out the required fields, including email, first and last name, and choose a strong password that only you know.

Step 4

Accept the site's terms and conditions, confirm that you are over 18 years of age, and finalise the process.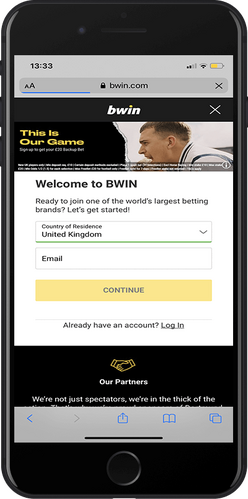 What You Should Know About Bwin Sign-up Requirements
Considering the fact that Bwin's site is mobile-friendly, you will be pleased to know that you can register from any device of your choosing. The Bwin register process is extremely simple as it requires basic information about yourself. If you are wondering whether the data is secure, then the answer is yes. Bwin utilises the latest security system that will keep you out of harm's way.
As mentioned earlier, the only concern that you should have here is to make sure of a stable internet connection. The table below also shows some additional information that can help you if you are wondering how to register at Bwin.
| | |
| --- | --- |
| 📧 Requires e-mail | ✔️ |
| 📲 Requires phone number | ✔️ |
| 🤳 Requires ID scan | ✔️ |
| 🧾 Requires scan of a utility bill | ❌ |
| ℹ️ Types of support | Live chat, phone and email |
| 🎁 Welcome bonus: | $50 |
Once you register for a Bwin account, you will gain access to all of its features. This includes betting on pretty much every sport you can think of, claiming the bonuses and promotions, and also playing casino games. Yes, Bwin also features casino games from many of the world's most significant game providers.
After the registration process is complete, you will have to use your Bwin login credentials to sign in to your account. Accessing your account is just as simple as registering an account. Below, we've listed and explained the necessary steps you need to take.
Step 1

This step is identical to step 1 of the registration process – just access the official Bwin website.

Step 2

Click on the black Login button, located at the top-right corner of the screen, right next to the registration button.

Step 3

Enter your email or User ID and then your password. If you've forgotten your password, click on the Forgot Password button to redeem it.

Step 4

Finalise the process by clicking on Login. If the information is correct, then you will successfully gain access to your account.
Bwin's mobile application doesn't have iOS support yet, however, it can be used on Android devices. It has a lovely design and a user-friendly interface that makes betting even more fun. The application runs fast and without any hiccups, making it a favourable betting application among many bettors.
You can easily bet on your favourite markets, as well as make deposits and withdrawals. Thanks to the application's notification feature, you can follow the current status of your bets anytime.
Why You Should Join Bwin?
Each online sportsbook has plenty of great features, which is why it might be difficult for you to choose between them. One piece of advice that we can give you is always to take your personal preferences into account. After all, there are thousands of operators on the market today, and you can rest assured knowing that you will find a sportsbook to match your individual needs. With that being said, we wanted to highlight some of Bwin's best features.
First of all, Bwin is a reputable online sportsbook that is licensed in many countries and utilises the latest SSL encryption software to keep its players secure. This means that your sensitive information, such as payment method details, will be kept out of harm's way.
Next, Bwin is known for its massive sports coverage. Not only will you be able to place bets on pretty much every sport you can think of, but you will also be provided with some of the best market odds.
And if that is not enough, you will be able to boost your winnings thanks to the numerous promotions that Bwin has in store for you. One of those bonuses and promotions is the Bwin sign up offer, which you will claim after you register an account.
One bonus feature that is worth a mention is the fact that Bwin also features a casino and live casino section where you can enjoy some of the best casino games created by the world's most reputable game providers.
One of the most significant advantages of online sportsbooks is that they get to provide new players with welcome offers once they register an account and make their first deposit. As is the case with this Bwin new customer offer.
Now, the important thing to remember here is that welcome bonuses, including the Bwin sign up bonus, have certain terms and conditions you need to adhere to. Some include wagering requirements, a Bwin welcome offer validity period, and a maximum bonus amount.
One thing that is worth mentioning is that the Bwin sign up bonus may vary depending on your location. The Bwin welcome bonus, therefore, will reward you with a 100% match deposit bonus that goes up to $50. The minimum deposit for claiming this offer is $10 and, in order to receive even more significant returns, just apply an Odds Boost Token. There's plenty on offer, so you won't regret your Bwin sign up decision.
Other Bonuses Aside from the BWin Open Account Offer
The beauty of this sportsbook is that, once you create an account by following our guide on how to register at Bwin and verify, you will be able to claim other bonuses aside from the welcome offer. However, just like the Bwin welcome bonus, these promotions may vary, depending on your location. So, if you wish to see your eligible offers, just access the website and click on the Promotions menu.
How to Verify Your Bwin Account?
Of course, if you wish to claim the Bwin open account offer, place real money bets, and withdraw your winnings, you will have to successfully verify your account. Bwin requires this part from you so that it can confirm you are a real person looking to have quality time at this sportsbook. In this context, we've explained the steps that you need to take in order to successfully confirm your Bwin account below.
Step 1

You will have to provide Bwin with a picture, a valid ID document, and an address verification address.

Step 2

Provide these documents via Bwin's apps, email, or by using Bwin's online uploader tool. Make sure you don't leave out any required documents.

Step 3

Bwin will review the verification documents that you have sent. In most cases, they are processed within 24 hours.

Step 4

Once all the details in your documents have been verified, you will gain full access to your account's functionality.
What if You Need Help While Creating an Account with Bwin
Some people might experience trouble and won't exactly be sure how to register with Bwin. So, they will require some help finishing the process. If you are one of those people, then you can rest assured knowing you will be provided with an adequate solution.
First of all, you can always look up our Bwin create account guide and read the necessary steps you need to take in order to register successfully. There's also an alternative, which is getting in touch with the customer support team at Bwin. You can contact them via either email or Bwin's official international phone number, which is 00 44 20 3938 0862. The team is highly responsive and will answer all of your inquiries.
Possible Problems with Bwin Registration
Restricted Access at Bwin's Platform
Bwin's policies are very strict, which is how this sportsbook managed to climb to the top of the hill. So, if you cannot access its official website, this is likely because online betting is not considered legal in your respective country.
Welcome Bonus is Not Featured Depending on Region
As stated earlier, the welcome bonus varies depending on the region you are registering from. So, if a welcome offer at Bwin is not in store for you, then it is likely due to your country's policies, which forbid the bookie from providing you with such promotions.
Cannot Find Bwin's Online Uploader Tool
When you are looking to verify your account, you can submit the required documents via its online uploader tool. Access by visiting the Help section, then go to Account Verification and click on How to Verify My Account. The sportsbook has a jump-link to the uploader tool.
Bwin is undoubtedly one of the most reputable online sportsbooks on the market. The fact that you can easily register an account at this sportsbook is a massive benefit. Thanks to its security, you can also rest assured knowing that the data you supply the operator with will be kept out of harm's way. As for the pros and cons of Bwin, they are listed below.
Pros
Impeccable security
Fantastic odds and great market coverage
A welcome bonus is featured
Reputable and trustworthy online sportsbook
Cons
Several country restrictions
Read other registration guides: