Best Betting Apps in Portugal
The Portuguese are well known for their high level of sports enthusiasm. Their passion goes beyond sports to all its related activities and industries. One of these industries is the online betting industry. In the last decade, Portugal has witnessed remarkable growth in the betting industry, with an unmatched surge in sports betting apps Portugal options.
List of Best Betting Apps in Portugal
Found: 14 Bookmakers
Dive into Portugal mobile betting!
Our guide will cover all the main sports as well as the top betting apps Portugal options that the Portuguese enjoy playing and betting with.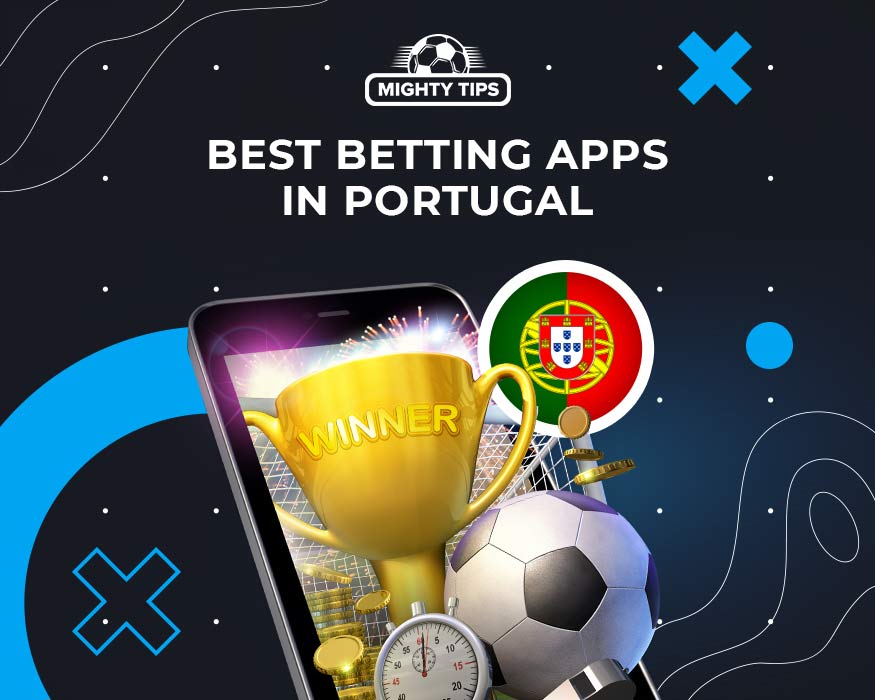 Whether you are a football fan, basketball lover, cycling supporter, or Formula 1 enthusiast, this article will answer all your questions and guide you to the right sports betting portals.
We will discuss mobile betting legality, advantages, and our main criteria while listing the best sports betting apps Portugal has and the best betting choices to suit your attempts. We will also highlight the key differences between mobile betting apps and desktop versions.
Since we have the ultimate mobile betting guide, our article will answer the most frequently asked questions, assist you step-by-step with how to bet with a mobile app, cover the best betting app choices for different sports, shed light on the types of bonuses that betting apps in Portugal offer, and include many more points that might interest sports betting fans. Join us!
Is Online Betting Legal in Portugal?
The new rules imposed regulations on the gambling industry in Portugal and requested all foreign providers to obtain gambling licenses from the Portuguese authorities.
Online Gambling Rules in Portugal
The (PT) domain is the main requirement for international sports betting providers to operate in Portugal.
Sports betting operators are required to renew their licenses every three years.
Betting providers in Portugal use Euro as a currency.
Sports betting winnings are not taxed for individual gamblers.
What you need to know about mobile betting in Portugal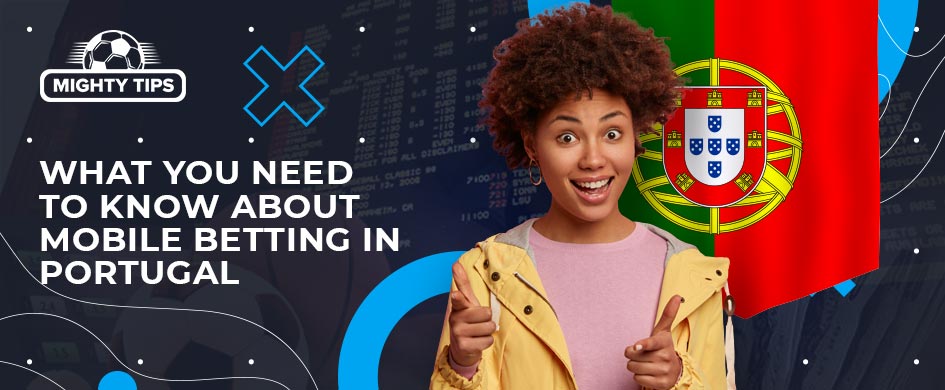 Online betting companies in Portugal provide their customers with all betting apps Portugal offers that are based on cutting-edge software and high-end technologies for ultimate safety and security standards. Each mobile betting app has multiple sports betting sections that enable sports fans to select their favourite event or match to bet on.
Portugal betting apps provide a wide range of sports betting options, including the ability to bet before or during an event, as well as a long list of betting options to increase excitement levels.
New betting apps 2023
Due to the high demand for online gambling and sports betting during the last few years in Portugal, many new betting apps have entered the market, offering their services to sports fans. Our guide only includes new, top-notch sports betting apps with the best bookmakers in Portugal.
What to Consider When Looking for the Best Betting App? Our main criteria
We totally understand that picking your next favourite betting app is not an easy process. The market is stuffed with mobile options. This is why we are here to assist your betting app Portugal choice wisely with a risk-free experience. We have strict rules and criteria before recommending. Our main criteria include:
Reliability

Reliability means offering a headache-free betting experience with no safety and security compromises. A reliable betting app Portugal concept includes: - A licensed betting venue that adheres to local and global betting regulations. - High-security protocols that guarantee the player's personal details and banking method safety. - Assurance that players are betting at an honest venue with equal chances.

Usability

Usability requires a smooth and easy-to-navigate experience through all the application sections. A usable betting app Portugal option should be: - Perfectly compatible with the iOS and Android operating systems. - Support the widest possible range of mobile phone brands and versions. Usability is a key feature when considering top betting apps Portugal since it ensures the best betting experience for players.

Special mobile app bonuses

Unlike most regular sports betting websites and apps, most popular betting apps Portugal come with unique bonuses and promotions. We love bonuses and we work hard to guarantee that our betting apps in Portugal recommendations are the best in the market. A great sports betting app: - Pampers its players with exclusive bonuses - Makes the players feel special

Deposits & Withdrawals

Having the right deposit and withdrawal methods that suit your exact needs is a game-changer when choosing your next Portugal betting apps. We focus on sports betting apps that provide their customers with multiple and secure banking methods to process their payments. It's important that the betting site has: - Fast withdrawal times - Variable deposit amounts - Different payment methods

Availability of sports to bet on via apps

A great betting app Portugal choice is the one that allows players to bet easily through the app and hosts the most requested sports events to bet on. While considering betting sites, we focus on the following: - App service diversity - Large number of sports options

Cashout option while betting via app

We love the feeling of fast payouts and easy withdrawal processes, so we share our favourite app options with readers to experience the same exciting feeling. Top betting apps Portugal: - Manage cashout processes via their betting apps - Don't involve third parties
Registration process
One of the main points we consider while choosing a betting app Portugal is ensuring a relaxed and hassle-free experience with zero complications. Such an experience requires an easy registration process with basic details and without extra requirements that might affect the overall betting experience. Crucial qualities while selecting top betting apps Portugal involve:
Understanding the customers' needs
Respecting their time and information privacy
Top 10 Betting Apps in Portugal and Best Betting App features
We are confident that our premium selection of top betting apps Portugal will be up to your expectations and offer you a stunning sports betting experience. The list of best betting apps includes:
22Bet - 22Bet offers a simple registration process with a wide variety of payment methods.
1Bet - 1Bet is a sports betting platform with unbeatable online casino game selections.
Bettilt - Bettilt is an online casino and sports betting bookmark with mouthwatering welcome bonuses.
20Bet - 20Bet is a globally known trustworthy sports betting platform that offers competitive odds.
LEON - LEON pampers its sports fans with a vast array of sports events to bet on.
Sportaza - Sportaza offers a jaw-dropping A–Z sports list to choose from.
Betway - Betway provides sports lovers with great offers and tremendous events to choose from.
MostBet - MostBet has gained popularity for offering premium sports betting and online casino services.
GoalBet - GoalBet comes with impressive welcome bonuses, exclusive gifts, and online casino games.
IGUBET - IGUBET covers all the global events that might interest any sports enthusiast.
Mobile app vs. desktop version in Portugal: Know the differences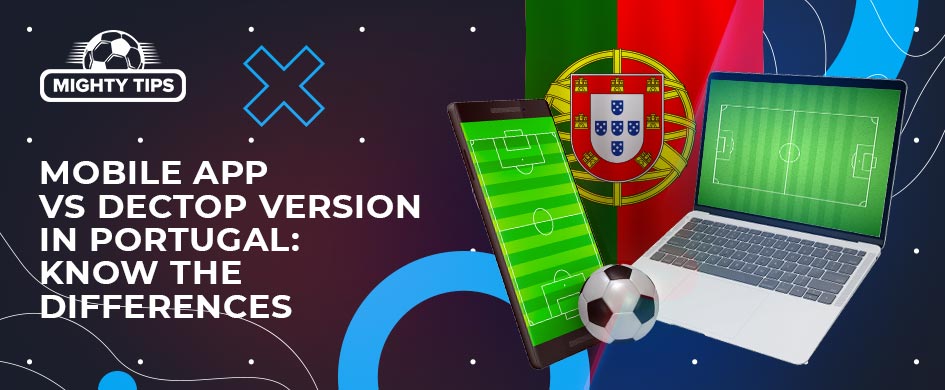 It's undeniable that mobile sports betting apps took the whole betting experience to another level and added extra features for sports betting fans. On the other hand, desktop sports betting website versions are still widely used by online players.
This part will cover each version's pros and cons and explain the differences briefly.
Mobile Apps Pros & Cons
Available anytime and anywhere
All operating systems and mobile phone brands are supported
Easy to use and navigate through the app sections
App-only bonuses and promotions
The absence of some features found in desktop versions
Desktop Websites Pros & Cons
All features are provided
Large screen to navigate through the website sections
Uninterrupted full betting experience with zero voice and video calls
It's only available in a fixed location
Can't be used anywhere or anytime
Basic bonuses and promotions without any exclusive gifts
Best Football betting apps for Portuguese punters
Football in Portugal has a very rich history that dates back to the late 19th century when Portuguese students and English merchants brought the basics of the game from England. The first organised football match in Portugal took place in 1875 in Madeira. Football had grown in popularity among the Portuguese and local football clubs began to spring up across the country.
In 1934, the Portuguese top league was founded under the name Primeira Liga, with big clubs like FC Porto, Sporting, and Benfica. Nowadays, football is considered the top sport in Portugal and Portuguese players are treated like superstars all around the world.
With the surge of online gambling and sports betting websites, Portuguese football enthusiasts have found a new way to share their passion for football and enjoy the thrill of betting. Using Portugal betting apps, players are able to bet on the Primeira Liga matches, along with other leagues across the world and big competitions like the Champions League, Europa League, and the World Cup.
Betting app offers for Football in Portugal
Portuguese punters are lucky to have a list of the best betting app that offers Portugal incentives with generous bonuses and promotions. We collect only the top betting apps that increase the level of punters' excitement and offer them better odds with big bonuses.
Bookmaker

Bookmaker&Offer

Offer
Bonus
1
Get offer
Improve your betting experience with top Basketball betting apps
Globally, basketball comes in second place, right after football. Portugal is not an exception with this and its domestic basketball league, 'The Liga Portuguesa de Basquetebol', experiences wide popularity in the country.
The Portuguese Basketball Cup is considered the top-level professional national club basketball competition in Portugal. The teams in the basketball league with the most victories in championships are S.L. Benfica, F.C. Porto, Sporting Clube de Portugal, and Carnide.
It's worth mentioning that the Portuguese national team has qualified for leading EuroBasket competitions three times.
Online betting apps Portugal offer a wide selection of betting options, whether for pre-match, live betting, or other betting choices. Portuguese basketball fans have the chance to bet on multiple basketball competitions in Portugal or other global leagues like the NBA and the Euro League.
Betting app offers for Basketball in Portugal
Similarly, new betting apps Portugal provide basketball fans with unbeatable bonuses and offers to enjoy their favourite sport. We've gathered the best basketball betting apps that offer a vast array of betting options on your preferred event for maximum enjoyment.
Free betting apps featuring Cycling for Portuguese customers
With its perfect roads, sunny weather, outstanding landscapes, and stunning beaches, Portugal hosts world-class cycling competitions. Held every year in February, the Tour of the Algarve is considered one of the most prestigious cycling races in Portugal, besides other recognisable races and domestic events.
Cycling is among the most watched sports in Portugal, with the Portuguese being highly engaged with this sport and its competitions. In this sense, it is a preferable option when it comes to sports betting.
Best betting company Portugal options offer domestic and global cycling races to choose from and bet on. The Portuguese have the chance to choose their preferred local or grand tour and bet on their favourite biker or team directly through the app along with other betting options.
Betting app offers for Cycling in Portugal
Portugal betting apps offer various bonuses for all punters. Below, you can find the best selection of offers and bonuses Pick your favourite bonus and enjoy betting on a huge list of cycling events.
Enjoy great mobile betting apps for Formula 1
Formula 1 races are so tense and challenging, with millions of fans around the world. In 2021, Portugal hosted one of the most prominent Formula 1 Grand Prix tours at the Algarve International racing circuit, with thousands of fans attending the grand event. Formula 1 races in Portugal have a rich history that goes back to 1958, when the first race was held at a street circuit named Circuito da Boavista.
Many changes have happened since then and Portuguese Formula 1 fans have been starved for their next race in the country. Fortunately, however, Formula 1 races are back in Portugal, and the Portuguese are lucky to now enjoy their passion by attending races and betting through their chosen app.
Betting apps in Portugal enable Portuguese Formula 1 fans to enjoy betting on their favourite Formula 1 team, driver, car, and other exciting betting options. Experience the excitement of Formula 1 through our list of the best betting apps in Portugal.
Betting app offers for Formula 1 in Portugal
We gathered the best betting apps Portugal sign-up bonus options for the ultimate Formula 1 betting experience so that you can enjoy unlimited bonuses and exclusive gifts. Pick your chosen betting app, claim the generous welcome bonus, and test your Formula 1 odds.
Find the best betting apps for Android in Portugal
For Android users who are looking for Android betting apps Portugal that are perfectly compatible with their devices, we've found the best Android sports betting apps. These apps use cutting-edge software to offer you the perfect betting experience. Some of the best betting operators with mobile apps include:
| Place | Betting App | Advantage | Link |
| --- | --- | --- | --- |
| #1 | 1Bet | User-friendly, flexible, and secure app | Read review |
| #2 | 22bet | Simple and clean design | Read review |
| #3 | Melbet | Easy deposits and withdrawals | Read review |
Find the best online betting apps for iOS in Portugal
Our selection of betting app Portugal bookies provides iOS users with the most responsive, secure, and best betting odds in the market right now. Below, we gathered the best bookmakers with iOS apps.
| Place | Betting App | Advantage | Link |
| --- | --- | --- | --- |
| #1 | 1Bet | Many payment options | Read review |
| #2 | William Hill | Live streaming | Read review |
| #3 | LibraBet | Reliable customer service team | Read review |
Main differences between iOS and Android betting apps in Portugal
The Android and iOS betting apps offer almost similar features, with slight differences that don't affect the overall betting experience. Both operating systems' apps provide their users with reliable betting apps in Portugal along with attractive welcome bonuses, a secure betting environment, and user-friendly interfaces.
Differences might include the way of receiving push notifications with slight changes related to the overall app interface.
Android Apps:
Ability to log in to your account using a fingerprint.
Highly responsive buttons and an easy-to-navigate interface.
Available to download via the bookmaker's website.
iOS Apps:
Face ID for easy accessibility.
Fast and secure payment options, including Apple Pay service.
Available to download through the App Store.
We can confirm that these differences are minor and don't affect the overall great betting experience that both systems offer.
Top 5 all-time best betting apps in Portugal
Understanding our readers' needs in their constant search for excellence, we select the finest betting apps that will satisfy your sports betting appetite and provide you with a second-to-none experience.
Looking for the best sports betting apps with free bets?
Finding generous bonuses and free bets are among the main factors that define your next best betting app choice. Understanding customers' needs from their betting app Portugal options, we've gathered only the best, with real bonuses and promotions. Each of the selected apps offers unique bonuses, including free bets and the most desired bonuses that Portuguese players enjoy receiving. Navigate through Portugal betting apps and enjoy their generous free bets and exclusive gifts.
More types of bonuses for betting app lovers
Free bets are not the only bonuses that betting apps in Portugal offer. Indeed, bonus lovers will enjoy other unbeatable promotions to maximise the excitement of their betting sessions.
Welcome Promotions
Welcome promotions are such a generous gesture to welcome you once you sign up with an app account. They allow you to get acquainted with the app services and enjoy betting on your favourite events for free.
Cashback
Another great offer that enables players to return part of their deposits is the cashback bonus. Such a bonus is highly appreciated by players and keeps them interested in the app services.
Daily deposit offers
Betting app Portugal contenders pamper players with daily unique offers on their deposits. Each deposit you make at top betting apps Portugal enables you to receive distinctive bonuses and promotions.
Recommended payment methods
Choosing highly safe and secure payment methods should be crucial when making your next betting app Portugal decision. Fortunately, our selection of top betting apps Portugal makes players' security a priority and provides them with top-notch secure payment methods.
Recommended payment methods in Portugal
Bookmaker
VISA
MasterCard
PayPal
Skrill

Min/Max: €5-€20,000




Fee: 0%




Time: Instant

Min/Max: €5-€20,000




Fee: 0%




Time: Instant

Min/Max: €5-€5,500




Fee: 0%




Time: Instant

Min/Max: €5-€5,500




Fee: 0%




Time: Instant

Min/Max: €5-€20,000




Fee: 0%




Time: Instant

Min/Max: €5-€20,000




Fee: 0%




Time: Instant

Min/Max: €5-€5,500




Fee: 0%




Time: Instant

Min/Max: €5-€5,500




Fee: 0%




Time: Instant

Min/Max: €5-€20,000




Fee: 0%




Time: Instant

Min/Max: €5-€20,000




Fee: 0%




Time: Instant

Min/Max: €5-€5,500




Fee: 0%




Time: Instant

Min/Max: €5-€5,500




Fee: 0%




Time: Instant