Betrophy Review Bookmaker
Advantages:
24/7 client assistance.

Outstanding welcome bonus.

Numerous betting choices, including live betting.

Offers casino, poker, and live casino games.
Payment Methods:
You've come to the right location called Mightytips if you want to place a Betrophy wager while watching live broadcasts of physical and digital sports. With the addition of numerous games being streamed live, the website's in-play betting platform is strong. The goal of Betrophy is to provide the greatest betting experience by offering a wide variety of live markets and excellent betting alternatives across several sports.
Even new gamblers will find the in-play betting part to be user-friendly and simple to understand because it is built to match the website's layout. When choosing how to play, detailed data are very helpful. Depending on the modifications, the probability levels are either red or green highlighted.
Types of live games at Betrophy
There are various live games available at Betrophy. The live games consist of:
Football
Basketball
Tennis
Hockey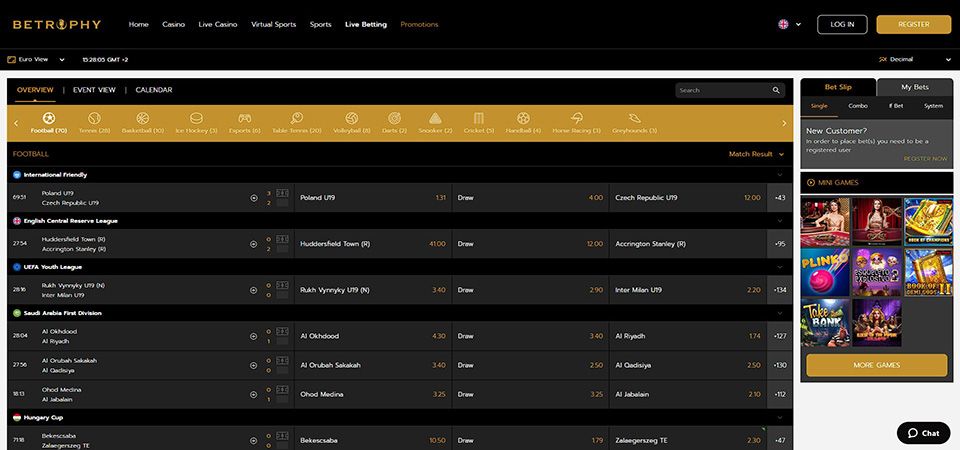 The games are available at Betrophy range from traditional slot machines and video slots to table games and live casinos. Additionally, the websites provide special promotions including loyalty programs, cashback bonuses, bonus codes, betting bonuses and free spins. For gamers who have joined Betrophy Casino, there are constantly fresh, intriguing bonuses available. Players can take part in competitions for a chance to win significant rewards. Betrophy is the ideal location for online gaming, offering a vast selection of games and dependable customer care! The traditional casino games that you can play at Betrophy include blackjack, roulette, baccarat, and slots.
Blackjack
Blackjack is a game that mixes luck, skill, and strategy. You can play the game online with up to five other players, each of whom will gamble against the house. In Betrophy, Classic Blackjack, European Blackjack, and Multihand Blackjack are the three most played variations of the game.
Roulette
A game of chance dating back centuries is roulette. Simple betting on a numbered wheel and waiting to see where the ball lands are the game's only requirements. There are several different roulette tables available at Betrophy, including European, and American roulette.
Baccarat
In the card game of baccarat, bets are placed on the results of two hands—one for the player and one for the banker. By creating combinations of nine or near nine, you can beat your opponent's score in this game. There are several Baccarat tables available at Betrophy, including Classic Baccarat and Real Baccarat.
Slots
Playing the slots is a fantastic way to have fun and win money. The variety of slots available at Betrophy includes everything from traditional 3-reel games to cutting-edge video slots with stunning graphics and bonus features. Additionally, Betrophy offers spectacular progressive jackpots with potentially life-altering payouts! You should check out games like "Majestic King," "Ramses Book," and "Bonanza Megaways," in our opinion.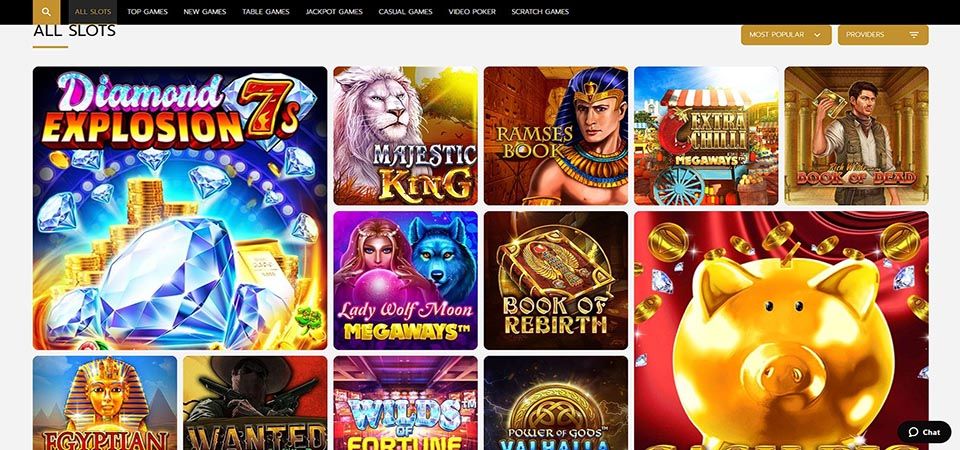 Betrophy no deposit bonuses & other promotion
Betrophy provides an exciting welcome bonus & promo for new players. It offers a variety of bonuses and promotions, from free spins to discounts on specific games. It also offers exclusive bonuses for VIP members who sign up for the VIP program. With Betrophy, you can get the most out of your gaming experience by taking advantage of these bonuses and promo. Whether you want to take a chance on your favorite game or enjoy a special promo, Betrophy has it all!
Welcome Offers
In its early stages as a new betting service, Betrophy is focused on gaining new clients. The only bonus offered to consumers is a welcome bonus, which can be asked for when registering for an account for the first time. As a result, the required trust in the bookmaker can be developed when the initial bets are placed using bonus funds. Furthermore, one can test the website's functionality in its entirety without worrying about losing all of their funds in the event of a mistaken click.
Customers of Betrophy can get 100% on their initial deposits thanks to the welcome bonus. A bonus code and the first deposit bonus operate together. The bonus money must be entered during registration, and it is then immediately credited to the new betting account. The Betrophy customer care will assist if the code is forgotten during registration or if the entry is missed for some other reason. When the betting friend contacts assistance, it is clear that a new registration has been made frequently. The customer service department will then make the bonus money available. One of the best of the top bookmakers exhibits excellent adaptability and client service in this situation as well.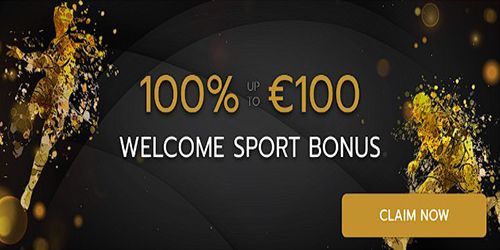 No Deposit Bonus
Betrophy no deposit bonus is a great way to get started with online betting. With the Betrophy no deposit bonus, you can start playing without making any deposits and test out different games. The best part is that you don't have to put in any of your own money! This gives you the chance to try new strategies and games without worrying about losing your own money.
Promotions for Existing Players
Betrophy Promotions for Existing Players are designed to reward those who have been loyal customers. Betrophy offers exclusive discounts and bonuses that can be redeemed in any of the Betrophy stores. The existing players also enjoy special deals and promotions, so they can keep playing their favorite games. With these rewards, Betrophy aims to make sure players have the best gaming experience possible.
Betrophy offers several promotions for existing players including:
VIP Loyalty Program: Betrophy rewards returning players with exclusive perks such as discounts, rewards points, and special offers.
Refer a Friend Bonus: When you refer a friend to the site, both of you will receive bonuses.
Daily Bonuses: Each day, Betrophy offers bonuses for its existing players.
Free Spins: Existing players can enjoy free spins on select slot games.
Special Promotions: Betrophy offers special promotions for existing players, such as free entry into tournaments and other special events.
Cashback Bonuses: Betrophy gives cashback rewards to qualifying players every month.
Betting odds and margins are measurements that are used to evaluate the relative risk of a wager. Betrophy Odds are an indicator of how much a bettor stands to win or lose on any given wager, while Margin is a measure of the amount of "juice" (or commission) that the sportsbook charges for taking a bet.
Betrophy Odds are expressed as a positive or negative number, depending on whether the bet is considered a favorite (positive) or an underdog (negative). The higher the Odds, the more likely it is that the bet will pay out. A good rule of thumb to follow when placing bets is to always bet on the favorite with a 2:1 edge.
Margin is expressed as a percentage and is used to show how much of the potential winnings a bookmaker will take as commission. The lower the margin, the better value for money that you're getting from your bets. Generally speaking, margins for major events are typically lower than those for minor events.
By getting aware with Betrophy Odds & Margins, gamblers can better understand the risk associated with certain bets, empowering them to make more informed wagers and increase their likelihood of winning. It's important to remember that even if a bet looks like a sure thing, no bet is guaranteed and it's important to always practice responsible gambling.
Betting margin
Football

2.35%

Basketball

1.71%

Hockey

1.79%

Tennis

5.37%

Baseball

1.55%

Volleyball

1.41%

MMA

5.08%

Handball

4%

Cricket

2.14%

eSports

6.41%

Boxing

2.99%

Rugby

3.8%

Horse Racing

6.5%
Overall betting margin: 3.5%
Betrophy review: Mobile apps
Despite the lack of a mobile app specifically designed for Betrophy, you can still simply access the website and make use of the game options using a mobile browser. The platform is entirely interoperable with iOS and Android and offers excellent functionality on handheld devices.
Android app: no
iOS app: no
You can play in the Mobile Browser

Mobile Browser
More
You can play in the Opera Mini

Opera Mini
More
Betrophy Usability & features
Betrophy has been designed with usability and features in mind. The web interface is easy to use and provides a comprehensive set of tools and features that can help you manage your awards program effectively. From tracking award nominations, sending reminders and notifications, creating certificates and badges, and setting up user permissions and roles, Betrophy makes it easy to manage your awards program.
Betrophy also provides a comprehensive dashboard that allows players to get an overview of awards programs and track progress. Betrophy reporting system enables you to analyze data and gain insights into the performance and trends of your awards program. With a secure authentication process, user permissions, and role-based access control, Betrophy gives peace of mind about the security of the awards program.
A comprehensive set of tools and features.
Secure authentication process.
The reporting system for analyzing data.
Dashboard for tracking progress.
Limited customization options.
Not compatible with all browsers.
No mobile app is available.
Betrophy: Sports to bet on
Betrophy is an online platform that allows users to bet on their favorite sports. Here, users can place bets on a wide variety of sports and leagues worldwide, from the NBA and NFL to cricket and Formula 1 racing. Betrophy offers competitive odds and secure transactions, so you can be sure your money is safe when you're betting on sports.
Betrophy Popular Types of Bets
Betrophy is a popular form of betting that offers players the chance to win big. Betrophy has become increasingly popular in recent years, with the company offering a variety of games and different types of bets. Here are some of the most popular types of bets available on Betrophy:
Betrophy is a new gambling website created by Bellona N. V. that provides both casino games and sports betting, as was already indicated. It was released by the creator in 2021, and as of right now, it has a 4.2 out of 5-star rating. The market will soon expand beyond its initial tiny clientele of countries like India, Malta, and Switzerland. As a result, only a small number of nations, including the United States, the United Kingdom, Israel, France, Bulgaria, and Australia, still impose operator restrictions. Bellona N. V., the service provider, was established in 2010 and is headquartered in Curaçao. Additionally, it generally conducts business in nations under Curaçao's jurisdiction, including Romania, Spain, Canada, UK and France.
Popular countries for betting with Betrophy
Payment methods: Betrophy withdrawal time & deposit
Deposits
Even though gambling is legal in many countries, however, India's Reserve Bank does not like the idea of bank transfers to players betting accounts. But there are other deposit options for both India and other players worldwide. These include Paysafecard, ecoPayz, Skrill, Neteller, Debit, and Credit cards - all these you can use to make your deposit. Interestingly, the options are fast and allow you to deposit Betrophy's minimum deposits. Thus, you can choose one, make your deposits and play your favorite game within minutes.
Withdrawals
Betrophy offers a wide variety of withdrawal alternatives, including withdrawal ways like Neteller, ecoPayz, Qiwi, Interac, Skrill, Mastercard, and VISA, among others. Making a withdrawal is a straightforward process. Simply go to the cashier area, enter the withdrawal amount, and select a method. Make careful you select the bare minimum that Betrophy permits. After then, give Betrophy withdrawal time of the transaction at least 3 days to complete. That's all you need to know about Betrophy withdrawal times.
| | | |
| --- | --- | --- |
| €10–€2,500 | Instant | 0% |
| €10–€2,500 | Instant | 0% |
| €10–€2,500 | Instant | 0% |
| €20–€10,000 | Instant | 0% |
| €20–€10,000 | Instant | 0% |
| €20–€10,000 | Instant | 0% |
| €20–€10,000 | Instant | 0% |
| €20–€10,000 | Instant | 0% |
| €20–€10,000 | Instant | 0% |
| €10–€5,000 | Instant | 0% |
| €10–€2,500 | Instant | 0% |
| €10–€10,000 | Instant | 0% |
| €10–€10,000 | Instant | 0% |
| €10–€5,000 | Instant | 0% |
| €10–€2,500 | Instant | 0% |
| €10–€10,000 | Instant | 0% |
| | | |
| --- | --- | --- |
| €20–n/a | Up to 1-3 days | 0% |
| €20–n/a | Up to 1-3 days | 0% |
| €20–n/a | Up to 1-3 days | 0% |
| €40–n/a | Up to 1 hour | 0% |
| €40–n/a | Up to 1 hour | 0% |
| €40–n/a | Up to 1 hour | 0% |
| €40–n/a | Up to 1 hour | 0% |
| €40–n/a | Up to 1 hour | 0% |
| €40–n/a | Up to 1 hour | 0% |
| €20–n/a | Up to 24 hours | 0% |
| €20–n/a | Up to 24 hours | 0% |
| €20–n/a | Up to 24 hours | 0% |
| €20–n/a | Up to 24 hours | 0% |
| €20–n/a | Up to 24 hours | 0% |
| €20–n/a | Up to 24 hours | 0% |
| €20–n/a | Up to 24 hours | 0% |
The excellent customer service team at Betrophy is available to assist you whenever you need it. Since they have a full range of customer service alternatives and are accessible around the clock, you may get in touch with them anytime you need to. Betrophy has a fantastic live chat contact feature that enables users to obtain the assistance they require right away from the page. Customer help is also available through email. Additionally, they provide an excellent FAQ page with the majority of the details you require.
If you have questions, following is the contact information.
Live Chat.
Email: support@betrophy.com.
Phone

Email

support@betrophy.com

Live chat

Competence
0 / 5
4 / 5
5 / 5
Politeness
0 / 5
5 / 5
5 / 5
Response Time
n/a
Up to 3 hours
Instant
Verifying an account is quick and easy. The verification procedure includes the steps below:
Enter your email address.
Click the 'Verify Account' button.
A confirmation code will be emailed to you.
Enter the code in the box provided on the Betrophy website.
Your account is validated once you have entered the code.
Betrophy Betting Markets: Short guide
With unique guidelines and subtleties, Betrophy offers a wide range of betting markets. To help you become familiar with them and place-wise bets, we'll go over the fundamentals of each one below.
Over/Under (Totals)
You are speculating in this wager as to whether the aggregate points or goals scored by both teams in the game will be over or under a specific figure. Depending on how much knowledge you have about the teams' performances, you can wager on the Over/Under before the game and throughout it as well.
Asian Handicap
Giving one team a virtual advantage before the game—a practice known as "handicap"—and then placing a wager on the team to win. For instance, if Team A has a +2 handicap, it implies they are already ahead of Team B by two goals when the game first begins. Either Team A (favorite) or Team B are viable betting options (underdog).
Accumulator Betting
Accumulator bets entail making several smaller wagers over a day or weekend and then combining them into a single larger wager. If all of the individual bets win, you are compensated for taking the risk. This can be lucrative but is also quite risky because it depends on each forecast coming true.
Point Spread
With point spreads, wagers are placed on whether a team will "cover" the spread (win by more than the margin set by the bookmaker). If Team A is -7 and Team B is +7, for instance, you can wager on either team to cover the point spread. If Team A triumphs by eight points or more, they have covered the spread.
Money Line Bets
When placing a money line wager, no point spread or other type of handicapping is taken into account. You are merely placing a wager on which team will prevail or whether a draw will occur. One of the easiest types of betting, this can be profitable if you make wise choices.
Prop Bets
Betting on a variety of outcomes that aren't always related to the outcome of a game is known as a proposition (prop) bet. These can range from guessing who will score first to foretelling how many goals will be scored during a game. This can be a thrilling approach to amp up the thrill factor of your wagering experience.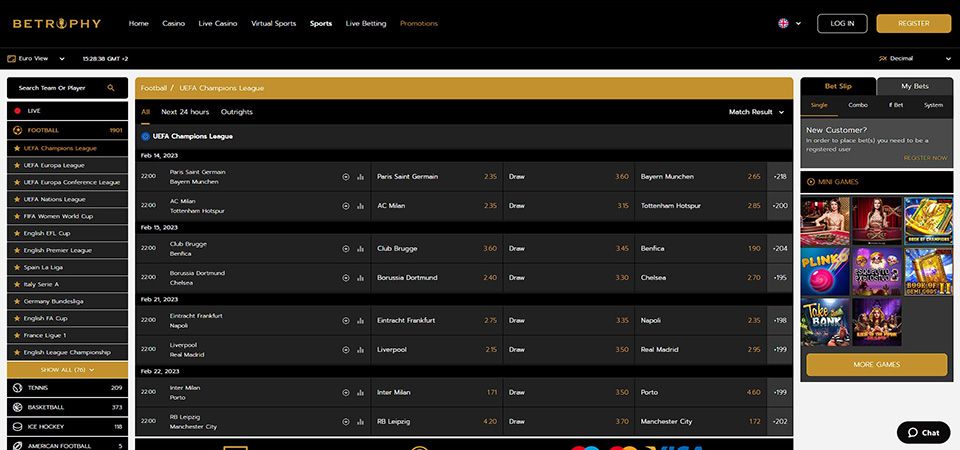 Betrophy Licensing and regulations
Registration number 8048/JAZ2010-010 identifies Betrophy and Bellona N, V. as being licensed and governed by Curacao e-Gaming. It follows that this is a cooperative action on the part of both parties because Curacao is renowned for issuing gaming licenses to businesses. Additionally, you may relax knowing that you are playing a game or putting a wager with a company that has a valid license. The website is also available in a wide range of languages, making it easier to communicate with players in their native tongues. Remember, a sizable portion of the world's population speaks these languages. As a result, in addition to Portuguese, Norwegian, Japanese, Hungarian, Finnish, Arabic, Italian, German, French, and UK English, you can discover the website offering these languages as well.
How to place a bet in Betrophy?
Players have the choice to wager on single, combo, or system bets using the Betrophy betting slip. You can also check the current status of every prior wager you made right next to it.
All events will show up in the center of the screen once you have chosen the sport from the menu on the left.
Explore the many types of games by clicking the one you want to play.
Once you've made up your mind, click on the odds, and the wager will be reflected on the slip right away.
The slip will estimate your Betrophy winnings when you manually enter the stake you wish to use. After that, simply click "Place bet" to finish.
Betrophy login: How to sign up?
Click the "sign up" button

To start using, simply navigate to Betrophy.com, find the Betrophy login button, and click it.

Fill in all required fields with relevant info

Once it appears, all you need to do is fill out your personal information on the Betrophy registration form.

Verify your account

To use the internet site with all of your authorized rights, you must next validate your Betrophy account.

Well done

Once the verification is complete, you can start your betting career by navigating to the Betrophy sports betting department. Make a currency or crypto deposit, for example, you can pay with bitcoin.
Is Betrophy Trustworthy? Final thoughts
When it comes to online casinos, trustworthiness is an important factor to consider. Betrophy has a good reputation in the industry and offers a safe and secure gambling experience. The site provides full transparency regarding its security protocols, bonuses, and payment methods, allowing players to make informed choices before placing their bets. In addition, the casino is licensed and regulated by the Malta Gaming Authority, guaranteeing that all games are fair and safe.
Advantages
Many different options for gambling.
Great welcome offer.
A comprehensive set of tools and features.
Easy to use interface.
Not compatible with all browsers.
Limitations
No mobile app is available.
Bookmaker reviews by players