Winning.io Sportsbook & Crypto Casino
Advantages:
Live betting options

Wide selection of sports

Live casino

Competitive odds
Payment Methods:
Winning.io is among the notable new betting sites that launched in 2022. The company has already managed to become famous for its wide integration into many modern betting markets and, among the services provided by the sportsbook, in-play betting is one particular area of strong performance. Unlike traditional sports betting where you place your bets before an event begins, live betting options allow you to place a bet on various outcomes during a game.
With live betting, you can capitalise on fluctuating odds and the evolving nature of a game to make well-informed wagers. The specific types of bets offered for in-play betting can differ based on the particular sport. Popular examples of in-play bets include guessing the next scoring team in a soccer match, predicting the outcome of the next set in tennis, and so on.
Types of live games at Winning.io
Winning.io offers a variety of games for in-play betting, including:
Rugby
Soccer
Tennis
Basketball
Cricket
American Football
All live bet options with current odds can be seen on the main page of the Sports section.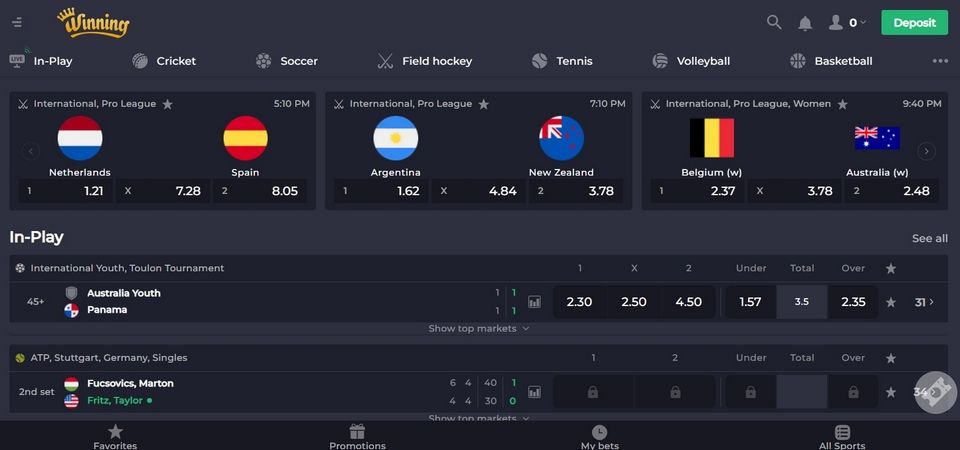 Winning.io, one of the leading live sportsbooks, provides customers with more than just sports betting opportunities. They also offer a fantastic casino games section that caters to a diverse range of preferences. Within this section, users can explore a vast selection of casino games, such as online slots, table games, live dealer titles, and scratchcards. Additionally, the casino ensures an exciting experience incorporating various bonuses and promotions, including a generous welcome bonus, a reload bonus, and an exclusive VIP program.
Blackjack
At Winning.io, you can indulge in the timeless casino game of blackjack, where the objective is to outscore the dealer without exceeding a total of 21. Experience the thrill of live blackjack with Winning.io's impressive selection of high-quality, live-streamed tables. These tables are expertly hosted by professional dealers, ensuring a top-notch gaming environment. Engage in real-time interactions with both the dealers and fellow players, elevating your gaming session with an immersive and sociable atmosphere.
Roulette
The sportsbook presents a variety of roulette options, such as AutoRoulette and Oracle 360. Opting for live roulette amplifies the immersion in comparison to conventional online roulette. Engage in dynamic interactions with skilled dealers and fellow participants, enhancing your gaming session with a vibrant and socially engaging atmosphere. This elevates the excitement and social aspect of your roulette experience, creating a truly captivating gaming environment.
Baccarat
Live baccarat, a widely enjoyed casino game, involves a player competing against the house. This thrilling game is straightforward to grasp and delivers an exhilarating experience. In live baccarat, each player is dealt two cards, and the objective is to obtain a hand with the highest total. The enticing aspect of live baccarat lies in its notably low house edge, making it an attractive choice for players seeking lucrative opportunities. It's a game that combines simplicity, excitement, and the potential for rewarding wins.
Slots
Winning.io boasts an extensive selection of slot games that caters to diverse preferences, ensuring there's something for everyone. Whether you prefer the nostalgia of classic slots, the immersive experience of video titles, or the thrill of chasing progressive jackpots, Winning.io has it all. Among the array of captivating slot options, you'll discover a range of popular titles.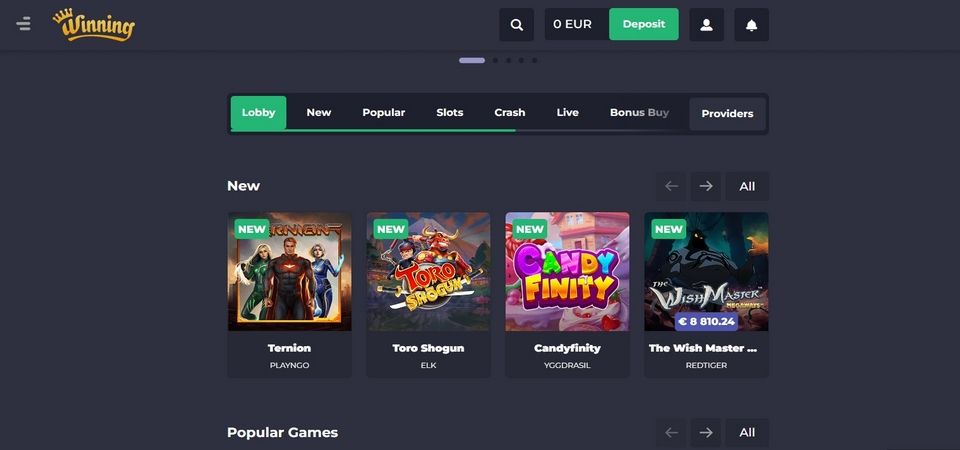 Winning.io bonuses & promotions
At Winning.io, the bonuses and promotions available represent an excellent means of maximising your gaming experience and potential winnings. These enticing offers allow you to make the most of your investment while simultaneously enhancing the fun factor. By capitalising on these bonuses, you can elevate your chances of achieving significant wins while enjoying an enhanced gaming session.
It's important to note that Winning.io's promotions are frequently updated, ensuring a dynamic and exciting range of offers. To stay informed about current bonuses, it is recommended to visit MightyTips where you can find all the available bonuses at any given time.
Risk-Free Bet – Welcome Bonus
As a rule, among all bonuses sportsbooks offer, the welcome bonus is the most profitable and generous. At Winning.io, new customers are rewarded with a Risk-Free Bet up to 25 EUR. To receive this bonus, you need to make a deposit of 20 EUR or more. The offer is valid for the first 15 days from the date of registration on the bookmaker's website.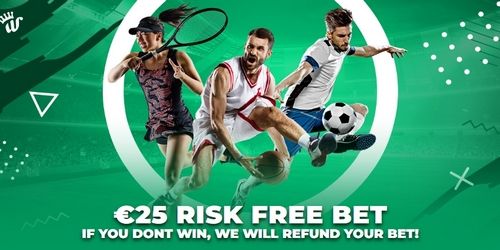 Acca Boost
When you combine multiple bets on Winning.io, you are effectively multiplying the odds of each bet. This multiplication results in significantly higher potential payouts, offering the opportunity for substantial winnings. By placing three or more bets per slip, Winning.io enables you to unlock additional wins. In fact, you can even receive a remarkable 100% extra bonus on top of your already substantial winnings.
This enticing feature further enhances your earnings potential, making your experience on Winning.io all the more rewarding. By the way, don't forget about predictions football tips, as they will help you improve your chances of getting really amazing payouts.
Winning.io Odds & Margins
On Winning.io, margins and odds play a crucial role. Margins refer to the built-in advantage or profit margin that the sportsbook retains on each bet. This margin ensures that the sportsbook remains profitable while offering odds to bettors. Different sports and events may have varying margin percentages, with more well-known events generally having lower margins.
Odds, on the other hand, represent the likelihood or probability of a specific outcome occurring in a sporting event. They indicate how much you can potentially win relative to your wager. Winning.io presents odds in various formats, such as decimal, fractional, or American odds, allowing users to choose their preferred format.
When it comes to odds, lower odds typically indicate a higher probability of the outcome occurring, resulting in lower potential winnings. It's important to note that odds are not static and can change in real-time based on various factors, such as team performance, market conditions, and betting activity.
Betting margin
Baseball

4.3%

Basketball

4.2%

Boxing

5.2%

Cricket

4.5%

Football

5.5%

Handball

4.8%

Hockey

4.09%

MMA

4.9%

Rugby

4.09%

Tennis

4.8%

Volleyball

5.09%
Overall betting margin: 4.7%
Winning.io doesn't offer dedicated mobile apps; however, it provides a mobile-friendly website that can be conveniently accessed on smartphones and tablets. The mobile website encompasses all the features available on the desktop version, enabling users to place bets, manage their accounts, and contact customer support seamlessly.
The mobile-friendly website offers several benefits. It is optimised for smaller screens and touch-based navigation, ensuring effortless access and smooth navigation on mobile devices. This optimisation enhances the user experience, leading to increased engagement and conversion rates.
Playing on Winning.io via a smartphone grants you access to a plethora of features and functionalities akin to those on desktop or laptop computers. From your mobile device, you can place bets on a wide range of sports and events, including live betting. This allows you to engage in wagering on the go and take advantage of real-time odds and diverse betting markets, providing you with the flexibility and convenience to enjoy the latest betting opportunities wherever you are.
Android app: no
iOS app: no
You can play in the Mobile Browser

Mobile Browser
More
Winning.io Usability & Features
The Winning.io website ensures a user-friendly experience with its intuitive interface and easy navigation. On the homepage, you'll find prominent banners showcasing the latest promotions and offers, allowing you to stay updated on exciting opportunities. Additionally, a convenient sidebar enables swift access to the specific market you wish to explore. With its mobile-friendly design, you can seamlessly place bets while on the move, ensuring flexibility and convenience.
As one of the top football sportsbook options around, Winning.io presents a diverse range of betting markets, catering to various interests. The casino games market hosts an assortment of options, including slots, blackjack, roulette, and more. Additionally, the poker market attracts a significant following, offering a variety of specific poker games for enthusiasts to enjoy.
Alongside its extensive selection of markets, Winning.io incorporates several features that contribute to its appeal among bettors.
Registration window constantly pops up
The About Us page on the site is empty
Winning.io combines these features to provide a compelling platform that caters to the needs and preferences of discerning bettors.
Winning.io: Sports to bet on
A very few top bookmakers offer such a wide range of sports as Winning.io. It stands out as an exceptional sports betting platform, offering an extensive array of sports markets to cater to diverse interests. Popular sports such as soccer, tennis, basketball, and rugby are prominently featured, ensuring a wide range of options for enthusiasts. Additionally, Winning.io includes less popular sports markets, encompassing American football, cricket, ice hockey, baseball, Formula 1, and more, allowing users to explore a comprehensive selection.
A crucial aspect of a sportsbook is the availability of various betting options within each sport. Winning.io meets this requirement by offering a diverse range of bet types, including money-line bets, over/unders, point spreads, prop bets, and more. This wide selection empowers users to tailor their betting strategies, enabling them to find the bet types that best align with their interests and expertise.
When considering the width of the betting lines at Winning.io, it is generally regarded as fair. This implies that the odds offered by the bookie are typically on par with those provided by other reputable bookmakers. However, it is important to acknowledge that the width of the betting lines may vary depending on the specific sport and event. For example, football lines tend to have greater variation compared to tennis lines due to the sport's popularity and the larger volume of bets placed.
Established in 2022, Winning.io has garnered a solid reputation as a trustworthy bookmaker. It operates under the esteemed E-gaming licence issued by Curacao – a renowned gambling regulatory authority. With a strong commitment to customer satisfaction, Winning.io has garnered positive feedback from its user base.
Winning.io boasts an extensive selection of betting markets, catering to diverse interests. Sports betting, casino games, and poker are among the captivating options available. The platform offers both a user-friendly website and a convenient mobile app, ensuring seamless access to betting opportunities across various devices. Additionally, Winning.io provides a range of enticing bonuses and promotions to enhance the betting experience for its users.
There are several factors that contribute to the website's credibility:
Security: The bookmaker ensures the security of user data and financial transactions by implementing robust encryption protocols and employing secure payment gateways.
Reputation: It has a positive reputation among its users and within the industry. It maintains transparency in its operations and resolves customer issues promptly and satisfactorily.
Licensing and Regulation: Winning.io operates under valid licenses and regulations from reputable jurisdictions.
Transparency: The website is transparent about its terms and conditions, including rules for betting, payouts, and promotions.
User Experience: Winning.io focuses on providing a positive user experience as it offers a well-designed and intuitive interface, as well as smooth navigation.
With its credibility, Winning.io is a trustworthy and reputable bookmaker that can meet the needs of both new and experienced bettors.
Winning.io: Deposits & Withdrawals
Deposits
Winning.io provides a concise yet reliable selection of deposit methods, ensuring both security and convenience for its users. The available deposit methods at Winning.io include:
Visa/MasterCard
Crypto (Wallet to Wallet)
Maestro
IDebit
Skrill
Neteller
Interac
Bank Transfer
Binance Coin
The minimum deposit on the website is 5 USD.
Withdrawals
The sportsbook is among the fast payout bookmakers and offers a variety of withdrawal methods, including bank and crypto transfers. The minimum withdrawal amount is 5 USD and transactions are processed within 0–3 days. You can withdraw up to 10,000 USD per month.
| | | |
| --- | --- | --- |
| €20–€2,500 | Instant | 0% |
| €20–€4,000 | Instant | 0% |
| €20–€4,000 | Instant | 0% |
| €20–€2,500 | Instant | 0% |
| €5–n/a | Instant | 0% |
| €5–n/a | Instant | 0% |
| €5–n/a | Instant | 0% |
| €5–n/a | Instant | 0% |
| €5–n/a | Instant | 0% |
| €5–n/a | Instant | 0% |
| €5–n/a | Instant | 0% |
| €10–n/a | Instant | 0% |
| €5–n/a | Instant | 0% |
| €20–€4,000 | Instant | 0% |
| €20–€4,000 | Instant | 0% |
| €20–€2,500 | Instant | 0% |
| €20–€500 | Instant | 0% |
| €5–n/a | Instant | 0% |
| ❌ | ❌ | ❌ |
| | | |
| --- | --- | --- |
| ❌ | ❌ | ❌ |
| ❌ | ❌ | ❌ |
| ❌ | ❌ | ❌ |
| €20–€2,500 | Up to 1 hour | 0% |
| €20–€4,000 | Up to 1 hour | 0% |
| €20–€4,000 | Up to 1 hour | 0% |
| €20–€4,000 | Up to 1 hour | 0% |
| €20–€4,000 | Up to 1 hour | 0% |
| €20–€4,000 | Up to 1 hour | 0% |
| €20–€4,000 | Up to 1 hour | 0% |
| €20–€4,000 | Up to 1 hour | 0% |
| €20–€4,000 | Up to 1 hour | 0% |
| €20–€4,000 | Up to 1 hour | 0% |
| €20–€4,000 | Up to 24 hours | 0% |
| ❌ | ❌ | ❌ |
| ❌ | ❌ | ❌ |
| ❌ | ❌ | ❌ |
| €20–€4,000 | Up to 1 hour | 0% |
| €500–€4,000 | Up to 5-7 days | 0% |
At Winning.io, you can rely on round-the-clock customer support to address your queries and assist you with any issues you encounter. The customer support team is comprised of friendly and well-informed professionals who are dedicated to providing the assistance you need. You have access to the following support options:
Live chat
FAQ section
E-mail: support@winning.io
Phone

Email

support@winning.io

Live chat

Competence
0 / 5
5 / 5
0 / 5
Politeness
0 / 5
4 / 5
0 / 5
Response Time
-
Up to 2 hours
-
As a testament to its dedication towards ensuring a secure environment, Winning.io places great importance on identity verification for all new customers prior to allowing any withdrawal of winnings. To complete the verification process, you'll be required to provide the following information to Winning.io:
A copy of your passport.
A copy of a utility bill or an alternative document that validates your current address.
You have the option to upload these documents directly to your Winning.io account or send them to support@winning.io. Once your identity has been successfully verified by the bookie, you will gain the ability to withdraw your winnings without any hindrance.
Verification plays a crucial role in safeguarding users against fraudulent activities and identity theft. By verifying their identity, users provide an added layer of protection that verifies their true identity and mitigates the risk of fraudulent behaviour. This holds particular significance in online transactions, where verifying someone's identity can be challenging.
Through the verification process, Winning.io strives to establish the authenticity and integrity of its users, promoting a secure environment for all. By verifying their identity, users contribute to the overall trust and reliability of the platform, ensuring a safer online experience for everyone involved.
Winning.io Betting Markets: Short guide
Winning.io provides a diverse range of both traditional and unique betting options. It is important to highlight that a significant number of these betting types are exclusively offered on the website. We will help you understand all the variety of bookmaker offers and decide which ones are worthy of high stakes.
Over/Under (Totals)
In a total bet, you wager on the combined score or outcome of a game, such as the total number of points, balls, goals, or runs. The bookmaker establishes a predetermined line representing the anticipated total. Your task is to predict whether the actual total will be higher (over) or lower (under) than the given line.
Asian Handicap
Asian handicap is a unique betting market devised to eliminate the potential outcome of a draw. It accomplishes this by granting one team a virtual advantage or handicap before the game commences. Typically, the handicap is presented in terms of goals and can be positive or negative.
For instance, let's consider a team with a +1 handicap. This means they will begin the game with a one-goal advantage. If they triumph with any margin, your bet will be successful. However, if they suffer a loss by a single goal, your bet will be considered void.
Accumulator Betting
An accumulator bet, often referred to as a multi-bet, entails merging multiple selections into a solitary wager. The odds for each individual selection are multiplied, resulting in the overall odds for the whole bet.
For instance, let's say you place an accumulator bet on three football matches. You predict the winner for each match: Team A, Team B, and Team C. If all three predictions are correct, your accumulator bet wins. However, if any of the predictions are incorrect, the entire accumulator bet loses. Accumulator bets offer the potential for higher payouts as the odds for each selection are multiplied together, creating increased odds for the overall bet.
Point Spread
A point spread is a popular sports betting option where you place a wager on whether a team will win by a specific number of points. The actual point spread is determined by the bookmaker, who is responsible for accepting bets. The bookmaker's goal is to establish a point spread that encourages an equal amount of betting activity on both sides of the wager. This balance ensures fair betting opportunities and reduces the bookmaker's risk.
Money-Line Bets
A money-line bet is a simple and direct type of wager where you choose which team you believe will win a game, without considering the point spread or margin of victory. The odds for a money-line bet are presented as either positive or negative numbers. A positive number indicates the potential profit you would make if your bet is successful, while a negative number represents the amount you would need to wager in order to win – for instance, 100 USD. Money-line bets allow you to focus solely on the outcome of the game, making it an uncomplicated betting option.
Prop Bets
A prop bet – also known as a proposition bet – is a type of wager that focuses on specific events or occurrences within a game, rather than the overall outcome. These bets can cover various aspects, such as the number of passing yards a quarterback will achieve or the total goals scored in a football match.
Prop bets offer an entertaining and diverse betting experience, allowing bettors to engage with specific elements of the game. However, it's crucial to keep in mind that prop bets, like any form of gambling, carry the risk of losing money. Responsible betting practices should be followed to ensure an enjoyable and controlled betting experience.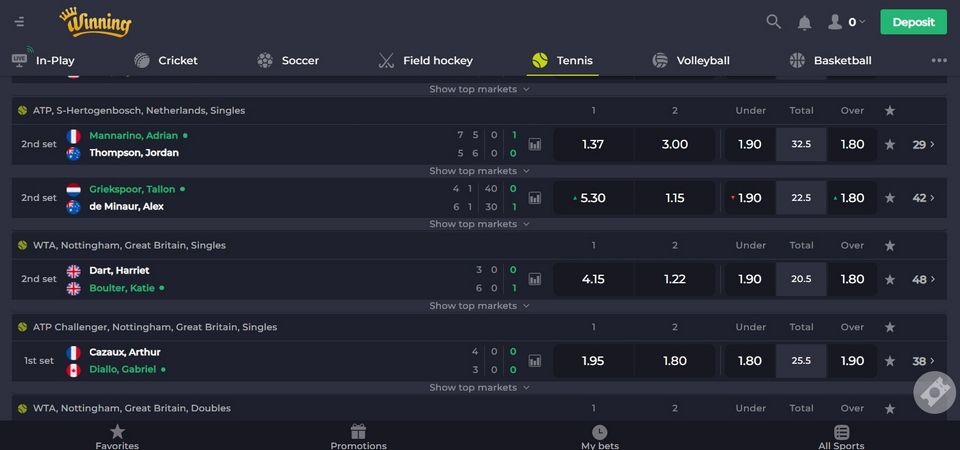 Winning.io: Licensing and Regulations
Winning.io is committed to creating a safe and secure gambling environment for its users, which is why it operates under licensing and regulations. The bookmaker holds a license from the well-known regulatory body, the Government of Curacao.
By obtaining the necessary licenses and adhering to regulations, Winning.io ensures several benefits for its players. Firstly, it guarantees that the platform operates with fairness, ensuring that all games are conducted in an unbiased manner. Secondly, it safeguards the integrity of the games, ensuring they are not manipulated or tampered with. Moreover, licensing and regulations help to protect players' funds by implementing strict financial controls and security measures.
In the event of any disputes or issues, licensing and regulation provide a mechanism for resolution, giving players a means to seek assistance and ensure a fair outcome. Additionally, licensed operators like Winning.io are required to promote responsible gambling practices, which prioritise player safety and well-being. This includes providing tools and resources to manage gambling activities and prevent potential harm.
How to place a bet on Winning.io?
To place a bet on the sports betting platform, you can follow these simple steps:
Sign in to your account.
Select the sports event.
Explore the various markets within the chosen sport.
Decide on the specific type of bet you want to make.
Enter the amount of money you want to wager.
Review all the details of your bet.
Confirm your bet to place it.
How to sign up at Winning.io?
To sign up for Winning.io, follow these several simple steps.
Click the 'Register' button

It can be found on the right side of the screen.

Fill in all required fields

Be sure to double-check the information to eliminate errors.

Verify your account

Receive a confirmation e-mail with a link and click on it.

Well done

Place bets, withdraw winnings, and enjoy the game!
Is Winning.io Trustworthy? Final thoughts
Winning.io is widely recognised as a reputable and trustworthy sports betting platform. It has obtained a valid license from the Government of Curacao, which ensures that the platform operates in compliance with stringent regulations and industry standards. This licensing guarantees fairness, player security, and responsible gambling practices.
In terms of security, Winning.io has implemented robust measures to protect user data and financial transactions. They employ advanced encryption technology to safeguard sensitive information, creating a secure gambling environment for users.
While Winning.io enjoys a positive reputation among its customer base, it's crucial to approach online gambling with care and responsibility. It is advisable to establish personal limits on betting activities, only wager funds that you can afford to lose, and seek assistance if you suspect you have a gambling issue.
Advantages
Wide selection of markets
Live betting
Competitive odds
Casino games
Limitations
Restricted in some countries
Some of the website features feel half-baked
Ultimately, Winning.io can be regarded as a credible and reliable sports betting platform.
Bookmaker reviews by players