Virgin Bet Sportsbook Review in 2023
Advantages:
Great welcome bonus

iOS & Android app

Wide range of markets

Excellent odds
Payment Methods:
Virgin Bet is one of the top bookmakers that offers sports betting services. It is a subsidiary of the Virgin Group, a multinational conglomerate founded by Sir Richard Branson. The bookie provides a range of sports betting markets, allowing users to place bets on various sports events, including popular options like football, basketball, tennis, and horse racing, among others. Virgin Bet offers a wide selection of gambling options, including casino games, as well as pre-match and in-play (live) betting.
Types of live games at Virgin Bet
According to MightyTips, the most popular sports on the Virgin Bet website are:
Football
Horse Racing
Greyhound Racing
Tennis
Virtual Sports
The company offers live streaming options for those players who prefer to place in-game bets. All broadcasts of sports events are available only to bettors authorised on the website.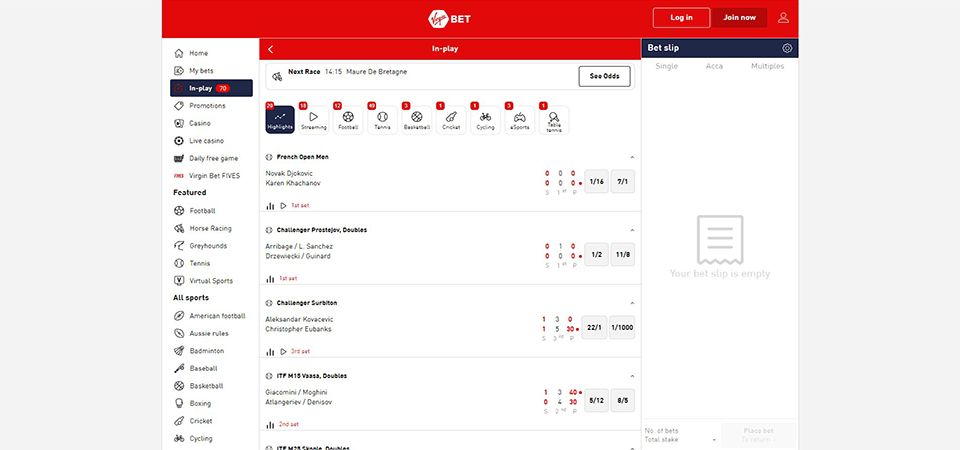 Virgin Bet's online platform features a comprehensive Casino section that showcases a diverse array of both well-established and cutting-edge games from the iGaming industry. Within this section, users can immerse themselves in a range of captivating experiences, including top-quality slots, classic table games, engaging lotteries, and other widely enjoyed forms of gambling.
What sets Virgin Bet's casino apart from new betting sites is the inclusion of live dealer games, which have gained significant popularity in recent years. These games offer an interactive and authentic gambling experience by streaming real-time gameplay from a dedicated studio. With live dealer games, players can engage with a genuine human dealer and fellow players while placing their bets, enhancing the sense of realism. In some instances, the live broadcasts even originate from a land-based casino, adding an extra layer of excitement.
Blackjack
In classic blackjack, the main goal is to obtain a hand total of 21 points or get as close to this value as possible. Typically, players are initially dealt two cards. They are then given the choice to 'hit' and receive additional cards or 'stand' to keep their current hand. On the Virgin Bet website, enthusiasts of blackjack can indulge in this renowned table game through a selection of seven different variants. Each variant is accompanied by a live dealer, creating an enjoyable and immersive gambling atmosphere for players.
Roulette
Roulette is a popular choice among sports bettors, featuring a spinning wheel and a small ball. The wheel contains numbered slots, and the dealer spins the ball in the opposite direction. Players can place bets on the predicted landing spot of the ball within the wheel. On the bookmaker's website, there are nine distinct variations of live roulette available, each offering a unique experience. These variants cater to different languages, ensuring a diverse and inclusive environment for players to enjoy their preferred style of live roulette.
Baccarat
Baccarat, a widely recognised card game, has gained popularity on numerous casino and bookmaker platforms worldwide. The game revolves around two primary hands: the player's hand and the banker's hand. Typically, two or sometimes three cards are dealt for each hand, aiming to achieve a hand value as close to nine as feasible. At Virgin Bet, the baccarat section offers a selection of nine captivating variations of this intriguing table game. This assortment includes exciting options like Peek Baccarat and Dragon Tiger, adding extra layers of excitement and diversity for players to explore.
Slots
Online slots are widely regarded as one of the most beloved forms of gambling across the globe. They are known for their simplicity, as they require no specific skills, and provide the potential for substantial payouts with minimal investments. Slot machines can be classified into two primary types: classic slots and video slots. Classic slots are typically characterised by three reels and a limited number of pay-lines, offering a straightforward gameplay experience. On the other hand, video slots can feature five or more reels and a multitude of ways to win, with numerous pay-lines ranging from dozens to even hundreds.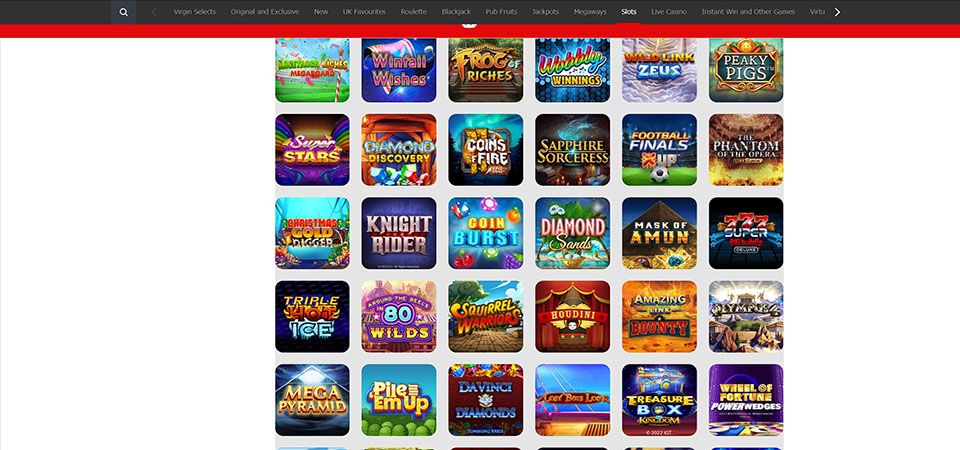 Virgin Bet bonuses & promotions
Virgin Bet is a favoured destination for sports betting enthusiasts due to several compelling factors, one of which is its impressive range of sports betting offers that can significantly enhance one's bankroll. With the aim of accommodating diverse preferences, Virgin Bet presents a variety of options for punters to take advantage of, such as enticing sign-up bonuses, rewarding free bet promotions, and enticing match-betting offers.
These bonuses serve as valuable opportunities for punters to maximise the value of their bets and potentially increase their overall winnings. Remember that all bonuses sportsbooks options are available for review on our website.
Bet 10 GBP Win 20 GBP Welcome Bonus
The Virgin Bet Welcome Bonus presents an enticing opportunity for new users to enhance their betting experience. To take advantage of the offer, one must make an initial deposit of at least 10 GBP within 14 days of registering. Additionally, placing a bet of equal value or higher within this timeframe, with minimum odds of 1.5, is required.
Upon meeting these requirements, users become eligible to receive 20 GBP in the form of Free Bet Tokens. These tokens must be utilised within seven days of receipt and are exclusively valid for the sportsbook, excluding usage in casinos or live games. The Welcome Bonus serves as a rewarding introduction to the Virgin Bet platform, amplifying the enjoyment and potential rewards for new members.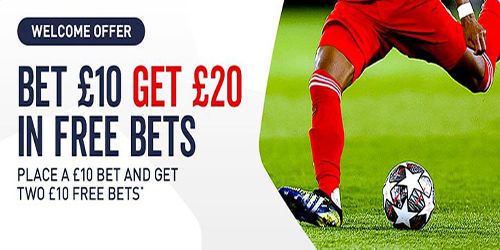 Acca Offer – Get 10 GBP Free Bet
The Virgin Bet Acca Bonus offers an exciting opportunity for bettors to receive additional value on their accumulator bets. To take advantage of this promotion, users must opt-in and place two accumulator bets, each valued at 10 GBP, with four or more selections. These bets must have a minimum combined odds of 5/1 and be placed between Monday and Sunday. Once the bets have been settled, users will receive a message from the bookmaker, notifying them of their eligibility to receive a 10 GBP Free Bet. This Free Bet can then be used on another accumulator bet, further enhancing the potential winnings.
Extra Places for Horse Racing
The Extra Places bonus offered by Virgin Bet is a fantastic opportunity for horse racing enthusiasts to enhance their each-way betting experience. By participating in this promotion, users can benefit from additional place payouts on selected races. The specific number of extra places depends on the number of runners in the race, ensuring fair and favourable conditions.
Virgin Bet Odds & Margins
As one of the best betting sites UK options, Virgin Bet provides customers with a comprehensive selection of sports and events, accompanied by competitive odds and margins. The odds are meticulously determined by an in-house team of experts who diligently analyse the markets and apply their expertise to offer customers the most favourable odds possible.
The margins, which represent the bookmaker's profit percentage from the total amount wagered, differ based on the specific sport and market. In general, Virgin Bet maintains margins that align with industry norms. These margins typically range between approximately 2% and 10%, ensuring a fair balance between customer satisfaction and the bookmaker's profitability. However, it is worth noting that certain markets may have higher margins compared to others, reflecting the intricacies and dynamics of those specific betting options.
Betting margin
Football

4.9%

Basketball

5.6%

Hockey

4.5%

Tennis

3.5%

Baseball

2.5%

Volleyball

6.35%

MMA

5.13%

Handball

7.15%

Cricket

4.84%

eSports

3.35%

Boxing

6.1%

Rugby

4.75%

Horse Racing

7.25%
Overall betting margin: 5.09%
The mobile version of the website at Virgin Bet is specially optimised to cater to users with smaller screens and touch-based navigation. It offers the same array of features and functions as the desktop version, ensuring that customers can enjoy seamless sports betting, casino games, and access to customer support.
To access the mobile version, customers can simply visit the Virgin Bet website using the web browser on their mobile devices. The website will automatically recognise the device as a mobile one and will redirect the user to the mobile version accordingly.
Similar to the mobile version, the mobile app is designed to provide a fast and user-friendly experience. It boasts quick loading times and smooth navigation, enabling customers to conveniently place bets and play games while on the move. Moreover, customers can take advantage of exclusive mobile promotions and bonuses that are specifically tailored for the mobile platform.
Android app: yes
iOS app: yes
You can play in the iPhone App

iPhone App
More
You can play in the Android App

Android App
More
You can play in the Mobile Browser

Mobile Browser
More
You can play in the Opera Mini

Opera Mini
More
Virgin Bet Usability & Features
Virgin Bet offers a user-friendly website and apps that provide customers with an effortless experience in navigating and placing high stakes on sports and playing casino games. The design of the site is clean, modern, and visually appealing, with intuitive navigation and clearly defined sections for different gambling activities, such as sports, live casinos, and various tournaments.
Finding specific sports and events of interest is made easy through the search function and well-organised sports categories. The sportsbook section impresses with a wide selection of events, each offering numerous markets for customers to explore. Live and in-play betting options further enhance the excitement.
The casino section presents a diverse range of slots, original and exclusive table games, and live dealer titles, featuring user-friendly filters and search functions for convenient game discovery. Renowned game providers like Play'n GO, Playtech, Quickspin, and Pragmatic Play contribute to the impressive selection.
Customers can rely on comprehensive customer support available round-the-clock via live chat, email, and phone. The support team is dedicated to assisting customers with any queries or concerns they may have.
The site may be restricted in some countries.
Virgin Bet: Sports to bet on
Virgin Bet impresses with its extensive range of betting options, catering to a diverse array of customer preferences. The company offers a multitude of betting markets, including but not limited to money-line and several others that provide customers with both classic and unconventional betting choices.
The website showcases various promotions and bonuses, allowing bettors to maximise their potential profits. These enticing offers serve as valuable incentives for customers to explore different markets and expand their betting horizons.
The width of betting lines available is dependent on the specific sport, but Virgin Bet consistently strives to provide the best possible conditions for its customers. Regardless of the sport, the bookmaker ensures competitive odds and favourable conditions to enhance the overall betting experience. It is worth noting that Virgin Bet remains one of the fast payout bookmakers.
Whether customers prefer traditional bets or seek out unique and distinctive options, Virgin Bet ensures that there is something to suit every taste. With a wide range of betting markets, enticing promotions, and favourable betting conditions, Virgin Bet remains committed to meeting the diverse needs and preferences of its customers.
Virgin Bet Popular Types of Bets
By placing bets on a selection of sports, you have the opportunity to win attractive cash prizes. Some of the sports available for betting include:
Greyhounds Racing
Table Tennis
Virgin Bet provides extensive coverage of a diverse range of sports encompassing various leagues, tournaments, and global events. This comprehensive offering ensures that users have a plethora of betting options to choose from.
Furthermore, users are equipped with in-depth information regarding upcoming events, including team statistics, player profiles, and other pertinent data. Also, predictions football discussions are always available to bettors. This wealth of knowledge empowers users to make informed and strategic betting choices, enhancing their overall betting experience on the platform.
Virgin Bet boasts a strong reputation for its credibility and commitment to providing a secure and reliable betting environment. One of the key factors contributing to its credibility is the possession of appropriate licenses and regulatory approvals. As an established bookmaker, Virgin Bet operates under licenses issued by reputable regulatory bodies, ensuring compliance with strict standards and regulations.
Moreover, Virgin Bet's association with the well-known Virgin brand adds to its credibility. Virgin has a strong reputation for quality and customer-centric services across various industries, and the company's involvement in the betting sector further strengthens its trustworthiness.
The bookmaker's commitment to responsible gambling is also noteworthy. Virgin Bet promotes responsible betting practices and provides various tools and resources to help users maintain control over their gambling activities. This includes options such as setting deposit limits, self-exclusion, and access to responsible gambling support organisations.
Payment methods: Virgin Bet deposits & withdrawals
Deposits
You can make deposits on the site using Visa, MasterCard, PayPal (except for the first deposit), and Revolut. The minimum deposit amount is 5 GBP, and the maximum is set at 20,000 GBP.
Withdrawals
When it comes to withdrawals, the bookmaker allows customers to use the same payment methods available for deposits. This means you can withdraw funds using Visa, MasterCard, PayPal, and Revolut. It's important to note that the bookmaker imposes a general limit on winnings, with a maximum payout limit of 1,000,000 GBP per customer per calendar day.
For individual withdrawals, there is a minimum withdrawal requirement of 10 GBP, ensuring that you can easily access your winnings. On the other hand, the maximum withdrawal limit is set at 20,000 GBP, allowing customers to withdraw substantial amounts while maintaining a reasonable cap.
| | | |
| --- | --- | --- |
| £5–£20,000 | Instant | 0% |
| £5–£20,000 | Instant | 0% |
| £5–£20,000 | Instant | 0% |
| ❌ | ❌ | ❌ |
| | | |
| --- | --- | --- |
| £10–£20,000 | Up to 1-3 days | 0% |
| £10–£20,000 | Up to 1-3 days | 0% |
| £10–£20,000 | Up to 24 hours | 0% |
| £10–£20,000 | Up to 5-7 days | 0% |
Virgin Bet takes pride in its exceptional support team, which is readily available to assist customers round-the-clock. Whether you have enquiries, concerns, or need assistance, their dedicated support team is there to help.
You can reach out to them via email at support@virginbet.com, providing a convenient and reliable communication channel. By sending an email, you can expect a prompt response from knowledgeable support specialists who will ensure that all your questions are addressed to your satisfaction.
In addition to email support, Virgin Bet also offers an online chat feature via which you can engage with the company's specialists in real-time. This allows for quick and efficient communication, ensuring that you receive immediate assistance and find suitable answers to any queries or concerns you may have.
With their 24/7 availability and commitment to providing exceptional customer support, Virgin Bet ensures that you can rely on their team to provide the assistance you need whenever you need it.
Phone

Email

support@virginbet.com

Live chat

Competence
0 / 5
4 / 5
5 / 5
Politeness
0 / 5
5 / 5
4 / 5
Response Time
n/a
Up to 2 hours
Instant
To prioritise the security and safety of users' personal and financial details while adhering to regulatory standards, Virgin Bet mandates an account verification process. This essential procedure helps ensure the integrity of the platform. During verification, users are required to provide specific personal information and documentation, including a valid ID, proof of address, and evidence of their chosen payment method.
Upon successful submission and verification of the provided documents, the account will be fully activated, granting users access to a range of features such as deposits, betting, and withdrawals. The verification process is a customary practice in the online betting industry, playing a crucial role in mitigating risks associated with fraud, money laundering, and other illicit activities.
By implementing robust verification measures, Virgin Bet reinforces its commitment to maintaining a secure and trustworthy environment for its users. The verification process serves as a protective measure, safeguarding both the platform and its users from potential risks and ensuring compliance with industry regulations.
Virgin Bet Betting Markets: Short guide
At Virgin Bet, you'll find an extensive selection of betting markets that cater to various sports, leagues, tournaments and events. No matter your sport of choice, the company strives to meet your preferences and deliver optimal betting conditions. With a commitment to providing an exhilarating betting experience, Virgin Bet offers several fantastic options that elevate the overall user journey, making it even more thrilling and enjoyable.
Over/Under (Totals)
Placing a wager on the total number of points, goals, or runs scored in a game or event is a common practice in sports betting. This particular type of bet holds immense popularity among football enthusiasts and fans worldwide.
Asian Handicap
Asian Handicap betting is often regarded as a more sophisticated approach compared to traditional betting. This is primarily due to its ability to eliminate the draw option, which can add complexity to betting outcomes. By removing the draw possibility, Asian Handicap provides more precise handicapping and offers improved odds. The handicap levels the playing field, reducing the likelihood of one-sided results and enhancing the overall betting experience.
Accumulator Betting
Accumulator betting, a popular form of wagering, involves combining multiple selections into a single bet. In order to secure a win in an accumulator bet, every selection included must emerge victorious. It's important to note that if, even a single selection fails to win, the entire bet will be deemed unsuccessful. This aspect of accumulator betting emphasises the need for all selections to be successful for the bet to be deemed a winner.
Point Spread
There exists another form of handicap known as 'points spread handicap'. For example, in cricket, this handicap is applied when one team is given a specific number of runs as an advantage to level the playing field. This type of bet is widely favoured by sports enthusiasts as they provide a fairer opportunity for betting on matches where one team may be considered the underdog.
Money-Line Bets
Money-Line bets represent the most straightforward form of wagering. When placing a Money-Line bet, you simply choose one team over the other, betting on their outright victory without considering any point spreads or handicaps. It is a direct and uncomplicated method of betting, allowing you to focus solely on selecting the team you believe will achieve a comprehensive win.
Prop Bets
Prop bets involve placing wagers on specific events or outcomes that may not have a direct impact on the final result of a game or event. These bets encompass a diverse array of subjects, including player or team statistics, game occurrences like the first team to score, or even non-sports-related elements such as the duration of the national anthem or what colour will the home team wear. Prop bets add an extra layer of excitement and variety to the betting experience, allowing punters to explore different aspects beyond the overall outcome of a game or event.
Virgin Bet: Licensing and regulations
The company is licensed and regulated by the United Kingdom Gambling Commission (UKGC), one of the most reputable regulatory bodies in the gambling industry. The UKGC is known for its stringent standards and rigorous oversight, which means that Virgin Bet adheres to a set of rules and guidelines designed to protect players' interests. This includes ensuring fair gaming practices, promoting responsible gambling, and implementing measures to prevent money laundering and fraud.
By holding a license from the UKGC, Virgin Bet demonstrates its commitment to maintaining high standards of integrity and bettors' protection. The platform's licensing and regulations provide users with peace of mind, knowing that their personal and financial information is handled securely and that they are participating in a legal and regulated betting environment.
How to place a bet in Virgin Bet?
Placing a bet on Virgin Bet is a simple and straightforward process. Here's a step-by-step guide to get you started:
Sign up and fund your account by depositing funds.
Choose the sport and specific event you wish to bet on.
Select the market or type of wager you want to place.
Specify the amount you are willing to risk on your bet.
Keep track of the live action or check the results later to see if your bet was successful.
By following these steps, you can easily navigate through the platform and enjoy the excitement of online betting on Virgin Bet.
How to sign up for Virgin Bet?
To start placing bets, it is necessary to register an account on the bookmaker's website. The registration process is quick and can be completed in just a few minutes. Before you begin, please ensure that you have your identification documents readily available, as they may be required during the registration process. By having your identification documents on hand, you can streamline the registration procedure and get started with your betting activities without any delays.
Click the 'sign up' button

You can find the 'Join Now' button conveniently located in the upper right part of the site.

Fill in all required fields

When filling out the registration form, it is advisable to be cautious and try to avoid making any mistakes.

Verify your account

If necessary, please provide your identification document and any other requested copies by uploading them through the designated process.

Well done

With your registration process complete, you now have full access to all the exciting features, betting options, and promotions that Virgin Bet has to offer.
Is Virgin Bet Trustworthy? Final thoughts
Virgin Bet is not just another football sportsbook, but a real betting platform where every player can find something to their liking. Virgin Bet operates within the jurisdiction of a respected regulatory body, which ensures that the company meets stringent licensing standards. The website prioritises the security of its customers' personal and financial information by employing industry-standard security measures. Additionally, Virgin Bet promotes responsible gambling and provides resources to support customers in gambling responsibly.
With competitive odds and a wide range of betting options, Virgin Bet offers an exciting platform for sports betting enthusiasts. The company has a strong reputation for treating customers fairly and efficiently resolving any disputes that may arise. The positive feedback from most bettors aligns with the expert opinion of our team.
Advantages
Licensed and regulated operations
Extensive selection of sports
Competitive odds for enhanced betting experience
Mobile-friendly website for convenient access
Limitations
Availability is restricted in certain countries
Overall, Virgin Bet prioritises the safety, security, and regulatory compliance necessary to provide a reliable and enjoyable betting experience for its customers.
Bookmaker reviews by players