Foggybet Review Sportsbook & Casino in 2023
Advantages:
Great welcome bonuses

Extensive coverage of sports markets

Competitive odds and margins

Live betting and esports sections
Payment Methods:
Foggybet is among the new live betting sites founded in 2023. The brand is owned by L.C.S Limited, a renowned casino and sports betting operator considered one of the most experienced in the iGaming industry. The company launched its new project in the rapidly growing European market, seeking to carve out a niche in this promising region.
The bookmaker offers live betting options (also known as in-play betting) to its customers. This is a popular and dynamic feature that allows bettors to place wagers on sporting events and tournaments while the games are in progress. The constantly updating odds offer a plethora of betting opportunities throughout the game.
Types of live games at Foggybet
Foggybet offers a wide array of live games for you to indulge in, providing a diverse selection of entertainment options right from the comfort of your home:
Football
Volleyball
Tennis
Basketball
Ice Hockey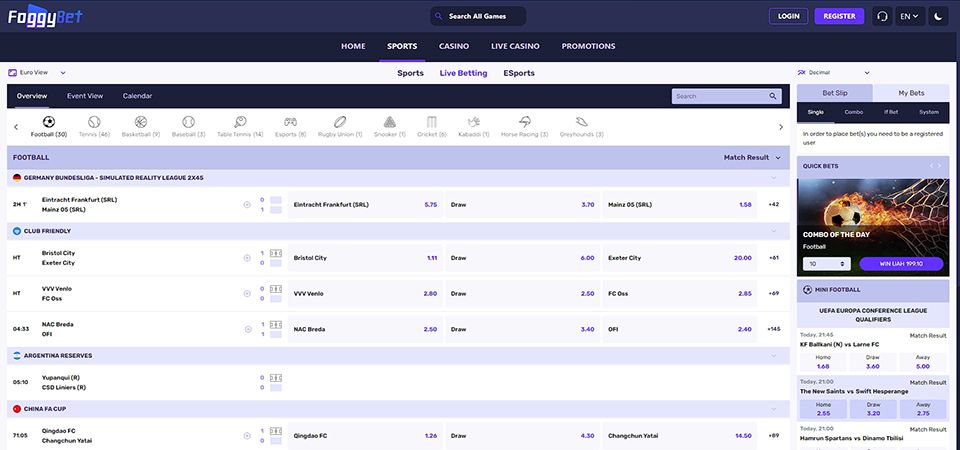 Just like other best online bookmakers, Foggybet has a casino section. Table game enthusiasts will find themselves presented with an array of choices, such as blackjack, baccarat, poker, roulette, and other engaging options. Moreover, within the casino section, there exists a page with live games that cater to players seeking special entertainment.
Blackjack
Live blackjack offers a more interactive and engaging gaming experience compared to standard online blackjack games, as it combines the convenience of online gambling with the atmosphere and social aspect of playing at a physical casino.
Roulette
Live roulette is a variant of the classic casino game, where players can participate in real-time gameplay with live dealers via an online platform. Players engage with the live dealer through a user interface that allows them to place bets, observe the roulette wheel spin, and interact with the dealer using a chat feature.
Baccarat
In live baccarat, the game is streamed from a studio or a physical casino to players' devices using high-quality video and audio. The dealer, who is a real person, conducts the game using physical cards on a real baccarat table, creating an original and immersive casino experience.
Slots
The bookmaker offers a large selection of online casino slots with a balanced house edge. The site catalogue contains games on all popular topics, and the choice of providers is really impressive. You can also play for fun or practice using demo versions of slots.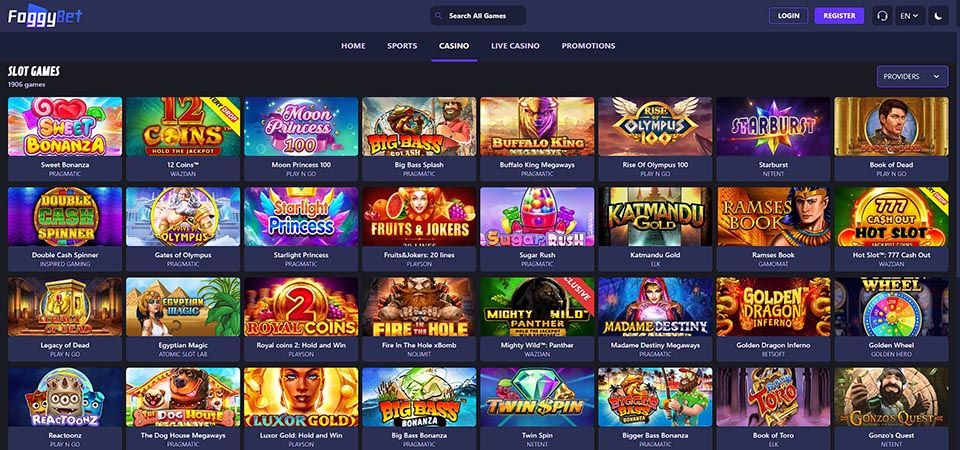 Foggybet Bonuses & Promotions
At Foggybet, players can enjoy a generous selection of bonuses and promotions carefully crafted to elevate their gaming journey. These attractive incentives include a diverse range of rewards, like welcoming bonuses, reload bonuses, cashback offers, and much more, all tailored in a manner that enhances the overall gaming experience.
By the way, after reviewing the list of betting sites offers, you can find even more promotions that will make your experience brighter and potentially more profitable.
100% First Deposit Bonus up to 100 EUR
New bookmaker users can enjoy a lucrative welcome bonus. To obtain this, you need to make a deposit in the amount of 25 EUR. You can use the received bonus to place single and multi bets.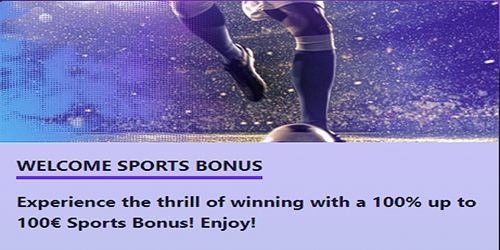 Free Bet Bonus up to 25 EUR
After the first deposit, you can also receive a special reward in the form of a free bet in the amount of 25 EUR. Once activated, the bonus will be available for 30 days. You can use it to bet odds up to 5.00.
Margins are the cut that bookmakers take from the odds they offer. Remember that bookies aren't running a charity, they're in it to make some money too! The margin ensures that they can cover their costs and still make a profit. Most of the new betting sites 2023 use reasonable margins that are beneficial to both the bookie and the bettors.
Odds, on the other hand, are the calculations that represent the chances of an event happening. You'll find different types of odds, like decimal, fractional, or money-line, depending on where you're betting.
When the margin is low, it means that the sportsbook is being more generous with their odds, and there's a better chance for bettors to win big. But when the margin is high, it might be a bit tougher for us punters to come out on top.
Betting margin
Baseball

1.74%

Basketball

2.02%

Boxing

1.07%

Cricket

1.51%

eSports

1.97%

Football

1.08%

Handball

1.33%

Hockey

1.88%

Horse Racing

8.5%

MMA

3.39%

Rugby

1.33%

Tennis

3.99%

Volleyball

1.83%
Overall betting margin: 2.4%
A positive mobile user experience is crucial in today's world, as many users access the internet and various services via their mobile devices. The bookmaker doesn't have any apps for Android or iOS, although this is not necessarily a disadvantage. While apps can provide a more streamlined and optimised experience, a well-designed and responsive mobile version of the website still offers an enjoyable user experience.
The mobile version of the Foggybet website works well. Indeed, it adapts to different screen sizes, maintains functionality, and provides a smooth navigation experience. This is vital for mobile users who want to place bets, read football predictions, access their accounts, and enjoy the full range of services conveniently from their phones or tablets.
Also, the mobile version is comparable to the desktop website in terms of features and accessibility. Users have access to the same betting markets, promotions, and account management options as they would on the full version.
Android app: no
iOS app: no
You can play in the Mobile Browser

Mobile Browser
More
You can play in the Opera Mini

Opera Mini
More
Foggybet Usability & Features
When it comes to convenience and suitability for betting, this site definitely knows how to deliver the goods! First off, the Foggybet site is super user-friendly and perfect for high stakes betting. You don't need to be a tech whiz to navigate around here. It's designed to be intuitive so, even if you're a newbie to betting, you'll feel right at home. Finding your way to your favourite sports or games is a breeze, and placing bets is as easy as pie.
They've got all the essential features you'd expect from a top-notch bookmaker. You can check out the latest odds, explore a variety of markets, and even get real-time updates on live events. Speaking of live betting, this is where the action gets seriously exciting. You can jump into the game while it's happening, and the adrenaline rush is next level.
Not available in several countries
Foggybet: Sports to Bet On
Like with many betting sites Sweden (or other European countries), the bookmaker has a wide range of sports for intense betting experiences. You can expect to find popular sports like football (soccer), basketball, tennis, volleyball, ice hockey, American football, and more. Additionally, it covers niche sports too, like speedway, Aussie rules, e-sports, and even non-sporting events like politics.
Within each sport, there are various betting markets to choose from. For example, in football, you can bet on the match result (win, lose, or draw), total goals, first goalscorer, halftime score, and many more. Similarly, in tennis, you can bet on the winner of the match, set scores, total games, and other specific outcomes.
The width of the betting lines refers to the variety of odds offered for a particular event. Foggybet provides competitive odds across various markets, giving bettors different options to choose from. Apart from single bets, bookmakers offer multiple bet types like accumulators.
Foggybet Popular Types of Bets
Foggybet offers a lot of sports to bet on, including:
This website is undoubtedly credible and trustworthy, managed by the esteemed company L.C.S Limited, boasting over a decade of experience in delivering betting services within the European market. The company's established track record speaks volumes about its competence and reliability.
One of the primary factors contributing to the website's credibility is its licensing from a reputable authority. Operating under stringent regulations, this licensing ensures that the site adheres to the highest standards of integrity and fairness in its operations.
Security is of paramount importance and the website takes the protection of users' data and financial information seriously. Moreover, as one of the top football betting sites, the platform is committed to promoting responsible gambling practices. Through dynamic features like betting limits and self-exclusion options, they demonstrate their dedication to ensuring that users can enjoy betting responsibly and with discretion.
Deposits
The sportsbook accepts deposits using payment methods such as Visa, MasterCard, Trustly, Mifinity, Skrill, Jeton Cash, Neosurf, Neteller, Volt, Cash lib, Rapid, Astro Pay and Paysafecard. The minimum deposit amount is 10 euros, and the maximum is set at 25,000 euros. You can only use payment instruments registered in your name.
Withdrawals
Withdrawals of winnings are carried out using such payment systems as Astro Pay, Bank Transfer, Jeton, Rapid, Skrill, Trustly, MasterCard, Mifinity and Neteller. The minimum payout amount is 25 euros. In the case of using Bank Transfer, a commission in the amount of 20 euros may be charged.
It is worth noting that Foggybet belongs to fast withdrawal betting sites. In most cases, withdrawals on the platform are instant if you use e-wallets.
| | | |
| --- | --- | --- |
| €10–n/a | Instant | 0% |
| €10–n/a | Instant | 0% |
| €10–n/a | Instant | 0% |
| €10–n/a | Instant | 0% |
| €10–n/a | Instant | 0% |
| €10–n/a | Instant | 0% |
| €10–n/a | Instant | 0% |
| €10–n/a | Instant | 0% |
| €10–n/a | Instant | 0% |
| €10–n/a | Instant | 0% |
| €10–n/a | Instant | 0% |
| €10–n/a | Instant | 0% |
| €10–n/a | Instant | 0% |
| €10–n/a | Instant | 0% |
| €10–n/a | Instant | 0% |
| €10–n/a | Instant | 0% |
| €10–n/a | Instant | 0% |
| ❌ | ❌ | ❌ |
| | | |
| --- | --- | --- |
| €25–€1,000 | Up to 1-3 days | 0% |
| €25–€1,000 | Up to 1-3 days | 0% |
| €25–€1,000 | Up to 24 hours | 0% |
| €25–€1,000 | Up to 24 hours | 0% |
| €25–€1,000 | Up to 24 hours | 0% |
| ❌ | ❌ | ❌ |
| ❌ | ❌ | ❌ |
| ❌ | ❌ | ❌ |
| €25–€1,000 | Up to 24 hours | 0% |
| ❌ | ❌ | ❌ |
| €25–€1,000 | Up to 24 hours | 0% |
| ❌ | ❌ | ❌ |
| €25–€1,000 | Up to 24 hours | 0% |
| €25–€1,000 | Up to 24 hours | 0% |
| ❌ | ❌ | ❌ |
| ❌ | ❌ | ❌ |
| €25–€1,000 | Up to 24 hours | 0% |
| €100–€1,000 | Up to 5-7 days | 0% |
When you have a question or need some help, the Live Customer Support Service at this place is the bomb! They're always ready to lend a hand and put a smile on your face. From 09.00 to 01.00 CET every single day, they've got your back.
If you like to play at night, however, you won't have to wait until morning. You can write an email anytime, 24/7, at support@foggybet.com. The support agents are pretty multilingual too. This bookmaker's got your language covered. Whether you're an English speaker, a German pro, a Spanish aficionado, or into Norwegian or Finnish, they'll talk your talk! Feel free to get in touch with these amazing people anytime you require assistance. They are dedicated to ensuring your betting journey remains hassle-free and enjoyable.
Phone

Email

support@foggybet.com

Live chat

Competence
0 / 5
5 / 5
4 / 5
Politeness
0 / 5
5 / 5
4 / 5
Response Time
n/a
Up to 5 hours
Instant
Most Europe-based and Canada betting sites carry out mandatory verifications of bettors. Follow the instructions provided by the platform for verification. This includes the following steps:
Identity Verification
Address Verification
Payment Method Verification
If you're using a specific payment method, such as a credit/debit card or e-wallet, you might need to provide a scanned copy of the card (front and back) or a screenshot of your e-wallet account where your name can be seen.
Types of documents required for account activation and verification:
Government-issued photo ID
Utility bill (electricity, water, gas)
Credit/debit card or e-wallet
Ensuring a seamless and secure account activation requires the submission of precise and authentic documents during the verification process. It is crucial to provide valid information to facilitate the verification and activation process without any hiccups or concerns.
Foggybet Betting Markets: Short Guide
Foggybet has established itself as a leading player in the betting market, holding a strong and influential position. This recognition empowers the company to offer its esteemed customers remarkable betting opportunities, presenting an extensive range of markets to explore. By providing a diverse selection, Foggybet ensures that its customers can access a wide array of options.
Over/Under (Totals)
The Over/Under betting option grants players the chance to bet on whether the cumulative score of a game or event will surpass or fall short of a predetermined number. To illustrate, let's say the sportsbook sets the Over/Under line at 1.5 goals. In this case, opting for the Over means you're predicting that both teams will score more than 1.5 goals combined. Conversely, selecting the Under implies that you believe the total number of goals will be less than 1.5.
Asian Handicap
The origin of the Asian Handicap system lies in Asia, where it was developed to level the playing field in matches involving teams of different abilities. This system entails the assignment of a handicap, usually in the form of a goal or half-goal, either as an addition to the underdog team's score or a deduction from the favourite's.
Accumulator Betting
Acca (accmulator) betting presents players with the chance to merge various bets across diverse events or games. As each bet is incorporated into the accumulator, the potential payout experiences exponential growth.
Point Spread
In the Point Spread betting market, bettors are given the chance to place wagers on the margin of victory for a particular team in a match. The Point Spread, also referred to as the handicap, is a predetermined number of points that are either added to the underdog's final score or subtracted from the favorite's final score.
The main objective of the Point Spread is to establish a fairer betting environment, especially in cases where there is a notable discrepancy in skill or ability between the teams.
Money Line Bets
Money Line bets offer players a simple betting option where they place wagers on the team they believe will emerge victorious, without concerning themselves with point spreads or margins of victory. The odds assigned to each team are usually displayed as positive or negative numbers. The negative number signifies the favourite team, while the positive number denotes the underdog.
By the way, having familiarised yourself with our betting tips, you'll be able to make more reasonable Money Line Bets.
Prop Bets
Prop bets, also known as proposition bets, extend beyond the conventional game outcomes, encompassing a wide range of possibilities. These bets may revolve around specific player performances, team statistics, or even unique events occurring within a match.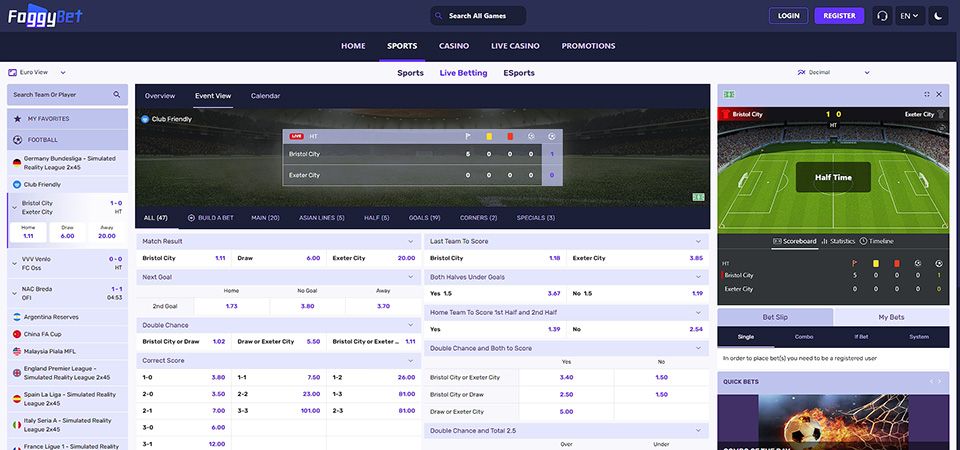 Foggybet: Licensing and Regulations
FoggyBet operates under the license No. MGA/B2C/233/2013 issued by the Malta Gaming Authority (MGA) to L.C.S Limited. The MGA is a government-regulated organisation tasked with overseeing and supervising gambling operators to ensure the industry operates fairly and transparently.
As a licensed and regulated entity, Foggybet is bound by strict guidelines and regulations set by the MGA. These measures are designed to protect the interests of players, promote responsible gaming practices, and uphold the security of financial transactions.
How to Place a Bet at Foggybet?
For those eager to place a bet on their preferred sport, following these simple steps is all it takes:
Register your account
Add funds
Finalise your chosen bet
See how your wager fares
How to sign up at Foggybet?
Just adhere to our user-friendly, step-by-step instructions, and you'll be good to go!
Click the 'Register' button

Locate the 'Register' button displayed on the website's homepage and click on it.

Fill in all the required fields

Provide the required information to create your Foggybet account.

Verify your account

After submitting the required documents, wait for the platform to review and verify your account.

Well done

Congratulations on successfully creating your Foggybet account!
Is Foggybet Trustworthy? Final Thoughts
Foggybet stands as a highly regarded online gaming operator, operating under a valid license and adhering to the regulations set by the Malta Gaming Authority. This commitment ensures that players can confidently place their bets, knowing they are engaging with a trustworthy bookmaker.
Beyond its licensing and compliance, Foggybet places great importance on player protection and responsible gaming. In summary, Foggybet stands as a reliable and dependable platform, offering a secure and enjoyable experience for football sports betting enthusiasts.
Advantages
Comprehensive coverage of markets
Exceptional welcome bonuses
Competitive odds for enhanced betting opportunities
Availability of live betting
Limitations
Limited access in certain countries
Bookmaker reviews by players