Betiton mobile app
A free, impartial and reliable review of the Betiton app. Here, you'll find information on how to download the app to Android and iOS devices quickly, as well as the steps to secure a welcome bonus free bet. Click any link on this page to create an account at Betiton.
Currently this bookmaker doesn't provide a mobile application for this platform
Currently this bookmaker doesn't provide a mobile application for this platform
Not available in your location
Try these bookmakers instead:
Mobile guide and review for Android and iOS
Betiton is one of the most exciting sportsbooks to arrive on the online gambling market in recent times. This Malta-based bookie has made quite a splash since bursting onto the scene in 2020. The early developments suggested they are much more than just another bookie trying to muscle into an already crowded environment.
No doubt you'd like to find out more about the Betiton website, including the welcome bonus available to new customers, their sports betting markets, customer services, payment options and more. In that case, you should read through our in-depth Betiton review.
This article focuses on the Betiton app download process and how you can gamble on the move using your smartphone or tablet device. We cover all the essential mobile platform features, including how to place bets and the secure payment options you can use when gambling on sports.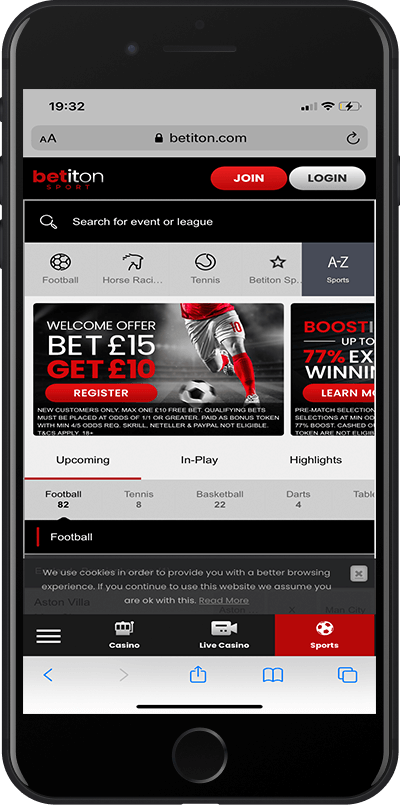 At present, Betiton only offers a mobile-optimised site. They don't have a mobile app that can be downloaded to iOS or Android devices. This caught us by surprise as Betiton seems like a modern, forward-thinking and ambitious outfit, one that would know the value of having a mobile app available.
However, the lack of an Android or iOS mobile betting app shouldn't put you off gambling with Betiton. The mobile site has you covered, catering for all your betting needs when out and about. The best thing about the mobile site is there's no need to go through the app download process. This frees up more time for seeking out value and betting. It also saves valuable device storage space.
Most smartphones struggle for space on their devices and users often have to delete apps, videos and images every time they download a new app. You won't have this issue when using Betiton. If you have an active account with the bookie, you can sign in and access all service features using your mobile. If you have a reliable Wi-Fi connection, you can gamble when you want, where you want and on what you want.
At present, Betiton doesn't offer users an Android mobile app. You can use the mobile site instead.
There is currently no Betiton app for iOS available to download. If you wish to access your Betiton account using your mobile or tablet, you can do so through the Betiton mobile site.
Before we get started on our Betiton sport app review, it's worth briefly explaining the purpose of mobile betting. For many years, all gambling was carried out in licensed betting offices dotted around the country on busy high streets. The nearest bookie to a popular venue, such as a sports stadium, pub, or shopping centre, always did the most business. Location was key.
This ceased to be true with the introduction and growth of online betting. User-friendly and responsive websites allowed gamblers to bet on their favourite sports online using their home computer. Betting on football from your home was a real treat for those who had been used to going out whatever the weather to place a bet.
There was to be another change with mobile betting taking over, however, and it's now the case that more bets are placed on apps and mobile sites than in-store and websites combined. Bet from anywhere in the country using your smartphone or tablet.
Apps are all about convenience, allowing users to turn everyday situations into an opportunity to gamble on sports. With an app on your device, you can login and gamble at the touch of a screen. It's fast and effective.
We've seen in recent times that betting on mobile-optimised sites rivals Android, iOS, and desktop. The advantages of using mobile sites mean there is no need to download an app and use up any storage space on your device. Simply visit the URL, login, place bets, then log off and exit the page.
The mobile site is user-friendly and quick. Even if you've never used a mobile-optimised betting site before, you'll have no trouble working this one out. It has all the same features, sports, promotions, and payment options as the site's desktop version. If it's available on the desktop, it's available on the mobile site.
The mobile site follows a similar layout to the website. This helps users to find their favourite bets quickly, especially if they're familiar with using Betiton on their home computer. On the mobile site homepage, you'll find quick links to upcoming sporting events, like the next football match due off from a major competition or the next live horse race. This means you can place bets in seconds.
If you have more time available to research your bets before placing them, you can do this by browsing the sports navigation bar. Here, you'll find all available sports to bet on with competitions, fixtures and markets attached. There's even a handy promotions tab that details the welcome bonus for new customers and all recurring deals for existing players already loyal to the bookie.
The login process is quick and straightforward. The Betiton staff know you want to spend less time signing in and more time betting. This is why they have kept this process as easy as possible. You can login to your Betiton betting account in seconds by following these steps:
Visit the Betiton mobile site on your device
Open your device's web browser and type in the Betiton URL.
Click the LOGIN button on the top left
Select the login button by clicking it. This will take you to the login page.
Enter your username and password to sign in
The username and password you created when registering an account should be used here to sign in.
You will now have access to your account
You will see your username and password in the top corner of the homepage and can now deposit, withdraw, bet and use promotions.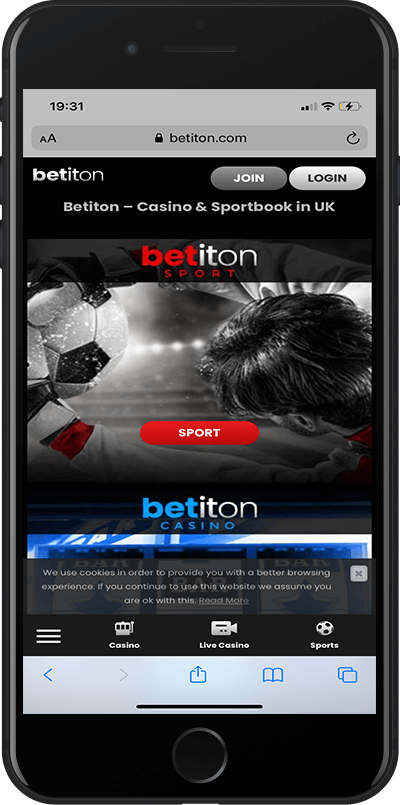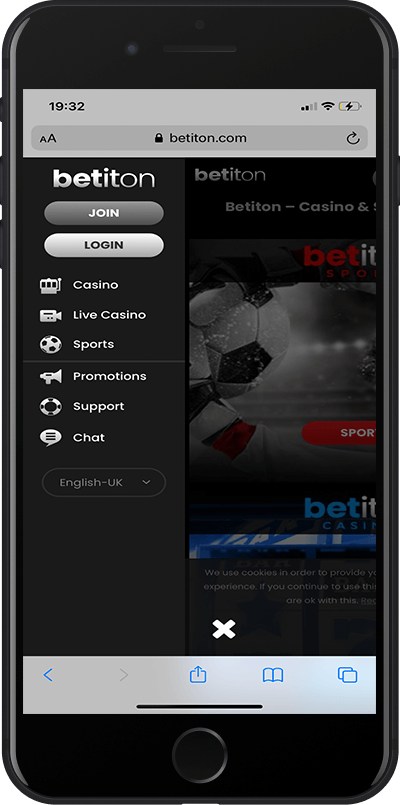 Betiton mobile has the same sports and betting markets as the desktop version. And what a selection it is, with traders covering all major and minor sports. You can gamble on your favourite sports or try something a bit different to add a bit of extra spice to the event.
Each sport allows members to bet on competitions and upcoming games. For example, when betting on live football, there are over 100 pre-match betting markets available, with most live throughout the game thanks to in-play betting.
Below are some of the sports available to bet on today at Betiton:
Football
Horse Racing
Tennis
Basketball
Darts
Ice Hockey
Table Tennis
Volleyball
American Football
Aussie Rules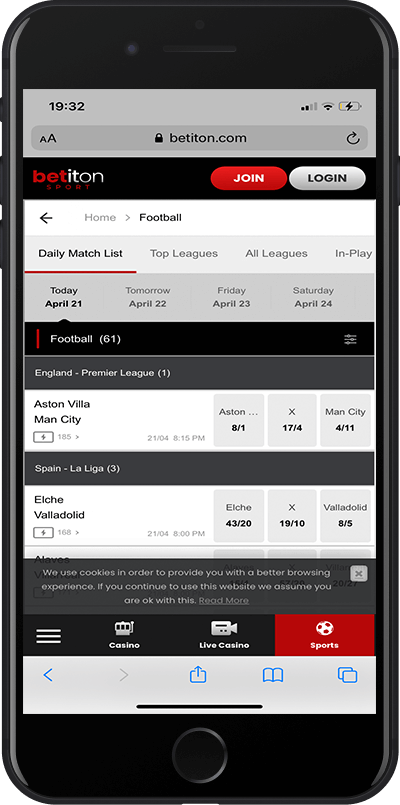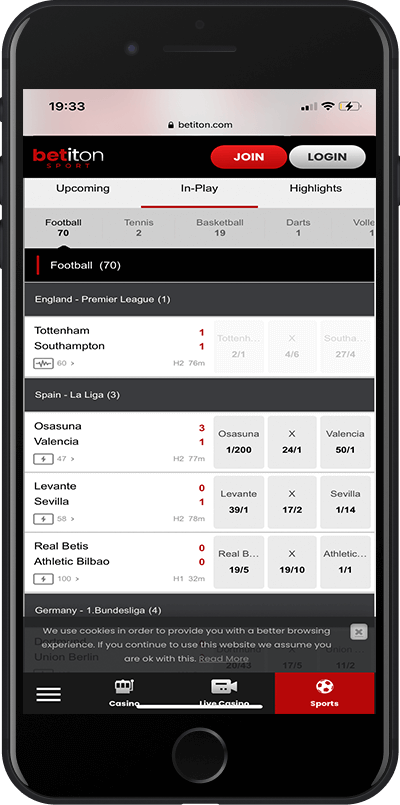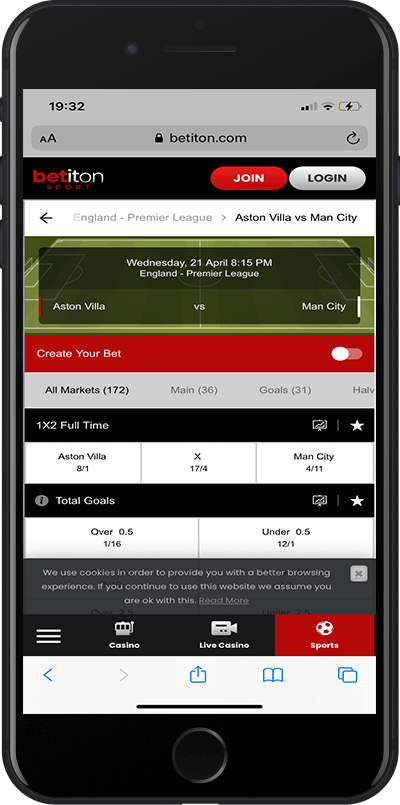 Live betting is also known in the industry as in-play betting, and it's an exciting feature we're glad to report that Betiton has available. When placing a bet on sports, you'll find that many of the original markets change from pre-match to live. This allows you to gamble on an event after it has started. The odds update to reflect the score, and markets may suspend briefly to enable traders to adjust their offers.
Live betting is available at Betiton on most sports, but the most popular for betting in-play is football. A gamble on a game is just as exciting in the final few minutes as it was before kick-off, if not more. Pre-match odds like match winner, correct score and handicap can be backed during the 90 minutes with a single click.
Members of Betiton can securely move money in and out of their betting account using their mobile device through the mobile site. A range of payment options are available, and you can deal in different currencies.
The most impressive thing about the payment options at Betiton is just how secure they are, with transactions covered by Secure Socket Layer technology. This allows you to gamble online with complete peace of mind. Deposit funds to your betting account instantly and withdraw winnings with a single click.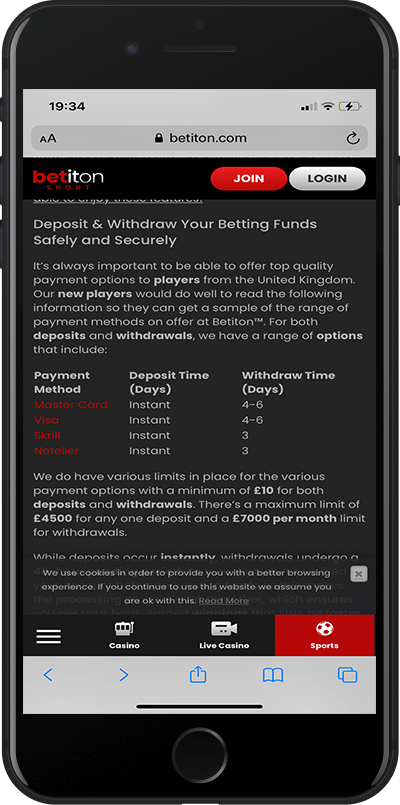 If you ever require assistance using the mobile site, you should first check the Frequently Asked Questions page. This allows you to quickly troubleshoot any basic issues. Those preferring to speak to a customer care team member can do so by email, telephone, or live chat. The latter is quick and effective. Simply type your message into the conversation box and a member of staff will reply through the same field ASAP.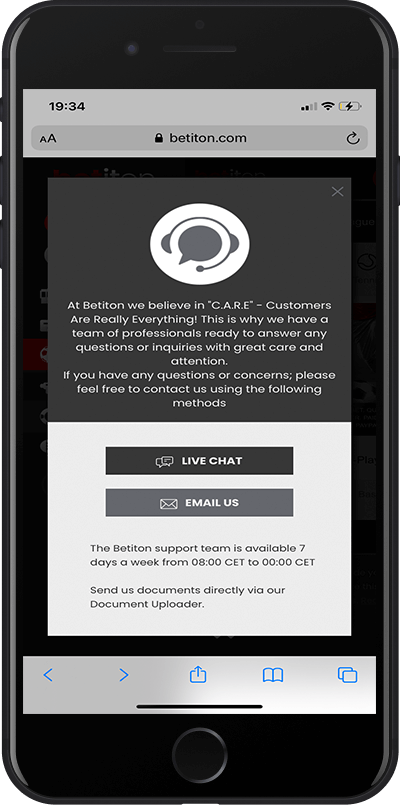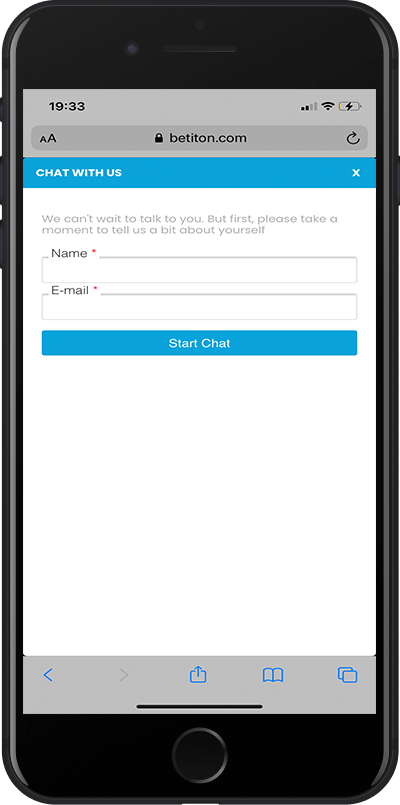 We were a little disappointed to find that Betiton didn't offer an Android or iOS mobile app, but we soon got over that after trying out the mobile site. We preferred the site to having a betting app as there was nothing to download. You probably feel you have too many apps on your device already without trying to cram another in.
Advantages
No need to download an app
The mobile site gives access to all sports, promotions and features
Deposit funds to your betting account instantly
Bet from anywhere in the country, providing you have a Wi-Fi connection
Limitations
No mobile app
No live streaming
With the mobile site, you can login to your account, place bets, enjoy the site as much as you please, then log out when you're finished. It's simple, fast and hassle-free.