Bet88 Sportsbook Review in 2023
Advantages:
Mobile apps for Android and iOS

Lots of promotional offers

In-game betting

Wide selection of sports
Payment Methods:
T&C apply. Gamble Responsibly 18+
Bet88 is an internet-based betting platform that provides an array of gambling options, encompassing sports betting, casino games, and online slots. Its focus seems to primarily be on catering to customers located in the Philippines. It is this market that the platform creators are targeting, offering their customers excellent service and great sports betting opportunities.
As one of the top bookmakers, Bet88 offers its users live betting options, commonly referred to as in-play betting. This type of betting enables users to place wagers on ongoing sports events or games, as opposed to placing them prior to the commencement of the event.
Types of Live Games at Bet88
The sportsbook provides a diverse selection of live games, which include:
Football (soccer)
Tennis
Basketball
Volleyball
Cricket
The Live section of the site offers a comprehensive range of live games, including the aforementioned options, along with numerous other sports and gaming activities.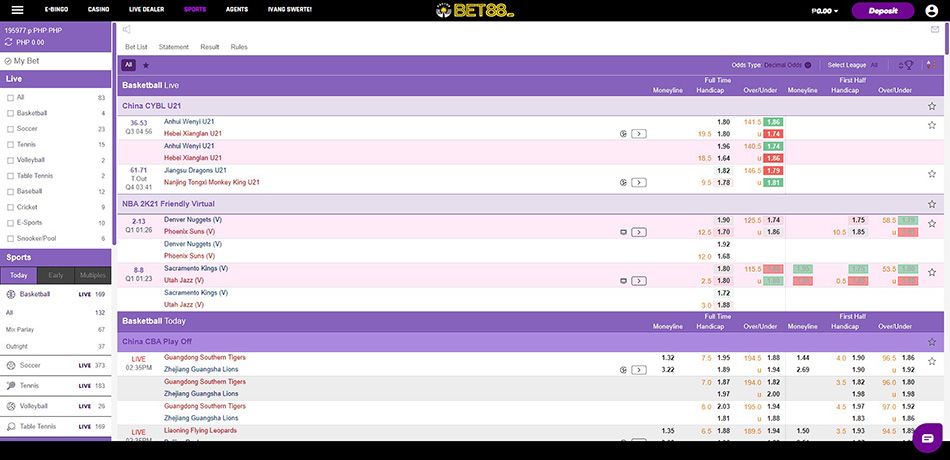 Bet88, recognised as a premier sportsbook, goes beyond offering sports betting by providing an outstanding casino games section for its customers. Within this section, users can discover a diverse assortment of casino games, such as online slots, table games, live dealer titles, and scratchcards. Additionally, the casino presents an array of bonuses and promotions to enhance the gaming experience, including a VIP program.
Blackjack
This timeless casino game involves players attempting to outscore the dealer's hand without exceeding a total of 21. Bet88 presents a range of live blackjack tables, all broadcasted in high-definition (HD) quality and hosted by skilled dealers. Players have the opportunity to place high stakes in real time, fostering an immersive and sociable gaming atmosphere.
Roulette
The company offers some of the most popular and well-known types of roulette. Compared to its traditional counterpart, live roulette delivers a heightened level of immersion. It enables players to actively engage with the dealers and fellow participants, resulting in a more social and thrilling gaming experience. The ability to interact with the dealers and other players adds an extra layer of excitement, making live roulette a captivating choice for enthusiasts seeking an interactive and dynamic atmosphere.
Baccarat
This game is straightforward to grasp and can be highly thrilling. In live baccarat, each player receives two cards, and the player with the highest combined value emerges as the winner of the hand. Live baccarat boasts a remarkably low house edge, making it an appealing choice for players seeking lucrative outcomes. It presents an opportunity for gamblers to maximise their chances of winning and potentially earn substantial prizes.
Slots
At Bet88, there is an extensive array of slot games available, catering to diverse preferences and ensuring there is something for everyone. Whether you have a fondness for classic slots with traditional features, captivating video slots with immersive themes, or thrilling progressive jackpot games with the potential for massive payouts, Bet88 has got you covered.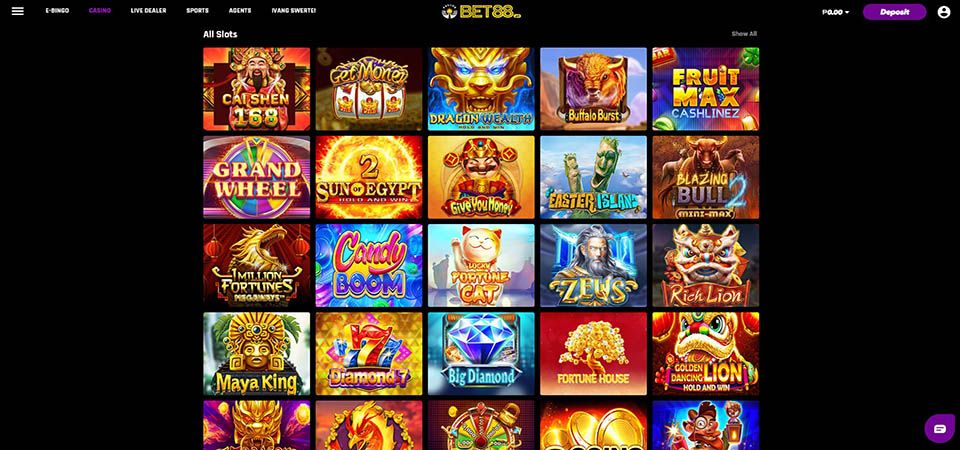 Bet88 Bonuses & Promotions
Bet88 provides a range of bonuses and promotions designed to benefit both new and existing gamblers. While many of these bonuses are primarily focused on the casino section, offering perks such as free spins and similar privileges, the company also extends bonuses that are advantageous to bettors.
By delving into our comprehensive Bet88 review, you'll discover detailed information about all bonuses sportsbooks offer. The content encompasses insights into the various types of bonuses available, ensuring you have a comprehensive understanding of the promotional benefits awaiting you at Bet88.
Selfie Bonus
The sportsbook presents a distinctive opportunity for individuals to participate in a drawing of exclusive merchandise from the company by taking a selfie. To confirm your participation, you're required to take a photo and share it on your social media page. Afterwards, you need to send the bookmaker's administration a link to the posted photo. This process ensures your eligibility for the drawing and offers a chance to win unique merchandise provided by the bookmaker.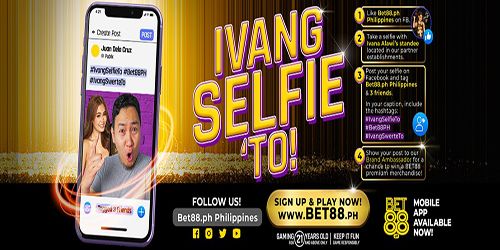 App Bonus
Additionally, bettors have the opportunity to receive bonuses upon downloading and installing the company's application. To take part in the drawing of valuable prizes and bonuses, all you need to do is top up your account with any amount. This action qualifies you for participation and increases your chances of winning enticing rewards and bonuses offered by the company.
The bookmaker provides an extensive sportsbook section that allows players to engage in betting on a diverse array of sports, encompassing soccer, basketball, volleyball, and more. The company ensures the provision of competitive odds and margins that adhere to industry standards.
Like many new betting sites, when it comes to odds, Bet88 predominantly presents them in decimal format. Nevertheless, players have the flexibility to select alternative formats such as fractional or American, catering to individual preferences. The platform offers a wide variety of bet types, including popular options like money-line bets, over/under and spread bets, accommodating various betting styles.
In terms of margins, Bet88 may apply a margin to specific bet types. This margin represents a percentage added to the odds to ensure the platform's profitability. However, the margins offered on the site are typically reasonable and remain competitive when compared to other sports betting platforms in the market.
Betting margin
Football

1.64%

Basketball

1.95%

Hockey

2.17%

Tennis

6%

Baseball

3.94%

Volleyball

1.91%

Handball

1.94%

Cricket

1.2%

eSports

4.57%

Rugby

2.66%
Overall betting margin: 2.8%
Like many other live sportsbooks, Bet88 has developed mobile applications for both iOS and Android devices, catering to the needs of players who prefer to engage in betting on the go. The platform is designed to be mobile-friendly, ensuring seamless accessibility for users via their mobile devices. The Bet88 apps automatically adapt to the smaller screen size and touch interface, providing a user-friendly experience.
With the mobile apps, players can enjoy a similar gaming experience to the desktop version, granting access to all the games and features offered by Bet88. Whether it's placing bets on sports events, playing casino games, or accessing their account information, players can conveniently do so via mobile apps.
It is important to note that, for optimal experience, bettors should have a stable internet connection and a compatible mobile device. This ensures smooth and uninterrupted gameplay while utilising the mobile apps of Bet88.
Android app: yes
iOS app: yes
You can play in the iPhone App

iPhone App
More
You can play in the Android App

Android App
More
You can play in the Mobile Browser

Mobile Browser
More
You can play in the Opera Mini

Opera Mini
More
Bet88 Usability & Features
Bet88 is a platform that prioritises user-friendliness, featuring a sleek and modern design that ensures easy navigation. The platform encompasses numerous features and functionalities aimed at enhancing the overall user experience. These include a wide selection of casino games, betting options and diverse payment methods to cater to different preferences.
Bet88 stands out for its exceptional customer support, offering both email and live chat options with support agents available round the clock. The platform prioritises prompt issue resolution, ensuring that most user concerns are addressed swiftly and effectively. Moreover, Bet88 places great emphasis on the security of players' personal data, employing robust SSL encryption technology to safeguard this information. With Bet88's commitment to providing excellent support and maintaining the utmost security, users can feel confident and reassured while enjoying their betting experience.
Wide range of sports to bet on
The sportsbook page may appear overloaded with live data.
There may be occasional issues with the section dedicated to live casino games.
In summary, Bet88 strives to provide a user-friendly platform with a plethora of features and functionalities to enhance the overall betting experience. It prioritises user support, security, and fairness, although there may be minor drawbacks related to data presentation and occasional issues with the live casino games section.
The bookmaker provides extensive betting opportunities across a wide range of sporting events, encompassing popular sports like football tournaments, tennis matches, basketball games, and volleyball matches. For experienced bettors, there is also the inclusion of rarer sports and esports. However, it is important to note that not all sports may be available in the region due to local restrictions, so it is advised to check the availability before placing a wager to ensure a smooth experience.
The length of the betting lines offered by Bet88 varies depending on the popularity of a particular sport and market. The company predominantly focuses on well-known sports, offering fair odds that align with industry standards. By catering to popular sports and markets, Bet88 strives to deliver an engaging and satisfying betting experience for its users.
Bet88 Popular Types of Bets
Bet88 offers a diverse selection of sports that bettors can place bets on, including:
These are just a few examples of the wide range of sports available for betting on Bet88. The platform aims to cater to the diverse interests of its players, ensuring there is something for everyone to enjoy and bet on.
The credibility of Bet88 as a bookmaker can be assessed based on several key factors. Firstly, the sportsbook holds a license and operates under the regulation of the Philippine Amusement and Gaming Corporation (PAGCOR), a highly regarded authority responsible for overseeing the gaming industry in the Philippines. This license confirms that the bookmaker adheres to legal and ethical standards.
Also, Bet88 prioritises protecting users' personal and financial information by employing SSL encryption technology. This advanced technology ensures that sensitive data remains confidential and shields all transactions from unauthorised access, bolstering the platform's overall security.
Furthermore, the sportsbook has established a strong reputation within the industry, supported by positive reviews and feedback from numerous satisfied users. The company's commitment to delivering a user-friendly interface, an extensive selection of sports and casino games, and a variety of bonuses and promotions contribute to its favourable standing among players.
In summary, as one of the best Philippine bookmakers, Bet88 demonstrates credibility through its PAGCOR license, utilisation of SSL encryption technology, and positive industry reputation, all of which validate its commitment to providing a secure and enjoyable betting experience for its customers.
Bet88: Deposits & Withdrawals
Deposits
Bet88 offers a wide range of convenient options to fund your betting account, providing flexibility and convenience for users. Alongside traditional payment methods, such as bank transfers and credit/debit cards, the bookmaker also supports popular e-wallets like PayMaya, Gcash, GrabPay, and StarPay. This variety allows users to choose the payment method that suits them best.
Withdrawals
Bet88 understands the importance of hassle-free and convenient withdrawal options for its users. The company enables players to withdraw their winnings using the same payment methods they used for making deposits. This means that if you funded your account using e-wallets, cryptocurrencies, or bank transfers, you can expect to withdraw your winnings using these same methods.
In addition to e-wallets and cryptocurrencies, Bet88 also supports bank transfers, including those of financial institutions located in China. This feature provides a wider range of withdrawal options, catering to the preferences and needs of players from different regions. According to many of the company's customers, Bet88 is one of the fast payout bookmakers in the industry.
| | | |
| --- | --- | --- |
| 1 PHP–no limit | Instant | 0% |
| 1 PHP–no limit | Instant | 0% |
| 1 PHP–no limit | Instant | 0% |
| 1 PHP–no limit | Instant | 0% |
| 1 PHP–no limit | Instant | 0% |
| 1 PHP–no limit | Instant | 0% |
| 1 PHP–no limit | Instant | 0% |
| 1 PHP–no limit | Instant | 0% |
| | | |
| --- | --- | --- |
| 100 PHP–no limit | Up to 5-7 days | 0% |
| 100 PHP–no limit | Up to 24 hours | 0% |
| 100 PHP–no limit | Up to 24 hours | 0% |
| 100 PHP–no limit | Up to 24 hours | 0% |
| 100 PHP–no limit | Up to 1 hour | 0% |
| 100 PHP–no limit | Up to 1 hour | 0% |
| 100 PHP–no limit | Up to 1 hour | 0% |
| 100 PHP–no limit | Up to 1 hour | 0% |
Bet88 takes customer support seriously and provides multiple channels for users to seek assistance and resolve any issues they may encounter. The platform offers two primary support channels: live chat and e-mail support@bet88ph.com. These channels ensure that users have quick and easy access to professional support agents who can provide prompt assistance.
Additionally, Bet88 features a comprehensive FAQ section that addresses common questions and concerns. This resource serves as a helpful self-service tool, allowing users to find answers and solutions to common issues without relying on support agents.
By offering a range of support channels, including live chat, email, and a comprehensive FAQ, Bet88 ensures that users have various options to reach out for help and find resolutions efficiently. This commitment to customer support contributes to a positive user experience and demonstrates the platform's dedication to user satisfaction.
Phone

Email

support@bet88.ph

Live chat

Competence
0 / 5
5 / 5
4 / 5
Politeness
0 / 5
4 / 5
5 / 5
Response Time
n/a
Up to 2-4 hours
Instant
Account verification is an essential process on the Bet88 website that ensures the security and integrity of user accounts. It involves verifying the identity and personal information of users to prevent fraudulent activities, protect against underage gambling, and comply with regulatory requirements.
While the verification process may add an extra step during the initial account setup, it is necessary to maintain a safe and trustworthy betting environment. Bet88 strives to make this procedure as smooth as possible, with clear instructions and guidance provided to users. Additionally, the support team is readily available to assist users throughout the verification process, ensuring any queries or concerns are addressed promptly.
Bet88 Betting Markets: Short guide
At Bet88, customers have access to a diverse range of bet types, catering to different betting preferences and strategies. These include traditional options like money-line bets, where you simply wager on the outcome of a match or event, as well as point spreads, which involve betting on the margin of victory. By offering a variety of bet types and emphasising the importance of monitoring odds, the company allows customers to engage in strategic and informed betting.
Over/Under (Totals)
The totals betting market offered by Bet88 is a widely embraced option among bettors. It provides an exciting opportunity to wager on the total number of points, goals, or other outcomes in a given game or event. In this type of bet, the company sets a specific value, and the bettor predicts whether the actual total will be over or under that value.
For example, in a basketball game, the company might set the Over/Under value at 200 points. If a bettor believes the combined score of both teams will be higher than 200 points, they would place an Over bet. Conversely, if they predict a lower total score, they would place an Under bet.
Asian Handicap
Asian Handicap involves assigning a virtual advantage or handicap to the underdog team before the match begins. The handicap is expressed in terms of goals or points and is designed to balance the perceived strength of the teams. The purpose is to provide more attractive odds for both teams and create a more competitive betting environment.
Accumulator Betting
Bet88 offers the widely favoured accumulator betting, also known as parlay betting, which allows users to combine multiple bets on different games or events into a single wager. With accumulator betting, the potential payout grows with each added selection, offering the opportunity for significant returns. The odds of each selection are multiplied together, creating the overall odds for the accumulator bet.
Point Spread
Point Spread is a well-known and widely used betting market available on platforms like Bet88, particularly in sports such as soccer and volleyball. It introduces a handicap or virtual disadvantage to the favoured team and a corresponding virtual advantage to the underdog team. In order to make reasonable bets of this type, you may be interested in predictions football made by our top experts.
Money-Line Bets
Money-line betting on Bet88 provides a straightforward and intuitive betting experience, allowing users to focus solely on picking the winning team. According to MightyTips authors, this is a popular choice for bettors who prefer a more direct approach to predicting game outcomes and seeking potential returns based on their chosen teams.
Prop Bets
Prop bets can cover a wide range of possibilities, such as the first team to score, the total number of goals or points scored by a particular player, the duration of a game, or even unique occurrences like the outcome of a coin toss. What makes prop bets particularly appealing is their ability to engage users in the finer details of a game and provide additional ways to showcase their sports knowledge and intuition.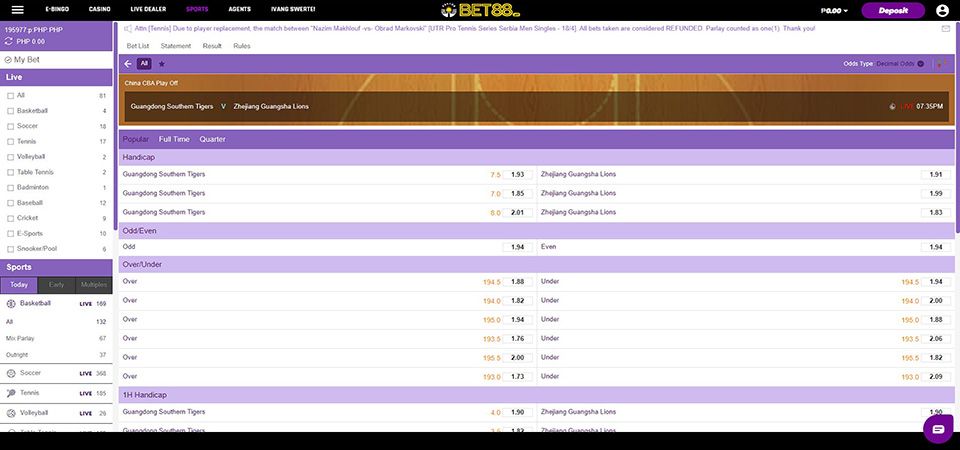 Bet88: Licensing and Regulations
Bet88 holds a valid and recognised license issued by the Philippine Amusement and Gaming Corporation (PAGCOR). The Bet88 license provides several benefits to bettors, guaranteeing that they receive the best service on the platform. Firstly, it offers peace of mind by assuring users that the bookmaker operates under strict regulations and guidelines. This means that their rights as customers are protected, and they can trust the platform to handle their funds and personal information securely.
Additionally, the license signifies that Bet88 has met the necessary requirements to obtain regulatory approval. This includes undergoing rigorous checks for fairness, transparency, and responsible gambling practices. Bettors can have confidence in the integrity of the platform, knowing that their bets are placed on a trustworthy and reliable site.
How to Place a Bet at Bet88?
Placing a bet via the Bet88 website is a straightforward and simple process that can be completed in a few simple steps.
To begin, you can either log into your existing account or create a new one.
Then, navigate to the sportsbook section.
Select the sport you're interested in and browse through the available betting options.
Click on your preferred bet to add it to your bet slip.
Enter the amount you wish to wager on the selected bet.
Review your selection and ensure the details are accurate.
Confirm the bet by clicking the appropriate button and submitting.
Upon successful placement, you'll receive a message that your bet has been accepted. You can also track the status of your bets by accessing your account dashboard, where you'll find information on both open and settled bets.
How to Sign Up For Bet88?
As with any other football sportsbook, the registration process here takes only a few clicks.
Click the 'Sign Up' Button

You can locate this button on the right-hand side.

Fill in All Required Fields

It is important to provide accurate information for a smooth and accurate process.

Verify Your Account

Ensuring that all required documents are accurately provided will help facilitate the verification process.

Well Done

Whether it's football, basketball, tennis, or any other sport you enjoy, Bet88 provides an exciting and immersive betting experience.
Is Bet88 Trustworthy? Final thoughts
Bet88 is a trustworthy platform that has gained a positive industry reputation. With its licensing and regulation by PAGCOR, users can have confidence in the platform's adherence to legal and ethical standards. The implementation of SSL encryption technology ensures the security of users' personal and financial information, adding an extra layer of protection.
The bookie also provides various channels for customer support, including live chat and email, ensuring that users have quick and convenient access to assistance when needed. Overall, Bet88's commitment to security, transparency, and customer satisfaction contributes to its trustworthiness as a reliable betting platform.
Advantages
User-friendly website
Licensed and regulated
Wide range of sports
Live betting options
Limitations
The sportsbook page may appear overloaded with live data
Bookmaker reviews by players