What new sports are in the olympics 2024
During the last Olympics, we saw the debuts of several new sports, such as surfing and skateboarding, for example. This was the first time in a very long time that we've seen such a renovation of the Olympics schedule.
Indeed, in this last edition, we had a sum of 46 modalities, and the new additions were really well received by the crowds in general. With many fans inspired to follow the recently-added sports, they will surely return for the next games, which are going to take place in 2024.
It is also expected that we will have the presence of a new set of Olympic sports in Paris too, as well as the exclusion of a few sports that played their part in previous editions. In today's article, we'll cover everything about the topic so you'll be completely ready for the next Olympics.
Up to €100 in bet credits

Claim

#AD. Open an account with bet365 today and bet on a huge range of markets with the world's favourite online sports betting company.
New Olympic Sports for 2024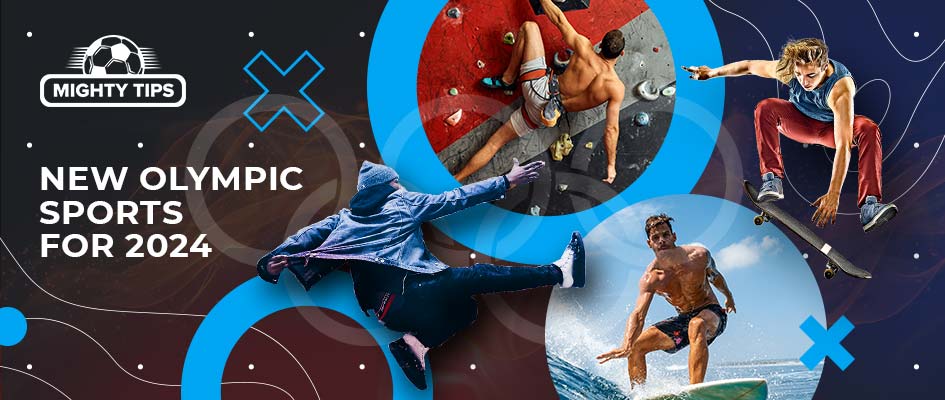 As mentioned earlier, it is expected that the vast majority of new sports added to the Olympics in Tokyo will also be present in Paris. In addition, we will have the debut of a new modality.
Below, we'll learn more about each of these new sports so you know what to expect from them at Paris 2024.
Breakdancing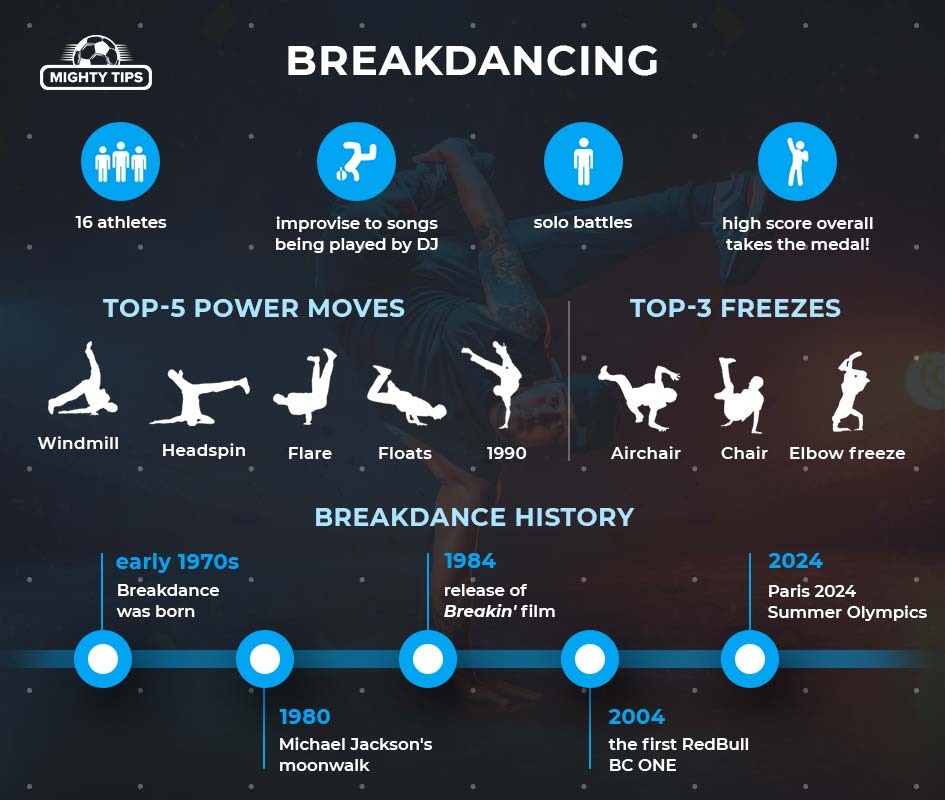 With a strong presence in French culture, especially among youths, Breakdancing will make its debut at the 2024 Olympics. Although some don't know it, Breakdancing is indeed regarded as a sport and, actually, has already been included on the Olympic calendar in the Youth Games played in Argentina in 2018.
The contests for this new sport will take place on the 14th and 15th day of the Olympics, basically closing the Parisian edition, with medal ceremonies taking place on both days. The events will be broken down between male and female athletes that will fight for the title of first Olympic gold medalist in this sport.
Each event will have 16 athletes participating
These athletes will face each other in solo battles
They have to improvise moves according to the beat songs being played by the DJ
Judges will give points according to the presentation and the athlete with the highest score overall in the final will win the gold medal
Sport Climbing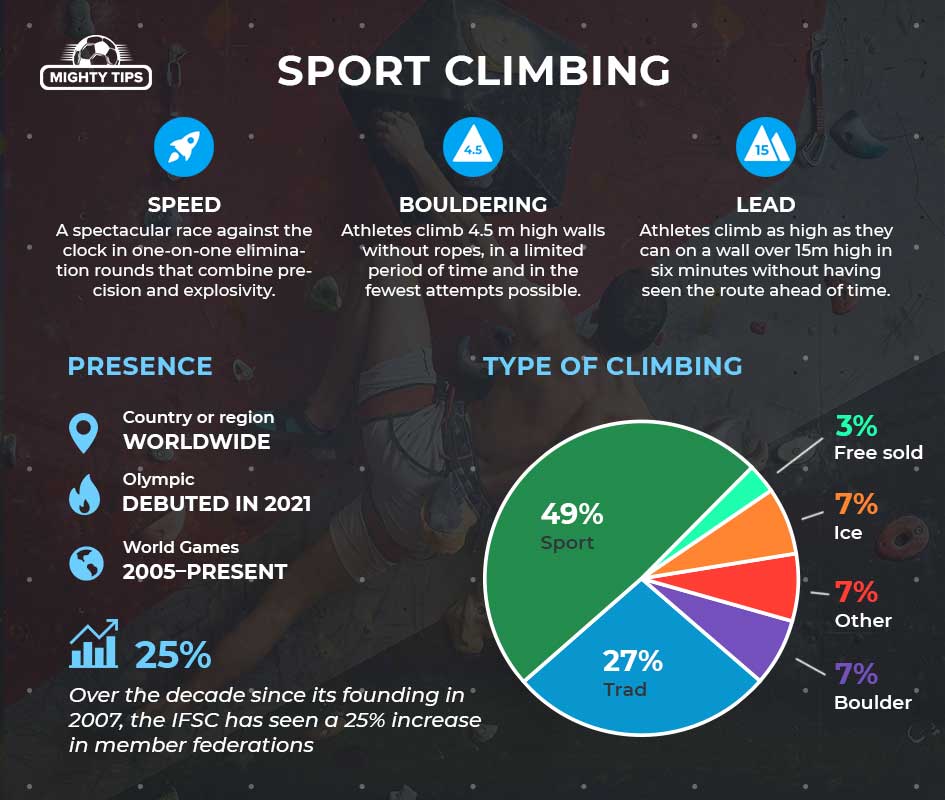 Although the model presented for Sport Climbing in 2021 did not please fans of the sport due to the adapted format of the game displayed in Tokyo, we will see this sport again in the Paris Games.
Also aimed at a young audience, with almost 40% of athletes under the age of 18, this is yet another sport that conveys the urban atmosphere that we will likely see in France during this edition.
There will be two events for this sport in Paris: Bouldering & Lead combined and Speed.
In Bouldering, contenders must climb a 4.5m wall without the use of any ropes within a set time.
In Lead events, athletes have six minutes to climb as high as they can upon a complex route.
Speed, as the name suggests, is a run against the chronometer and is the only type where athletes compete directly against each other.
Skateboarding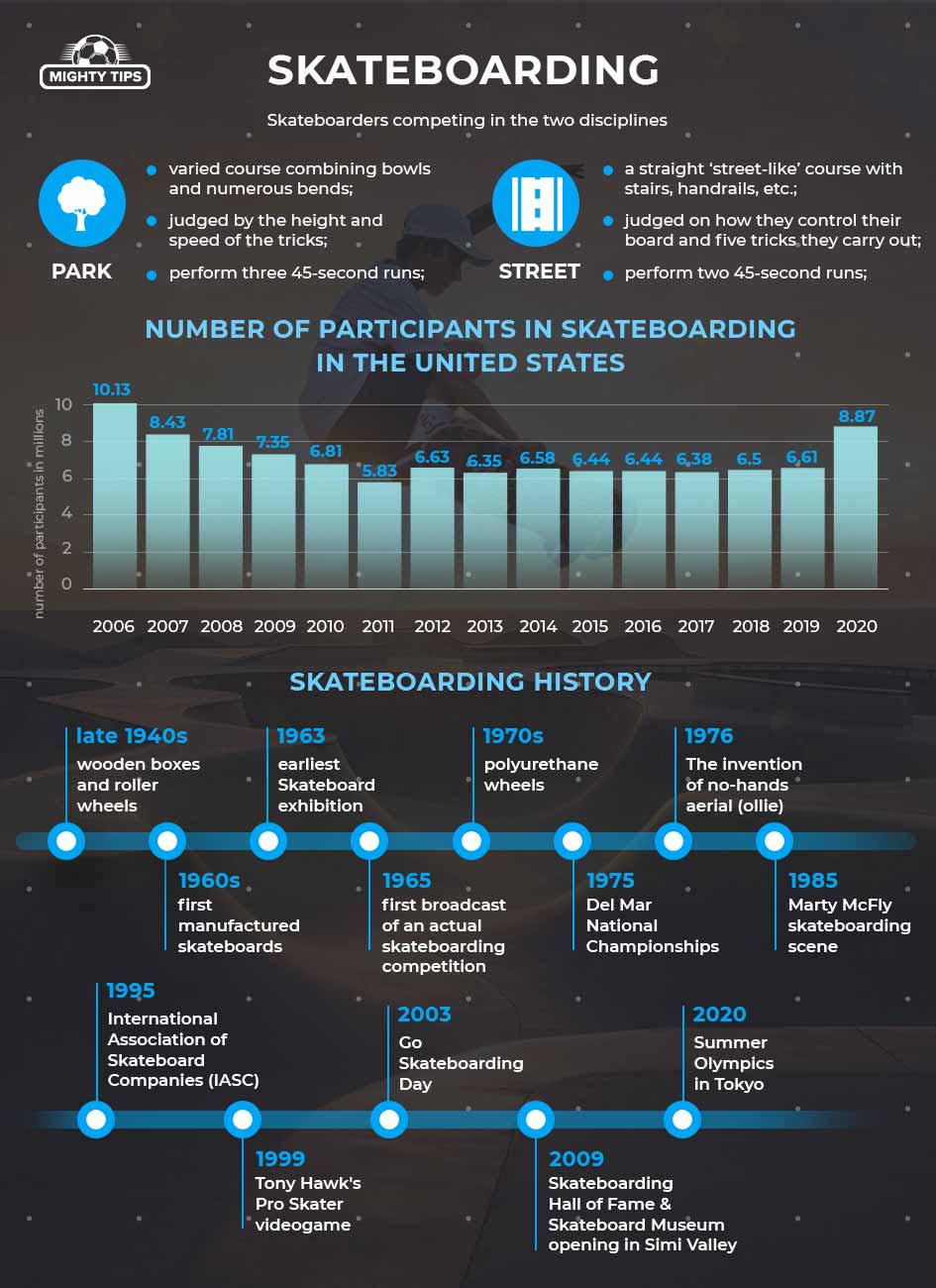 One of Tokyo's great successes, skateboarding is back for Paris 2024. It is expected that even more fans will follow the sport, which will again feature men's and women's competitions in street and park modalities.
Having made its Youth Olympics debut in 2014, skateboarding has really managed to attract the attention of the general public and is yet another great model for this Paris edition's modern focus.
The skateboarding competition will be broken down into two events: park and street.
Park events are held on courses that come with bowls and bends and athletes must perform tricks during a certain period of time.
Street event courses are straight, with the addition of elements reminiscent of the urban environment.
In both events, judges will evaluate height, difficulty, and speed, and will announce their given scores for each trick performed.
Surfing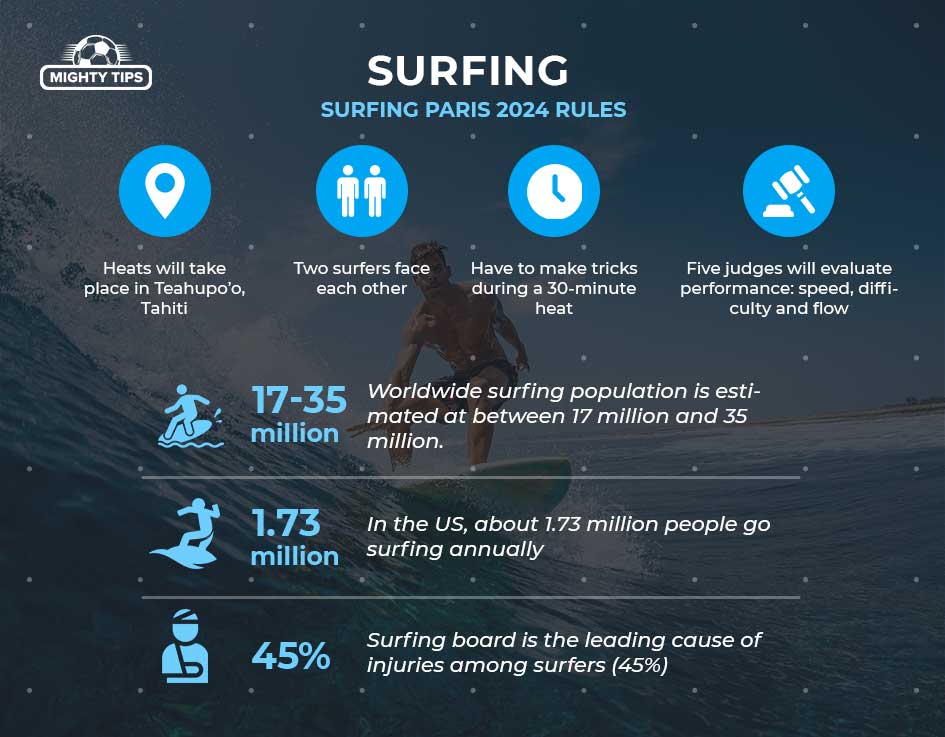 Surfing is really a brand-new sport for the Olympic environment, as it hadn't had any appearances before Tokyo. Although the requests for this modality to be part of the calendar started way back in 1920, it was only in the last edition that we had the bliss of actually watching it.
An interesting detail for 2024 is that surfing will be one of the few sports that will not be played on French soil. In fact, the heats will take place in Teahupo'o, located in Tahiti.
Two surfers face each other and have to make tricks during a 30-minute heat.
Five judges will evaluate their performance according to speed, difficulty, and flow overall.
In the Olympics, the surfboard used is a shortboard, which is smaller and faster.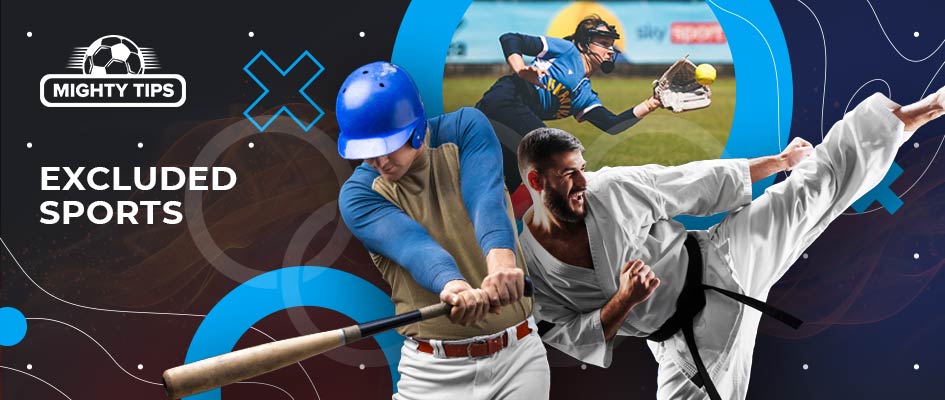 Something many may not know about the sports available at the Olympics is that they are not only decided by the International Committee but also by the hosting country. This means that some sports can be added, while others are excluded depending on the country where the Olympics will take place.
Just as new Olympic events are expected in Paris, some will also no longer be part of the Olympic calendar. This is the case with Karate, Baseball, and Softball; three modalities that were added to the list of sports in Tokyo.
The main reason for this is that, while Japan has a great connection with these sports, France does not. Therefore, the committee preferred to add Breakdancing, for example, which is very popular in the country and may, thus, create a better connection with locals in 2024.
Three sports will leave the Olympic calendar for Paris 2024
Cuba has perhaps the most renowned baseball champions the Games have ever seen
In Tokyo, French athlete Steven da Costa won the gold medal in Karate
With the addition of these new modalities for Paris, we can expect an Olympic Games targeting a youthful audience and conveying very urban ideas.
Plenty of events will be held in tourist spots of Paris, with the goal of creating a mix-up of the urban area and the sports that will be happening all over the city. Everything in an attempt to attract the public even more and make not only young people but everyone present excited about yet another edition of the Summer Olympic Games.