Newcastle United are signing Sandro Tonali from AC Milan
Newcastle United didn't have too much success during the previous two decades. In fact, the team from St. James's Park hasn't played in the Champions League since the 2002–03 season. Nevertheless, when Saudi Arabia's Public Investment Fund acquired Newcastle United in October 2021, it was clear that the club from northeast England would soon become one of the best teams in Europe. Last season, Newcastle finished fourth in the Premier League, so they have again qualified for the most important European competition.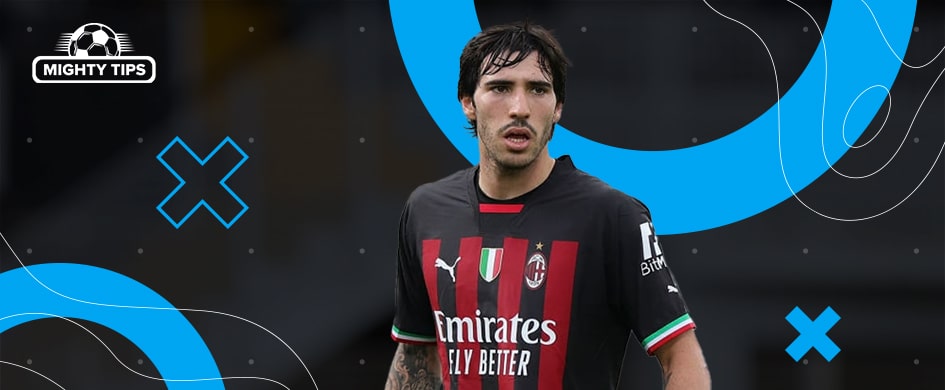 Playing in the Champions League alongside the Premier League and other national cups is never easy, so Newcastle will probably make a lot of transfers this summer to add more depth to the squad. Although the transfer window will start in a few days, Newcastle have already announced they will sign Sandro Tonali – a 23-year-old defensive midfielder from AC Milan.
Newcastle needed to sign a top midfielder this summer
Initially, Newcastle United were among the teams interested in West Ham superstar Declan Rice. However, once it became clear that the club from London would not let him go for less than 115 million euros, Newcastle United turned their attention to other players. Inter's Nicolo Barella was one of the options, but he also seemed too expensive. In the end, Newcastle signed Sandro Tonali; a player with two goals and seven assists in 34 Serie A appearances last season.
Who is Sandro Tonali?
Sandro Tonali is a product of the Brescia Academy. He joined AC Milan in 2020, first on loan and later on a permanent deal. From his arrival, Tonali played an important role at AC Milan – in three seasons at the club he played 130 times in all competitions.
Sandro Tonali's career
Six months ago, Sandro said that playing for AC Milan had fulfilled his childhood dream. He also stated that he would like to play his whole career at the club. Despite this, in the following transfer window, AC Milan needed money to get some flexibility, so Tonali was sold to Newcastle United. The Italian newspapers announced a few days ago that the youngster cried when it was said he must move to England. Although Declan Rice was Newcastle's priority for the defensive midfielder position, signing Sandro Tonali could become a much better deal. The much cheaper option will give Newcastle United more room to operate and not break Financial Fair Play. Also, the Italian is only 23 years old, so we could expect the player to develop further. According to sources, Tonali will sign a six-year contract with a yearly wage of almost eight million euros.
How might Newcastle look with Sandro Tonali?
Eddie Howe's idea for Newcastle's midfield is to be fluid, not rigid. Sandro Tonali's transfer should help them to accomplish this. With Tonali in the starting lineup, Bruno Guimaraes will probably move slightly closer to the final third. Also, the Italian is more than a defensive midfielder, so his presence will give Newcastle more options to shift things during the game. One of the most interesting aspects of Tonali's game is his passing range and delivery from set pieces. In the previous season, he created 62 goal chances.
xAG stats Seria A players borns in 2000s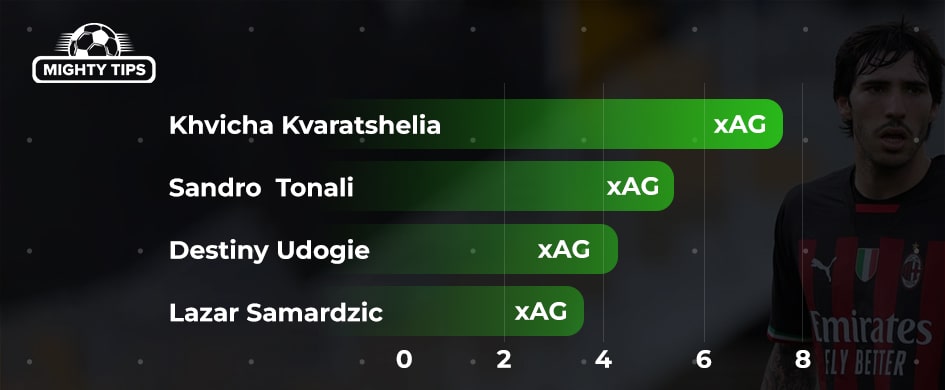 With Sandro Tonali's transfer, the team from St. James's Park shows that they are building for the future. The youngster could be one of the essential pieces in the puzzle on Newcastle United's road to becoming one the best teams in Europe.