Pelly-Ruddock Mpanzu: wonderful journey to the Premier League
Luton Town has never been considered a big football club in England. They once spent a few seasons in the top English league without much success, but most of the time the team from Kenilworth Road Stadium has been playing in the lower ranks of English football.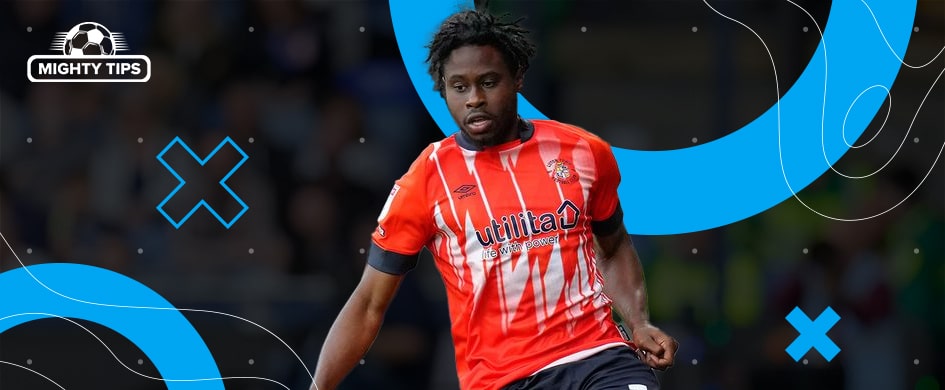 Luton Town hit the lowest point of their history in the 2012/13 season when they finished 7th in the National League – the fifth level of English football. Everything changed the following season when Luton Town signed a virtually unknown player from the West Ham youth academy: Pelly Ruddock Mpanzu. Ten years later, he has become one of the greatest players ever to wear a Luton Town shirt. Also, Ruddock Mpanzu has become the first player in football history to make it from the fifth level to the Premier League with the same club.
Statistics including playoff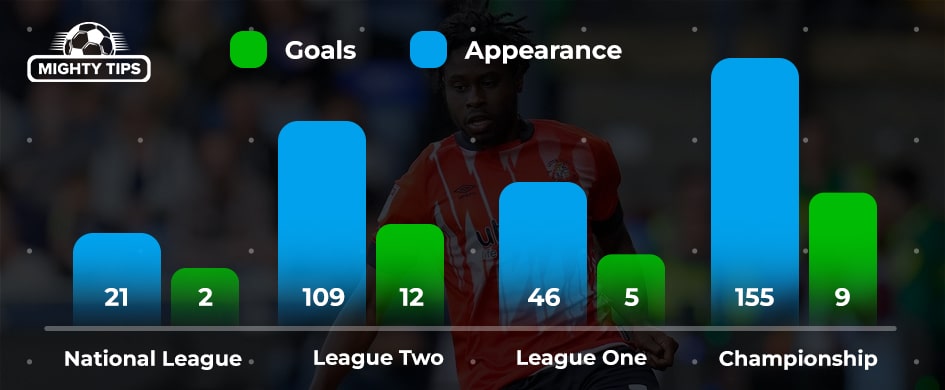 Pelly Ruddock Mpanzu's road to Luton Town
Pelly Ruddock Mpanzu debuted for West Ham in the League Cup in a win against Burnley. Still, one month later, he was loaned to Luton Town, where he spent a few good weeks before the club signed him on a permanent deal for 30,000 euros. Immediately, in the first season, Ruddock Mpanzu and Luton Town finished first in the competition and returned to League Two. At that time, it wasn't easy for 19-year-old Mpanzu. He said it was tough to leave West Ham and the Premier League but, after winning promotion with Luton Town in the first year, he felt they were building something for the future.
For the next few seasons, Pelly Ruddock Mpanzu became integral to the team's success in every league they played. His endless energy and ability to contribute in defense and offense have become his defining characteristic, but also the heartbeat of Luton Town.
Luton Town are promoted to the Premier League
We have seen the team progress yearly since Luton Town returned to the Championship in the 2019/20 season. They needed only three years to become one of the strongest teams in the competition. Eventually, Luton Town won promotion after a penalty shootout in the playoff final against Coventry – the 'richest game in football' proved to be a close match played in great spirit by both teams. After the big win, Pelly Ruddock Mpanzu said,
I feel like I've completed football; I can retire. I have been through highs and lows, but you have got to believe in yourself and here I am.
Pelly Ruddock Mpanzu stats
Since Pelly Ruddock Mpanzu came to Luton Town, he appeared in 367 matches in all competitions. In the 2022/23 season, Mpanzu played in 30 games and scored three goals.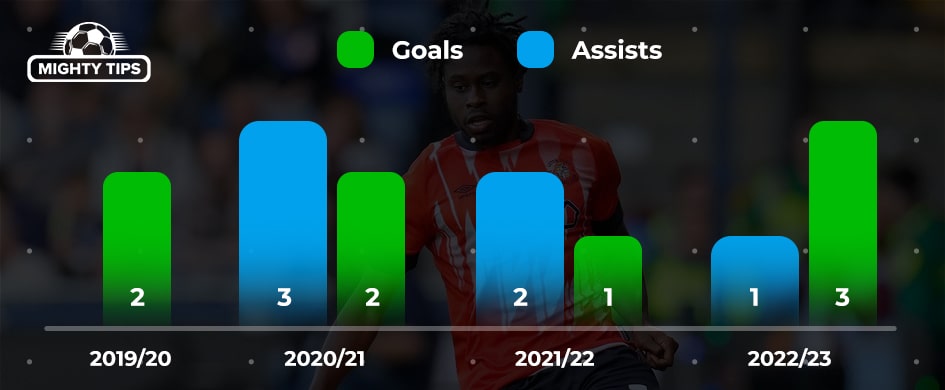 Pelly Ruddock Mpanzu's rise has been noticed at an international level too. Two years ago, he debuted for DR Congo in a loss against Tunisia. To date, he has played in two matches for his national team.
It has been a long journey for Pelly Ruddock Mpanzu but, finally, he will become a Premier League player. Next season, he and his Luton Town will host Manchester City, Arsenal, Liverpool, and the other great English teams. Of course, the task will be much harder, but Luton Town should do just fine as long they have their lucky charm, talisman, and leader, Pelly Ruddock Mpanzu, in the squad.
Update: Pelly Ruddock Mpanzu is out of contract soon. He could be a Middlesbrough, West Bromwich or Swansea player this summer.