Top 5 Boxing Matches in September With The Hurricane's Quotes
September is shaping up to be a massive month in boxing, with some huge fights dominating the sporting calendar, and who better to run through the action with us than a man who knows a ring like the back of his hand?
Our ambassador, Jevgenijs 'The Hurricane' Aleksejevs, gives us his verdict on the two biggest bouts taking place this month in Joe Joyce vs Zhilei Zhang and Canelo Alvarez vs Jermell Charlo, while we also highlight three other showdowns that catch the eye.
Here are the top five fights to watch over the rest of September and our best betting tips for each fight. Don't forget to stay tuned for the best boxing betting news online on MightyTips.
Sept 15 - Luis Alberto Lopez vs Joet Gonzalez (IBF Featherweight World Title)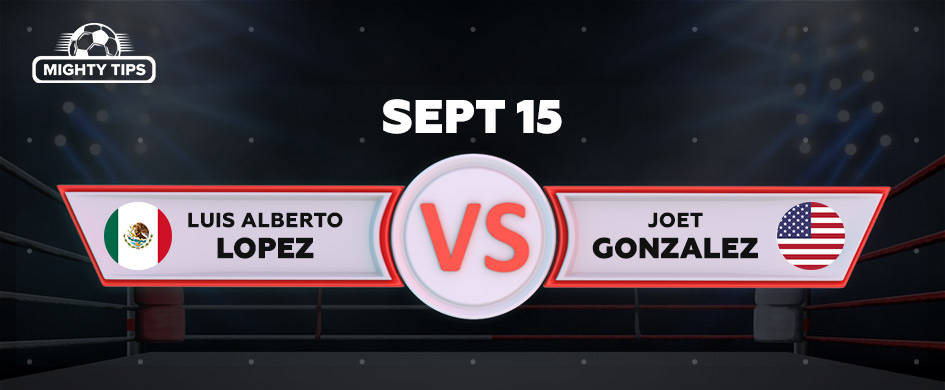 Venue: American Bank Center in Corpus Christi, Texas
Luis Alberto Lopez record: 28-2 (16 knockouts)
Joet Gonzalez record: 26-3 (15 knockouts)
Odds: Lopez (1.13 fav) Gonzalez (7.0)
It's hard to see past Lopez, who will be hoping to get the Mexican Independence Day weekend off to a perfect start with an emphatic defence of his IBF featherweight world champion belt once again.
He was imposing in a stoppage of Michael Donlan earlier in the year, and is a justifiable favourite once more.
Sept 16 - William Zepeda vs Mercito Gesta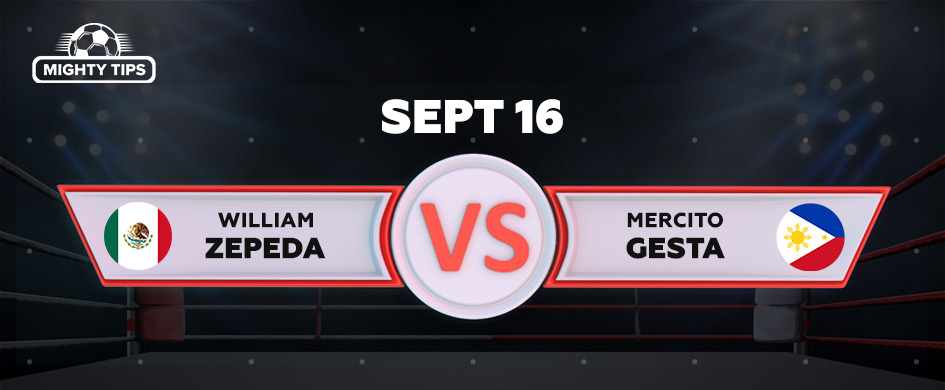 Venue: Commerce Casino in Commerce.
William Zepeda: 28-0 (24 knockouts)
Mercito Gesta: 34-3-3 (17 knockouts)
Odds: Zepeda (1.17 fav) Gesta (6.0)
Oscar de la Hoya's golden boy Zepeda continues to shine, but will put his undefeated record on the line against a dangerous opponent in the experienced Gesta.
Zepeda hopes victory will set up a mouthwatering match-up against Gervonta Davis, and we can't see any other outcome here.
Sept 23 - Richardson Hitchins vs Jose Zepeda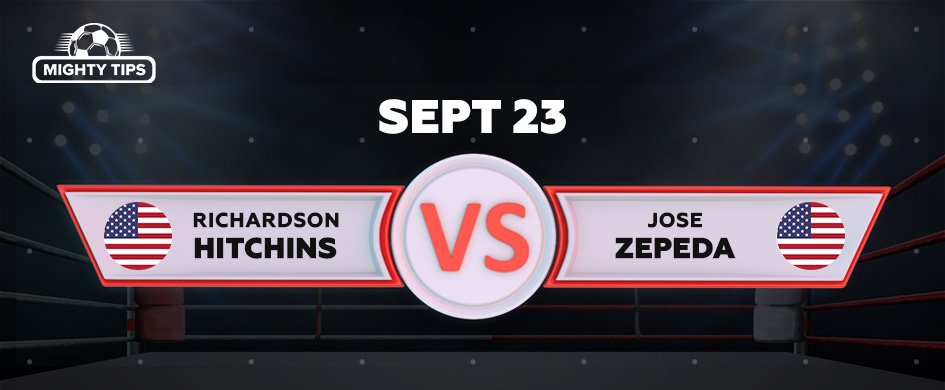 Venue: Caribe Royale Orlando, Orlando
Richardson Hitchins: 16-0 (7 knockouts)
Jose Zepeda: 36-3 (27 knockouts)
Odds: Hitchins (1.30 fav) Zepeda (4.0)
It's the very first main event for the confident Hitchins, who fancies himself as the sport's next poster boy.
He will need to protect his undefeated record first, though, starting with a stern assignment over the experienced Zepeda.
This could be a statement night for Hitchins, who wants to be a role model for other young fighters:
I see myself being a legend of the sport, who has mastered the craft of boxing. I want to inspire the next generation. If you see the progression in my career from my amateur status to now, I can relate to the young talent coming through.
Sept 23, 2023: Joe Joyce vs Zhilei Zhang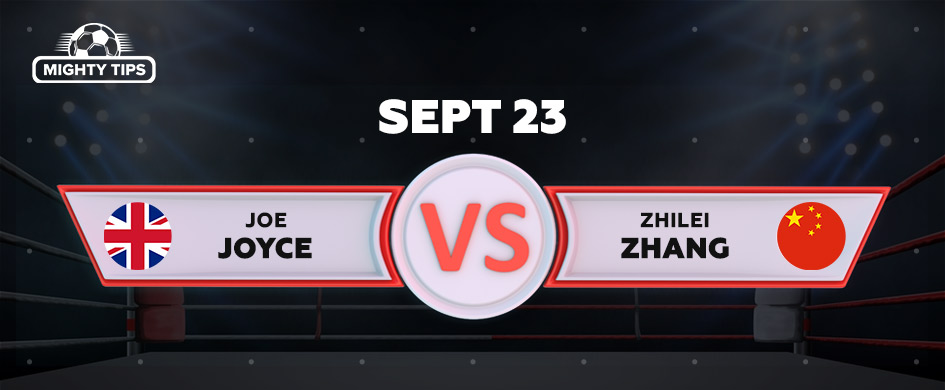 Venue: OVO Arena, Wembley
Joyce record: 15-1 (14 knockouts)
Zhang's record: 25-1-1 (20 knockouts)
Odds: Zhang (1.80 fav) Joyce (2.0)
The Juggernaut Joyce was expected to walk through Zhang when the two faced initially back in April, but the heavy-hitting Chinese fighter wreaked havoc on his eye, and referee Howard Foster was forced to step in to stop the fight with it looking like a pillow.
Victory over Zhang would have put him in line for a shot at Tyson Fury or Oleksandr Usyk, but now he is solely focused on recovering his reputation with a payback win over his dangerous opponent.
He admitted how the loss hit him hard in his pre-fight conference but was determined to put things right:
Last time out, I lost my undefeated professional record. It was hard to take. But after the dust settles, all that will do is make me better. I've learned lessons. I'm ready. And I am coming for everything.
In truth, Joyce was way off his best in the first fight, and the Brit will have to make substantial changes to walk away with victory here.
Home advantage could come into it, though.
The Hurricane's verdict:
This will be an exciting rematch between two strong super heavyweights. In the first fight, everyone thought that Joyce would be able to handle Zhang in a methodical manner, but as Zhang's fight against Hrgović showed, he is not an easy mark at all.

On the contrary, he is a very unpredictable puncher who hits from awkward positions. The fight was very uncomfortable for the Englishman. I was sure Joyce should do well in the first fight, but I'm much less certain about the rematch.

To win the fight, Joyce will have to establish head movements in the camp and work on being second best after provocations. We'll see what comes out this time around.
Sept 30, 2023: Canelo Alvarez vs Jermell Charlo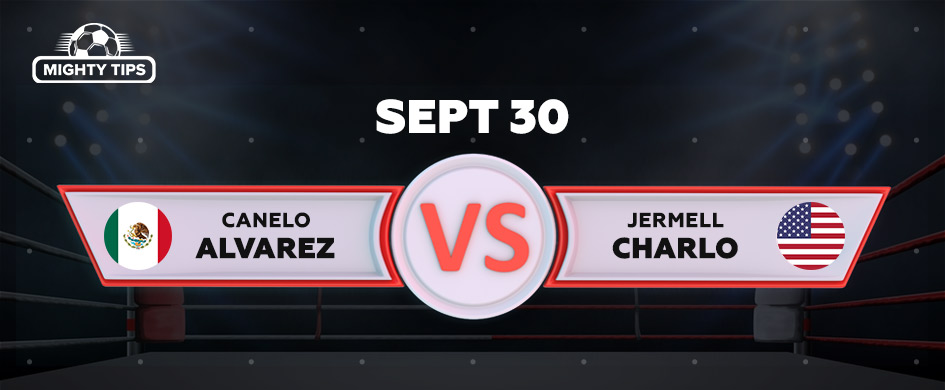 Venue: T-Mobile Arena, Las Vegas
Canelo record: 59-2-2 (39 knockouts)
Charlo record: 35-1-1 (19 knockouts)
Odds: Canelo (1.25 fav) Charlo (4.0)
This is the biggest fight of Charlo's career, who is stepping up two weight divisions to fight one of the best of all time.
His only hope will be to dominate from the moment the bell goes - especially given Canelo's general strategy to start quickly before sitting on a lead.
It should be noted that Canelo hasn't looked at his imperious best recently - his controversial points win in the trilogy with Gennady Golovkin, and a defeat to Dmitry Bivol was perhaps a recent example of the passages of time catching up to the Mexican legend.
Charlo, meanwhile, is the undisputed light middleweight champion and is renowned as a powerful puncher throughout the bout. He's exciting, quick, and has youth on his side - he could be worth a look at in the market.
This could be a close one.
The Hurricane's Verdict:
I'm hoping for a Canelo win, which will likely happen. However, you can't write off Charlo so quickly. He is a champion who has proven durable in his previous fights.

However, it won't be easy for him to fight Canelo, who has fought all styles of fighters. His vast experience will be evident in this fight. Just look at his record. He's fought in four categories and knows exactly what to expect from Charlo. We're looking at two uncompromising punchers, it's just a question of who can put on a better fight. And I still think it will be Saúl.
The September matches sure don't lack for intrigue and our interest. Whilst some of them have clear-cut favourites, every one looks to be a spectacular fight in its own right.
Are you looking for new customer free bet offers and bonuses ahead of all the action? Check out best bookmakers for boxing betting sites right here at MightyTips. We take a deep dive into every betting platform, analysing why each bookmaker stands out in its boxing offering.