Speedybet Mobile App
Free Speedybet app review. Our team of experts tells you how to get the Speedybet Android app. Follow our quick and easy Speedybet app download process.
Not available in your location
Try these bookmakers instead:
Our team of sports betting researchers has studied the Speedybet app and mobile presence in great detail. On this page, you'll find all the information you need on this online betting site's features. We explain how to use your mobile to bet on the most popular sports, together with methods to deposit funds and withdraw winnings.
There's even links to create an account and land the new customer welcome bonus. If it's worth knowing about Speedybet, it'll be right here.
Speedybet doesn't currently offer customers a mobile app. This is a tad strange as most major betting sites offer customers mobile apps downloadable to Android and iOS devices. They allow you to bet anywhere in the country, providing you have a reliable Wi-Fi connection. It's a shame that Speedybet doesn't offer a mobile app, but they instead focus on their mobile-optimised site, believing this gives customers a better service.
Here's how to use the Speedybet mobile site:
Open the web browser on your mobile or tablet device
Type in the Speedybet URL and search
Click the login button at the top of the homepage. Enter your username and password
Make deposits, place bets, check promotions, contact customer services and more
When you have finished betting, log out and close the page

Speedybet doesn't have a mobile app for Android users that can be downloaded to your device. There is a mobile site, however, that can be enjoyed by Android users and allows them to gamble when on the move. Type the Speedybet URL into your device's web browser then login to your account and access all features using your Android.
There is no Speedybet app for iOS but users can access the mobile version of the site and it's simple to do. No need to download anything to your handset. Simply type the Speedybet URL into your mobile's web browser, login with your username and password then enjoy betting on the move. When you have finished, simply logoff and close the page.
There are different ways to place bets on sports today. You can use a desktop computer, but this tethers you to your desk. Desktop betting was once viewed as the future of the gambling industry, but the focus has since moved to mobile betting. A recent study has shown that more bets are placed using mobile devices than on desktop computers and in betting shops around the country combined.
Speedybet is ready for this trend and runs a fantastic mobile-optimised website. The mobile site has all the same fixtures, sports, promotions, payment methods, and features as the site's desktop version but with one main difference. You can gamble on the go, placing bets when on the move using your mobile or tablet device.
Apps are another alternative, and many of the leading sportsbooks offer modern mobile apps that can be downloaded to Android and iOS devices. The only drawback of apps is that they must be downloaded to your device and can take up a decent chunk of storage space. For most smartphone users, storage space isn't readily available.
The advantage of mobile sites over apps is there's no need to download. Simply enter the Speedybet URL to your mobile's web browser and login to your account. When you are finished betting, just log off and close the page.
The mobile site is user-friendly, quick and responsive. Regardless of your experience using similar mobile betting sites, you'll find the Speedybet site easy to use. The homepage includes quick links to the standout sports of the day, such as live upcoming football matches. Place a bet in a matter of seconds. Perfect for those in a rush.
The purpose of mobile betting is convenience via speed. You want to place your bets quickly, then get on with the rest of your day. This site allows you to do just that. If you have a little more time, you can browse the sports navigation bar. There, you'll find all the available sports. Click the one that catches your eye to see a complete list of competitions and upcoming fixtures.
Aside from betting, the Speedybet mobile site gives hassle-free access to deposits. Add funds to your betting account with a single click. Deposit and bet without delay. When using the mobile site, you'll realise why this firm is named Speedybet.
When using the Speedybet mobile site, you want to access your account and place bets quickly. The less time logging in, the better. That's why this site keeps the login process simple. Here's how to access your betting account in the quickest possible time:
Open your device's web browser
Type in the Speedybet URL and search
On the homepage, click the login button at the top of the homepage
Enter your username and password
You will now have access to your betting account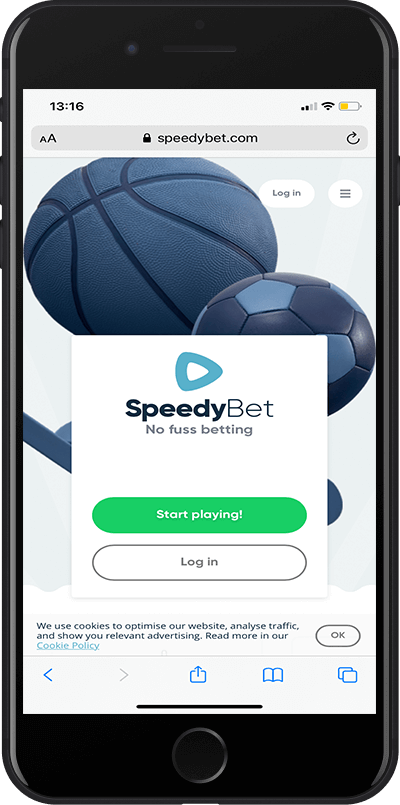 If you love sports, you'll be a fan of what the Speedybet team is doing. They cover all major sports but also have a healthy presence in more niche markets. The aim here is to ensure there's something for everyone. The team wants you to place a bet every time you visit the site, so they cover all bases. Even the fussiest of gamblers will find something of interest.
Below are some of the popular sports available to bet on at Speedybet:
Football
Basketball
Ice Hockey
Tennis
MMA
Volleyball
ESports
Darts
American Football
Aussie Rules
Each sport has all the upcoming fixtures available to bet on as well as further gambling options. For example, you can wager on a Premier League football match or the Premier League winner this season. The match betting consists of over 100 markets, including the following:
Match winner
Both teams to score
First goalscorer
Total goals
Half-time/full-time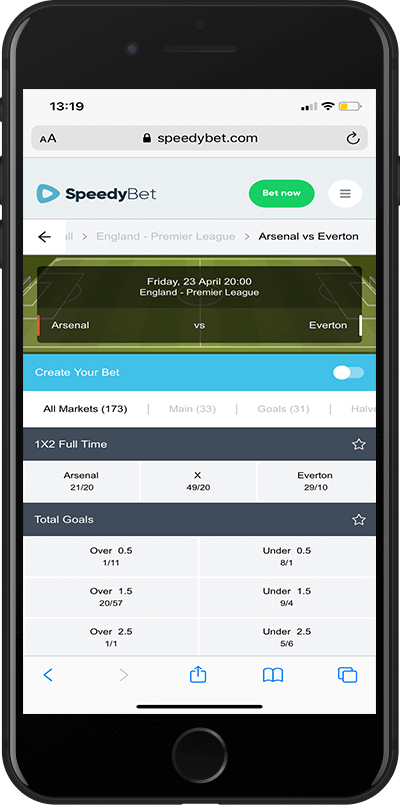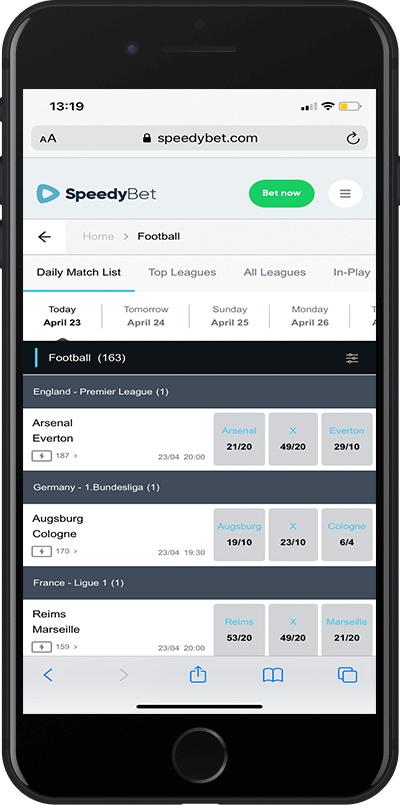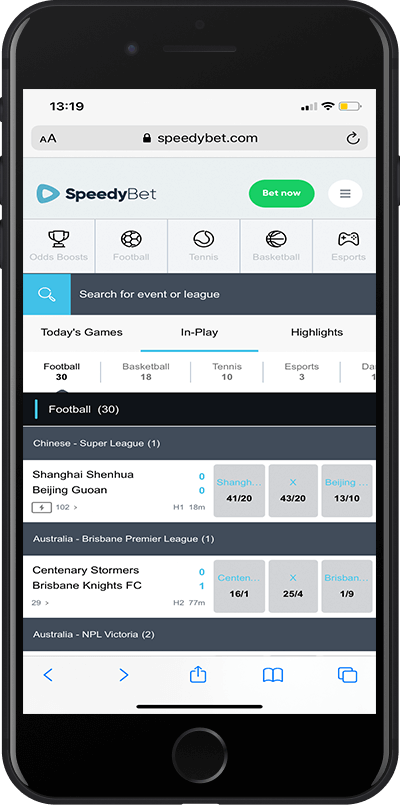 Live betting has revolutionised the gambling industry, and we're glad to report that Speedybet offers customers live betting. The list can be found on the homepage, organised by sports and the time the game has been live.
The object of live betting is to get your wager on before the odds change, or the market suspends. If you aren't already aware of what live betting is, we'll give a brief description. Live betting allows us to bet on sports fixtures that have already begun. For example, if a football match started at 15:00 GMT, the odds will remain live until the final whistle. Most of the original betting markets are in place, with the odds updated to reflect the score. A bet is as exciting if not more in the last few minutes as before the start.
The only payment option offered by Speedybet is Trustly and the same applies to the site's desktop version. If you wish to deposit funds to your account, you can do so through Trustly at the touch of a button. Deposits are instant, which allows you to add funds and bet without delay. This is a popular feature with members.
Deposit by following these steps:
Click your username in the top right corner
Access the members' area and click deposit
Input the amount you'd like to deposit and confirm
The cash will appear in your available balance
You can also withdraw funds from your Speedybet account using Trustly. If you've bagged a profit and would like to collect the cash before the urge to gamble again sets in, then you can withdraw from the members' area. Withdrawals from Speedybet to Trustly take up to 24 hours but are usually much quicker.

Withdraw by following these steps:
Click your username in the top right corner
Access the members' area and click withdraw
Input the amount you'd like to withdraw ‒ some or all of your available balance
The cash will be sent to your Trustly account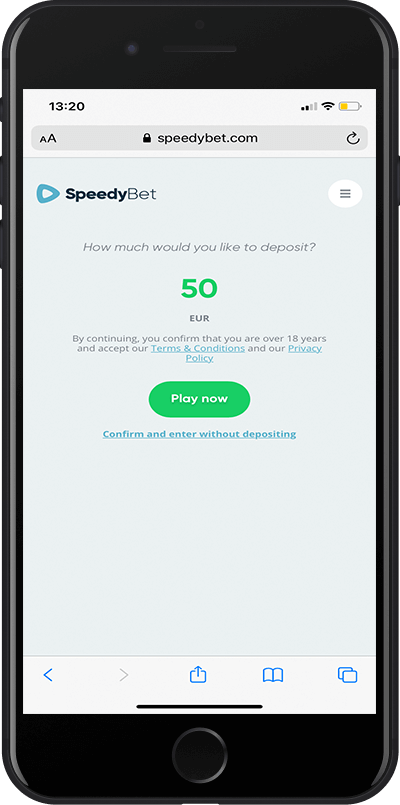 If you ever require the assistance of the Speedybet support team, you can contact them quickly. The live-chat link is the quickest way to get your voice heard. Click the live chat, then type your name and message into the fields to be connected. A member of the customer care team will respond through the same chat box as soon as possible.
There is also a handy Frequently Asked Questions box that allows you to troubleshoot quickly. Find the question that best suits you and click for a helpful answer.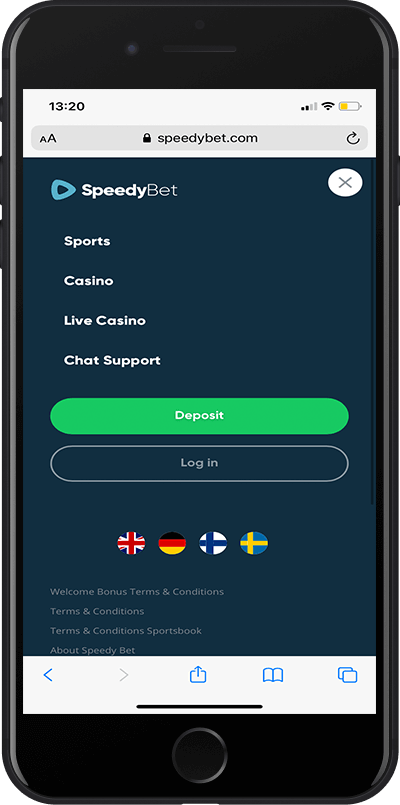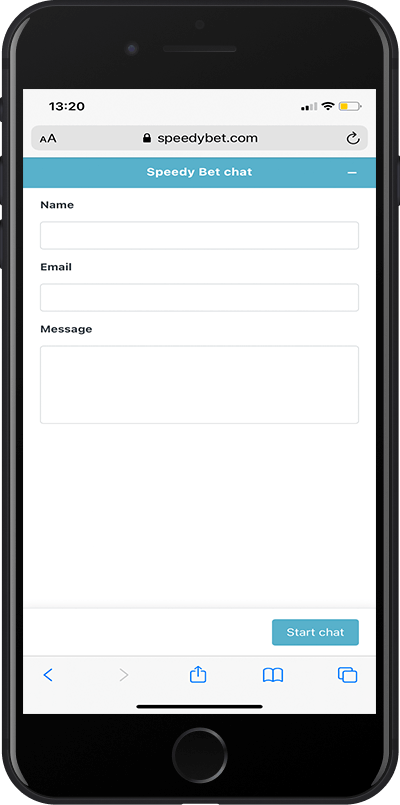 We were, somewhat, disappointed to see there was no Speedybet mobile app available to download. The mobile optimised site is a great alternative, however, allowing you to access your betting account using your smartphone or tablet device. The lack of an app shouldn't put you off betting with Speedybet.
Advantages
Access your account from anywhere
No need to download an app and use up vital storage space on your device
Instant access to your deposits allowing you to add cash and bet
Contact the customer service team in seconds using the live-chat link
Limitations
No mobile app for Android or iOS
Only one payment method